സാംസങ്ങിന്റെ 'ഫോള്‍ഡിങ് വണ്ടര്‍' ഫോണ്‍, ഗ്യാലക്‌സി 10 ഫെബ്രുവരി 20ന്.

സാംസങ്ങിന്റെ ഫോള്‍ഡിങ് ഫോണ്‍ ഫെബ്രുവരി 20ന് അവതരിപ്പിച്ചേക്കുമെന്ന് റിപ്പോര്‍ട്ട്. കമ്പനിയുടെ സുപ്രധാന മോഡലായ ഗ്യാലക്‌സി 10 ഹാൻഡ്സെറ്റും അന്നേ ദിവസം പുറത്തിറക്കിയേക്കുമെന്നാണ് അറിയുന്നത്. ആപ്പിള്‍ ഐഫോണുകള്‍ അവതരിപ്പിക്കാന്‍ ഉപയോഗിച്ചിരുന്ന സാന്‍ഫ്രാന്‍സിസ്‌കോയിലെ ബില്‍ ഗ്രയാം ഓഡിറ്റോറിയത്തില്‍ ഫെബ്രുവരി 20ന് ഒരു പരിപാടി ആസൂത്രണം ചെയ്തിട്ടുണ്ടെന്ന് കമ്പനി അറിയിച്ചിട്ടുണ്ട്.
സാംസങ്ങിന്റെ മടക്കാവുന്ന ഫോണ്‍ ഉടന്‍ എത്തുമെന്ന് കമ്പനി കഴിഞ്ഞയാഴ്ച പ്രഖ്യാപിക്കുകയും ചെയ്തിരുന്നു.ഇത് കമ്പനിയുടെ മുഖ്യ എതിരാളിയായ ആപ്പിളിന്റെ ഏറ്റവും വിലകൂടിയ മോഡലായ ഐഫോണ്‍ XS മാക്‌സിനെക്കാള്‍ വിലയുള്ളതായിരിക്കാമെന്നാണ് കരുതുന്നത്. ഏകദേശം 1760 ഡോളറും പിന്നെ ടാക്‌സും കൂടുന്നതായിരിക്കും വിലയെന്നു കരുതുന്നു. ഐഫോണ്‍ XS മാക്‌സിന്റെ തുടക്ക വില 1099 ഡോളറാണല്ലോ.പുറത്തുവന്ന റിപ്പോർട്ടുകൾ വിശ്വസനീയമാണെങ്കില്‍, ഫോണിന് തുറക്കുമ്പോള്‍ 7.3-ഇഞ്ച് വലുപ്പമുള്ള സ്‌ക്രീന്‍ ലഭിക്കും. ഫോള്‍ഡ് ചെയ്യുമ്പോള്‍ വലുപ്പം 4.5 ഇഞ്ചായി കുറയും. ചെറിയ ഡിസ്‌പ്ലെയും വലിയ ഡിസ്‌പ്ലെയില്‍ തുടരാവുന്ന രീതിയിലായിരിക്കും സോഫ്റ്റ്‌വെയര്‍ പ്രവര്‍ത്തിക്കുക എന്നും കേള്‍ക്കുന്നു. ഈ ഉപകരണത്തെക്കുറിച്ചുള്ള ഉള്‍ക്കാഴ്ചകള്‍ ഡെവലപ്പര്‍ കോണ്‍ഫറന്‍സിലാണ് കമ്പനി പുറത്തുവിട്ടത്.
Paytm has been removed from the Google Play Store
Paytm is back hours after it was banned from Google Play for violating the platform's rules for content. Paytm is now again listed on Google Play, the company tweeted. However, the Paytm First Games app has not been restored at the time of writing.
Earlier today, Paytm was removed from Google Play. The app was removed because of the addition of the fantasy cricket tournament that the company recently included, which violates Google Play policies, the search giant confirmed. The Paytm app for iOS is still available for download through Apple App Store. In addition to the Paytm app, Google Play has pulled the Paytm First Games app that also included the same fantasy cricket features with real money betting.
The Google Play listing of the Paytm app is showing an error that reads, "We're sorry, the requested URL was not found on this server." Users on Android devices are also not able to download the app from the preloaded Google Play. However, existing users who have the app already installed on their devices can continue to use the mobile wallet and other services provided by the company.
At the time Paytm posted a tweet to confirm that the app will be restored very shortly, and reassured users that their money is safe.
Alongside the Paytm app, Paytm First Games is also no longer available for download through Google Play.
Earlier on Friday, Google posted a blog post that highlighted its gambling policy that doesn't allow app developers to facilitate sports betting. This was a feature that was provided by Paytm through the recently announced fantasy cricket tournament.
"We don't allow online casinos or support any unregulated gambling apps that facilitate sports betting. This includes if an app leads consumers to an external website that allows them to participate in paid tournaments to win real money or cash prizes, it is a violation of our policies," Google said in its blog post. It confirmed that this was the reason for removing the Paytm app.
U.S. Bans TikTok, WeChat from App Stores Amid China Concerns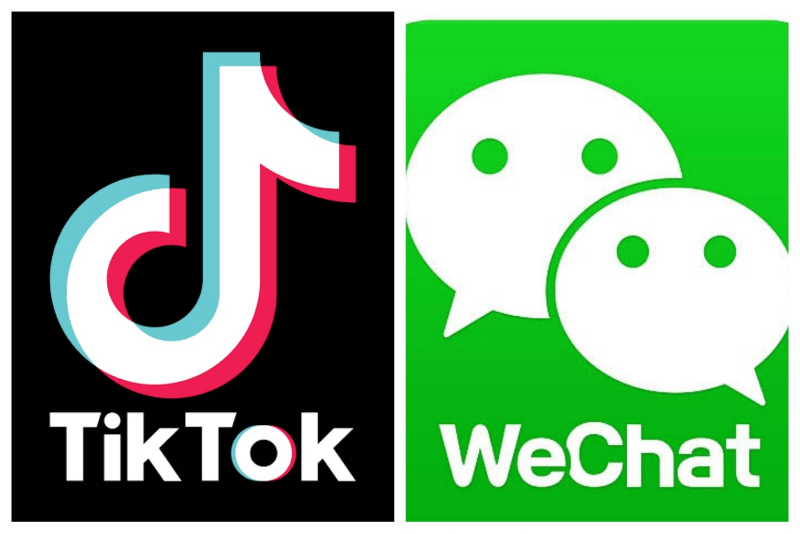 Washington — The Trump administration said Friday it would bar the Chinese-owned mobile apps WeChat and TikTok from U.S. app stores as of midnight Sunday, a significant escalation in America's tech fight with China that takes aim at two popular services used by more than 100 million people in the United States.
In a series of moves designed to render WeChat essentially useless within the United States, the government will also ban American companies from processing transactions for WeChat or hosting its internet traffic.
Similar restrictions will also go into effect for TikTok on Nov. 12 unless the company can assuage the administration's concerns that the popular social media app poses a threat to U.S. national security. TikTok, which is owned by China's ByteDance, is currently in talks with Oracle about a deal that could transfer some control to the American software maker. The Commerce Department said the prohibitions could be lifted if TikTok resolves the administration's national security concerns by the November deadline.
The actions follow an Aug. 6 executive order in which President Trump argued that TikTok and WeChat collect data from American users that could be retrieved by the Chinese government. The administration has threatened fines of up to $1 million and up to 20 years in prison for violations of the order.
TikTok, which does not directly operate in China, has become a wildly popular platform for sharing viral videos in the United States. WeChat is at the center of digital life in China, functioning as a chat app, a payment platform and a news source. It is a vital source of connection for the global Chinese diaspora, but also a conduit for Chinese propaganda and surveillance.
Friday's move is the latest tangible sign that the global internet, which once promised to break down political borders and connect the planet's citizens, is fracturing, driven by nationalism and security fears.
People in China, the world's most populous nation, can't use the world's most popular products, including Google, Facebook, YouTube and WhatsApp. Soon, Americans won't be able to use WeChat. And even TikTok, perhaps China's most successful digital export, is now under threat in the United States and has already been banned in India.
TikTok spokesman Josh Gartner said in a statement that the company was disappointed in the Commerce Department's decision.
"We will continue to challenge the unjust executive order, which was enacted without due process and threatens to deprive the American people and small businesses across the U.S. of a significant platform for both a voice and livelihoods," he said.
Tencent Holdings, which owns WeChat, called the rules "unfortunate" and said it would "continue to discuss with the government and other stakeholders in the U.S. ways to achieve a long-term solution."
Oracle did not respond to a request for comment.
While the government is ordering a ban on the apps, it will largely be up to Apple and Google — which make the software that backs nearly all the world's smartphones — to remove the apps from their stores. The two companies could face civil or criminal penalties for failing to comply with the new rules.
Apple and Google did not respond to requests for comment. Both have said in the past that they comply with the local laws in each country they serve.
Commerce Secretary Wilbur Ross, in an interview on Fox Business Network on Friday morning, said that the ban would initially have a much greater impact on WeChat.
"For all practical purposes it will be shut down in the U.S., but only in the U.S., as of midnight Monday," Mr. Ross said.
TikTok would also face some changes, but would still be allowed to function until Nov. 12, Mr. Ross said, at which point it would face a ban if there was no deal that satisfied the administration's concerns.
"As to TikTok, the only real change as of Sunday night will be users won't have access to improved updated apps, upgraded apps or maintenance," he said.