Pastor's Daughter in Laos Trapped with Dilemma
Communist nations in South East Asian countries are persecuting Christians because they consider Christianity a threat to their countries. Laos, for instance, has made anyone who is a Christian, a government target. Recently, the Lao government has targeted Nang Tookta Phetsomphone, who is pending trial for the killing of her Chinese employer when he attempted to rape her. Her family is put in an impossible situation by the district of Khamkuet in Bolikhamxay Province, refusing to release her unless they renounce their faith in Jesus Christ.
Pastor Bountheung Phetsomphone, her father, is an influential pastor in Laos. He is currently the leader of the Nongpong village church and was arrested twice. On August 22, 2012, the village evicted his family; their community also refused 300 other Christian residents the right to continue their residence unless they renounce their faith. On September 2, 2015, five police officers broke into a Christian family's home and detained him and another leader for "spreading the Christian faith."
Their witnessing resulted in many people converting to Christianity. The Geneva Human Rights Hearing against the Government of Laos mentioned Pastor Bountheung because of how the government has treated him for his evangelism. His resilience has stood sturdy for years, until now.
His daughter, Nang Tookta, was an employee for a Chinese national store owner in the Khamkuet District. Because her boss stopped paying her wages, she resigned. One month later, she was lured back by a phone call to negotiate the payments he owed her. Upon arrival, she was pushed into a restroom, overpowered, and threatened with a knife. Fighting for her life, she got a hold of the blade and killed him.
Tookta immediately called the neighbors and villagers and reported the incident. However, she was detained ever since that day, moving from the district jail to the provincial prison, in which the provincial jail did not file charges.
Be that as it may, the district where Tookta's father experienced persecution refuses Tookta's release or to drop the case. The district authorities are using her situation as leverage against the whole family, explicitly targeting Pastor Bountheung. Only when they renounce their faith and pay a fine of US$11,000, will they "consider" releasing her.
Their treatment is punishment for the pastor's beliefs and ministry. The district is making an example of Pastor Bountheung, and in doing so, exploiting his daughter's trauma.
ICC is publicizing her case to spread awareness and increase pressure on the district to release her or reduce the fine. Please pray for Nang Tookta's pending trial, for her family, who are put in an impossible situation by the Laos district of Khamkuet.
Sources: Persecution
Three Indian Christians Hospitalized After Attack on Birthday Party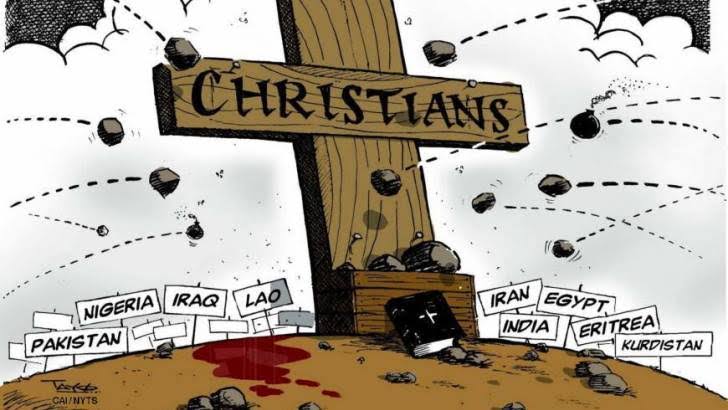 India – Three Christians, including two pastors, were hospitalized following a brutal attack by Bajrang Dal activists in southern India. The extremists attacked after the Christians gathered to celebrate the birthday of a pastor's son.
On March 1, a mob of 25 member of the Bajrang Dal attacked a gathering of Christians in Bilkondi village, located in India's Karnataka state. The religious hardliners broke into the home of a Christian where the birthday celebration of Pastor Sadashiv Raju's son was taking place.
According to the victims, the Bajrang Dal activists locked the door of the house from the inside to make sure no one could escape. The extremists then physically attacked the Christians.
"I tried to defend myself as six people constantly threw punches all over my body," Pastor Raju told International Christian Concern (ICC). "They beat my wife as she tried to rescue me from the hands of the thugs. She was badly injured and was traumatized. She has shifted to her parents' house to keep away from what has been going on after the incident."
Pastor Raju has been leading an Indian Pentecostal Church in Bilkondi village for the past 12 years. He reports that the Bajrang Dal activists falsely accused him of engaging in illegal religious conversions as a justification for the March 1 attack.
"I have never forced anybody to convert or change their religion," Pastor Raju told ICC. "If people come to me with needs, I pray for them. Sometimes they are healed and they want to attend church."
As a result of the attack, six Christians, including a blind man, were injured. Three of these Christians required hospitalization and were taken to a private hospital in Gokak town. The Bajrang Dal activists also damaged musical instruments, electrical equipment, a refrigerator, and a sofa.
The Christians filed a formal complaint with local police, however, no action has reportedly been initiative by police officers. In fact, the mob that attacked the birthday party went on to attack a second Christian gathering and beat up the pastor of an Assemblies of God Church.
"This was a cruel attack on Christians," a local Christian told ICC. "There is complete lawlessness and the attackers are emboldened by the pro-Hindu government in the state. There is no protection for Christians and we are frightened to even celebrate a birthday with friends."
The Karnataka state government is currently led by the Bharatiya Janata Party (BJP). Recently, BJP leaders announced their intention to enact an anti-conversion law in Karnataka. Local Christians fear the enactment of this controversial law will only further embolden religious fanatics and lead to more attacks on Christians.
മകൻ ദോഷമുണ്ടാക്കുമെന്ന് ജോത്സ്യൻ; അഞ്ചുവയസ്സുകാരനെ പിതാവ് തീകൊളുത്തി കൊന്നു
ചെന്നൈ:മകൻ കാരണം ദോഷമുണ്ടാകുമെന്ന ജോത്സ്യന്റെ വാക്കുകേട്ട് തഞ്ചാവൂരിൽ പിതാവ് മണ്ണെണ്ണയൊഴിച്ച് തീകൊളുത്തിയ അഞ്ചുവയസ്സുകാരൻ മരിച്ചു. തഞ്ചാവൂർ ജില്ലയിലെ തിരുവാരൂർ നന്നിലം സ്വദേശി രാംകി (29)യുടെ മകൻ സായ് ശരണാണ് മരിച്ചത്. സംഭവത്തിൽ ഓട്ടോ ഡ്രൈവറായ രാംകിയെ പോലീസ് അറസ്റ്റുചെയ്തു.
ആറുവർഷംമുമ്പ് വിവാഹിതനായ ഇയാൾക്ക് രണ്ട് ആൺമക്കളാണ്. ജ്യോതിഷത്തിൽ വിശ്വസിച്ചിരുന്ന രാംകി പതിവായി ജോത്സ്യരെ കണ്ടിരുന്നു. മൂത്തമകനായ സായ് ശരണിനാൽ രാംകിക്ക് ദോഷമുണ്ടായേക്കുമെന്ന് കഴിഞ്ഞയിടെ ഒരു ജോത്സ്യൻ ഗണിച്ചുപറഞ്ഞതായാണ് വിവരം. ഇതേത്തുടർന്ന് പലപ്പോഴായി രാംകി മകനെ ഉപദ്രവിച്ചിരുന്നു. അതേച്ചൊല്ലി ഭാര്യ ഗായത്രിക്കും രാംകിക്കുമിടയിൽ കലഹം പതിവായിരുന്നു. അഞ്ചുദിവസംമുമ്പ് വീണ്ടും വഴക്കുണ്ടായപ്പോൾ രാംകി വീട്ടിലുണ്ടായിരുന്ന മണ്ണെണ്ണയെടുത്ത് മകന്റെ ദേഹത്തൊഴിച്ച് തീകൊളുത്തുകയായിരുന്നു.
ഗുരുതരമായി പൊള്ളലേറ്റ സായ് ശരണിനെ ഗായത്രിയും അയൽക്കാരും ചേർന്ന് തഞ്ചാവൂർ ഗവ. മെഡിക്കൽ കോളേജ് ആശുപത്രിയിൽ പ്രവേശിപ്പിച്ചെങ്കിലും 90 ശതമാനം പൊള്ളലേറ്റ കുട്ടി തീവ്രപരിചരണവിഭാഗത്തിൽ ചികിത്സയിലിരിക്കെ മരിച്ചു. അറസ്റ്റിലായ രാംകിയെ ജുഡീഷ്യൽ കസ്റ്റഡിയിൽ മന്നാർഗുഡി ജയിലിലടച്ചു.
Sources:Mathrubhumi