Black Lives Kneel Before God, Not Matter: Baseball Player Confesses Faith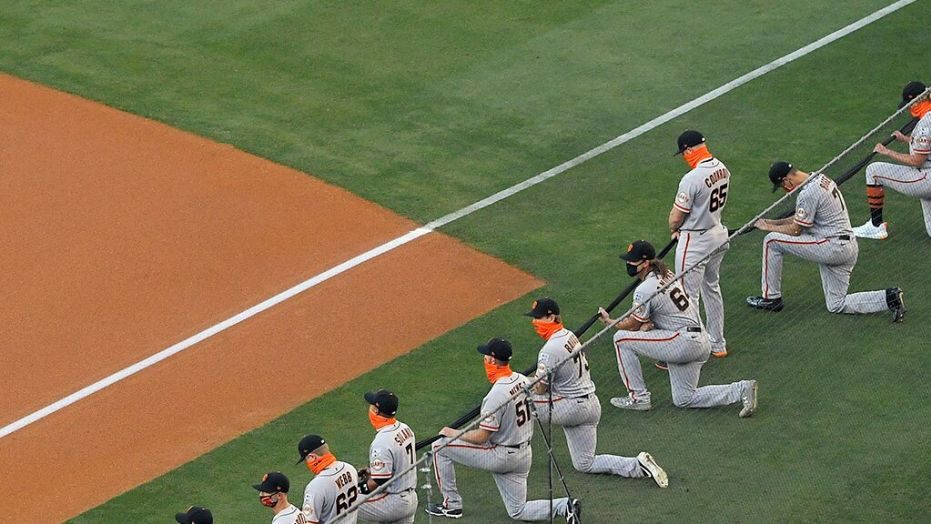 San Francisco Giants pitcher Sam Coonrod was the only player to stand during a moment honoring the Black Lives Matter movement ahead of the season opener against the Los Angeles Dodgers, telling reporters after the game that as a Christian he "can't kneel before anything besides God."
MLB provided teams with a long black ribbon that players on both sides jointly held as they kneeled in unity.
Every player and coach from the Washington Nationals and New York Yankees took part in the demonstration ahead of their game, but hours later, Coonrod stood alone.
I'm a Christian," he said, according to TMZ Sports. "So I just believe that I can't kneel before anything besides God."
Aside from his religious beliefs, the 27-year-old relief pitcher said there are aspects of the movement that he disagrees with.
"I just can't get on board with a couple things I've read about Black Lives Matter, how they lean towards Marxism," he continued. "And … they said some negative things about the nuclear family. I just can't get on board with that."
Team manager Gabe Kapler, who kneeled during the ribbon ceremony as well as during the national anthem, said he respects Coonrod's decision to stand.
"The one thing that we said is we were going to let people express themselves," Kapler said. "We were going to give them the choice on whether they were going to stand, kneel or do something else. That was a personal decision for Sam."
Dodgers outfielder Mookie Betts, who signed a 12-year, $365 million contract on Wednesday, and some of the Giants kneeled during the national anthem.
Several players during the Nationals-Yankees game wore T-shirts saying Black Lives Matter during batting practice, while the letters "BLM" were stenciled into the back of the mound at the center of the diamond.
FIFA Council approves Arab Cup Qatar 2021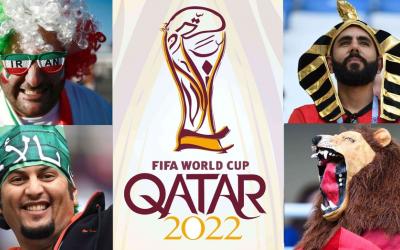 FIFA Council on Friday approved the competition regulations for the FIFA Arab Cup 2021, which will be held in Qatar from December 1 to 18 this year. At a meeting held via videoconference, FIFA Council chaired by president Gianni Infantino also confirmed the match schedule and draw procedure for the competition, which will be played by 22 national teams from the Arab region
The 22 participating teams are: Qatar, Algeria, Bahrain, Comoros, Djibouti, Egypt, Iraq, Jordan, Kuwait, Lebanon, Libya, Mauritania, Morocco, Oman, Palestine, Saudi Arabia, Somalia, Sudan, Syria, Tunisia, United Arab Emirates and Yemen.
The 16 teams that take part in the final stage will be split into four groups, with the top two from each qualifying for the quarter-finals. A total of 32 matches will be held over 18 days.
The tournament will be delivered by FIFA, the Qatar Football Association, the Supreme Committee for Delivery & Legacy and the FIFA World Cup Qatar 2022 LLC.
Seen as a vital opportunity to test operations and facilities ahead of Qatar 2022, the tournament will take place in the same timeslot as the FIFA World Cup. The finals of both the FIFA Arab Cup and FIFA World Cup will take place exactly one year apart – each on 18 December, Qatar National Day, which is a public holiday.
During his visit to Qatar in November last year, Infantino had praised Qatar's preparation for the World Cup, highlighting that he expects the FIFA Arab Cup to unite millions of fans from all the Arab region.
He added that it is a great opportunity for teams to play in the World Cup 2020 stadiums and that FIFA is "looking forward to seeing the region's best teams battle it out to see which nation will become champion."
"Through football, this tournament will unite over 450 million people from across the region, and we are confident that the FIFA Arab Cup will help to build excitement across the region as we edge ever nearer to hosting the first FIFA World Cup in the Middle East and Arab world in 2022," Infantino said during a visit to Lusail Stadium, which will host the world cup final.
Meanwhile, FIFA expects to hit its four-year revenue target of $6.44bn up to the 2022 World Cup in Qatar despite the coronavirus pandemic. Total spending of $1.04bn in 2020 included $270mn in grants to football bodies worldwide as part of a COVID-19 relief plan, FIFA's annual financial report said. It also included a $10 million donation to the World Health Organization.
FIFA again awarded its president Infantino a $1mn annual bonus to raise his overall pre-tax pay above $3mn in 2020, matching his 2019 income.
FIFA gets most of its money from the four-yearly men's World Cup, and said it already sealed 92% of its income target from broadcasting rights. Fewer sponsor slots for the 2022 World Cup have been sold compared to the same stage before previous editions of the tournament.
American boxing legend Marvin Hagler has Dies at 66
"Marvelous" Marvin Hagler, a former middleweight boxing champion and icon of the sport, died Saturday. He was 66 years old.
A cause of death was not immediately clear when his wife, Kay G. Hagler, posted a confirmation on Facebook.
"I am sorry to make a very sad announcement. Today unfortunately my beloved husband Marvelous Marvin passed away unexpectedly at his home here in New Hampshire. Our family requests that you respect our privacy during this difficult time. With love," she wrote in a post on his verified fan page, signing her name.
Marvin Hagler was the undisputed middleweight champion of the world for seven years beginning in 1980. He lost his title only when Sugar Ray Leonard came out of retirement in 1987.
Online, tributes to the athlete poured in as sports accounts posted videos of some of his most iconic fights.
Boxing promoters and sports agents Kalle & Nisse Sauerland tweeted a heartfelt tribute that read, "If reports are true we are lost for words to hear the of the loss of our all time favorite boxer Marvelous Hagler – for us the greatest Middleweight who ever lived."
Sports broadcaster Jim MacKay wrote, "The man they called Marvelous trained in Brockton, one of the reasons it is called the City of Champions. The undisputed Middleweight Champion from 1980-1987. True Boxing Legend. RIP."