'Black Panther' Star Chadwick Boseman Spoke Often About His Christian Faith
Chadwick Boseman, known for embodying black icons like Jackie Robinson in "42," James Brown in "Get on Up," and King T'Challa in "Black Panther," spoke out often about his faith.
The 43-year-old actor, who died of colon cancer on Aug. 28, grew up in a Christian home and was baptized at Welfare Baptist Church in Anderson, South Carolina. As a professing Christian — even at the height of his celebrity — Boseman often spoke out about his beliefs.
Boseman's rise to stardom seemed fast, but it took time, effort, and trust in God's faithfulness. He was helped, too, by beloved entertainer Denzel Washington, who paid for the late actor's study abroad tuition at the British American Drama Academy more than 20 years ago.
In the days since his passing, Washington has described Boseman as "a gentle soul and a brilliant artist who will stay with us for eternity through his iconic performances over his short yet illustrious career."
The "Black Panther" star referenced his Christian faith when he honored Washington in 2019. Speaking during the AFI Life Achievement Award ceremony, Boseman quoted Ephesians 3:20, telling Washington, "May God bless you exceedingly and abundantly more for what's in store than He ever has before."
And in 2018, when he delivered the commencement address at his alma mater, Howard University, Boseman referenced several Bible passages, including Jeremiah 29:11.
"When God has something for you, it doesn't matter who stands against it," he said later. "God will move someone that is holding you back away from the door and put someone there who will open it for you, if it's meant for you. I don't know what your future is. But if you're willing to take the harder way, the more complicated one, the one with more failures at first than successes, the one that has ultimately proven to have more meaning, more victory, more glory, then you will not regret it."
After learning of his death, Letitia Wright, one of Boseman's "Black Panther" co-stars who has also been outspoken about her Christian faith, tweeted simply: "This hurts. Really hurts."
Fellow actor Josh Gad, known for voicing Olaf in Disney's "Frozen" franchise, shared the final text message conversation he had with Boseman. In it, the late celebrity encouraged Gad to "catch the rain," appreciate every moment, and "enjoy the simplicity of God's creation."
Boseman told his friend to "inhale and exhale this moment" and remember to "thank God for the unique beauties and wonders of the day."
"We should take advantage of every moment we can to enjoy the simplicity of God's creation, whether it be clear skies and sun or clouded over with gloom," Boseman wrote. "And hey, if the air is this clear right now, and it does rain tomorrow, I might even put jars and bins out and catch the rain. Throw that in the water filter and have a water more alkaline than any bottled brand out there."
In a tribute to Boseman, Gad described the young entertainer, who secretly battled stage-three colon cancer for four years, as "next-level good."
"This was a man who was beyond talented and was so unbelievably giving, not only as a performer but as a human being," Gad said. "Beyond just being 'Black Panther,' Chadwick was T'Challa in real life. He was somebody who just gave and gave and gave and never stopped giving."
Gad went on to say 2020 "has been so devastating for some many reasons," adding Boseman's death just compounds the grief "because it's taking away somebody who was honestly one of the greats."
"I don't know how to process this," he continued, "but I want to send my love to his entire family and to all the fans out there. He's gonna be missed."
Pastor Samuel Neely, Boseman's childhood pastor, praised the actor in 2018 for his commitment to his Christian faith.
Despite his accomplishments in Hollywood, Neely, who is now retired, said he could "still see the person I knew as a child."
"When I see him, it's almost like seeing my own child, he's still Chad," the minister told. "He did a lot of positive things within the church and within the community. With him singing in the choir, with him working the youth group, he always was doing something, always helping out, always serving. That was his personality."
Sources:faithwire
'Thank You to the Lord Jesus Christ': Thomas Rhett Wins Co-Entertainer of the Year with Carrie Underwood at ACM Awards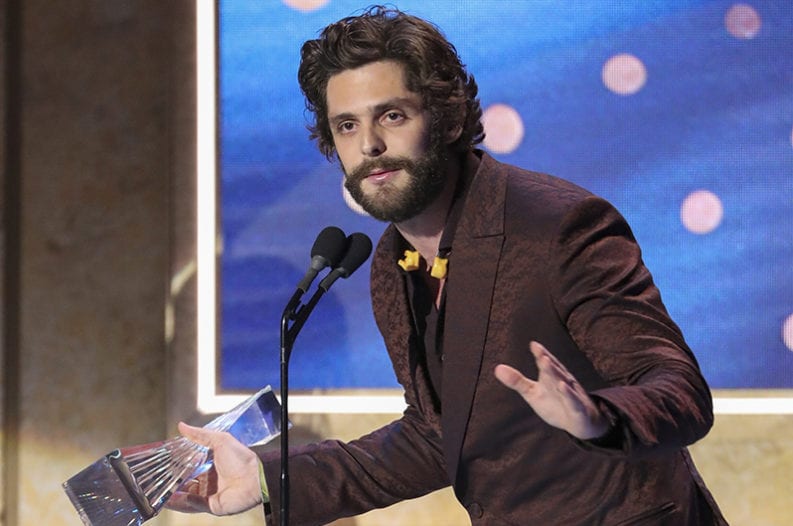 Country music recording artist Thomas Rhett thanked the Lord Jesus Christ on stage Wednesday night after he tied with Carrie Underwood for the Entertainer of the Year at the Academy of Country Music Awards (ACM) in Nashville.
The two shared the top honor, making history at the ACMs. A tie for Entertainer of the Year had never happened before at the annual Country music awards show.
"And the winner of the ACM Entertainer of the Year is… We have a tie," host Keith Urban said. "This has got to, got to be a first… I don't know if I am going to get… I have never heard of it."
After Urban announced the co-winners to the television audience, Rhett, accepting his award, said: "Oh my goodness gracious. Keith, what is happening right now? Thank you to the Lord Jesus Christ, my Lord, and Savior," he continued.
The Georgia native also thanked his wife, his young daughters, and others, along with his band, crew, and the fans.
Underwood added, "2020 man! Thank you, God, so much. All glory to God. Thank you to the ACM for putting me in such incredible company. I am more than happy to share this with Thomas Rhett."
Underwood is now the only woman to ever earn three Entertainer of the Year awards. She won back to back awards in 2009 and 2010.
Rhett, 30, has released four studio albums, including It Goes Like This (2013), Tangled Up (2015), Life Changes (2017), and Center Point Road (2019). His last two albums were nominated for a Grammy Award for Best Country Album in 2017 and 2019.
His four albums have produced nineteen singles on the Billboard Hot Country and Country Airplay charts, with 15 reaching the No. 1 position. Rhett has also written songs for Jason Aldean, Lee Brice, Florida Georgia Line, LoCash, and Michael Ray.
While accepting the CMT Artist of the Year award last October, Rhett thanked everyone and then prayed on the stage of Nashville's Schermerhorn Symphony Center for fellow performer Kane Brown on the loss of his friend Kenny Dixon, who died after a car accident.
After accepting his award, he asked, "I don't know if this is very conventional, but can I just pray, really fast? Is that okay with everybody?" Thomas then began, "Father God, we love you so much. Loss is something that we can't comprehend, and so right now I pray that you would be with Kane and his family and his drummer Kenny and his family, and bring them peace that only you know how to bring somebody. Thank you for this night. God bless country music. We love you, Jesus. And in your name, we pray. Amen," News reported last year.
That gesture touched Reba McEntire who commented on Rhett's prayer as she later appeared to accept the Artist of a Lifetime award.
"Thomas Rhett, God bless you for praying in front," she said. "You're special, you're special. That took guts, but as you said, you said, 'That might not be aired on this,' but He knows it better be aired. It better make the cut because that's what we need in our life, a little more God. We've got to give this world back to God."
Sources:faithwire
സീരിയൽ താരം ശബരീനാഥ് (43) അന്തരിച്ചു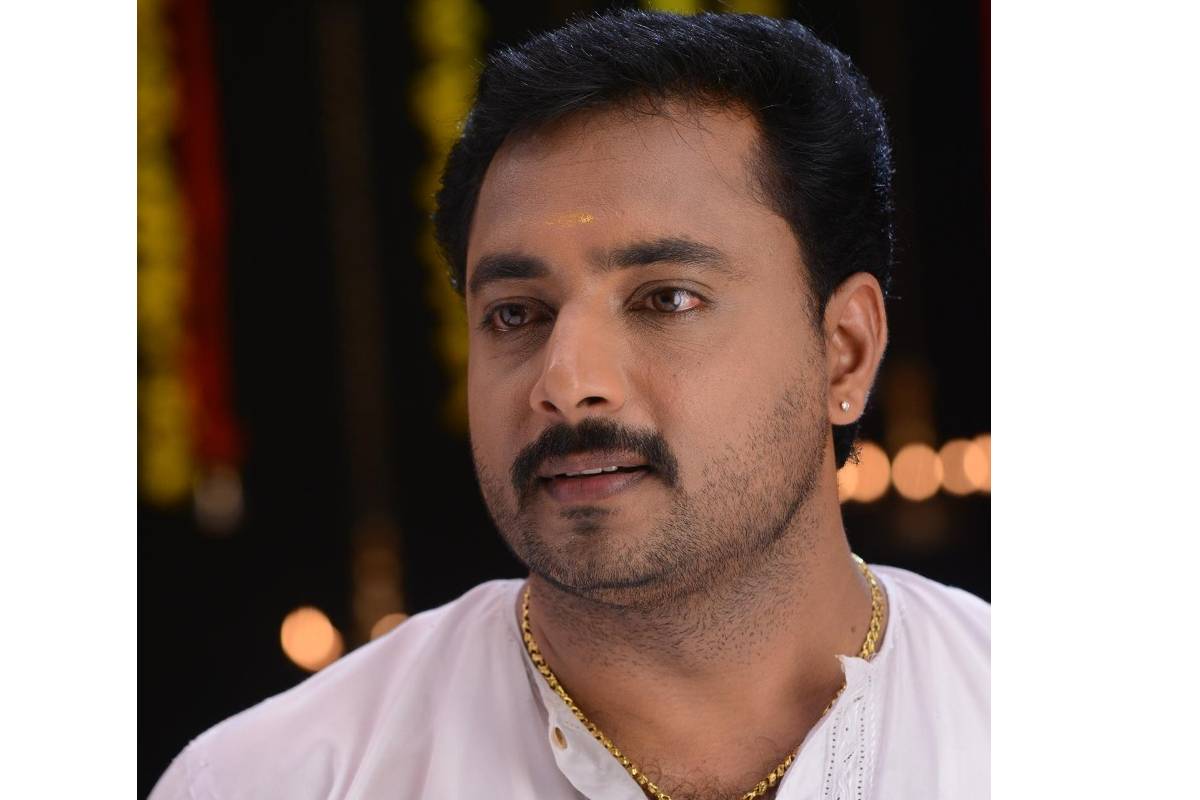 തിരുവനന്തപുരം: സ്വാമി അയ്യപ്പൻ ഉൾപ്പെടെയുള്ള സീരിയലുകളിലൂടെ കുടുംബപ്രേക്ഷകർക്ക് പ്രിയങ്കരനായ പ്രശസ്ത സീരിയൽ താരം അരുവിക്കര കുഴിവിളാകത്ത് വീട്ടിൽ ശബരീനാഥ് (49) അന്തരിച്ചു. ഹൃദയാഘാതത്തെ തുടർന്ന് വ്യാഴാഴ്ച രാത്രിയായിരുന്നു അന്ത്യം. അരുവിക്കരയിലെ വീടിന് സമീപം ഷട്ടിൽ കളിക്കുന്നതിനിടെ കുഴഞ്ഞു വീഴുകയായിരുന്നു. മൂക്കിൽ നിന്നു ചോരവാർന്ന ഇദ്ദേഹത്തെ ഉടൻതന്നെ ആശുപത്രിയിലെത്തിച്ചെങ്കിലും വഴിമധ്യേ മരണം സംഭവിച്ചു.
15 വർഷമായി സീരിയൽ രംഗത്ത് സജീവമാണ്. പാടാത്ത പെങ്കിളി, സാഗരം സാക്ഷി, പ്രണയിനി തുടങ്ങിയ സീരിയലുകളിൽ പ്രധാന വേഷങ്ങളിൽ എത്തി. അടുത്തിടെ സംപ്രേഷണം തുടങ്ങിയ സീരിയലുകളിൽ പ്രധാന വേഷങ്ങളിൽ എത്തി. ഏഷ്യാനെറ്റിൽ സംപ്രേഷണം ചെയ്യുന്ന പാടാത്ത പൈങ്കിളി എന്ന സീരിയലിലാണ് ശബരി അഭിനയിച്ചു കൊണ്ടിരുന്നത്. സാഗരം സാക്ഷി എന്ന ജനപ്രിയ സീരിയലിന്റെ നിർമാതാക്കളിൽ ഒരാളായിരുന്നു. സീരിയൽ താരങ്ങളുടെ സംഘടന ആത്മയുടെ എക്‌സിക്യൂട്ടീവ് കമ്മിറ്റി അംഗവുമായിരുന്നു. അച്ഛൻ: പരേതനായ ജി.രവീന്ദ്രൻനായർ അമ്മ: പി.തങ്കമണി. ഭാര്യ: ശാന്തി (ചൊവ്വര കിങ് ശിവ ആയുർവേദ സെന്റർ). മക്കൾ : ഭാഗ്യ എസ്.നാഥ്, ഭൂമിക എസ്. നാഥ്.