American wildfires: Death toll rises to 15; About five lakh people were evacuated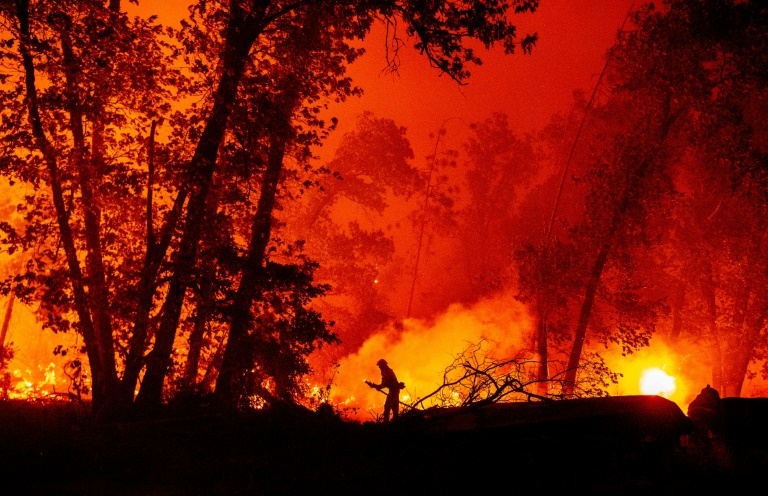 Firefighters were battling unprecedented wildfires up and down the US West Coast on Friday that killed 15 people and forced more than half a million others to flee their homes, with officials warning of more deaths to come in the days ahead.
The true scale of destruction was impossible to count across wide stretches of California, Oregon and Washington cut off from the world by an apocalyptic wall of flames, fuelled by record heatwaves and intense, dry winds.
The August Complex Fire became the biggest recorded blaze in Californian history on Thursday, after multiple fires in the state's northwest combined under high temperatures and winds to rip through 746,000 acres of dry vegetation.
More than 2.6 million acres have been burned across the whole state so far, a Cal Fire spokesman said on Thursday evening.
Half a million people have been evacuated in neighboring Oregon, where the government said firefighters were 'prioritizing life (and) safety as they battle a record 900,000 acres of wildfires.'
Governor Kate Brown said that the amount of land incinerated by fires in just the last 72 hours was twice the state's annual average, and that at least five towns had been 'substantially destroyed.'
'We have never seen this amount of uncontained fire across our state,' she told a press conference.
Huge wildfires are becoming more common, with the World Meteorological Organisation saying the five years to 2019 was 'unprecedented' for fires, especially in Europe and North America.
Climate change amplifies droughts which dry out regions, creating ideal conditions for wildfires to spread out-of-control and inflict unprecedented material and environmental damage.
Local Oregon officials confirmed two deaths in the Santiam Canyon region south of Portland, and a third in the Ashland area, near the California border.
Police went door to door to make sure that residents were evacuating the city of Molalla, marking their driveways with spray paint to show they had left.
'It's one thing to leave your house, it's another thing being told that you have to leave,' said Denise Pentz, a resident of the town for 11 years, who was loading her family belongings into a camping trailer.
Among those killed in the past day was a one-year-old boy who perished while his parents suffered severe burns as they attempted to flee an inferno 130 miles east of Seattle.
'This child's family and community will never be the same,' said Washington governor Jay Inslee, in a statement on his state's first fire death of 2020.
Christian Sentenced to Death in Pakistan Files Appeal with High Court
Pakistan– On September 8, Asif Pervaiz was sentenced to death by a trial court in Lahore, Pakistan for allegedly committing blasphemy. The legal team defending Pervaiz filed an appeal with the Lahore High Court on September 14 seeking to overturn the death sentence.
Pervaiz, a 37-year-old Pakistani Christian, was convicted of committing blasphemy and sentenced to death for allegedly sending blasphemous text messages in 2013. According to the Pervaiz's attorney, the death sentence was announced by the court despite there being "no evidence" to implicate his client in the case.
The initial blasphemy accusation against Pervaiz was made by a Muslim co-worker in October 2013. In October 2013, Saeed Ahmeed Khokar accused Pervaiz of sending him blasphemous text messages from his mobile phone. Blasphemy charges under Sections 295-A, 295-B, and 295-C of Pakistan's Penal Code were registered against Pervaiz at the Green Town Police Station in Lahore and he was arrested on October 10, 2013.
According to Pervaiz's family, Pervaiz and Khokar were coworkers at a garments factory named Shami Textile, located in the Youhanabad neighborhood of Lahore. At work, Khokar often pressured Pervaiz to convert to Islam, which Pervaiz refused. Prior to Khokar's accusation, Pervaiz reportedly lost his mobile phone's SIM card and did not request the company to deactivate it. According to Pervaiz's family, Khokar used the lost SIM card to send the blasphemous text messages he used to register the false accusation against Pervaiz.
In Pakistan, false accusations of blasphemy are widespread and often motivated by personal vendettas or religious hatred. Accusations are highly inflammatory and have the potential to spark mob lynchings, vigilante murders, and mass protests.
Sources:Persecution
ഒക്‌ലഹോമ : പിതാവിനെ കൊന്നു മൃതദേഹം ടൂൾ ബോക്സിൽ ഒളിപ്പിച്ചു; മകൻ അറസ്റ്റിൽ
ഒക്‌ലഹോമ സിറ്റി : പിതാവിനെ കൊലപ്പെടുത്തിയശേഷം മൃതശരീരം ടൂൾ ബോക്സിൽ ഒളിപ്പിച്ച മകൻ അറസ്റ്റിൽ. ഒക്‌ലഹോമ സിറ്റിയിലാണ് സംഭവം. സെപ്റ്റംബർ 16ന് പോലീസിന് ലഭിച്ച ഒരു സന്ദേശത്തെ തുടർന്ന് വീട്ടിൽ നടത്തിയ പരിശോധനയിലാണു വീടിനു വെളിയിൽ ടൂൾ ബോക്സിൽ മൃതദേഹം അടക്കം ചെയ്തതായി കണ്ടെത്തിയത്. മകളാണ് പിതാവിനെ കാണാനില്ല എന്ന വിവരം പൊലീസിനെ അറിയിച്ചത്.
71 വയസ്സുള്ള എസ്റ്റിബാൻ ടാപ്പിയയാണ് കൊല്ലപ്പെട്ടത്. ശരീരമാസകലം മുറിവേറ്റ നിലയിലായിരുന്നു ശരീരം. ഇതുമായി ബന്ധപ്പെട്ടുമകൻ ഫ്രാൻസിസ്ക്കൊ ടാപിയായെ (31) പൊലീസ് അറസ്റ്റ് ചെയ്തു. പിതാവുമായി കലഹിച്ചു, വകവരുത്തുകയായിരുന്നുവെന്ന് മകൻ പൊലീസിനെ അറിയിച്ചു. ഫ്രാൻസിസ്ക്കൊയ്ക്കെതിരെ ഫസ്റ്റ് ഡിഗ്രി മർഡറിന് കേസ്സെടുത്തിട്ടുണ്ട്. ഒക്‌ലഹോമ സിറ്റി സൗത്ത് വെസ്റ്റ് പെൻസിൽവാനിയ അവന്യുവിലാണ് സംഭവം നടന്നത്. പ്രതിയെ ഒക്‌ലഹോമ കൗണ്ടി ഡിറ്റൻഷൻ സെന്ററിലേക്ക് മാറ്റി.
പിതാവിനെ കൂട്ടികൊണ്ടു പോകുവാൻ വീട്ടിലേക്ക് വിളിച്ചിട്ടു കിട്ടാതിരുന്നതിനെ തുടർന്നാണ് മകൾ പോലീസിനെ വിളിച്ചത്.
കടപ്പാട് :ആഴ്ച്ച വട്ടം ഓൺലൈൻ