American wildfires: Death toll rises to 15; About five lakh people were evacuated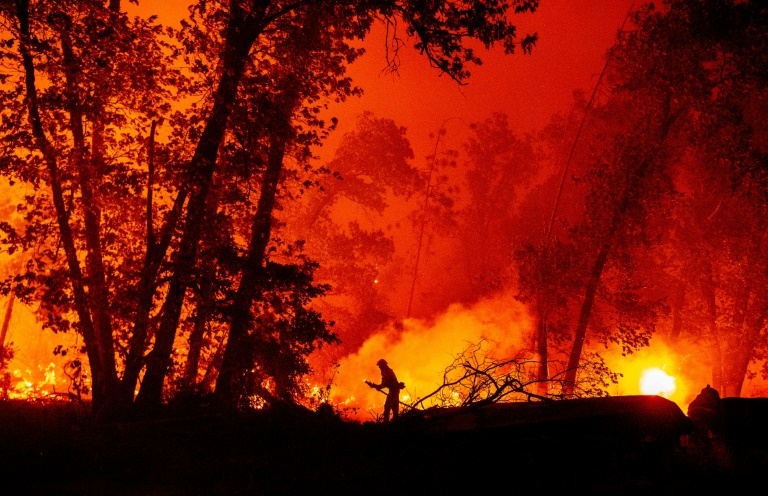 Firefighters were battling unprecedented wildfires up and down the US West Coast on Friday that killed 15 people and forced more than half a million others to flee their homes, with officials warning of more deaths to come in the days ahead.
The true scale of destruction was impossible to count across wide stretches of California, Oregon and Washington cut off from the world by an apocalyptic wall of flames, fuelled by record heatwaves and intense, dry winds.
The August Complex Fire became the biggest recorded blaze in Californian history on Thursday, after multiple fires in the state's northwest combined under high temperatures and winds to rip through 746,000 acres of dry vegetation.
More than 2.6 million acres have been burned across the whole state so far, a Cal Fire spokesman said on Thursday evening.
Half a million people have been evacuated in neighboring Oregon, where the government said firefighters were 'prioritizing life (and) safety as they battle a record 900,000 acres of wildfires.'
Governor Kate Brown said that the amount of land incinerated by fires in just the last 72 hours was twice the state's annual average, and that at least five towns had been 'substantially destroyed.'
'We have never seen this amount of uncontained fire across our state,' she told a press conference.
Huge wildfires are becoming more common, with the World Meteorological Organisation saying the five years to 2019 was 'unprecedented' for fires, especially in Europe and North America.
Climate change amplifies droughts which dry out regions, creating ideal conditions for wildfires to spread out-of-control and inflict unprecedented material and environmental damage.
Local Oregon officials confirmed two deaths in the Santiam Canyon region south of Portland, and a third in the Ashland area, near the California border.
Police went door to door to make sure that residents were evacuating the city of Molalla, marking their driveways with spray paint to show they had left.
'It's one thing to leave your house, it's another thing being told that you have to leave,' said Denise Pentz, a resident of the town for 11 years, who was loading her family belongings into a camping trailer.
Among those killed in the past day was a one-year-old boy who perished while his parents suffered severe burns as they attempted to flee an inferno 130 miles east of Seattle.
'This child's family and community will never be the same,' said Washington governor Jay Inslee, in a statement on his state's first fire death of 2020.
ഭൂകമ്പം ഫിജിയെ പിടിച്ചുകുലുക്കി, റിക്ടർ സ്കെയിലിൽ 6.0 രേഖപ്പെടുത്തിയ ഭൂചലനം
സുവ: ദ്വീപ് രാജ്യമായ ഫിജിയിൽ ഭൂചലനം. റിക്ടർ സ്‌കെയിലിൽ 6.0 തീവ്രത രേഖപ്പെടുത്തിയ ഭൂചലനത്തിൽ നാശനഷ്ടങ്ങൾ ഉണ്ടായതായി റിപ്പോർട്ടില്ല. 398 കിലോമീറ്റർ ആഴത്തിൽ പ്രകമ്പനം അനുഭവപ്പെട്ടതായി യുഎസ് ഭൗമശാസ്ത്ര കേന്ദ്രം അറിയിച്ചു. ലെവൂക്ക നഗരത്തിന് 340 കിലോമീറ്റർ കിഴക്ക് മാറിയായിരുന്നു പ്രകമ്പനം. പ്രാദേശിക സമയം രാവിലെ 11.35 ഓടെയായിരുന്നു ഭൂചലനം അനുഭവപ്പെട്ടത്. സുനാമി മുന്നറിയിപ്പുകളൊന്നും നൽകിയിട്ടില്ലെന്ന് അധികൃതർ അറിയിച്ചു. ഭൂചലനം ഉണ്ടായ വിവരം ജർമ്മൻ ജിയോസയൻസ് റിസർച്ച് സെന്ററും സ്ഥിരീകരിച്ചിട്ടുണ്ട്.
Archaeologists discover rare 2,000-y-o oil lamp in Jerusalem's City of David on Pilgrimage Road
The Israel Antiquities Authority announced the discovery of a rare oil lamp, with its wick still preserved, from under the foundation of a building erected on Jerusalem's famed Pilgrimage Road soon after the destruction of the Second Temple almost 2,000 years ago.
The IAA researchers believe the bronze lamp, shaped like a grotesque face cut in half and estimated to be from the late first century or the early second century CE, was put in the foundation of the building in Jerusalem's City of David for good fortune, The Times of Israel reported.
"This half of a lamp, and in fact half a face, which was discovered in the City of David, is a very rare object, with only a few discovered in the whole world, and is the first of its kind to be discovered in Jerusalem," Yuval Baruch of the IAA was quoted as saying.
"It is possible that the importance of the building, and the need to bless its activity with luck by burying a foundation deposit, was due to its proximity to the Siloam Pool, which was also used in the Roman period as the central source of water within the city," IAA archaeologist Ari Levy told The Jerusalem Post.
Speaking to Haaretz, Levy explained, "Foundation deposits, in general, go back to the dim reaches of antiquity. It was accepted in construction in general, to bring luck and symbolic defense of the building — and to cast fear and awe on attackers. Its significance was highly symbolic, not functional."
Haaretz said the lamp featured a goaty male half-face complete with (half a) satyr's beard and a horned forehead.
Only one other such lamp has ever been found in an archaeological context — and that was in Budapest, according to Levy.
Experts believe that Pilgrimage Road, where the building had been erected, is the path ancient Jews walked to reach the Temple Mount three times a year — in the festivals of Passover, Shavuot and Sukkot.
"The street was built during the period of Governor Pontius Pilates," Levy said. "It was inaugurated around the year 30 CE and it was used for about 40 years until the Temple was destroyed in 70 CE."
Baruch added: "Decorated bronze oil lamps were discovered throughout the Roman Empire. For the most part, such oil lamps stood on stylish candelabras or were hung on a chain. Collections around the world contain thousands of these bronze lamps, many of which were made in intricate shapes, indicating the artistic freedom that Roman metal artists possessed."
Sources:Christian Post