Chilean protesters set fire to two churches
Chile— Demonstrators burned two Catholic churches in Chile, where gatherings to mark the one-year anniversary of mass protests against inequality descended into chaos.
Church officials and media reports described the Oct. 18 gatherings through the country as peaceful, but unrest broke out late in the day, with some protesters entering and vandalizing parishes in Santiago, the national capital.
Videos posted on social media showed the spire of Our Lady of the Assumption Church in Santiago burning, then crashing to the ground as a nearby crowd cheered.
St. Francis Borgia Church also was vandalized, and religious items were removed, church official said. The parish is home to institutional ceremonies for the "Carabineros," Chile's national police, a force unpopular with protesters over accusations of it employing repressive tactics, including 345 eye injuries from the use of pellets shot from anti-riot weapons, according to a U.N. report.
"These events over the past few hours in Santiago and other cities in Chile show that there are no limits to those that exacerbate violence," the Chilean bishops' conference said in an Oct. 18 statement.
"These violent groups contrast with many others who have demonstrated peacefully. The vast majority of Chile yearns for justice and effective measures that help to overcome inequality. They do not want more corruption or abuse; they expect dignified, respectful and fair treatment."
Archbishop Celestino Aós Braco of Santiago called for an end to the violence Oct. 18, calling it evil and saying, "We cannot justify the unjustifiable."
Chile erupted in protests in October 2019 after an increase in metro fares in the city of Santiago. But the small fare increase belied much deeper dissatisfaction with economic inequality in the country, which had been promoted in recent decades as a development success story with pro-market policies.
Chileans go to the polls Oct. 25 in a referendum on whether to rewrite the nation's constitution, which was drafted during the 1973-1990 regime of Gen. Augusto Pinochet.
Many of the protests have demanded rewriting the constitution; the bishops have encouraged citizen participation in the demonstrations.
"The citizenry that wants justice, probity, the overcoming of inequalities and opportunities to be able to pull ourselves up as a country will not be intimidated by threats of violence and will fulfill their civic duty," the bishops' statement said. "In democracies, we express ourselves with free votes of conscience, not the pressures of terror and force."
The assailing of two parishes comes as Chile's Catholic Church suffers the fallout from accusations of clergy sexual abuse and the hierarchy's improper response to such crimes. A January survey from polling firm Cadem found that 75% of respondents disapprove of the church's performance.
Court in Pakistan Orders Arzoo Raja Stay in Shelter Home Until She Turns 18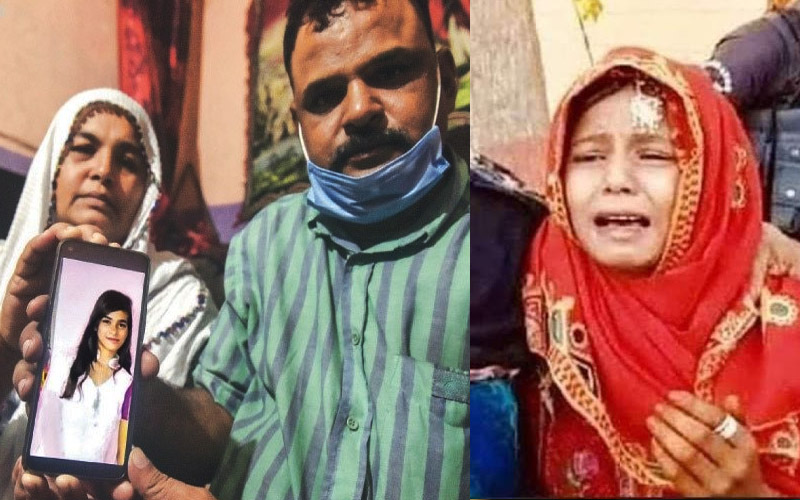 Pakistan – On Monday, November 23, the High Court in Sindh ordered that Arzoo Raja, a 13-year-old Christian girl allegedly abducted and illegally married to a 44-year-old Muslim man, remain in a government shelter home until she turns 18.
On October 13, Arzoo was allegedly abducted from her family home in Karachi by Ali Azhar, her Muslim neighbor. Arzoo's parents reported the incident to local police and were informed two days later that their daughter had converted to Islam and married Azhar.
Arzoo's parents challenged the validity of the marriage claiming it violated the Sindh Child Marriage Restraint Act. However, on October 27, the court ruled in favor of the marriage and order local police to protect Arzoo and Azhar.
On November 2, police were ordered by the High Court in Sindh to recover Arzoo and arrest Azhar. This came after Pakistan's Minister for Human Rights became involved in the case as an intervener. Arzoo was taken to a women's shelter and Azhar was arrested.
On November 9, the High Court in Sindh ruled that Arzoo was a minor and that her marriage to Azhar violated the Sindh Child Marriage Restraint Act. Arzoo returned to the women's shelter after she refused to reunite with her family and insisted that she had freely chosen to marry Azhar.
On November 23, the High Court in Sindh declined to dismiss the criminal charges against Azhar in addition to ordering Arzoo remain in the government shelter home.
"I believe it is a good verdict, because the court has not quashed the FIR registered by Arzoo's father and statutory rape of a minor has been added to it, a crime punishable with life imprisonment or death sentence," Jibran Nasir, the Christian family's attorney, told Morning Star News. "Arzoo will remain in the shelter home and reconsider her decision to not live with her parents."
"Please understand that Arzoo is reluctant to live with her parents because of the consistent brainwashing done by the accused and certain community activists for ulterior motives," Nasir added.
According to a study by the Movement for Solidarity and Peace Pakistan, an estimated 1,000 Christian and Hindu women are abducted, forcefully married, and forcefully converted to Islam every year. Many of the victims are minors. Sexual assaults and fraudulent marriages are used by perpetrators to entrap victims and authorities are often complicit.
The issue of religion is injected into cases of sexual assault to place victims from religious minority communities at a disadvantage. Playing upon religious biases, perpetrators know they can cover up and justify their crimes by introducing an element of religion.
At least 41 people have been killed in a road accident in Brazil
At least 41 people were killed and 10 injured on Wednesday when a bus and a truck crashed in southeastern Brazil, police said.
The bus, which was carrying employees on their way to work at a textile factory, collided with the truck just before 7am on a motorway outside the town of Taguai, in Sao Paulo state, police said.
"There were bodies everywhere" when rescuers arrived at the scene, a police source said.
"It was impossible to tell who had been in the truck and who had been in the bus," he added.
Authorities are still investigating the cause of the crash. The death toll, initially reported as 32, was expected to rise further, state police said in a statement.
"We know there are more victims in the wreckage of the vehicles, but we don't know how many," it said.
Police said 37 people were killed at the scene. Four more died of their injuries in hospital. Another nine people are in serious condition, they said.
"In a situation like this, blood transfusions are essential, and the worst part is that stocks are down because of the coronavirus pandemic," state health secretary Jean Gorinchteyn told television network Globo News.
Images from the scene showed the vehicles smashed into pieces, debris strewn across the road. The front end of the bus was completely torn off.
Dozens of rescuers were still busy at the scene. Taguai is about 340km (211 miles) west of Sao Paulo, Brazil's biggest city and economic capital.
"I want to send my condolences to the families and friends of the victims of this very terrible accident," said Sao Paulo Governor Joao Doria.
Local media reports said there were 53 people on the bus. The truck driver reportedly survived.
The crash was one of the worst in recent memory in Brazil, where 5,332 people died in road accidents last year.