Bobby Singh Allen – The first Sikh woman to be elected to an official position in the US
Bobbie Singh-Allen will be the first Sikh-American to serve as mayor for the city of Elk Grove. Singh-Allen is a second-generation Punjabi-Sikh who previously held office as an Elk Grove Unified School District Board member for six years. She said that while the Punjabi community has been in California for over a century, the ethnic group originating from Northern India has rarely been in U.S. politics.
"The fact that I'm the first elected Sikh woman [for Elk Grove] after a hundred years, it's not only a proud moment, but it's also a moment to reflect. 'Why did it take so long for us to do this?'" she asked.
The region's Punjabi population first came to California in the late 1800s to farm the Central Valley. Many belong to the Sikh faith.
For a host of reasons, the community has shied away from politics, Singh-Allen said. Like many other Asian and South Asian families, the community mostly encouraged their children to enter careers in law, medicine and engineering rather than pursue politics.
Singh-Allen said the Sikh community has also stayed out of the spotlight because of racism and bigotry, related to the fact that Sikh men wear turbans as part of their religion.
"We've dealt with a lot of hate crimes and racism, it hasn't been easy assimilating. But the more Sikhs are involved in the community, the more awareness we have with our greater community that we have the same American values as well," she said.
For the Punjabi-Sikh community in Elk Grove, her win has been celebrated because many say they'll finally see representation at the highest level of the city. Mandeep Pharwala, president of the Punjabi Cultural Society of Sacramento, said the whole Sikh community supported Singh-Allen's run, and they were excited to see how she would lead.
"It's a very proud moment and we feel honored, and the community's coming along," Pharwala said. "I've been around since 1987 and been in Elk Grove so we have seen Bobbie since then, I think she deserved it, it was her hard work and dedication."
She added that many Punjabi-Sikh business owners for whom English wasn't a first language would likely feel more comfortable voicing their issues to a mayor who could understand them.
"It's just the comfort level that you have that you'd be able to tell her about concerns that you have," Pharwala said. "It's the language, they'll be able to communicate freely with her," she added.
Singh-Allen's win was the most high profile political win for a Punjabi-American in the region, according to Deep Singh, director of the Punjabi civic engagement non-profit Jakara Movement, but she wasn't the only member of the community who ran for office. His organization counted over 40 Punjabi-Sikhs in statewide elections this past cycle. He said that the increased presence of Punjabi-Americans in politics is part of a greater wave nationally and internationally to elect more diverse representatives.
"We've been inspired to see the political engagement by Sikhs in Canada, and I think these are part of the larger narrative that has inspired many to look to serve in different capacities," Singh said, referencing prime minister candidate Jagmeet Singh's run for office last year.
California's Central Valley has had Punjabi-American mayors in the recent past, however. Kashmir Gill was a two-term mayor for Yuba City, the first time from 2009-10 and then a second term in 2013-14. Preet Didbal was selected as mayor for Yuba City in 2017, but both candidates were selected by City Council, not by voters.
Overall, Deep Singh said he hoped Singh-Allen's win would continue to encourage other Punjabi-Americans to run for office.
"Bobbie's victory is emblematic of larger Punjabi engagement throughout California. Here you had a second generation Sikh woman who was able to become the mayor of Elk Grove," Singh said. "This is an early chapter, and as the state progresses you're going to see more people engaged."
Sixth-grader shoots classmates in US; 3 people were injured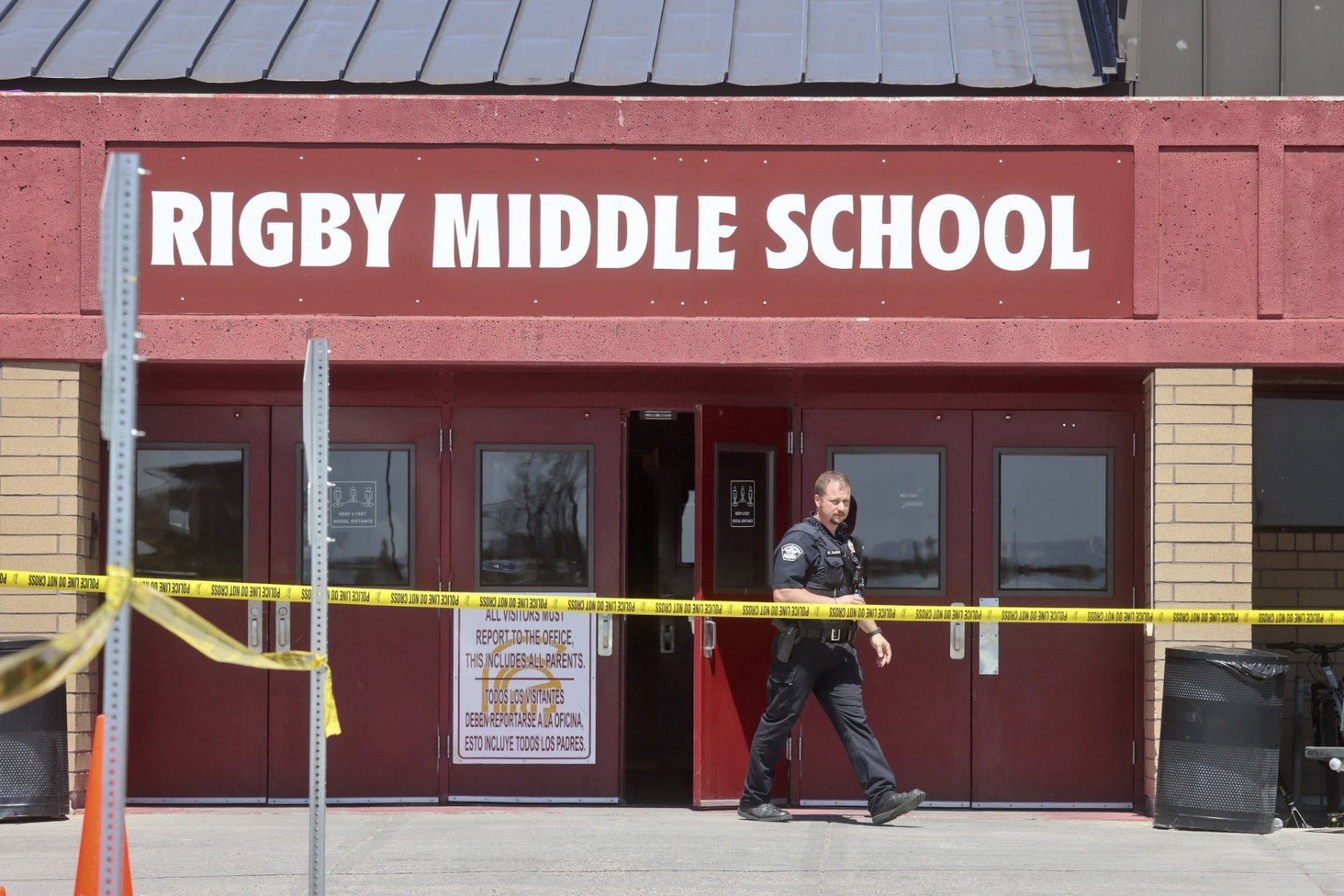 Three people, including two students, were shot Thursday at an Idaho middle school, according to officials.
At a press conference, Jefferson County Sheriff Steve Anderson said the suspect is a sixth-grade girl from Idaho Falls who is a student at Rigby Middle School, where the shooting took place. Initial reports had incorrectly identified the suspect as male.
Anderson said the unnamed student allegedly drew a handgun from her backpack and shot three people — one inside and two outside — before a teacher disarmed her.
The suspect is in custody at the Jefferson County Sheriff's Office and may be charged with attempted murder pending results of the investigation, according to Mark Taylor the county's prosecuting attorney.
The shooting victims were struck in their extremities and are expected to survive, but may require surgery, officials said
Three ambulances initially responded to Rigby Middle School after authorities learned of the shooting about 9:15 a.m. MT, Idaho Falls Fire Department spokeswoman Kerry Hammon said.
Authorities took the injured to Eastern Idaho Regional Medical Center, where they were listed as stable.
"Today we had the worst nightmare a school district could encounter. We had a school shooting here at Rigby Middle School," Jefferson School District Superintendent Chad Martin said in a statement. "What we know so far is the shooter has been apprehended. There is no further threat to the students."
"I am praying for the lives and safety of those involved in today's tragic events," Idaho Gov. Brad Little tweeted. "Thank you to our law enforcement agencies and school leaders for their efforts in responding to the incident. I am staying updated on the situation."
Nine babies in a single birth, this miracle of the extreme
Bamako: A mother who miraculously gave birth to nine children in a single delivery to the scientific world Halima Sisse, 25, gave birth to nine children. A native of Mali, an African country, she gave birth to nine babies by caesarean section. Rarely, nine babies are born in a single birth.
Even with so many babies in the womb, it is common for many babies to die before they are fully grown. A scan of Halima's pregnancy revealed that she had seven babies in her womb. Doctors said special care was needed as this was a rarity. Halima was then flown to Morocco.
However, Halima gave birth to 9 children, including 2 babies who were not even seen on the scans, even when doctors gave birth. Halima gave birth to five girls and four boys, all of whom are healthy, Malian Health Minister Fanta Cibi said.
He added that the girl and children would be returned only after a few weeks.