Worst collapse ever as India wraps innings at 36/9 in 1st Test vs Australia
The Indian cricket team on Saturday suffered the ignominy of being restricted to its lowest ever total in Test cricket, collapsing to 36/9 in the terminated second innings against Australia on the third morning of the first Day/Night Test.
India's earlier lowest score was 42 at the Lord's in 1974 against England, known in Indian cricket parlance as "Summer of 42".
After a decent 53-run first innings lead, India suffered a humiliating defeat with only 89 runs to defend.
At one stage, India were reduced to 26/8 and looked like equalling the lowest ever Test score (26 by New Zealand) but Hanuma Vihari's boundary helped them evade entry into the dark pages of cricketing history.
India's extraordinary collapse to 36 all out brought out a variety of reactions and here are some of them–Meanwhile, to make matters worse, star pacer Mohammed Shami's series could well be over due to a wrist injury from a short ball from Pat Cummins, which could potentially be a fracture. Shami could not continue and the Indian innings was terminated at 36 for 9 in 21.2 overs.
Yusuf Pathan retires from all formats of cricket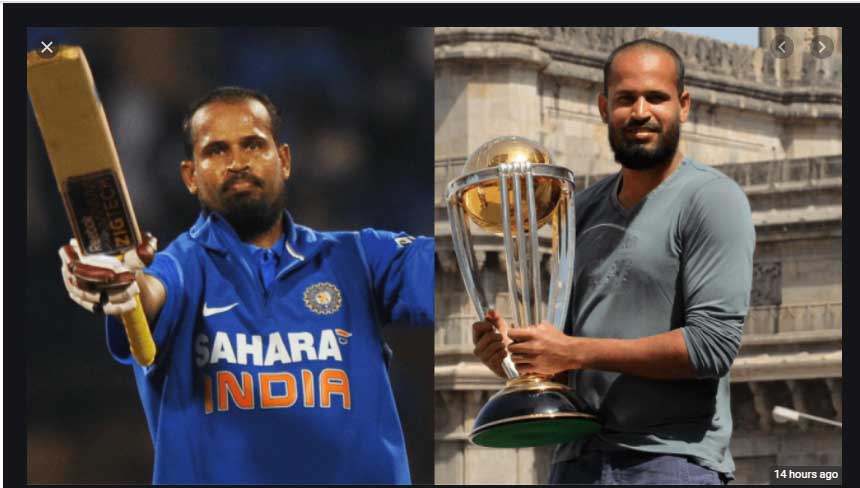 New Delhi: Allrounder Yusuf Pathan, who was part of India's two World Cup-winning teams, on Friday announced retirement from all forms of cricket.
A hard-hititng batsman and effective off-spinner, 38-year-old Pathan was part of the Indian teams that won the 2007 T20 World Cup in South Africa and the 2011 World Cup in India. M.S.Dhoni was captain of both teams. Irfan Pathan, his younger brother and an allrounder, had quit all forms of cricket early in 2020.
"I officially announce retirement from all forms of the game. I thank my family, friends, fans, teams, coaches and the whole country wholeheartedly for all the support and love. I am sure you will continue to encourage me in future as well," Pathan, who represented Baroda in domestic tournaments, said in a statement posted on Twitter.
The Baroda-based Pathan's last appearance with the Indian team was in a T20 international against South Africa in Johannesburg on March 30, 2012.
After making his international debut during the 2007 T20 World Cup, against Pakistan in Johannesburg, Pathan played 22 T20Is in which he scored 236 runs and picked 13 wickets. He also played 57 ODIs for India, scoring 810 runs and taking 33 wickets.
Motera Stadium renamed; The largest stadium in the world is now named after Narendra Modi
The world's largest cricket stadium at Motera in Ahmedabad was renamed the Narendra Modi Stadium and inaugurated on Wednesday by the President of India Ram Nath Kovind in the presence of Union Home Minister Amit Shah; his son Jay Shah, who is Board of Control for Cricket in India (BCCI) secretary; and others.
The rebuilt stadium is a part of the proposed, sprawling Sardar Vallabhbhai Patel Sports Enclave, which includes the world's largest cricket stadium, a natatorium (indoor swimming pool), facilities for athletics and track and field sports, a football stadium, a field hockey and tennis stadium, indoor sports halls and arenas, velodrome/ skating area, and outdoor fields. The enclave is spread in over 220 acres on the Sabarmati river bank in the north east area of Ahmedabad.
The President laid the foundation stone for the sports enclave along with the inauguration of the rebuilt cricket stadium.
In his speech, Mr. Shah said that Ahmedabad will become the city with state-of-the-art sports infrastructure of international standards after the completion of the Sardar Patel Sports Enclave.
"Coupled with the Sardar Vallabhbhai Patel Sports Enclave and the Narendra Modi Stadium in Motera, a sports complex will also be built in Naranpura. These three will be equipped to host any international sports event," Mr. Shah said at the inauguration ceremony.
The new stadium at Motera, set up by the Gujarat Cricket Association (GCA), is a dream project of the PM, to demolish the old stadium completely and rebuild in its place a new one, which would be the largest in the world with the best of its class facilities.
"This stadium was conceptualised by Prime Minister Narendra Modi when he was Chief Minister of Gujarat. He was president of the Gujarat Cricket Association at that time," President Ram Nath Kovind said during his inaugural address on Wednesday.
The old stadium, with 49,000 seating capacity, was known as the Sardar Patel Cricket Stadium, where many historically important matches were played. It hosted 12 Tests, 23 One Day Internationals, and one T20 between 1982 and 2016.
Construction of the new stadium began in 2016. It has been built at an estimated cost of ₹800 crore. The refurbished stadium is spread over a 63-acre plot. According to the GCA, the newly built stadium has a total capacity of 1,32,000. It significantly surpasses the capacity of the hitherto largest Melbourne Cricket Ground in Australia, which can host 90,000 spectators. There are three entry points to the stadium.
The new stadium has four dressing rooms with world-class facilities, and a built-in clubhouse with 55 rooms. The clubhouse has facilities for both indoor and outdoor games, restaurants, an Olympic-size swimming pool, a gym, and a 3D projector theatre.
This is the first time the field of an Indian cricket stadium has been fitted with LED lights.
On the same day last year, on February 24, the Prime Minister hosted U.S. President Donald Trump with the mega 'Namaste Trump' event at the stadium.