28 Individuals Booked Under India's Strictest Anti-Conversion Law in One Month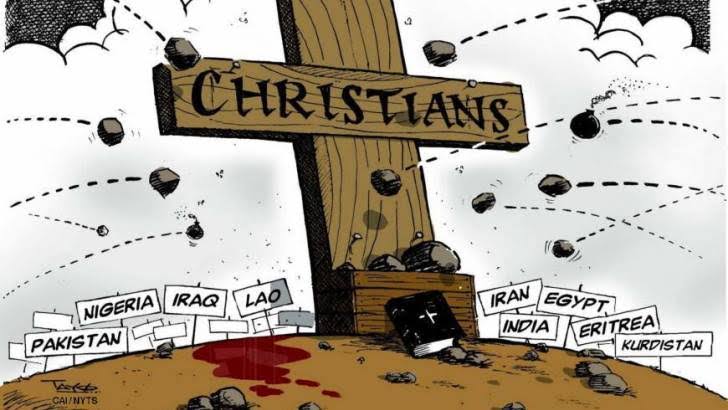 India – According to the Hindustan Times, 28 people, the majority of them Christian, have been arrested and charged under India's newest anti-conversion law.
On January 9, the Madhya Pradesh Freedom of Religion Ordinance, popularly know as an anti-conversion law, was enacted by the Madhya Pradesh state government. Since then, Christian residents of Madhya Pradesh have reported a dramatic escalation in persecution and harassment from radical Hindu nationalists using the new law as a legal cover for persecution.
Among the 28 people arrested under the new anti-conversion law is Chhatar Singh Katre, a teacher from a small village school in Madhya Pradesh. The Hindustan Times reports Katre organized a pray meeting on January 27 to celebrate the admission of his daughter to college.
Before the meeting began, however, police arrived and arrested Katre and two other Christians. All three were charged with violating the new anti-conversion law for luring and coercing people into changing their religion. All three Christians remain in jail and have had their bail petitions rejected by the Balaghat sessions court.
"My father organized the meeting for me and now he is in jail for no reason," Kalyani Katre, Katre's daughter, told the Hindustan Times. "The case was registered against him and two others on the complain of a person who was booked 10 years ago for assaulting and harassing my father and others for participating in a religious program."
According to the Hindustan Times, 28 people have been booked under the new anti-conversion law since it was enacted on January 9. Data shows that eight cases in total have been registered, four against nine Muslims and another four against 19 Christians.
According to the anti-conversion law, individuals seeking to change their religion need to apply to the district administration 60 days in advance. Religious leaders facilitating religious conversions would also need to inform the district administration 60 days in advance. If the previsions of the ordinance are not followed individuals could face a sentence of three to five years in jail and a financial penalty of 50,000 rupees.
The ordinance also criminalizes forceful religious conversions with a jail term of one to five years' imprisonment and fine of 25,000 rupees. Section 3 of the ordinance increases these punishments to two to ten years' imprisonment and a fine of 50,000 rupees for individuals forcefully converting minors, women, or individuals belonging to a Scheduled Caste or Scheduled Tribe.
Radical Hindu nationalists use the specter of mass religious conversions to Christianity and Islam as justification to pass similar laws limiting religious freedom. According to these nationalists, Indian Christians and Muslims are accused of converting poor Hindus to Christianity and Islam in mass by fraudulent means.
In states where similar anti-conversion laws are currently enacted, including Odisha, Uttar Pradesh, Arunachal Pradesh, Chhattisgarh, Gujarat, Jharkhand, Himachal Pradesh, and Uttarakhand, they are widely abused. Radical nationalists falsely accuse Christians of forcefully converting individuals to Christianity to justify harassment and assault. Local police often overlook violence perpetrated against Christians due to false accusations of forced conversion.
To date, no individual has been convicted of forced conversions in India. This is in spite of the fact that some of the anti-conversion laws have been on the books since 1967.
ചര്‍ച്ച് ഓഫ് ഗോഡ് മൈസൂര്‍ ആരാധന പുതിയ സ്ഥലത്ത്
മൈസൂര്‍: കഴിഞ്ഞ 17 വര്‍ഷമായി മൈസൂര്‍ ബന്നിമണ്ഡപ് ഇന്‍ഡസ്ട്രിയല്‍ ഏരിയയില്‍ പ്രവര്‍ത്തിച്ചു കൊണ്ടിരുന്ന ചര്‍ച്ച് ഓഫ് ഗോഡ് ഇന്‍ ഇന്ത്യാ മൈസൂര്‍ സഭ, മൈസൂര്‍ ഹെബ്ബാള്‍ ഏരിയയിലേയ്ക്ക് മാറി പ്രവര്‍ത്തനം ആരംഭിച്ചു. ഹെബ്രോന്‍ ചര്‍ച്ച് ഓഫ് ഗോഡ് എന്ന് അറിയപ്പെട്ടിരുന്ന സഭ ഇനി മുതല്‍ ചര്‍ച്ച് ഓഫ് ഗോഡ് (ഫുള്‍ ഗോസ്പല്‍) ഇന്‍ ഇന്ത്യ,മൈസൂര്‍ എന്ന പേരിലായിരിക്കും അറിയപ്പെടുന്നത്. ദൈവസഭ കര്‍ണാടക സ്റ്റേറ്റ് ബൈബിള്‍ കോളേജ് ഡയറക്ടറും കൗണ്‍സില്‍ മെമ്പറുമായ പാസ്റ്റര്‍ റോജി ഇ സാമുവേല്‍ ഈ സഭയില്‍ ശുശ്രൂഷിക്കുന്നു. മൈസൂര്‍ പട്ടണത്തില്‍ മലയാളം ആരാധനയ്ക്കായി ആഗ്രഹിക്കുന്നവര്‍ ഈ സഭയുമായി ബന്ധപ്പെടുക.
വിശദ വിവരങ്ങള്‍ക്ക് : 9446084572, 9902198959, 9886164904
Indian Pastor Bound and Beaten for Refusal to Contribute to Tribal Rituals
India – According to Morning Star News, a pastor in India's Jharkhand state was bound and publicly beaten by fellow villagers after he refused to contribute funds to the ritual worship of tribal deities. Despite this intense persecution, the pastor remained steadfast in his faith.
On January 24, Pastor Lakshman Oraon was called before the elders of Jungur village, located in the Latehar District of Jharkhand. The elders of the village demanded he contribute funds to the ritual worship of the village's tribal deities. When he refused, his arms were tired behind his back and he was beaten.
"When they tied me and started kicking me, I was not at all angry," Pastor Oraon told Morning Star News. "The Lord reminded me of the verses in Matthew 5:11-12. I received great strength from these words. There was a smile on my face all through."
After the beating, village elders threatened to excommunicate Pastor Oraon and the other Christians of the village if they continued to refuse to contribute to the tribal rituals.
Facing expulsion, Pastor Oraon reached out to the Alliance Defending Freedom India (ADF). ADF contacted the local police station. Officers called Pastor Oraon and the village elders to the station to work out the situation.
"At the police station, we were asked to give the money, and we gave it," Pastor Oraon told Morning Star News. "We are praying for the salvation of village leaders and the devotees of tribal deities. The police assured us that they will be a phone call away if any problem arises, and that we will not face any troubles from the villagers after giving the money."
Sources:persecution