One Month After Attack, These Churches Are Still Meeting for Worship
Kenya – It is Sunday, February 14, at 9 AM in Otamba, Kisii County. It is a cool but bright day as ICC visits the sites of recent attacks in Western Kenya.
The residents of Otamba move throughout the community as they head to their respective places of worship. Pastor Charles Mayore begins his service as he always does by leading morning prayers at the Worldwide Gospel Church, a charred, broken building with a gaping hole in the back. Those entering the building sit on borrowed primary school wooden desks or the few plastic chairs that survived the attack. Charles thanks the Lord for keeping the saints strong in the faith just one month after an arson attack that destroyed their sanctuary.
ICC spoke to Charles about how the church has been recovering from the devastating January fire. He narrated the horrific incident, "Our church was attacked on the night of January 14. It was among the first churches to be burned down together with the Seventh Day Adventist Church just across (the street). Neighbors raised the alarm when they saw the flames. The fire was too huge to be contained immediately, but with the help of water from the SDA church, which was also burning, Christians managed to put it out. But we lost everything that was in the storage; chairs, cabinet, registers, Christian literature, tables, and one side of the roof."
Charles continued, "The first two Sundays after the church was burned down, believers were scared about attending worship. We kept praying and encouraging them, and now we meet every Sunday for usual worship services. Others have not yet resumed worship because we do not have enough chairs. We have been able to replace just ten new chairs against a church membership of one hundred and six. We also borrowed a few wooden desks from the nearby primary school to use as we trust the Lord for new chairs."
A few kilometers from Worldwide Gospel is the Otamba Pentecostal Church. As you enter the church, members sit in groups, attending their morning classes before the general worship service. Speaking with ICC, Pastor James Ondima, head pastor of the church, said, "We never stopped our usual meetings. Before the security agents could visit and file a report of the extent of the attack, we used to meet outside for services. We did this for two weeks, but now we are back to the church building. We have replaced a few things, although we are yet to replace the scorched iron sheets, interior curtains, the lectern, and other items that were burnt to ashes. The believers have remained steadfast, and we have also seen our membership grow. The new members are convinced that the churches are being targeted for speaking the truth of the gospel."
Shortly after leaving Worldwide Gospel church, ICC walked across town to St. Augustine Catholic Church Otamba, where the Seminarian is finishing his sermon outside of the church building. Over 200 members are seated patiently in the cold, hoping that their church building will be ready soon. Afterward, the Seminarian had a word with us. "The attackers cut the grill of one of the windows to find entry and set ablaze the items in the priest's altar. With the help of the Lord, we have replaced everything and also repainted the church. The only reason making us worship from outside is that the Parish leader has not come to dedicate the replaced items. We hope this shall be done in the coming few days."
It was not just these three churches that were attacked, though. Nyangeni SDA church and the Holy Spirit Church were also set ablaze that same day in early January. Despite this destruction, all five Otamba churches are still meeting weekly for worship regardless of the losses and shock they've endured.
The Nyangeni SDA church has been unable to replace all of the items burned inside their office. "We lost a lot of things inside the church office; office chairs, cabinets, Bibles, hymn books, Christian literature, communion vessels, tables, etc. We are waiting until Easter to begin raising money to replace these items, one by one. We do not want to burden the members who are still reeling from the effects of the arson attack and the difficult life during this season of Coronavirus. We can only ask for prayers, and we trust the Lord for strength and provision." Explained the elder in charge.
When the attackers failed to gain entrance into the Holy Spirit Church, they resolved to burn the church bathroom. The leader, Pastor Linnet, thanked God, saying, "They did not burn the items inside the church that we had sacrificially gathered for many years. It would have taken us back a great deal. We also trust God that we shall be able to build another toilet".
This wanton destruction of so much property shows the extreme hatred the attackers have for the gospel. It is unclear who these attackers are or why they targeted these churches. Despite this, we want to lift them up in our prayers, asking God to forgive them and to turn their hearts to Christ. Likewise, please pray for the churches that have lost so much. Thank God for his faithfulness and steadfastness throughout these ordeals and that the Christians would more fully know and love Him through these challenges.
Bus accident in Peru; 20 were killed and 14 were injured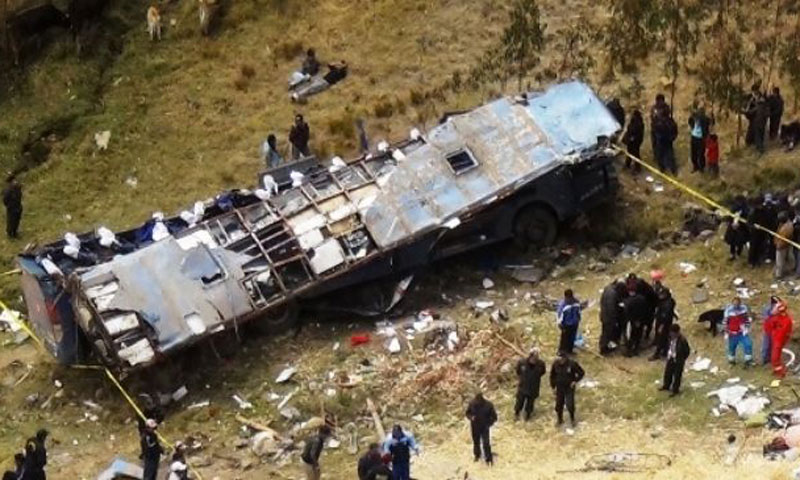 Peru: At least 20 people were killed and 14 others injured in Peru after an interprovincial bus skidded and overturned in Sihuas province in the northern Ancash region, authorities said on Monday.
According to the Parobamba district municipality on its Facebook page, the "accident left 18 people dead on the spot, with two more dying while being transferred."
The accident occurred at about 7:00 am local time on Monday in the Palo Seco area, when the bus, from the "Fama Tours SA" transport company, skidded and overturned.
It was returning from the areas of Huanchayllo and Parobamba and heading to Chimbote and Lima, after the passengers had voted in the general elections on Sunday, a local radio station reported.
Peru's transport authorities said in a statement that it "has activated all intervention protocols to gather information related to the accident for determining appropriate measures."
'The Science of Compliance': Pastor Responds to Police Barricade of GraceLife Church
"They are not interested in the science called virology. It is more like the science of compliance."
Pastor Doug Wilson of Christ Church in Moscow, Idaho, took to his blog this morning to respond to the show of force against GraceLife Church in Canada.
Wilson, who became more widely known after his series of high profile debates with famed atheist Christopher Hitchens, in which Wilson offered stiff competition and a steady stream of witty comebacks.
Wilson's piece, titled 'Putting on Our Coates Coats' confronts the disturbing news that spread across social media last week.
Coates recently served over a month in jail, only to be released and see his GraceLife Church building surrounded by fencing put up by the government. They were shut down, resulting in protests and an even larger police response.
Wilson argued that "ideas have consequences" and highlighted the differences between worldviews.
People act the way they do for reasons. As Richard Weaver taught us, ideas have consequences.
If you believe in God, if you think that the cosmos was created from nothing, if you believe that mankind was created in the image of God, then it is possible for you to believe that we have rights. And by rights, I do not mean privileges, but rather actual rights. These rights cannot be revoked by bureaucratic fiat, they cannot be abridged by executive order, and they cannot be adjusted or trimmed by the winners of elections, stolen or otherwise.
But if you don't believe in God, if you believe that this material universe is a meaningless concourse of atoms, if you believe that life originated all by itself accidentally in a primordial goo-pond somewhere, and that we are simply simians that learned to shave, then it follows of necessity that we do not have any rights at all. We are nothing more than meat and bones and protoplasm.
Wilson said "the real travesty" occurs when followers of God go along with "the dictates of those who affirm the second scenario" and shouldn't leave us surprised when a pastor like Coates stands up and "acts like a real pastor."
He went on to argue that "flat refusal to cooperate" is the only way out.
"We have no business appealing to their god with any hope of getting the kind of determination that we would get if we were appealing to our God," Wilson said.
"You can't gather figs from thistles. You can't get sweet water from a brackish spring. You know. You can't order a Whopper at MacDonalds. You will not get Christian blessings from pagan gods."
Siurces:faithwire