Franklin Graham announces prayer rally "PrayerMarch2020," in US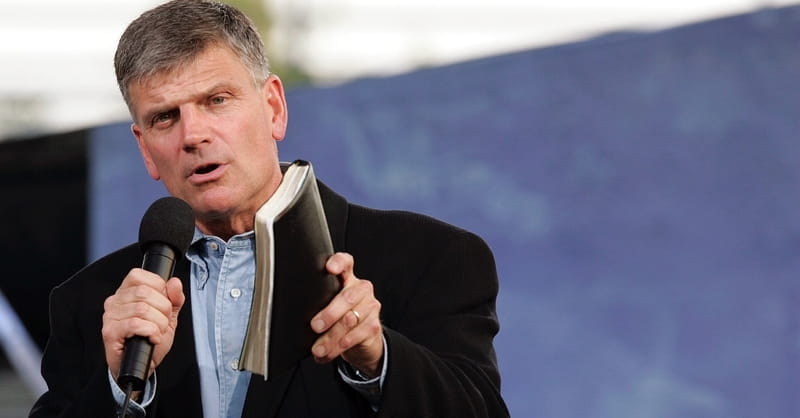 Evangelist Franklin Graham has called on thousands of families, pastors and churches to join him for "Prayer March 2020" in Washington, D.C., on Sept. 26. "Our nation is in trouble … we need God's help," he says.
"I'm announcing today that on Sept. 26, I'm going to be in our nation's capital to pray—& I hope thousands of families, pastors, & churches will join me! Our nation is in trouble, & we need God's help. Make plans now to come for "PrayerMarch2020," Graham, president of the Christian charity Samaritan's Purse and the Billy Graham Evangelistic Association, wrote on Twitter.
"Our only hope for this country is God," he says in a video message.
Jack Graham, the pastor of Prestonwood Baptist Church in Plano, Texas, responded to Franklin Graham's tweet, saying, "… I will be there. I want to invite every Pastor and church in the SBC and all others who can to join us. Can you imagine thousands of believers praying together for our broken nation? Let's do it!"
From noon to 2 p.m., believers will march from the Lincoln Memorial to the Capitol building covering 1.8 miles while praying for the nation during "extraordinary times," the event's website says.
"America is in trouble. It's in distress. But we do have hope, and that hope is in Almighty God. And we need to pray now more than ever — more than we have ever done in our lives. Our communities are hurting. Our people are divided. And there's fear and uncertainty all around us," Graham says in a video message on the website, referring to riots and violence across the country and the COVID-19 pandemic.
Earlier this month, rioters carrying "Black Lives Matter" signs threw Bibles into a fire in front of the federal courthouse in Portland, Oregon, and burned an American flag.
Riots in Portland and many other cities across the country have been ongoing since the May 25 death of George Floyd, who died while in police custody in Minneapolis, Minnesota.
According to the Johns Hopkins University Coronavirus Resource Center, the U.S. had more than 5 million confirmed cases with nearly 163,000 deaths, as of early Monday.
Jentezen Franklin, the senior pastor of Free Chapel Church in Gainesville, Georgia, also called on Americans to join him for 21 days of fasting and prayer beginning Aug. 1.
"I believe the Lord spoke to me and said to make the month of August a season of … crying out and praying and fasting and turning back to God like never before," Jentezen Franklin said. "It's time to fast and pray and break the back of COVID. We must see a divine reversal. We must see a turnaround," added the host of the weekly television program "Kingdom Connection."
In May, GO 2020 invited thousands of churches and ministries worldwide "to dedicate the entire month … to sharing the Gospel of Jesus Christ."
Through the outreach, 50 million Christians shared the Gospel reaching 248 million people, according to estimates by the organizers.
I'm announcing today that on Sept. 26, I'm going to be in our nation's capital to pray—& I hope thousands of families, pastors, & churches will join me! Our nation is in trouble, & we need God's help. Make plans now to come for #PrayerMarch2020. For more: https://t.co/XSqMiRVUlM pic.twitter.com/9BpvpmV6z4

— Franklin Graham (@Franklin_Graham) August 8, 2020
Joe Biden, Kamala Harris sworn-in to lead new America
Joe Biden is sworn-in as the 46th president of the United States by Chief Justice John Roberts as Jill Biden holds the Bible during the 59th Presidential inauguration at the US Capitol.
Democrat Joe Biden, a fixture in Washington for nearly a half century, was sworn in Wednesday as the 46th US President in a time-honored ceremony on the steps of the US Capitol.
Biden, at 78, becomes the country's oldest leader ever after serving 36 years as a US senator and eight as vice president. He took the presidential oath of office, swearing to uphold the US Constitution and defend the country against all enemies, foreign and domestic, on a chilly, wind-swept day.
Kamala Harris
Shortly before, Kamala Harris, a former US senator from California, the country's most populous state, was sworn-in as vice president, becoming the highest ranking female official in more than two centuries of US history. She is of Black and Indian heritage.
In his inaugural address, Joe Biden said "The will of the people has been heard, and the will of the people has been heeded. We've learned again that democracy is precious and democracy is fragile. At this hour, my friends, democracy has prevailed."
"This is America's day. This is democracy's day. A day in history and hope, of renewal and resolve," he added. Biden also emphasized that "unity is the path forward."
Three former presidents attend
The swearing-in ceremonies were witnessed by three former presidents — Barack Obama, George W Bush and Bill Clinton – but the country's outgoing chief executive, former President Donald Trump, ignored 152 years of tradition of presidents attending their successors' swearing-in ceremonies and left Washington early for his Atlantic coastal mansion in Florida.
Former US President Barack Obama and wife Michelle Obama arrive before the inauguration of Joe Biden as the 46th President of the United States on the West Front of the US Capitol in Washington.
Crowd missing
Also missing was the vast crowd of thousands of well-wishers that is normal at US presidential inaugurations, both for security reasons and the fear that people jammed together on the National Mall in front of the Capitol would add to the soaring number of coronavirus infections in the US. Instead of people on the Mall, there were thousands of red, white and blue American flags whipping in the wind.
The usual throng of Washington dignitaries witnessing a presidential inauguration was sharply limited in the seats behind Biden and Harris, and their spouses — first lady Jill Biden and second gentleman Doug Emhoff. Chairs for the invited guests were widely spaced in line with coronavirus restrictions recommended by health authorities.
Extraordinary security
The ceremony was conducted amid extraordinary security, with tall metal fencing topped by razor wire surrounding the inauguration site after intelligence reports warned that Trump supporters angered by the congressionally certified outcome of the ex-president's defeat could attempt to disrupt the ceremony.
Blast in a multi-storey building in Madrid; Two killed and several injured
Madrid: A bomb exploded at a multi-storey building in the Spanish capital, Madrid. The initial conclusion was that the gas leak was the cause of the explosion. Madrid Mayor Jose Luis has announced that two people have been killed in an accident. Several people were reportedly injured. Rescue work is progressing on the spot. The bomber struck shortly afternoon in front of a police station.
Madrid emergency services said they had deployed rescue workers, firefighters, and police at the scene. Nine fire crews and 11 ambulances were dispatched to the scene with hundreds of police and rescuers filling the street, which was completely closed off to traffic and pedestrians, AFP correspondents said. "At least four floors have been affected by the explosion in the building in Calle Toledo."
A witness told local Madrid newspaper  that "everything shook like a bomb" and that "much of the facade has fallen."
Local resident Leire Reparaz, 24, told the Associated Press that she heard a loud explosion: "We didn't know where the sound came from. We all thought it was from the school. We went up the stairs to the top of our building and we could see the structure of the building and lots of grey smoke."
Firefighters, police and specialized emergency workers were at the scene and and the surrounding area was evacuated. However, firefighters were reportedly unable to enter the building due to an ongoing fire.