Franklin Graham announces prayer rally "PrayerMarch2020," in US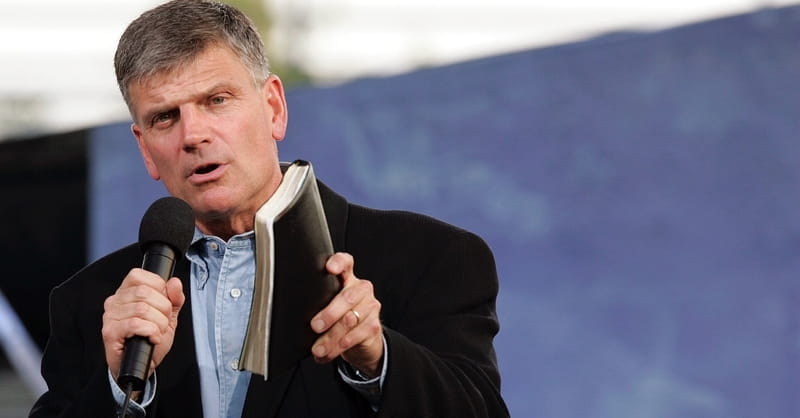 Evangelist Franklin Graham has called on thousands of families, pastors and churches to join him for "Prayer March 2020" in Washington, D.C., on Sept. 26. "Our nation is in trouble … we need God's help," he says.
"I'm announcing today that on Sept. 26, I'm going to be in our nation's capital to pray—& I hope thousands of families, pastors, & churches will join me! Our nation is in trouble, & we need God's help. Make plans now to come for "PrayerMarch2020," Graham, president of the Christian charity Samaritan's Purse and the Billy Graham Evangelistic Association, wrote on Twitter.
"Our only hope for this country is God," he says in a video message.
Jack Graham, the pastor of Prestonwood Baptist Church in Plano, Texas, responded to Franklin Graham's tweet, saying, "… I will be there. I want to invite every Pastor and church in the SBC and all others who can to join us. Can you imagine thousands of believers praying together for our broken nation? Let's do it!"
From noon to 2 p.m., believers will march from the Lincoln Memorial to the Capitol building covering 1.8 miles while praying for the nation during "extraordinary times," the event's website says.
"America is in trouble. It's in distress. But we do have hope, and that hope is in Almighty God. And we need to pray now more than ever — more than we have ever done in our lives. Our communities are hurting. Our people are divided. And there's fear and uncertainty all around us," Graham says in a video message on the website, referring to riots and violence across the country and the COVID-19 pandemic.
Earlier this month, rioters carrying "Black Lives Matter" signs threw Bibles into a fire in front of the federal courthouse in Portland, Oregon, and burned an American flag.
Riots in Portland and many other cities across the country have been ongoing since the May 25 death of George Floyd, who died while in police custody in Minneapolis, Minnesota.
According to the Johns Hopkins University Coronavirus Resource Center, the U.S. had more than 5 million confirmed cases with nearly 163,000 deaths, as of early Monday.
Jentezen Franklin, the senior pastor of Free Chapel Church in Gainesville, Georgia, also called on Americans to join him for 21 days of fasting and prayer beginning Aug. 1.
"I believe the Lord spoke to me and said to make the month of August a season of … crying out and praying and fasting and turning back to God like never before," Jentezen Franklin said. "It's time to fast and pray and break the back of COVID. We must see a divine reversal. We must see a turnaround," added the host of the weekly television program "Kingdom Connection."
In May, GO 2020 invited thousands of churches and ministries worldwide "to dedicate the entire month … to sharing the Gospel of Jesus Christ."
Through the outreach, 50 million Christians shared the Gospel reaching 248 million people, according to estimates by the organizers.
I'm announcing today that on Sept. 26, I'm going to be in our nation's capital to pray—& I hope thousands of families, pastors, & churches will join me! Our nation is in trouble, & we need God's help. Make plans now to come for #PrayerMarch2020. For more: https://t.co/XSqMiRVUlM pic.twitter.com/9BpvpmV6z4

— Franklin Graham (@Franklin_Graham) August 8, 2020
One Christian Killed, Four Kidnapped in Nigeria
Nigeria– A bus driver was killed and four female members of an Anglican Church abducted while driving along Kaduna-Kachia road on Tuesday, April 6th, reports the Barnabus Fund.
"Bandits blockaded the road and opened fire on the church bus and another truck. In addition to the Christian bus driver, named as Alfred Makinde, three others were killed in the gunfire," stated the news source.
The kidnappers contacted the church demanding a N100 million (about $245,000) ransom.
"My conversation with the Anglican church is there were 15 members in the bus but the others ran into the bush and others were shot and sustained injuries, but the bandits took four persons; one old woman and three young ladies" said Reverend Joseph Hayab, the Kaduna Christian Association of Nigeria chairman.
The attack comes just twelve days after eight Christians were abducted while driving on the same Kaduna-Kachia road, about 20 miles outside of Kaduna city. Christians are particularly targeted in this area of Nigeria, often referred to as the middle belt, where the Muslim majority north meets Nigeria's mostly Christian south, creating an environment of ethnic tension which often results in severe Christian persecution. Christian communities are targeted, and thousands of believers have been kidnapped, tortured and killed with nowhere to turn for safety. While the government denies religious motive behind these attacks, the frequent burning of churches and targeting of believers shows that a hatred of Christianity plays a key role in the violence throughout the Middle Belt.
Please pray for the safe return of all who have been kidnapped. Please join us in praying for our brothers and sisters in Nigeria, for the Lord to strengthen the Nigerian church and heal His persecuted children of their trauma. Please also pray for the world to recognize the scale of the suffering that believers are having to endure in Nigeria, as well as for the souls of those who persecute the church, that all will repent and find salvation in Christ.
Sources:persecution
പാസ്റ്റർ ജോൺ വർഗീസിൻ്റെ (രാജൻ പ്ലാന്തോട്ടത്തിൽ) സഹധർമ്മിണി ഏലിക്കുട്ടി വർഗീസ് (ലില്ലി -71) അമേരിക്കയിൽ നിര്യാതയായി
ഒക്കലഹോമ: ഐ.പി.സി. ഹെബ്രോൻ മുൻ ശുശ്രുഷകനും സിനിയർ പാസ്റ്ററുമായ Rev. Dr. ജോൺ വർഗീസിന്റ (രാജൻ. പ്ലാന്തോട്ടത്തിൽ, ആഞ്ഞിലിത്താനം ) ഭാര്യ എലിക്കുട്ടി വർഗീസ് (ലില്ലി – 71) ഏപ്രിൽ 10-ന് പ്രഭാതത്തിൽ താൻ പ്രിയം വെച്ച കർത്തൃ സന്നിധിയിൽ ചേർക്കപ്പെട്ടു. മെമ്മോറിയൽ സർവ്വീസ് ഏപ്രിൽ 16 നു വെള്ളിയാഴ്ച വൈകിട്ട് 6- മണിക്കും സംസ്കാര ശ്രുശ്രുഷ ഏപ്രിൽ 17- നു രാവിലെ 10 മണിക്കും നടത്തപ്പെടുന്നതായിരിക്കും . രണ്ടു ശുശ്രുഷകളും ഒക്കലഹോമ ഐ.പി.സി. ഹെബ്രോൻ സഭാ ഹാളിൽ വെച്ച് നടത്തപ്പെടുന്നതായിരിക്കും.
മകൾ : ഫെബി മാത്യു.
മരുമകൻ: ജോൺസൻ മാത്യു (ബോബി ).
കൊച്ചുമക്കൾ: ജോയാന, രൂത്ത് & ക്രിസ്റ്റഫർ
Viewing:- Wednesday 4 – 7.30pm (prayer meeting 6.30 pm – 7.30pm)
Memorial service:- Friday 6.30 pm. @IPCH
Home Going Service:- Saturday 10 am. @ IPCH
Follow CDC guidelines.
Come and go as you wish.
കൂടുതൽ വിവരങ്ങൾക്ക്: