Court in Pakistan Orders Arzoo Raja Stay in Shelter Home Until She Turns 18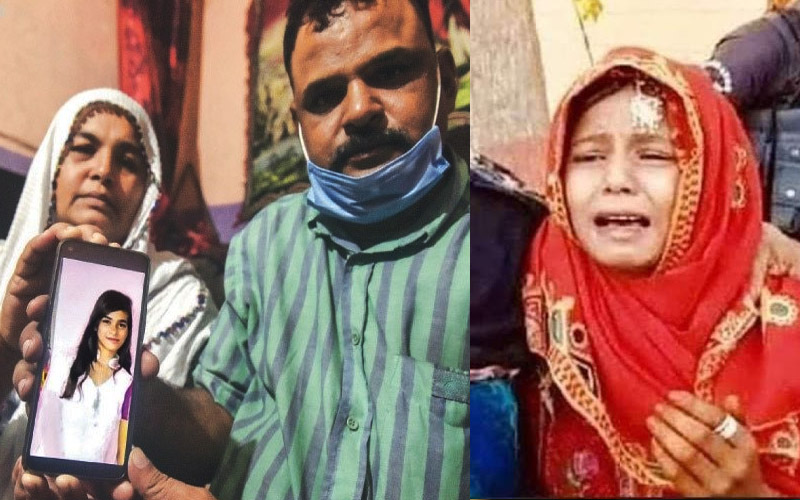 Pakistan – The High Court in Sindh ordered that Arzoo Raja, a 13-year-old Christian girl allegedly abducted and illegally married to a 44-year-old Muslim man, remain in a government shelter home until she turns 18.
On October 13, Arzoo was allegedly abducted from her family home in Karachi by Ali Azhar, her Muslim neighbor. Arzoo's parents reported the incident to local police and were informed two days later that their daughter had converted to Islam and married Azhar.
Arzoo's parents challenged the validity of the marriage claiming it violated the Sindh Child Marriage Restraint Act. However, on October 27, the court ruled in favor of the marriage and order local police to protect Arzoo and Azhar.
On November 2, police were ordered by the High Court in Sindh to recover Arzoo and arrest Azhar. This came after Pakistan's Minister for Human Rights became involved in the case as an intervener. Arzoo was taken to a women's shelter and Azhar was arrested.
On November 9, the High Court in Sindh ruled that Arzoo was a minor and that her marriage to Azhar violated the Sindh Child Marriage Restraint Act. Arzoo returned to the women's shelter after she refused to reunite with her family and insisted that she had freely chosen to marry Azhar.
On November 23, the High Court in Sindh declined to dismiss the criminal charges against Azhar in addition to ordering Arzoo remain in the government shelter home.
"I believe it is a good verdict, because the court has not quashed the FIR registered by Arzoo's father and statutory rape of a minor has been added to it, a crime punishable with life imprisonment or death sentence," Jibran Nasir, the Christian family's attorney, told Morning Star News. "Arzoo will remain in the shelter home and reconsider her decision to not live with her parents."
"Please understand that Arzoo is reluctant to live with her parents because of the consistent brainwashing done by the accused and certain community activists for ulterior motives," Nasir added.
According to a study by the Movement for Solidarity and Peace Pakistan, an estimated 1,000 Christian and Hindu women are abducted, forcefully married, and forcefully converted to Islam every year. Many of the victims are minors. Sexual assaults and fraudulent marriages are used by perpetrators to entrap victims and authorities are often complicit.
The issue of religion is injected into cases of sexual assault to place victims from religious minority communities at a disadvantage. Playing upon religious biases, perpetrators know they can cover up and justify their crimes by introducing an element of religion.
One Christian Killed, Four Kidnapped in Nigeria
Nigeria– A bus driver was killed and four female members of an Anglican Church abducted while driving along Kaduna-Kachia road on Tuesday, April 6th, reports the Barnabus Fund.
"Bandits blockaded the road and opened fire on the church bus and another truck. In addition to the Christian bus driver, named as Alfred Makinde, three others were killed in the gunfire," stated the news source.
The kidnappers contacted the church demanding a N100 million (about $245,000) ransom.
"My conversation with the Anglican church is there were 15 members in the bus but the others ran into the bush and others were shot and sustained injuries, but the bandits took four persons; one old woman and three young ladies" said Reverend Joseph Hayab, the Kaduna Christian Association of Nigeria chairman.
The attack comes just twelve days after eight Christians were abducted while driving on the same Kaduna-Kachia road, about 20 miles outside of Kaduna city. Christians are particularly targeted in this area of Nigeria, often referred to as the middle belt, where the Muslim majority north meets Nigeria's mostly Christian south, creating an environment of ethnic tension which often results in severe Christian persecution. Christian communities are targeted, and thousands of believers have been kidnapped, tortured and killed with nowhere to turn for safety. While the government denies religious motive behind these attacks, the frequent burning of churches and targeting of believers shows that a hatred of Christianity plays a key role in the violence throughout the Middle Belt.
Please pray for the safe return of all who have been kidnapped. Please join us in praying for our brothers and sisters in Nigeria, for the Lord to strengthen the Nigerian church and heal His persecuted children of their trauma. Please also pray for the world to recognize the scale of the suffering that believers are having to endure in Nigeria, as well as for the souls of those who persecute the church, that all will repent and find salvation in Christ.
Sources:persecution
പാസ്റ്റർ ജോൺ വർഗീസിൻ്റെ (രാജൻ പ്ലാന്തോട്ടത്തിൽ) സഹധർമ്മിണി ഏലിക്കുട്ടി വർഗീസ് (ലില്ലി -71) അമേരിക്കയിൽ നിര്യാതയായി
ഒക്കലഹോമ: ഐ.പി.സി. ഹെബ്രോൻ മുൻ ശുശ്രുഷകനും സിനിയർ പാസ്റ്ററുമായ Rev. Dr. ജോൺ വർഗീസിന്റ (രാജൻ. പ്ലാന്തോട്ടത്തിൽ, ആഞ്ഞിലിത്താനം ) ഭാര്യ എലിക്കുട്ടി വർഗീസ് (ലില്ലി – 71) ഏപ്രിൽ 10-ന് പ്രഭാതത്തിൽ താൻ പ്രിയം വെച്ച കർത്തൃ സന്നിധിയിൽ ചേർക്കപ്പെട്ടു. മെമ്മോറിയൽ സർവ്വീസ് ഏപ്രിൽ 16 നു വെള്ളിയാഴ്ച വൈകിട്ട് 6- മണിക്കും സംസ്കാര ശ്രുശ്രുഷ ഏപ്രിൽ 17- നു രാവിലെ 10 മണിക്കും നടത്തപ്പെടുന്നതായിരിക്കും . രണ്ടു ശുശ്രുഷകളും ഒക്കലഹോമ ഐ.പി.സി. ഹെബ്രോൻ സഭാ ഹാളിൽ വെച്ച് നടത്തപ്പെടുന്നതായിരിക്കും.
മകൾ : ഫെബി മാത്യു.
മരുമകൻ: ജോൺസൻ മാത്യു (ബോബി ).
കൊച്ചുമക്കൾ: ജോയാന, രൂത്ത് & ക്രിസ്റ്റഫർ
Viewing:- Wednesday 4 – 7.30pm (prayer meeting 6.30 pm – 7.30pm)
Memorial service:- Friday 6.30 pm. @IPCH
Home Going Service:- Saturday 10 am. @ IPCH
Follow CDC guidelines.
Come and go as you wish.
കൂടുതൽ വിവരങ്ങൾക്ക്: