Rape and blackmail; Turkish court sentences television preacher to 1075 years in prison
Istanbul – A Turkish court on Monday sentenced a controversial Muslim televangelist and cult leader to life in prison, finding him guilty of forming a criminal gang and sexual abuse of minors, among several other offenses.
Adnan Oktar, who was known for holding theological discussions surrounded by glamorous women on his private television channel, was convicted of 10 separate charges, including leading a criminal gang, engaging in political and military espionage, sexual abuse of minors, rape, blackmail and causing torment, the state-run Anadolu Agency reported. He was handed down a total of 1,075 years in prison.
The charges also included aiding the network led by U.S.-based Muslim preacher Fethullah Gulen, whom Turkey accuses of masterminding a failed coup attempt in 2016.
Thirteen of Oktar's associates were also given lengthy sentences on similar charges, Anadolu reported.
The 64-year-old, who has denied the accusations, is expected to appeal the verdict. He has maintained that he was the victim of a plot.
Oktar was arrested in 2018 along with dozens of his followers in police raids on his properties in Istanbul and other cities as part of an investigation into his group. The arrests came after Turkey's media watchdog imposed fines on Oktar's TV channel and suspended broadcasts of his shows where he was surrounded by women who had undergone cosmetic surgery and were known as "kittens."
The televangelist — who uses the pen name Harun Yahya — is also known for a series of books he has authored promoting creationism against Darwin's theory of evolution.
The U.S. has blacklisted nine Chinese companies, including smartphone maker Xiaomi
Hong Kong — The U.S. government has blacklisted Chinese smartphone maker Xiaomi Corp. and China's third-largest national oil company for alleged military links, heaping pressure on Beijing in President Donald Trump's last week in office.
The Department of Defence added nine companies to its list of Chinese companies with military links, including Xiaomi and state-owned plane manufacturer Commercial Aircraft Corp. of China .
U.S. investors will have to divest their stakes in Chinese companies on the military list by November this year, according to an executive order signed by Trump in November.
Xiaomi did not immediately respond to a request for comment.
Xiaomi Corp. overtook Apple Inc. as the world's No. 3 smartphone maker by sales in the third quarter of 2020, according to data by Gartner. Xiaomi's market share has grown as Huawei's sales have suffered after it was blacklisted by the U.S. and its smartphones were cut off from essential services from Google.
Separately, the Commerce Department put China National Offshore Oil Corp. (CNOOC) on the entity list, an economic blacklist that forbids U.S. firms from exporting or transferring technology with the companies named unless permission has been obtained from the U.S. government. The move comes after about 60 Chinese companies were added to the list in December, including drone maker DJI and semiconductor firm SMIC.
CNOOC has been involved in offshore drilling in the disputed waters South China Sea, where Beijing has overlapping territorial claims with other countries including Vietnam, the Philippines, Brunei, Taiwan, and Malaysia.
"China's reckless and belligerent actions in the South China Sea and its aggressive push to acquire sensitive intellectual property and technology for its militarization efforts are a threat to U.S. national security and the security of the international community," U.S. Commerce Secretary Wilbur Ross said in a statement.
"CNOOC acts as a bully for the People's Liberation Army to intimidate China's neighbours, and the Chinese military continues to benefit from government civil-military fusion policies for malign purposes," Ross said.
Chinese state-owned company Skyrizon was also added to the economic blacklist, for its push to "acquire and indigenize foreign military technologies," Ross said.
Beijing Skyrizon Aviation, founded by tycoon Wang Jing, drew U.S. criticism for an attempt to take over Ukraine's military aircraft engine maker Motor Sich in 2017. The concern was that advanced aerospace technology would end up being used for military purposes.
Nigerian Bishops call on President Muhammadu Buhari to hear the cries of Christians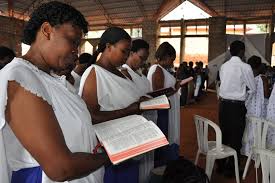 At the funeral of the Most Revd. Gregory Ochiaga, Emeritus Bishop of Orlu Diocese, who died on 29th December, the President of the Catholic Bishops' Conference of Nigeria, Archbishop Augustine Akubeze called on President Muhammadu Buhari to heed the call of religious leaders and deal with the growing violence in the West African country.
"We join our yokes to many courageous religious leaders, Catholics, and non-Catholics who have spoken out against government performance in the area of insecurity in Nigeria.
"There is no religious leader who will want the Government to fail, neither is there any genuine religious leader who truly feels the pain of their people will keep quiet when the life and property of the people are not secured.
"The Government should listen to the cries of Nigerians and take Nigerians seriously when we cry for a secured life, when we ask for a good opportunity for every Nigerians, and when we ask for the inclusion of every part of the country in the governance of Nigeria and not just a minimalistic approach to fulfilling constitutional quotas of representation.
"As we speak and constructively criticise the Federal Government, we assure the Government of our prayers and collaboration in seeking to build a nation where justice and peace reign. Where prosperity for everyone is achieved," he said.
"We know that the level of insecurity in the country has reached an all-time high. The Nigerian people are no longer safe. "On a day-to-day basis, Nigerians are killed or maimed by bandits, cattle rustlers, Boko haram [responsible for the death of an estimated 1700 Nigerians in the first half of 2019 alone], herdsmen, kidnappers and various criminal elements that our security agents have not been able to deal with."
President Buhari, who came to power on a mandate of strengthening Nigeria's security forces and ending the endemic insurgency in 2015, has made much of these commitments during his re-election in 2019. As public trust in the government continues to decline, there is little to comfort the country's embattled people.