Miracles and Salvations Come to Texas: 'The POWER OF GOD Is Breaking Out!'
Thousands witnessed God perform miracles this weekend in Texas during Sean Feucht's "Let Us Worship" revival event.
Feucht and his team, including Dr. Charles Karuku with International Outreach Church, set their stage up in a dirt field in Lubbock on Saturday where people were set free from sin and healed from disabilities.
"5 people set free from same-sex attraction (most of them came to me backstage) They came to Lubbock Texas crying out for revival," Dr. Karuku wrote on Facebook. "Altars were full of people giving their lives to Jesus. We prayed for the sick. A 61yr old woman born deaf who had $8000.00 worth of hearing aids was healed by God. A 27 yr old born deaf with multiple surgeries that did not fix it got his hearing back."
Hundreds of hungry souls seeking salvation ran to the stage during one altar call.
"The PRESENCE OF GOD is filling this dirt field and the POWER OF GOD is breaking out!!! It is UNDENIABLE to everyone here!!!"
The revival moved to Fort Worth on Sunday where thousands of worshippers came out to Mercury Culture Church. Feucht urged those attending to pray for the Holy Spirit to send strength and courage to the churches of America.
"Let us ask the Lord right now for the baptism of the Holy Spirit to enable us to be filled with boldness… let it rise up in Jesus name," Feucht declared.
The second part of Sunday's worship event took place in a Toys R Us parking lot in Fort Worth where countless others came out to hear more about God's truth.
Feucht read from Psalms 2:2 while explaining to the audience why "the armies of the earth are coming against the armies of the Living God.
"The issue we have right now in culture… it's not that they're coming against gender, it's that they're coming against the image of God," Feucht said. "He made men and women different. They're trying to bring division between white and black. They're trying to shut the Church down and shut us up."
The praise leader added that he believes change is coming to the Church and America.
"The political spirit in America is meant to get you fired up and angry but the King will have His way. I believe there is a new way of leadership coming to the Church and the political realm. It's one that's full of optimism, hope, and joy where we look at the problems in our nation, the problems in our cities from a place of hope because we know Who's on the throne and Who's in control."
Feucht is pushing ahead during this difficult season, saying the Church must continue to rise up and become the solution in an effort to bring restoration to the dispirited and heavyhearted.
Sources:CBNNews
Sixth-grader shoots classmates in US; 3 people were injured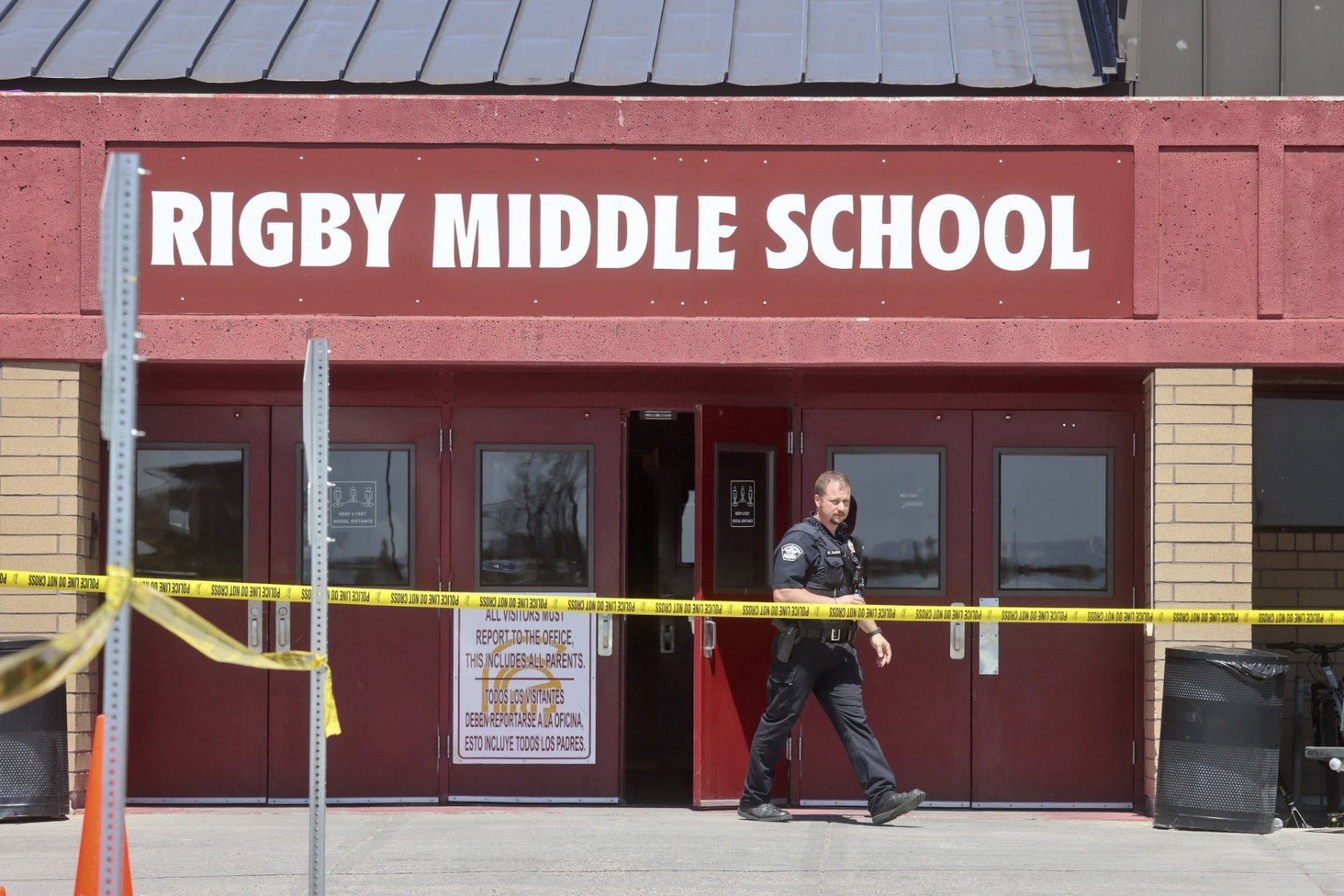 Three people, including two students, were shot Thursday at an Idaho middle school, according to officials.
At a press conference, Jefferson County Sheriff Steve Anderson said the suspect is a sixth-grade girl from Idaho Falls who is a student at Rigby Middle School, where the shooting took place. Initial reports had incorrectly identified the suspect as male.
Anderson said the unnamed student allegedly drew a handgun from her backpack and shot three people — one inside and two outside — before a teacher disarmed her.
The suspect is in custody at the Jefferson County Sheriff's Office and may be charged with attempted murder pending results of the investigation, according to Mark Taylor the county's prosecuting attorney.
The shooting victims were struck in their extremities and are expected to survive, but may require surgery, officials said
Three ambulances initially responded to Rigby Middle School after authorities learned of the shooting about 9:15 a.m. MT, Idaho Falls Fire Department spokeswoman Kerry Hammon said.
Authorities took the injured to Eastern Idaho Regional Medical Center, where they were listed as stable.
"Today we had the worst nightmare a school district could encounter. We had a school shooting here at Rigby Middle School," Jefferson School District Superintendent Chad Martin said in a statement. "What we know so far is the shooter has been apprehended. There is no further threat to the students."
"I am praying for the lives and safety of those involved in today's tragic events," Idaho Gov. Brad Little tweeted. "Thank you to our law enforcement agencies and school leaders for their efforts in responding to the incident. I am staying updated on the situation."
Nine babies in a single birth, this miracle of the extreme
Bamako: A mother who miraculously gave birth to nine children in a single delivery to the scientific world Halima Sisse, 25, gave birth to nine children. A native of Mali, an African country, she gave birth to nine babies by caesarean section. Rarely, nine babies are born in a single birth.
Even with so many babies in the womb, it is common for many babies to die before they are fully grown. A scan of Halima's pregnancy revealed that she had seven babies in her womb. Doctors said special care was needed as this was a rarity. Halima was then flown to Morocco.
However, Halima gave birth to 9 children, including 2 babies who were not even seen on the scans, even when doctors gave birth. Halima gave birth to five girls and four boys, all of whom are healthy, Malian Health Minister Fanta Cibi said.
He added that the girl and children would be returned only after a few weeks.