10-Years-Old Schoolboy Freed By Kidnapper Because He Wouldn't Stop Singing Gospel Song 'Every Praise'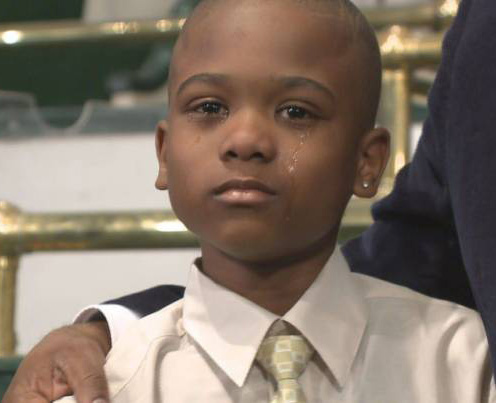 God will always show up for us when we are in trouble or facing our darkest fears, we just need to have faith and believe in Him.
Willie Myrick, a 10-year-old boy, was born to parents who are atheists. However, his godmother, Codetta Bateman, taught him about the bible, took him to church and helped him grow his faith in the Lord. Little did he know that his faith in God was going to be the thing that saved his life in the future.
The young boy faced one of life's worst nightmares when he was kidnapped from his front yard while playing with his dog.
The kidnapper put Willie in his car and drove around Atlanta. At first, Willie was very scared as he thought the kidnapper would hurt him.
However, his fear soon turned into faith, and he burst out singing Hezekiah Walker's "Every Praise," a well-known gospel song.
The young boy kept signing the song without stopping for three hours, even though the kidnapper kept threatening him.
After a while, Willie's singing got to the kidnapper, who left him in a random neighborhood, before driving off.
Willie's favorite song not only comforted him in a potentially deadly situation, it also saved him! "I knew it by heart, I could sing the whole thing by heart. If you praise the Lord, He will help you in a mysterious way." He said.
Willie ran to a nearby home and where he was able to call his godmother.
Willie believes God is his best friend. He said, "I always believe God is with me wherever I go. Like when am in bed, He is at the chair just watching."
Willie's story made headlines across the world. He was invited to numerous talk shows and even got a chance to perform his song of deliverance with Hezekiah Walker, thanks to the media attention he received from his testimony.
While he is enjoying being in the spotlight, he says he is just an ordinary kid who serves an extraordinary God.
He said, "It really doesn't matter to me. As long as I still have Jesus and he's still working, doing his little magic, well it's not magic, it's just power."
സിവി. മാത്യുവിന് പ്രഥമ തോന്നയ്ക്കൽ അവാർഡ്
ദുബായ്: ഐപിസി ഗ്ലോബൽ മീഡിയ യു എ ഇ ചാപ്റ്ററിന്റെ പ്രഥമ തോന്നയ്ക്കൽ അവാർഡിന് ഗുഡ്ന്യൂസ് ചീഫ് എഡിറ്റർ സി.വി. മാത്യു അർഹനായി.
ക്രൈസ്തവ സാഹിത്യ, പത്രപ്രവർത്തന രംഗത്തെ സമഗ്ര സംഭാവനകളെ മുൻനിർത്തിയാണ് ഈ പുരസ്ക്കാരം. കഴിഞ്ഞ മാർച്ചിൽ നിത്യതയിൽ ചേർക്കപ്പെട്ട പാസ്റ്റർ തോമസ് തോന്നയ്ക്കലിന്റെ സ്മരണാർത്ഥം നൽകുന്ന അവാർഡ് ഡിസംബർ 2ന് യു എ ഇ ചാപ്റ്റർ വാർഷിക യോഗത്തിൽ സി വി മാത്യുവിന് സമ്മാനിക്കും.
പെന്തെക്കോസ്ത് പത്ര പ്രവർത്തന രംഗത്ത് പ്രമുഖ പങ്ക് വഹിച്ച സി.വി. മാതു യുവജനകാഹളം എഡിറ്റർ, പി വൈ പി എ സിൽവർ ജൂബിലി സുവനീർ എഡിറ്റർ, പി.വൈ.പി.എ സംസ്ഥാന എക്സിക്യൂട്ടീവ് അംഗം, ഐപിസി ജനറൽ കൗൺസിൽ അംഗം തുടങ്ങി വിവിധ പ്രവർത്തന മേഖലയിൽ സേവനം അനുഷ്ഠിച്ചു. ഐ പി സി കേരള സ്റ്റേറ്റ് കൗൺസിൽ അംഗമാണ്.
കേരളത്തിലെ പെന്തെക്കോസ്ത് സഭകളുടെ ഐക്യത്തിനും സഹകരണത്തിനും നിരന്തരം എഴുതുകയും പ്രവർത്തിക്കുകയും ചെയ്ത സിവി മാത്യു ഐക്യ പെന്തെക്കോസ്ത് സംരംഭങ്ങൾക്ക് നേതൃത്വം വഹിച്ചു. നിരവധി എഴുത്തുകാരെ വളർത്തിയെടുത്ത അദ്ദേഹം പത്രാധിപ ലേഖനങ്ങളിലൂടെ കാലാകാലങ്ങളിൽ സഭയിൽ കടന്നു കൂടിയ ജീർണതകൾക്ക് എതിരെ ശക്തമായ താക്കീത് നൽകി. അനാത്മികതയേയും ദുരാചാരങ്ങളേയും നഖശിഖാന്തം നേരിടുവാനും
സഭാ നേതാക്കൻമാരെ ശരിയായ ദിശയിലേക്ക് നയിക്കുവാനും തന്റെ എഴുത്തുകൾ ഉതകിയിട്ടുണ്ട്.
സി വി മാത്യുവിന്റെ വിശുദ്ധനാട്ടിലേക്കുള്ള യാത്ര എന്ന ലേഖന പരമ്പര പിന്നീട് ഗ്രന്ഥരൂപത്തിൽ പുറത്തിറക്കിയത് അനുവാചക ശ്രദ്ധ നേടി.
പരിമിത വാക്കുകൾ കൊണ്ട് തനതായ ശൈലി സൃഷ്ടിച്ചെടുക്കുന്ന സി.വിയുടെ ലേഖനങ്ങളും കുറിപ്പുകളും ചിന്താ വിഷയങ്ങളും ശ്രദ്ധേയമാണ്. ക്രൈസ്തവ സഹിത്യ അക്കാഡമി, സർഗ്ഗസമിതി,
ലോഗോസ് ബൈബിൾ കോളേജ് , കുവൈറ്റ് ക്രിസ്ത്യൻ റൈറ്റേഴ്സ് അസോസിയേഷൻ, ഫെലോഷിപ്പ് ഓഫ് ക്രിസ്ത്യൻ ചർച്ചസ്, ഐപിസി കേരള സ്റ്റേറ്റ് , ഐപിസി ഗ്ലോബൽ മീഡിയ, പ്രയിസ് മെലഡീസ്, യു പി എഫ് യു എ ഇ എന്നിവയുടെ പുരസ്കാരങ്ങൾ ലഭിച്ചിട്ടുണ്ട്.
തൃശ്ശൂർ ആൽപ്പാറ ഐപിസി അംഗമാണ്.
ഭാര്യ: അമ്മിണി മാത്യു
മക്കൾ: ഉല്ലാസ്, ഉഷസ്
മരുമക്കൾ: നിമ്മി, ബിജോയ്
ഐപിസി ഗോബൽ മീഡിയ യുഎഇ ചാപ്റ്റർ യോഗത്തിലാണ് അവാർഡ് പ്രഖ്യാപിച്ചത്. പ്രസിഡണ്ട് പി.സി.ഗ്ലെന്നിയുടെ അദ്ധ്യക്ഷതയിൽ കൂടിയ യോഗത്തിൽ ഗ്ലോബൽ മീഡിയ അന്തർദേശീയ സെക്രട്ടറി ഷിബു മുള്ളംകാട്ടിൽ, ആന്റോ അലക്സ്, ഷിബു കണ്ടത്തിൽ, കൊച്ചുമോൻ അന്താര്യത്ത്, വിനോദ് എബ്രഹാം, ലാൽ മാത്യു, പാസ്റ്റർ ജോൺ വർഗീസ്, നെവിൻ മങ്ങാട്ട് എന്നിവർ സന്നിഹിതരായിരുന്നു.
Online media is now under the Central Ministry of Communications
NEW DELHI: With a gazette notification signed by the President, the central government has brought digital audio-visual content, including films and web shows on over-the-top (OTT) streaming platforms, as well as news and current affairs on online platforms under the ambit of the ministry of information and broadcasting, in a move that media experts say could have far reaching effects on creative expression in India.
Up until earlier this year, senior government officials had emphasized on the need for a light-touch regulatory approach for video streaming platforms. At an event last November, I&B secretary Amit Khare had said they're looking at a system of self-regulation for the OTT industry.
On the notification, an I&B spokesperson said the move, a long time coming, was aimed at creating a 'level playing field' since all other media are regulated.
Television follows the programming and advertising code prescribed under the Cable Television Network Rules, 1994. Films are governed by the Cinematograph Act, 1952.
"Today print media, news, GECs and theatrical films are all governed and regulated in some way. There was a gap, where online news and content were not yet regulated. Several cases have been filed before various courts in the last few years, seeking regulation of the same and this was coming," Chandrima Mitra, partner at DSK Legal said. Mitra pointed out that the notification comes on the back of the Supreme Court seeking the Centre's response on a Public Interest Litigation (PIL) for regulating OTT platforms such as Netflix and Amazon Prime Video this October. Further, recent controversies such as the Sudarshan TV case had already brought to the fore the need to check web-based digital media.
After several hints from the government, 15 OTT platforms including Netflix, Amazon Prime Video, Disney+ Hotstar, ALTBalaji, ZEE5, Arre, Discovery+, Eros Now, Flickstree, Hoichoi, Hungama, MX Player, Shemaroo, VOOT and Jio Cinema had come together under the aegis of the Internet and Mobile Association of India in September to sign a code of self-regulation, formulating a framework for age classification, appropriate content description and access control. MIB, however, rejected the code and asked IAMAI to look at other mechanisms which allow for an independent monitoring organisation like the Digital Curated Content Complaints Council along with enumeration of prohibited content.
To be sure, India is not the first or only country to regulate digital media. All electronic communication in the US is regulated by the Federal Communications Commission, an independent agency of the government that regulates communications by radio, television, wire, satellite, and cable. The US has sophisticated regulations for the Internet. In general, the US, in line with the free speech principle expressed in the First Amendment has minimal content regulation.
China, Singapore and South Korea, meanwhile, have Internet-specific censorship laws.
Media and entertainment industry experts, however, say the new notification is a clear case of regulating a segment that refuses to toe the line. A senior journalist also pointed out on condition of anonymity that it will be challenging to implement these regulations given that the entry barriers for digital platforms are extremely low since they don't require the kind of (uplinking or downlinking) licenses that broadcast networks do, or to check entities not registered in India. "Unless, like China, they want to openly censor all kinds of content," the person said.
"Censorship and controls smack of colonial elitism where the ruling power doesn't trust the public because they know what is good for us and we don't," journalist Madhu Trehan, also co-founder of digital news portal Newslaundry said.
While recent OTT offerings like Mirzapur, Sacred Games and others had drawn some flak for explicit content, creators say the distinct charm of web titles lies in their ability to be real, rustic and unapologetic. India's theatrical business has long bowed down to diktats of the censor board, while the Indian Broadcasting Foundation and the Broadcasting Content Complaints Council have regulated TV content.
"This move is not about violence, language, or nudity, they will pass those and look progressive. OTTs were already self-censoring on this front post shows like Leila that got tremendous backlash from the right wing. It is about any content that counters government ideology or policy. So, while it will look like nothing's really changed, it will severely affect any discourse that could have been started via films or shows about the state of the nation or people," said a filmmaker working on a slate of web shows, who did not wish to be named.
"We look forward to working with the ministry to implement our industry's self-regulation efforts. As responsible content creators, we want to ensure this act not only takes cognizance of the nature of content being released, but also ensures that we safeguard creativity in this rapidly growing sector," Karan Bedi, CEO, MX Player, said.
Last year, the government had capped foreign direct investment (FDI) in digital media at 26%. Last month, in a clarification it added that majority of directors on the board of a digital news platform and its chief executive officer should be Indian citizens. Also, foreigners deployed by them for over 60 days need security clearance.