Antifa Thug Violently Threatens Peaceful Street Preacher in Seattle
A street preacher in Seattle exercising his first amendment right to free speech was harassed and threatened by protesters, presumably Antifa, wearing gas masks and other riot gear.
The video, taken by CBN contributor Chuck Holton, shows the unnamed street preacher attempting to relay Bible passages and a message about Christ. He's wearing a t-shirt that says "Trust Yeshua (Jesus)" on the back.
"It's for you to be born again. If you want the world to be a better place, start with yourself. Give your life to Jesus," the preacher says.
At that moment, two masked members of Antifa walk directly in front of him, yelling "You're not with us! Go and talk to them!" and pointing in the other direction. "You keep following me one more time and I'll f#$% you up! Don't f#$%$#! follow us," another protester threatened while assuming an aggressive posture.
"I'm not even following — you're following me," the preacher calmly retorted as other protesters restrained the agitated man.
"You do not stand with us!" another masked woman yelled again and again, to which the preacher responded, "Jesus is the way, the truth and the life. The only way to get to heaven is through Him. You need Jesus!"
As the preacher continued to try and share the Good News, yet another masked protester repeatedly blocked his path and yelled in his face, "go away" over and over again. "We don't want to hear this s#%!" he said, while the preacher attempted to continue.
This went on until Holton interjected and asked the protester a question.
"What's your objective here?" Holton asked.
"My objective is to honor the purpose of being here. What he's doing is interfering," the man responded.
"Do you mean the first amendment right to protest? Is that what you're talking about?" Holton queried. The protester thought for a long moment, not having an answer at the ready, and finally said, "I'll tell you what – you tell me what church you're from."
"I don't live here. I don't even live in this country," Holton replied.
The question seemed to cause the protester to realize the hypocrisy of his actions, and he began to walk away. Holton managed to ask one more question for clarification.
"Is that what the first amendment does, it gives you the right to tell him what to do? Or does it give you the right to say what you want to say? Just wondering if you can explain it to me, that's all," Holton asked.
The protester walked away in silence, and the confrontation appeared to end at that point.
Holton was also in Portland covering the protests there, catching Mayor Ted Wheeler in a "lie" after he claimed there was no provocation before he got tear gassed by federal agents. Holton's video clearly shows violent acts being committed by Antifa and other rioters.
Sources:faithwire
Two Indian-Americans have been named as Biden's domestic policy advisers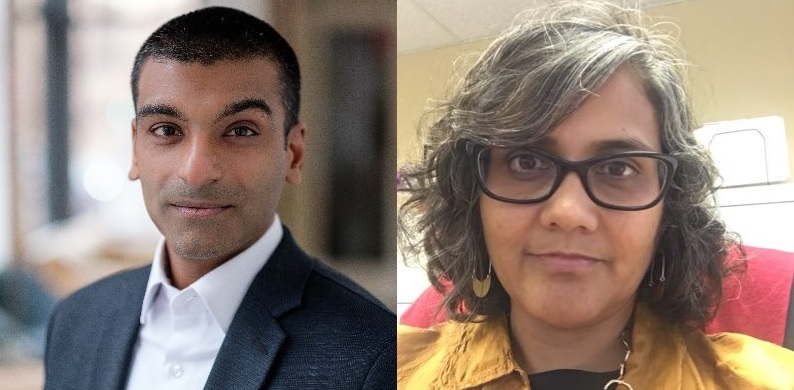 New York: A day after US President Joe Biden joked that Indian-Americans were taking over the US, he appointed two of them as special assistants for advising him on domestic policies.
The White House on Friday released the announcement by Biden and Vice President Kamala Harris appointing Chiraag Bains and Pronita Gupta to those positions on the Domestic Policy Council. Both of them had served in the administration of former President Barack Obama, when Biden was the Vice President.
Bains will deal with criminal justice while Gupta will deal with labour and workers.
The duo joins more than 20 Indian-Americans who have been appointed by Biden to senior positions in his administration. They will not require Senate confirmation as they will be on the President's staff.
Bains worked in the Justice Department's Civil Rights Division, first as a prosecutor of civil rights crimes and then as senior counsel to the assistant attorney general.
He was one of the investigators and prosecutors in the federal case against the city of Ferguson for civil rights violations over the shooting of an African American teenager by a white police officer in 2014 that led to nationwide protests and riots.
He was recently the director of legal strategies at Demos, a national public policy organisation, where he led voting rights litigation. Before that, he was a senior fellow at the Harvard Law School and a clerk for a federal judge.
A key component of Biden's election manifesto is criminal justice reform to ensure that minorities are not treated unfairly by laws and law enforcement agencies.
Gupta was the deputy director of the Labour Department's Women's Bureau in the Obama administration.
She was recently the director of job quality for the Center for Law and Social Policy.
Her previous jobs included stints as research director for Asian Americans/Pacific Islanders in Philanthropy and for the Living Wage Campaign at the LA Alliance for a New Economy.
While congratulating Swati Mohan, the NASA engineer who guided the Mars rover Perseverance to a soft landing on the planet, Biden had said on Thursday, "Indian-descent Americans are taking over this country — you, my vice president, my speechwriter Vinay (Reddy). But I tell you what, thanks. You guys are incredible."
On Wednesday, Biden had announced the appointment of a Pakistani American, Dilwar Syed, to be the deputy director of the Small Business Administration.
Biden has a track record of working with Indian-Americans and other Asians to promote their participation in US politics.
He is the co-founder with Shekhar Narasimhan of the AAPI (Asian American Pacific Islander) Victory Fund, which is a political action committee that encourages and helps Asian Americans to run in elections, besides raising funds and mobilising voters.
He is the president and CEO at Lumiata, an Artificial Intelligence company in the healthcare field.
Roman Orthodox Church rejects demands for baptism changes after infant's death
The leadership of the Romanian Orthodox Church has decided not to change its ancient practice of full-immersion baptism of babies despite public outrage that followed the recent death of an infant during christening.
The denomination's decision-making body, Holy Synod, has announced that the baptism ritual will remain and that it will only urge priests to be more careful when they perform the ritual, according to Radio Free Europe.
"We do not demand the [end] of the practice of baptism but its modification so [babies] are prevented from unnecessary and even absurd risks!" reads an online petition that had gathered over 65,500 names as of Saturday.
The petition, arguing that the tradition involves brutality and should be abolished, was launched by a teacher, Vladimir Dumitru, in response to the death of a 6-week-old baby on Feb. 1 after suffering cardiac arrest while being baptized in a church in the northern town of Suceava.
The priest, identified as Alexandru Mazarache, fully immersed the baby in the water three times in the baptismal font, DW reported earlier. The child first cried, then became still, then the infant's lips turned blue. The baby was taken to a hospital, where he died a few hours later.
The priest is a suspect in the investigation on charges of involuntary manslaughter. His lawyer, Marcel Balatchi, was quoted as saying that the priest had "performed the ritual according to church canons."
Romania's ombudsman has suggested some health and safety measures to the church, including increasing the age of the child for baptism.
A spokesperson for the Orthodox Church, Vasile Banescu, earlier suggested the churches could sprinkle holy water over babies instead of immersing them.
"It is, without a doubt, a tragic case, a case that will have to be investigated. Let's not imagine that a child can be put in water without covering his nose, mouth and ears," Banescu told Antena 3. "There is a technique that an experienced priest always uses. This is how a baptism is celebrated with the utmost care."
Teodosie Petrescu, the archbishop of Tomis in the country's southeast, had rejected calls for babies to be sprinkled with water. He was quoted as saying earlier that the tradition of immersing a child three times during baptism has carried on for 2 millennia and will continue.
"There's no way for the ritual to change. These canons of faith will be available for another 1,000 years. That is why we will not change. We're not intimidated," Petrescu said.
The archbishop added that babies should be immersed in cold water, which not only "sharpens" their spirituality, but is also suitable for their health.
Over 80% of Romanians are Orthodox Christians.
Sources:Christian Post