Youngest programmer: Six-year-old holds Guinness World Record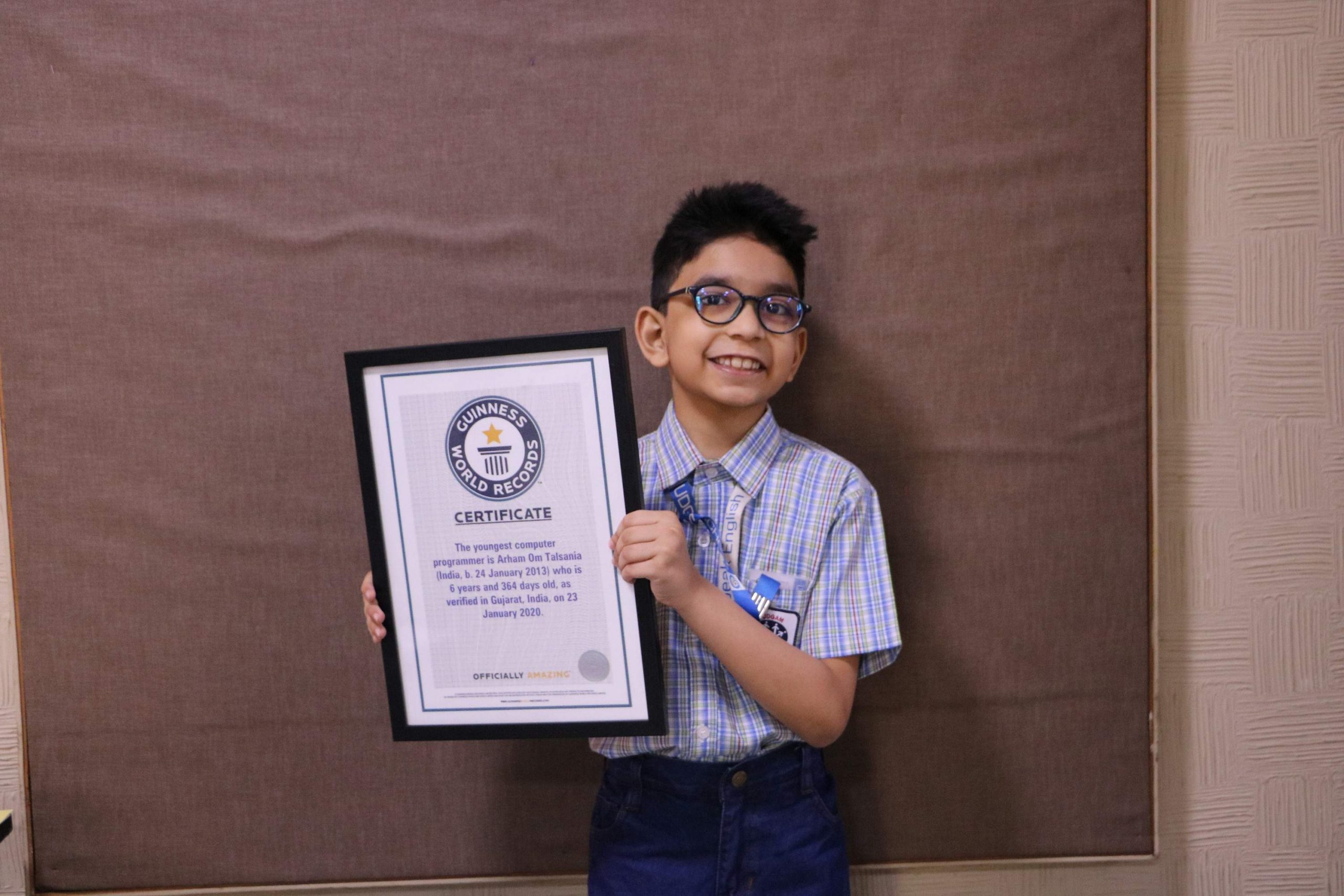 Ahmedabad: A six-year-old boy from Ahmedabad has entered Guinness World Record as the World's Youngest Computer Programmer by clearing the Python programming language.
Arham Om Talsania, a Class 2 student has cleared the Microsoft certification exam at Pearson VUE test centre.
"My father taught me coding. I started using tablets when I was 2 years old. At the age of 3, I bought gadgets with iOS and Windows. Later, I got to know that my father was working on Python," Talsania told.
"When I got my certificate from Python, I was creating small games. After some time, they asked me to send some proof of work. A few months later, they approved me and I got the Guinness World Record certificate," he said.
Talsania dreams to become a business entrepreneur and help everyone
"I want to be a business entrepreneur and help everyone. I want to make apps, games, and systems for coding. I also want to help the needy," he said.
Arham Talsania's father Om Talsania who is a software engineer said that his son had developed an interest in coding and he taught him the basics of programming.
"Since he was very young he was very much interested in gadgets. He used to play games on tablet devices. He also used to solve puzzles. When he developed an interest in playing video games, he thought to create it. He used to see me doing coding," he said.
"I taught him basics of programming and he started creating his own small games. He also got recognized as a Microsoft technology associate. We applied for Guinness Book World record as well," he added.
ചര്‍ച്ച് ഓഫ് ഗോഡ് മൈസൂര്‍ ആരാധന പുതിയ സ്ഥലത്ത്
മൈസൂര്‍: കഴിഞ്ഞ 17 വര്‍ഷമായി മൈസൂര്‍ ബന്നിമണ്ഡപ് ഇന്‍ഡസ്ട്രിയല്‍ ഏരിയയില്‍ പ്രവര്‍ത്തിച്ചു കൊണ്ടിരുന്ന ചര്‍ച്ച് ഓഫ് ഗോഡ് ഇന്‍ ഇന്ത്യാ മൈസൂര്‍ സഭ, മൈസൂര്‍ ഹെബ്ബാള്‍ ഏരിയയിലേയ്ക്ക് മാറി പ്രവര്‍ത്തനം ആരംഭിച്ചു. ഹെബ്രോന്‍ ചര്‍ച്ച് ഓഫ് ഗോഡ് എന്ന് അറിയപ്പെട്ടിരുന്ന സഭ ഇനി മുതല്‍ ചര്‍ച്ച് ഓഫ് ഗോഡ് (ഫുള്‍ ഗോസ്പല്‍) ഇന്‍ ഇന്ത്യ,മൈസൂര്‍ എന്ന പേരിലായിരിക്കും അറിയപ്പെടുന്നത്. ദൈവസഭ കര്‍ണാടക സ്റ്റേറ്റ് ബൈബിള്‍ കോളേജ് ഡയറക്ടറും കൗണ്‍സില്‍ മെമ്പറുമായ പാസ്റ്റര്‍ റോജി ഇ സാമുവേല്‍ ഈ സഭയില്‍ ശുശ്രൂഷിക്കുന്നു. മൈസൂര്‍ പട്ടണത്തില്‍ മലയാളം ആരാധനയ്ക്കായി ആഗ്രഹിക്കുന്നവര്‍ ഈ സഭയുമായി ബന്ധപ്പെടുക.
വിശദ വിവരങ്ങള്‍ക്ക് : 9446084572, 9902198959, 9886164904
Indian Pastor Bound and Beaten for Refusal to Contribute to Tribal Rituals
India – According to Morning Star News, a pastor in India's Jharkhand state was bound and publicly beaten by fellow villagers after he refused to contribute funds to the ritual worship of tribal deities. Despite this intense persecution, the pastor remained steadfast in his faith.
On January 24, Pastor Lakshman Oraon was called before the elders of Jungur village, located in the Latehar District of Jharkhand. The elders of the village demanded he contribute funds to the ritual worship of the village's tribal deities. When he refused, his arms were tired behind his back and he was beaten.
"When they tied me and started kicking me, I was not at all angry," Pastor Oraon told Morning Star News. "The Lord reminded me of the verses in Matthew 5:11-12. I received great strength from these words. There was a smile on my face all through."
After the beating, village elders threatened to excommunicate Pastor Oraon and the other Christians of the village if they continued to refuse to contribute to the tribal rituals.
Facing expulsion, Pastor Oraon reached out to the Alliance Defending Freedom India (ADF). ADF contacted the local police station. Officers called Pastor Oraon and the village elders to the station to work out the situation.
"At the police station, we were asked to give the money, and we gave it," Pastor Oraon told Morning Star News. "We are praying for the salvation of village leaders and the devotees of tribal deities. The police assured us that they will be a phone call away if any problem arises, and that we will not face any troubles from the villagers after giving the money."
Sources:persecution