400 escape, 25 killed in riots after Haiti prison breakout
Haitian authorities announced Friday that more than 400 inmates escaped and 25 people died in a prison breakout, making it the country's largest and deadliest one in a decade, with the prison director and a powerful gang leader among those killed.
Some believe Thursday's jailbreak at the Croix-des-Bouquets Civil Prison in northeast Port-au-Prince was to free gang leader Arnel Joseph, who had been Haiti's most wanted fugitive until his 2019 arrest on charges including rape, kidnapping and murder.
Joseph was riding on a motorcycle through the Artibonite area in the town of L'Est're on Friday a day after his escape when he was spotted at a checkpoint, police spokesman Gary Desrosiers told The Associated Press. He said Joseph pulled out a gun and died in an exchange of gunfire with police.
Joseph ruled Village de Dieu, or Village of God, a shantytown in downtown Port-au-Prince, and other communities, including some in Artibonite, which is Haiti's largest department.
Authorities have not yet provided much details on the breakout except to say that 60 inmates have been recaptured and the investigation is ongoing. State Secretary Frantz Exantus said authorities have created several commissions to investigate who organized the breakout and why. Among those killed was the prison director, identified as Paul Joseph Hector.
Residents who declined to be identified because they feared for their life told the AP that they saw gunmen shoot at prison guards on Thursday before inmates escaped from the Croix-des-Bouquets penitentiary.
The prison is known for a 2014 breakout in which more than 300 of the 899 inmates being held there at the time escaped. Some believed that attack was designed to free Clifford Brandt, the son of a prominent businessman, who had been imprisoned since 2012 for allegedly kidnapping the adult children of a rival businessman. Brandt was captured two days later near the Dominican Republic border.
After the 2014 breakout, officials said they were taking steps to up security at the prison that Canada built in 2012, including installing security cameras and placing ankle monitors on the most dangerous prisoners. It wasn't immediately clear if any of those measures were taken. At the time of Thursday's breakout, the prison held 1,542 inmates, nearly twice its capacity.
Haiti's largest prison breakout in recent history occurred after the devastating 2010 earthquake in which more than 4,200 inmates fled the notorious National Penitentiary in downtown Port-au-Prince.
President Jovenel Mose tweeted on Friday that he condemned the most recent jailbreak and asked people to remain calm. He added that Haiti's National Police ?is instructed to take all measures to bring the situation under control."
Meanwhile, Helen La Lime, Haiti's special representative of the Secretary-General of the United Nations, said in a statement that she was deeply concerned with the mutiny and prison escape.
"I encourage the police to speed up investigations on the circumstances surrounding this incident, redouble its efforts to re-apprehend the escapees, and strengthen security around prisons throughout the country," she said.
"This prison break further highlights the problem of prolonged preventive detention and prison overcrowding which remains matter of concern that must be urgently addressed by Haitian authorities."
Bus accident in Peru; 20 were killed and 14 were injured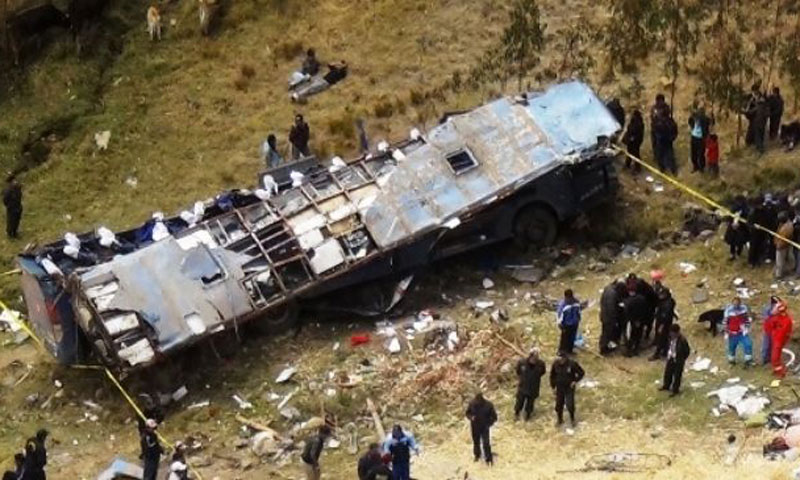 Peru: At least 20 people were killed and 14 others injured in Peru after an interprovincial bus skidded and overturned in Sihuas province in the northern Ancash region, authorities said on Monday.
According to the Parobamba district municipality on its Facebook page, the "accident left 18 people dead on the spot, with two more dying while being transferred."
The accident occurred at about 7:00 am local time on Monday in the Palo Seco area, when the bus, from the "Fama Tours SA" transport company, skidded and overturned.
It was returning from the areas of Huanchayllo and Parobamba and heading to Chimbote and Lima, after the passengers had voted in the general elections on Sunday, a local radio station reported.
Peru's transport authorities said in a statement that it "has activated all intervention protocols to gather information related to the accident for determining appropriate measures."
'The Science of Compliance': Pastor Responds to Police Barricade of GraceLife Church
"They are not interested in the science called virology. It is more like the science of compliance."
Pastor Doug Wilson of Christ Church in Moscow, Idaho, took to his blog this morning to respond to the show of force against GraceLife Church in Canada.
Wilson, who became more widely known after his series of high profile debates with famed atheist Christopher Hitchens, in which Wilson offered stiff competition and a steady stream of witty comebacks.
Wilson's piece, titled 'Putting on Our Coates Coats' confronts the disturbing news that spread across social media last week.
Coates recently served over a month in jail, only to be released and see his GraceLife Church building surrounded by fencing put up by the government. They were shut down, resulting in protests and an even larger police response.
Wilson argued that "ideas have consequences" and highlighted the differences between worldviews.
People act the way they do for reasons. As Richard Weaver taught us, ideas have consequences.
If you believe in God, if you think that the cosmos was created from nothing, if you believe that mankind was created in the image of God, then it is possible for you to believe that we have rights. And by rights, I do not mean privileges, but rather actual rights. These rights cannot be revoked by bureaucratic fiat, they cannot be abridged by executive order, and they cannot be adjusted or trimmed by the winners of elections, stolen or otherwise.
But if you don't believe in God, if you believe that this material universe is a meaningless concourse of atoms, if you believe that life originated all by itself accidentally in a primordial goo-pond somewhere, and that we are simply simians that learned to shave, then it follows of necessity that we do not have any rights at all. We are nothing more than meat and bones and protoplasm.
Wilson said "the real travesty" occurs when followers of God go along with "the dictates of those who affirm the second scenario" and shouldn't leave us surprised when a pastor like Coates stands up and "acts like a real pastor."
He went on to argue that "flat refusal to cooperate" is the only way out.
"We have no business appealing to their god with any hope of getting the kind of determination that we would get if we were appealing to our God," Wilson said.
"You can't gather figs from thistles. You can't get sweet water from a brackish spring. You know. You can't order a Whopper at MacDonalds. You will not get Christian blessings from pagan gods."
Siurces:faithwire