Pope Francis raises concerns over Christian safety
Pope Francis arrived in Baghdad on Friday for a three-day visit to Iraq, undeterred by suggestions that his trip might fuel a surge in coronavirus cases, undaunted by the precarious security situation and committed to offering support to a Christian community decimated by years of war.
It's the first trip Francis has embarked on since the pandemic swept the world and the first time a head of the Roman Catholic Church has visited the country.
The journey promises to be as rich in symbolism as it is fraught with risk.
"I am happy to travel again," the pope said, taking off his blue surgical mask to address reporters en route to Iraq. His Alitalia flight was accompanied by U.S. aircraft from the Ayn al Asad military base after entering Iraqi airspace.
By choosing Iraq as his first destination since the pandemic began, Francis waded directly into the issues of war and peace, and poverty and religious strife, in an ancient biblical land.
"This trip is emblematic," he said, calling it "a duty to a land martyred for many years."
He was welcomed by a small color guard and Prime Minister Mustafa al-Kadhimi.
The pope left the airport complex in a black BMW, his window rolled down. He waved as he passed a small group of faithful waving Iraqi and Vatican flags behind a metal fence on the side of the highway.
The pope's vehicle was surrounded by a police motorcycle escort as he drove past miles of concrete blast walls that were put up during Iraq's sectarian violence.
After 2003, the road was one of the most dangerous in Baghdad, with frequent roadside bombs and suicide car bombs. Those are now in the past, and palm trees planted to beautify the road greet visitors.
As he arrived at the presidential palace, the pope's car was flanked by members of Iraqi security forces on horseback. Francis emerged from that car, limping noticeably as he made his way along a red carpet.
The pope is known to suffer from sciatica, which he told reporters in 2013 was the worst thing that had happened to him in his early days as pope.
It was the start of what promised to be an arduous journey that will take the 84-year-old pontiff to battle-scarred churches and desert pilgrimage sites.
In an area known as the cradle of civilization, the modern history of Mesopotamia — now present-day Iraq — has been scarred by lasting hardship: three decades of despotic rule, followed by nearly two decades of war and a wave of carnage unleashed by the Islamic State.
Once a rich tapestry of faiths, Iraq has been hollowed out as orthodoxies hardened. Its Jews are almost completely gone, and its Christian community grows smaller every year. About one million have fled since the 2003 United States-led invasion. An estimated 500,000 remain.
That backdrop makes the pope's visit on Saturday to the ancient city of Ur — traditionally held to be the birthplace of Abraham, who is revered by Muslims, Jews and Christians alike — all the more powerful.
To that end, his trip carries a motto from the Gospel of Matthew: "You are all brothers."
But the pope's agenda also casts a spotlight on the terrible toll wrought when divisions harden and violence takes over.
On Friday evening he met with priests, bishops and others at Our Lady of Salvation Church in Baghdad. Just over a decade ago, the church came under assault when attackers unleashed fusillade of grenades, bullets and suicide vests. At least 58 people were killed in the assault, which was carried out by an affiliate of Al Qaeda.
It was far from the deadliest massacre in the country, where tens of thousands of Muslims have died in war and sectarian fighting, but the attack tore at the heart of the Christian community.
An image of Francis is painted on the blast walls that now ring Our Lady of Salvation.
Francis made it clear that after Popes John Paul II and Benedict XVI had to scuttle plans to visit the remaining Christians in the country, he would not cancel his own trip.
Bus accident in Peru; 20 were killed and 14 were injured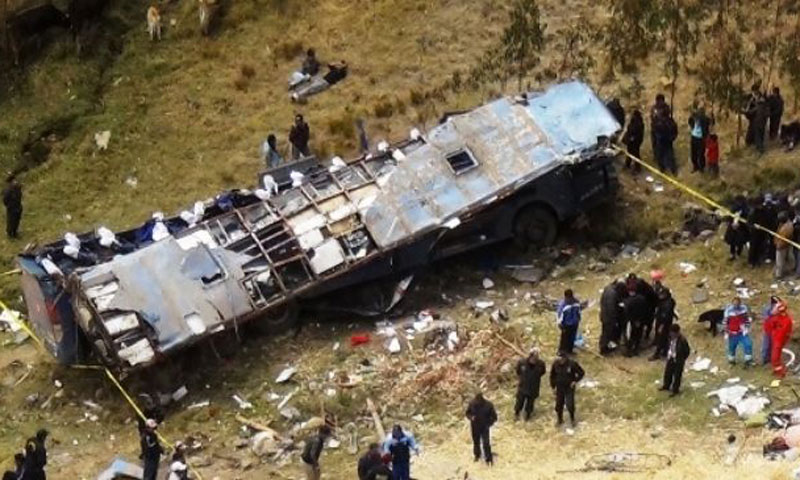 Peru: At least 20 people were killed and 14 others injured in Peru after an interprovincial bus skidded and overturned in Sihuas province in the northern Ancash region, authorities said on Monday.
According to the Parobamba district municipality on its Facebook page, the "accident left 18 people dead on the spot, with two more dying while being transferred."
The accident occurred at about 7:00 am local time on Monday in the Palo Seco area, when the bus, from the "Fama Tours SA" transport company, skidded and overturned.
It was returning from the areas of Huanchayllo and Parobamba and heading to Chimbote and Lima, after the passengers had voted in the general elections on Sunday, a local radio station reported.
Peru's transport authorities said in a statement that it "has activated all intervention protocols to gather information related to the accident for determining appropriate measures."
'The Science of Compliance': Pastor Responds to Police Barricade of GraceLife Church
"They are not interested in the science called virology. It is more like the science of compliance."
Pastor Doug Wilson of Christ Church in Moscow, Idaho, took to his blog this morning to respond to the show of force against GraceLife Church in Canada.
Wilson, who became more widely known after his series of high profile debates with famed atheist Christopher Hitchens, in which Wilson offered stiff competition and a steady stream of witty comebacks.
Wilson's piece, titled 'Putting on Our Coates Coats' confronts the disturbing news that spread across social media last week.
Coates recently served over a month in jail, only to be released and see his GraceLife Church building surrounded by fencing put up by the government. They were shut down, resulting in protests and an even larger police response.
Wilson argued that "ideas have consequences" and highlighted the differences between worldviews.
People act the way they do for reasons. As Richard Weaver taught us, ideas have consequences.
If you believe in God, if you think that the cosmos was created from nothing, if you believe that mankind was created in the image of God, then it is possible for you to believe that we have rights. And by rights, I do not mean privileges, but rather actual rights. These rights cannot be revoked by bureaucratic fiat, they cannot be abridged by executive order, and they cannot be adjusted or trimmed by the winners of elections, stolen or otherwise.
But if you don't believe in God, if you believe that this material universe is a meaningless concourse of atoms, if you believe that life originated all by itself accidentally in a primordial goo-pond somewhere, and that we are simply simians that learned to shave, then it follows of necessity that we do not have any rights at all. We are nothing more than meat and bones and protoplasm.
Wilson said "the real travesty" occurs when followers of God go along with "the dictates of those who affirm the second scenario" and shouldn't leave us surprised when a pastor like Coates stands up and "acts like a real pastor."
He went on to argue that "flat refusal to cooperate" is the only way out.
"We have no business appealing to their god with any hope of getting the kind of determination that we would get if we were appealing to our God," Wilson said.
"You can't gather figs from thistles. You can't get sweet water from a brackish spring. You know. You can't order a Whopper at MacDonalds. You will not get Christian blessings from pagan gods."
Siurces:faithwire