Three dead as tropical Storm Elsa batters Caribbean islands, heads for Cuba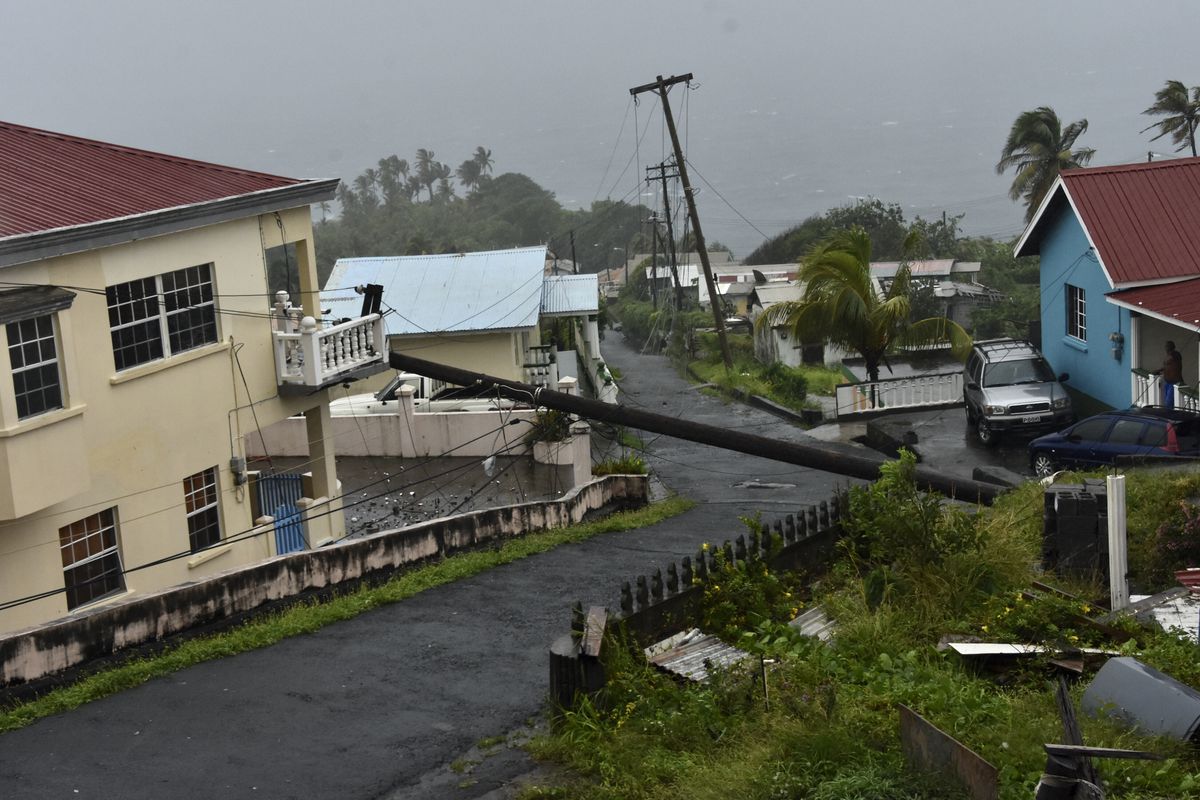 Tropical Storm Elsa has battered the southern coasts of Haiti and the Dominican Republic, downing trees and blowing off roofs as it moved through the Caribbean, killing at least three people.
A 15-year-old boy and a 75-year-old woman died in separate events in the Dominican Republic on Saturday after walls collapsed on them, while a third death was also reported in St Lucia.
Elsa was clocking maximum sustained winds at 70 miles per hour (110kmph), but was slowing down as it passed between Haiti and Jamaica, according to the National Hurricane Center (NHC) in the United States.
The weather agency has now downgraded Elsa to a tropical storm from a hurricane, which is defined as having winds of at least 75mph (121kmph).
In the Dominican Republic, some flooding was reported in San Cristobal province, prompting about 100 evacuations, while waves of 12-14 feet (356-427cm) washed debris ashore in the capital, Santo Domingo.
Emergency groups said they had 2,500 centres ready for evacuated people.
Some people worried about the state of their homes, with many living under corrugated roofing. "I have a lot of leaks in my zinc," said resident María Ramos. "What are we going to do? Only God knows."
'Whole country threatened'
Haiti, which saw 31 deaths in Hurricane Laura in August, had not ordered evacuations, but authorities used social media to alert people about the storm and urged them to evacuate if they lived near water or mountain flanks.
"The whole country is threatened," the Civil Protection Agency said in a statement. "Make every effort to escape before it's too late."
Director Jerry Chandler told The Associated Press news agency that the Civil Protection Agency is running low on basic items including food and water as a recent surge in gang violence has already displaced thousands of local people from their homes.
"It's been three weeks that we've been supporting families who are running away from gang violence," he said. "We are working at renewing our stocks, but the biggest problem is logistics."
He said officials are still trying to figure out how to deliver supplies to Haiti's southern region, which braced for Elsa's impact.
The deaths on Saturday came a day after Elsa caused widespread damage in several eastern Caribbean islands.
In Barbados, more than 1,100 people reported damaged houses, including 62 homes that completely collapsed. The government promised to find and fund temporary housing to avoid clustering people in shelters amid the pandemic.
"This is a hurricane that has hit us for the first time in 66 years," Prime Minister Mia Mottley said on Saturday. "There is no doubt this is urgent."
Meanwhile, officials on Saturday reported at least 43 homes and three police stations damaged in St Vincent and the Grenadines, which also suffered massive volcanic eruptions that began in April.
"We expect that this number will increase as reports keep coming in," said Prime Minister Ralph Gonsalves. "We have some damage, but it could have been far worse."
'Dangerous storm surges'
Elsa was the first hurricane of the Atlantic season and the earliest fifth-named storm on record. It also broke the record as the tropic's fastest-moving hurricane, clocking in at 31mph (50kmph) on Saturday morning, according to Brian McNoldy, a hurricane researcher at the University of Miami.
It is forecast to drop 4-8 inches (100-200mm) of rain, with maximum totals of 15 inches (380mm) across portions of Hispaniola – which is divided between Haiti and the Dominican Republic – and Jamaica.
The NHC said the storm was forecast to hit Cuba next on a path that would take it to Florida, with some models showing it would spin into the Gulf or up the Atlantic Coast.
Myanmar: Catholic priest, catechist abducted by armed group
An armed resistance group opposed to Myanmar's military junta in the western state of Chin has seized a Catholic priest and a catechist travelling with him.
Members of the Chinland Defence Force (CDF) seized Father Noel Hrang Tin Thang along with a catechist while they were travelling from Surkhua town to Chin state capital, Hakha on July 26, UCA News reported. Both belong to Our Lady of the Rosary Parish in Surkhua in Hakha Diocese.
Bishop's appeal
Local Bishop Lucius Hre Kung of Hakha has called for their release, expressing concern for their safety and well-being nearly a week after their abduction.
"I call on the concerned leaders of the CDF to immediately release the pair," Bishop Hre Kung said in a letter released on August 1. Local Catholics have also expressed concern and said prayers for the immediate release of the cleric and the catechist.
Father Tin Thang has been helping numerous of displaced people including the elderly, women and children who took refuge in the parish following clashes in early June, according to sources.
Allegations
Following the letter of Bishop Hre Kung, the CDF said the priest and catechist were in good health.
The group accused the priest of giving information to the military junta, getting medical support from the junta and urging locals to receive the junta's support. The group said it had warned the clergy not to contact the military's security force, and they had to arrest Father Tin Thang as he failed to comply. "We will release them only after our demands of transferring the priest from Surkhua to Hakha and signing letters of recommendation from two church leaders are fulfilled," the group said.
However, according to the Italian news agency, AGI, the priest and the catechist were arrested in Hakha while buying medicines for the people of Surkhua. The local community denies Father Tin Thang had any involvement with the security force.
Father Paul Thla Kio, a priest of Hakha Diocese told the Vatican's Fides news agency that the CDF has seen Father Tin Thang having contacts with a general of the army. Father Thla Kio explained that the general, who is a Catholic and attends Masses, often went to the priests' residence. In fact, Father Tin Thang asked the general to avoid violence.
Civil resistance groups
The ousting of Myanmar's leader Aung San Suu Kyi and her elected government by the military on February 1, has thrown the nation into chaos with nationwide protests, strikes and a civil disobedience movement, demanding the restoration of the government and the release of their leader. There have been no signs of a letup in the bloody crackdown by Myanmar's military on its opponents in a bid to consolidate its hold on power. The offensive has re-ignited the military's old conflicts with some of the armed ethnic organizations as well as numerous independent civil resistance groups.
The CDF is one of these civil resistance groups fighting the military. Using homemade weapons, the CDF has inflicted heavy casualties among junta forces in a conflict that erupted in Chin state in May. Clashes are still raging and more than 18,000 people have been displaced in Chin state and neighboring Magway and Sagaing divisions, according to a United Nations report on July 30. During the conflict, priests have been targeted, with the military arresting eight priests from Chin and Kachin states and Mandalay division in May and June.
Ethnic Christians
Christians are a minority in the predominantly Buddhist country, accounting for 6.2 percent of its 54 million population. Myanmar Catholics represent about 1.5 percent of the population.
Areas occupied by the Kachin, Chin, Karen and Kayah ethnic groups, who have been facing oppression and persecution at the hands of the military for decades, are largely Christian.
Thousands of innocent civilians in have been displaced by the conflict. According to the United Nations Office for the Coordination of Humanitarian Affairs in Myanmar, over 220,000 people have been displaced by conflicts and insecurity since the coup.
Myanmar's complex crises
The serious political, socio-economic, human rights and humanitarian crises generated by the coup, have been exacerbated by a raging third wave of Covid-19 infections, with an acute shortage of oxygen and near absence of the most basic healthcare.
Myanmar's military ruler Min Aung Hlaing marked 6 months since the coup on Sunday by taking on a new title as prime minister of a newly formed caretaker government. The military-backed State Administration Council (SAC) that was formed after the Feb. 1 coup, has now been reformed as a caretaker government. The junta leader promised fresh multi-party elections in 2 years, saying he will cooperate with the Association of Southeast Asian Nations (ASEAN) on finding a political solution to the country.
Israeli Archaeologists Find 3,100-Year-Old Alphabetic Inscription
The ancient inscription was found inside a storage pit at Khirbat er-Ra'I, an archaeological site some 3 km northwest of Tel Lachish in Israel.
It was written in ink on a jug, a small personal pottery vessel that holds approximately one liter, and may well have contained oil, perfume, or medicine.
It contains the letters yod (broken at the top), resh, bet, ayin, and lamed, and remnants of other letters.
"The name 'Jerubbaal' is familiar from Biblical tradition in the Book of Judges as an alternative name for the judge Gideon ben Yoash," said Professor Yossef Garfinkel from the Institute of Archaeology at the Hebrew University and Dr. Saar Ganor from the Israel Antiquities Authority.
"In Biblical tradition, he is then remembered as triumphing over the Midianites, who used to cross over the Jordan to plunder agricultural crops."
"According to the Bible, Gideon organized a small army of 300 soldiers and attacked the Midianites by night near Ma'ayan Harod."
"In view of the geographical distance between the Shephelah and the Jezreel Valley, this inscription may refer to another Jerubbaal and not the Gideon of Biblical tradition, although the possibility cannot be ruled out that the jug belonged to the judge Gideon."
"In any case, the name Jerubbaal was evidently in common usage at the time of the Biblical Judges."
Inscriptions from the period of the Judges are extremely rare and almost unparalleled in Israeli archaeology.
"As we know, there is considerable debate as to whether Biblical tradition reflects reality and whether it is faithful to historical memories from the days of the Judges and the days of David," the archaeologists said.
"The name 'Jerubbaal' only appears in the Bible in the period of the Judges, yet now it was also discovered in an archaeological context, in a stratum dating from this period."
"In a similar manner, the name 'Ishbaal,' which is only mentioned in the Bible during the monarchy of King David, was found in strata dated to that period at the site of Khirbat Qeiyafa."
"The fact that identical names are mentioned in the Bible and also found in inscriptions recovered from archaeological excavations shows that memories were preserved and passed down through the generations."