'The Chosen' Gives First Look at Season 4, Announces Full-Season Release in Theaters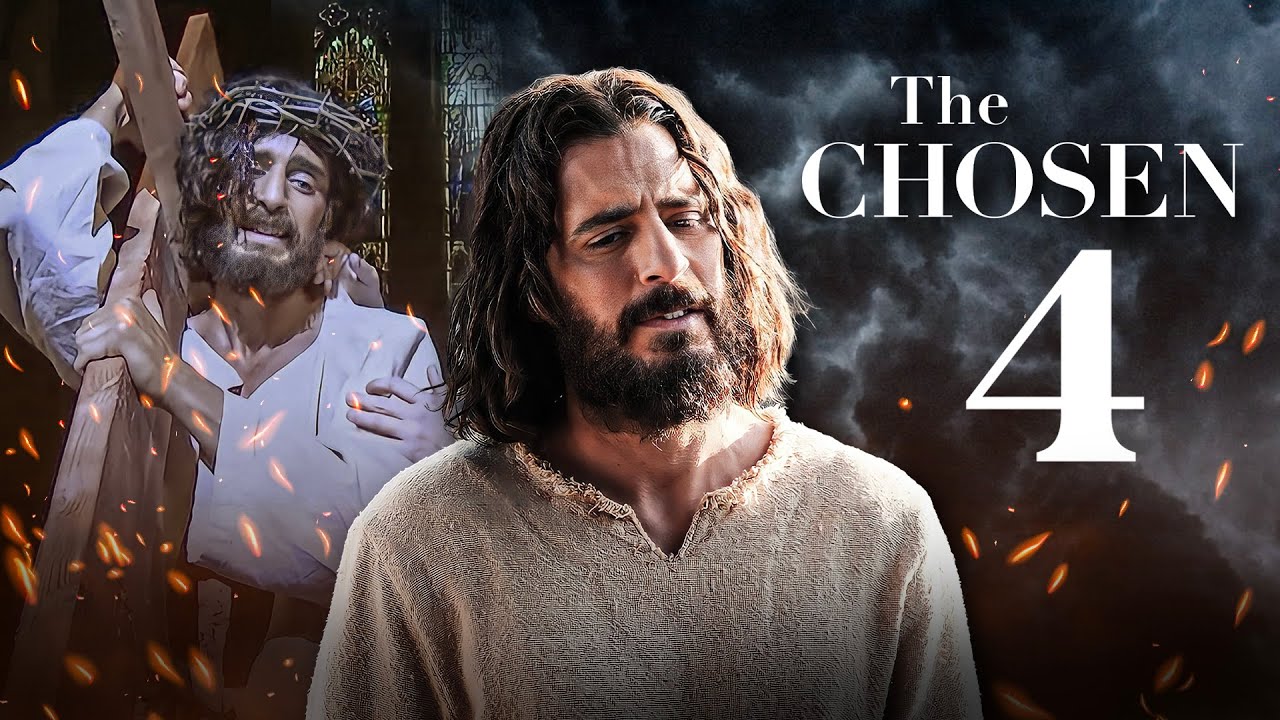 For the first time ever, the full season of a streaming-TV show will be released exclusively in theaters, distributed by Fathom Events. The Chosen, the groundbreaking historical drama that has become one of the most-watched shows in the world, announced its Season 4 theatrical release plan to more than 3,500 avid fans Sunday night in Dallas, TX at "The Chosen Insiders Conference" and another several thousand attending virtually. Attendees were also given a first-look at The Chosen: Season 4 teaser trailer.
Last season, fans enjoyed the opportunity to see the premiere and finale episodes of The Chosen together in theaters.
"Every time we've dipped our toes in the theatrical waters, viewers have overwhelmingly told us they want more. After seeing the Season 4 episodes, we knew we'd be doing our fans a disservice if we denied them the chance to see them all on a big screen with others they can laugh and cry with," said The Chosen's creator and director, Dallas Jenkins.
"We are thrilled to collaborate again with The Chosen team to bring fans the entire fourth season to cinemas before it is available elsewhere," said Ray Nutt, CEO of Fathom Events. "It is a testament to the big screen's power to unite people and have them share in this communal experience."
Clashing kingdoms. Rival rulers. The enemies of Jesus close in while His followers struggle to keep up, leaving Him to carry the burden alone. Season 4 promises to deliver where last season's emotional walking on water finale left off.
The rollout of Season 4 in theaters will begin with a two-week run of Episodes 1-3 on February 1, 2024, followed by Episodes 4-6 in theaters beginning February 15, and Episodes 7-8 beginning February 29 via Fathom Events in the US and Canada. The premiere episodes will also be released in theaters in LATAM, the UK, Poland, Australia, and New Zealand via a consortium of distributors. After the full-season run in theaters concludes, The Chosen will announce the debut across streaming platforms including The Chosen TV and mobile apps, broadcast and cable TV.
The Chosen has become a cultural phenomenon with impressive performance across streaming platforms such as Amazon Prime, Peacock, and Netflix, and top ratings weekly domestically on The CW.
What began as a pioneering crowd-funded project has now evolved into a global sensation with more than 10 million social media followers. Due to the efforts of the Come and See Foundation, The Chosen is on pace to be the most translated series in history, as the first three seasons will soon be available in 50 languages with plans to subtitle in more than 600.
The Chosen is a testament to the power of independent production, with Dallas Jenkins serving as writer, director, and producer. Lionsgate is the show's global television distributor.
To top the conference off, Dallas Jenkins also announced CHRISTMAS WITH THE CHOSEN: HOLY NIGHT, which weaves The Messengers and The Shepherd into one new remastered and re-scored story. Plus, a never-before-seen performance from Andrea and Matteo Bocelli highlights seven music performances and two new monologues. This 6-day limited engagement via Fathom Events will be exclusively in theaters December 12-17. Tickets go on sale in the US and Canada November 20, 2023. Trailer and artwork to be released in the coming days.
About The Chosen
The Chosen is a groundbreaking historical drama based on the life of Jesus (Jonathan Roumie), seen through the eyes of those who knew Him. Set against the backdrop of Roman oppression in first-century Israel, the seven-season show shares an authentic and intimate look at Jesus' revolutionary life and teachings. Season four premieres in theaters February 1, 2024.
The Chosen is one of the most-watched shows in the world, consistently a top performer across streaming platforms Amazon Prime, Peacock, and Netflix and a top-rated broadcast weekly on The CW. What started as a crowd-funded project has now garnered over 600 million episode views and more than 10 million social media followers.
The Chosen is an independent production written, directed, and produced by Dallas Jenkins and is distributed globally by Lionsgate.

Sources:BREAKING CHRISTIAN NEWS
Christian Singer Mac Powell Tried Country, But Says He Knew He'd Come Back to Jesus Music
When Mac Powell left his role as the frontman for the Christian band Third Day, he tried his hand at country — an itch he'd been eager to scratch for years — but ultimately, he said, it left him unfulfilled.
The "Soul on Fire" singer-songwriter recently spoke with CBN Digital about how his career has evolved since Third Day — a Grammy-winning mainstay in the Christian rock genre — disbanded in 2018 after 25 years together.
When he first left Third Day, Powell did something he'd always wanted to do: he made a country album.
"That was like scratching an itch I had for a long time," he explained. "Once Third Day was over, I finally had a chance to do that, but I always knew I was gonna be in Christian music. That's where I feel comfortable. I love singing about Jesus and sharing my faith through my music."
Powell released his first solo Christian album, "New Creation," in 2021. The success of that record ultimately led the 50-year-old singer to launch a tour, and he's been on the road since.
He is finishing up a fall tour and, after Thanksgiving week, will join K-LOVE's "Celebrate Christmas" tour beginning Nov. 29. And, starting early next year, Powell will join fellow Christian artist TobyMac on his "Hits Deep" tour, featuring other singers like Jon Reddick, Cory Asbury, and Tasha Layton.
As for his new holiday music, Powell just released an EP, "Christmas." The five-track album includes holiday mainstays as well as a couple new songs, like "Christmas Time Again My Friend," which he cowrote with his daughter Scout and her husband, Alec, both of whom are currently traveling with him.
"Man, what a privilege to have my baby girl out on the road with me and my son-in-law," Powell said of Scout, who plays bass, and Alec, who plays drums. "We're having a blast."
He later added, "I'm kind of reliving how I started out through them again. I'm getting that freshness again of getting to see the joy and excitement that they have. Not that it's gotten old on my by any means; it's still exciting to be able to do that. But now to be able to bring them in and experience it again with them for the first time, it's a really special time."
Sources:faithwire
'Praise God!': Miss Kay Gets Emotional After 'Duck Dynasty' Star's Latest Project Stuns Hollywood
"Duck Dynasty" star Miss Kay Robertson recently became emotional while discussing the stunning success of "The Blind," the feature film telling the real-life story of life with husband Phil Robertson.
Robertson spoke with CBN Digital on the heels of "The Blind" raking in more than $16.8 million to become the most successful film in Fathom Events history, expressing her joy at getting to share her personal story of God changing her husband's heart.
The "Duck Dynasty" matriarch said she recently "teared up" while talking to her son, Willie Robertson, about the movie's success, and often finds herself getting emotional pondering God's goodness at how positive and incredible her story ended up.
"It's just amazing," she said. "I just can't believe it. … I knew that if people could hear it, see it, learn the story, that we could help people, and so far you wouldn't believe how many responses we've had about marriages that were broken, they're going back together, they're trying to make it work."
Robertson added, "We've heard over, and over, and over good things that have come from it — people that have come to Jesus that never would [had they not] seen that movie."
She also responded to reports of scores of baptisms among recovering addicts and those struggling with poverty after these individuals have watched "The Blind," expressing her elation over how God has used the film.
"The Lord is just doing more things than I ever thought could happen through our movie," Robertson said.
As CBN Digital previously reported, "The Blind" certainly pulls on viewers' heartstrings. Long before their A&E glory days, the Robertsons struggled in their marriage, with Phil finding himself lost, aloof, disconnected from his wife and children, womanizing, and dependent on alcohol. The movie dives deep into these realities.
Phil's journey of leaving the mess behind and embracing Jesus — and Kay's quest to forgive — provide the heartbeat behind "The Blind."
The matriarch told CBN Digital she remembers feeling "completely hopeless" before Phil found Jesus and turned his life around.
"Praise God, it all worked out and [my kids] wound up with a good dad and it did work out," she said, encouraging fans to realize God operates "in His time."
"[God] did do exactly what I wanted him to do but, it took 10 years and I know other people that have lived through it a lot longer than I have — longer than 10 years," Robertson said. "I know He's in control."
As for why she and her family decided to candidly tell their story in "The Blind," Robertson said she believes it's important to be honest and truthful — even about life struggles.
"Once I take off and tell, it's almost like you've been freed of something, like Satan wanted that hidden in you and you to be ashamed of it," she said. "And all of a sudden, then the Lord said, 'No, tell it, and help somebody else.'"
Robertson said sharing the story and helping others has made it feel as though she "won a victory."
"The Blind" was released on digital Nov. 3 and will be released on Nov. 14 on DVD/Blu-ray.
Sources:faithwire
Deliverance ministers, wives share their view of women in ministry
NEW YORK — Deliverance ministers featured in the film "The Domino Revival" and their wives recently shared their views of women in ministry and leadership roles, saying they should be able to serve in whatever capacity God calls them to.
Jenny Weaver, who leads an online mentorship program with her husband, Stephen, called The Core Group that has about 18,000 members, has become a well-known preacher. She recently spoke with The Christian Post about some of the backlash she's received for her ministry at the premiere of "The Domino Revival" which has an encore showing in select theaters on Nov. 13.
"In the Bible, we see women moving in ministry all the time. It's very natural," Jenny Weaver told CP at last month's premiere of "The Domino Revival." "Actually, it says that when Jesus was moving, it [the Bible] says, 'the women came together and they took from their resources, and they poured into Jesus.'"
"Women literally supported that very first Jesus movement," she added. Without all the women coming alongside Jesus and pushing and propelling Him and helping, we don't know what would have happened. So I love that Jesus; He cared for women. He had women doing things, it was beautiful.
"To me, this is the Bible, and I don't sit around and argue with people back and forth all over social media," she said about debates over complementarianism and egalitarianism. "All I'm going to do is the assignment in front of me."
Her husband, Stephen Weaver, added, "Our whole goal is to see people saved, set free, delivered. It takes a strong man to support his wife. She can do just the same thing as I can do, and she's doing the will of the Lord, so that's what it's all about."
While women can and do serve in a variety of roles within churches, one of the debates within and among denominations is whether women can serve in the office of pastor.
Complementarians believe that women are forbidden from holding certain offices in the Church. Egalitarians insist that Scripture does not warrant such restrictions.
The Christian apologetics site Got Questions says the question about whether women can serve as pastors is the most asked question they receive. The site explains that, according to the complementarian view, "God has ordained that only men are to serve in positions of spiritual teaching authority in the church. This does not imply men are better teachers or that women are inferior or less intelligent. It is simply the way God designed the church to function."
Among the verses cited by Christians who oppose women serving as pastors comes from the book of Timothy, which it states:
A woman should learn in quietness and full submission. I do not permit a woman to teach or to assume authority over a man; she must be quiet. For Adam was formed first, then Eve. And Adam was not the one deceived; it was the woman who was deceived and became a sinner. (1 Timothy 2:11-14).
Got Questions further notes that the Bible details many accounts of women serving as leaders, just not as pastors:
In Romans 16:1, Phoebe is called a "deacon" (or "servant") in the church and is highly commended by Paul. But, as with Priscilla, there is nothing in Scripture to indicate that Phoebe was a pastor or a teacher of men in the church.
Many women excel in gifts of hospitality, mercy, teaching, evangelism, and helping/serving. Much of the ministry of the local church depends on women. Women in the church are not restricted from public praying or prophesying (1 Corinthians 11:5), only from having spiritual teaching authority over men. The Bible nowhere restricts women from exercising the gifts of the Holy Spirit (1 Corinthians 12). Women, just as much as men, are called to minister to others, to demonstrate the fruit of the Spirit (Galatians 5:22–23), and to proclaim the gospel to the lost (Matthew 28:18–20; Acts 1:8; 1 Peter 3:15).
There are several theologically conservative Protestant denominations that do allow women to hold the office of pastor and others that do not. To read short, non-comprehensive lists of those that do.
In their interview with CP last month, Greg Locke, senior pastor of Global Vision Bible Church and his wife, Taisha, did not specifically address the topic of female pastors, but said he and his wife champion women in ministry.
"Women in ministry is so important for revival because you see Kingdom marriages," Taisha told CP. "That's what revival is really about — revival is about your home, revival is about your marriage, it's about your children. It's about what happens when we leave the church on Sunday.
Taisha Locke added that it's important for women to see role models serving in ministries and at churches. "To look at them and say, 'I can serve the Lord and still be a good wife and still be a good mom," she said. "For years we've seen people choose one or the other. When really you can do all of that."
Ibelize Pagani, wife of Senior Pastor Alexander Pagani of Amazing Church in Bronx, New York, echoed Taisha Locke, adding, "Women need to see other women being impacted and moving in God, [because] normally you see more men."
"The Domino Revival" documentary highlights Mike Signorelli's journey into ministry and how revival has broken out in various ministries in recent years. Those featured in the film include Julie Signorelli, Isaiah Saldivar, Alexander Pagani, Vlad Savchuk, Greg and Taisha Locke, Stephen and Jenny Weaver, Ryan Lestrange, Jeremiah Johnson and Mark Driscoll, among others.
Sources:Christian Post