Christian parents share Bible stories with your children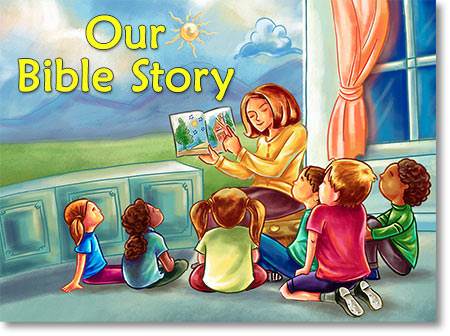 As Christian parents, you have the duty to share the Gospel with your children. The Bible is a book filled with amazing stories of God, and it's a good idea to give your kids a head start in falling in love with this book as they grow up. Introduce the Bible to your children in a fun and exciting way. This way, they can look forward to every story. It is also important to highlight the lessons one can learn from the stories you will discuss. To get your child started on his/her walk with God, you can begin with these beautiful stories that kids can easily understand.
The Creation
A great introduction to the Bible is sharing the story of how God created the world. This will immediately give your child an idea of how powerful the Lord is and feel more appreciative of the world around him/her. Explain that everything in this world from the skies to the trees are all God's creation. Even mom and dad are God's creation, which is why God is our Father.
The Birth of Baby Jesus
Kids can see images of Jesus' manger but not know exactly what this means. For kids, often Christmas is all about the presents. While there's no problem with letting your kid think Christmas is a festive occasion, it will be best to also explain the reason for the season. Christmas is the day Jesus was born, and the reason for the celebration. This story will let your child better understand who Jesus is and why He was sent to Earth – laying the foundation for your child to understand more about sacrifice and salvation in the future.
Jesus Calms the Storm
Stories showing Jesus power and goodness are always good stories to tell children as this always leaves them amazed. One of those stories is when Jesus stops a storm while travelling to Galilee with his disciples. The storm was so strong that the boat they were travelling on almost sank. But just like that, Jesus commanded the storm to stop and it did. Not only will this show the power of Jesus, but more importantly, it will teach your child about having faith in God.
Noah's Ark
Noah's Ark is one of the most popular Bible stories to share with children. The animals in the story really get them excited. However, aside from seeing Noah build an ark and gathering different species of animals, the important takeaway here is that God can give and He can take away. It will also teach your child about the consequences of doing bad things, and the reward given to those who remain faithful to God even if everyone around them abandons the heavenly father in their lives.
The Loaves and Fishes
The story of the loaves and fishes will highlight Jesus' kindness. Children are always in awe as to how was able to magically feed 5,000 people with just five loaves of bread and two fishes. Of course, it wasn't really magic; it was Jesus working His miracles. The greatest lesson to learn from this story is that God doesn't do magic, but instead, He is a miracle worker. He doesn't only feed the hungry, He also fills the soul.
Sharing Bible stories with your children is always a beautiful thing. It's quality time well spent and you have the Spirit of God with you as well. These stories are a great start to introduce the Bible to your little ones. And hopefully, as they continue their walk with God, you can move on to deeper and more complex stories. What's important is that you start them young and share the Gospel early on.

BIS certification of children's toys will now be enforced from 1 January 2021
New delhi: In what has come as a big relief for domestic toy manufacturers, the government on Tuesday extended the mandatory BIS certification by four months. The new norm will be implemented from January 1, 2021. This will allow the manufacturers to dispose of their stocks, which otherwise were not allowed to be sold in the market from September 1.
The government had implemented the mandatory BIS certification for all toys meant for children below 14 years from September 1, which had put the domestic industry in deep crisis as only two toy makers had got the BIS licence and the process was underway for 81 other cases.
This was first published in TOI online on September 13 highlighting how domestic players were more hit due the government decision. Officials had said as per the law, the sale of non-BIS toys manufactured before September 1 was not permitted.
"We welcome the government decision to extend the date for implementation of the quality control order (QCO). This is a big relief. We had been demanding this so that industry gets little more time to put the systems in place to comply with the order. We are completely with the government for complying with standards as children safety is our priority, said Ajay Aggarwal, president of Toys Association of India said.
Louis Vuitton is releasing a face shield & masks with golden studs to protect luxury buyers from coronavirus
With no end in sight to the coronavirus pandemic, it looks like protective face wear is here to stay.
Throughout the pandemic, designers have been releasing their take on face masks — luxury versions include Off-White's popular $95 Arrow logo face mask and Burberry's vintage check cotton design, retailing for £90 ($115).
And now, Louis Vuitton is taking it a step further, releasing a luxury face shield that's designed to be "both stylish and protective," the French fashion house said in a statement.
The "eye-catching" LV Shield transitions from clear to dark in sunlight, The protective device consists of two parts: the transparent visor to protect your face and an adjustable headband to keep it snug. The transparent covering is attached to the temples of the headband by two gold studs engraved with the house's name and can be moved up or down depending on the situation. The rim of the shield is covered in the brand's monogram-coated canvas material, as is the padded headband. And while the transparent visor should help protect your face from particles and liquids, it'll also offer shelter from UV rays as it transitions from light to dark when exposed to direct sunlight.
Pricing has not yet been announced, but as a high-end fashion brand, it's not likely to be cheap. Other Louis Vuitton head wear, including hats and sunglasses, sell for hundreds of dollars.
The face shield will be sold online and at select Louis Vuitton stores starting on October 30.
In April, Louis Vuitton joined the global effort to make personal protective equipment to support health care workers on the front lines of the pandemic. The company said it had repurposed several of its workshops across France to "produce hundreds of thousands of non-surgical face masks" for health care workers.
The brand also said it was donating thousands of hospital gowns to six Paris hospitals in urgent need of protective gear.
The Centers for Disease Control and Prevention does not currently recommend the use of face shields as a substitute for masks, as it is not clear what level of protection they provide.
Sources: CNN