3 years old girl dies of injuries, 9 others hacked to death in Fulani attack on Christian village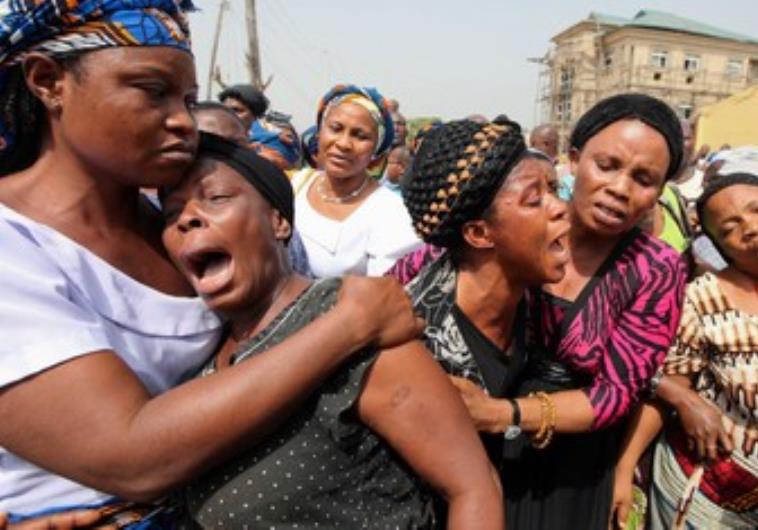 A Three years old girl and 9 others died in north-western Nigeria's Kaduna State in an early morning attack on a Christian village carried out by armed Muslim herdsmen of Fulani origin, according to a report.
The girl, identified as Elizabeth Samaila, suffered multiple machete lacerations to the head. She died in a hospital Thursday, the day after the attack on the Tudun Agwalla community in Kajuru Local Government Area, the U.K.-based Christian Solidarity Worldwide reported.
Also on Thursday, families of nine others who were hacked to death with machetes buried them in a mass grave. Six of the nine were identified as Richard Yusuf, Kefas Yusuf, Fidelis Wada, Kachia, Genesis Soja, and Rahab Soja.
Eight-year-old Rita Friday, who was also injured on the head, was among an unknown number of Christian villagers who were wounded in the attack, CSW said, adding that seven people remained unaccounted for.
"What is particularly unacceptable is that her death is the latest to occur in a series of attacks which continue unabated," CSW's Chief Executive Mervyn Thomas said. "Southern Kaduna is steadily being transformed into killing fields, either due to a gross failure of governance, or official indifference and acquiescence."
Fulani herders routinely brutally attack predominantly Christian farming communities in Nigeria's Middle Belt. While some believe the nomadic herders launch attacks as they look for grazing pastures, the radicals target Christian villages in a similar manner as the Boko Haram terror group that terrorizes the northern regions of the country.
In a special report, titled "Nigeria: A Killing Field of Defenseless Christians," released earlier this year, the Anambra-based nongovernmental organization International Society for Civil Liberties and Rule of Law estimated that about 11,500 Christians have been killed in Nigeria since 2015 by Fulani herdsmen, Boko Haram, and highway bandits.
A recent estimate by Intersociety suggests that over 620 Christians have been killed in Nigeria so far in 2020.
"International pressure must now be brought to bear on both the state and federal authorities to ensure protection for these vulnerable communities, and that effective action is taken to disarm all armed non-state actors and bring the perpetrators of these horrific atrocities to justice," Thomas said.
Last year, two members from the Adara community, a majority Christian ethnic group in Southern Kaduna state, were among other Nigerians who shared their experiences during a panel event sponsored by the conservative think-tank Heritage Foundation.
"Right now my tribe is nonexistent legally," Alheri Magaji, the daughter of the leader of the Adara Chiefdom, said. "Part of the reason why I am here is to try to get my land back. That is who I am. That is my identity. That is what makes me. My people are stranded. They are literally sleeping under the skies on the floor with no houses, no food, nothing. It is not about relief materials and how much we can donate. It's about holding the government accountable."
"I spoke to a woman whose limbs were cut off. She had four kids and was nine months pregnant," Magaji recalled. "Fulani herdsmen came to a Kajuru town in February, about 400 of them with AK-47s. They came at around 6:30 a.m. They spoke Adara. They came in with war songs. They were singing songs that translate into 'the owners of the land have come. It's time for settlers to leave.'
"We have 2-month-old babies, 6-month-old babies, babies in the bellies turned from their mother's womb and slaughtered like animals, like chickens," she said. "We are here today to beg the U.S. government and for the world to hear our story."
Nigeria was added to the U.S. State Department's "special watch list" of countries that engage in or tolerate severe violations of religious freedom and is ranked as the 12th-worst country in the world for Christian persecution by Open Doors USA.
Xiamen Authorities Ban Xunsiding Church's Campus
China – A well-known house church in China's Xiamen city, previously banned by local authorities, received another administrative punishment on February 24 for setting up a campus at an office building.
According to Xunsiding Church's Pastor Yang Xibo, he was out that day preaching, so his wife Wang Xiaofei received the decision letter from Siming District Ethnic and Religious Affairs Bureau instead. Pastor Yang also received a similar notice in 2019.
The letter stated that Wang did not receive approval from the religious affairs bureau before setting up the "Xunsiding (Church) Campus" at #2004 of Hualong Building at No.6, Hubin East Road. Her action was in violation of Art. 20, Art. 21, Art.22, Art. 40, and Art. 41 of the Regulations on Religious Affairs (RRA).
Pursuant to Art. 69 of the RRA, the Bureau decided to ban "Xunsiding Campus." Wang can file for administrative reconsideration within 60 days.
Xunsiding Church has been repeatedly harassed and raided by Siming Ethnic and Religious Affairs Bureau and local police over the last few years. Their church was last raided on December 6. A few members, including Wang Xiaofei, were brought to the police station and only released at night.
Their experience is not unique. With the Chinese government's ongoing crackdown on house churches, police raids and harassment have become a new norm for many churches that are not state-sanctioned in China.
Nigerian Schoolboys Released, 317 Schoolgirls Abducted
Nigeria– The 42 people kidnapped from the Government Science College in Niger State regained their freedom on Saturday, February 27th, one day after 317 schoolgirls were abducted by armed militants.
"The Abducted Students, Staff and Relatives of Government Science Collage Kagara have regained their freedom and have been received by the Niger State Government," tweeted Governor Abubakar Sani Bello.
The survivors were in captivity since the attack on February 17th, during which one boy, Benjamin Habila, was killed.
The news of their release comes just one day after the recent mass abduction of 317 schoolgirls in the nearby state of Zamfara. "As we welcome the news of the release of the abducted Kagara students, I urge government to expedite action on the release and safe return of the kidnapped students of Government Girls Secondary School Jangebe," stated UNICEF's Nigeria representative Peter Hawkins.
On Friday, February 26th, armed insurgents raided the all-girls boarding school in Jangebe, Zamfara, at around midnight. Schoolgirls were forced into vehicles or taken by foot to the nearby Rugu forest.
One of the girls' guardians, Saidu Kwairo, told the Washington Post that he watched from his window as trucks filled with gunmen ambushed the school campus while firing their weapons into the air. "We could hear the helpless voices of the girls screaming," Kwairo told the Washington Post, "amid the sounds of dangerous rifles."
Attacks on schools have increased over the last few years, causing concern that parents will no longer want to send their kids to school due to the lapses in security. Two months ago, 350 boys were kidnapped from a secondary school in northwestern Katsina. In 2018, Boko Haram abducting 110 girls from Government Girls' Science and Technical College in Dapchi, Yobe State. Earlier in 2014, 276 girls were abducted in Chibok, an incident which sparked outrage across the globe.
President Muhammadu Buhari stated that his administration "will not succumb to blackmail by bandits who target innocent school students in the hope of massive ransom payments."
"The recent attacks have raised concern about rising violence by armed gangs and Islamist insurgents. Jihadist group Boko Haram carries out abductions in Nigeria's turbulent northeast, as does a branch of Islamic State." Stated Reuters.
While no group has come forward to claim responsibility for the attack, terrorist groups such as Boko Haram, Fulani Militants, and ISWAP are active in northern Nigeria. Translated, Boko Haram loosely means "western education is forbidden". The groups have wreaked havoc in Nigeria for over a decade, killing tens of thousands of Christians and displacing millions in an attempt to discard western influence and impose strict Islamic Sharia law.
Please pray for the family of Benjamin Habila, that they will receive peace and comfort from the Lord as they grieve their loss. Pray for those who have experienced trauma due to the kidnappings, and for those who are still in captivity, that they will be released unharmed and return to their families. Pray for the healing of Nigeria, for the end of mass abductions and killings, and for the Lord to transform the hearts of those who persecute the church.
Sources:persecution