Tropical Storm Isaias forms and could affect Florida this weekend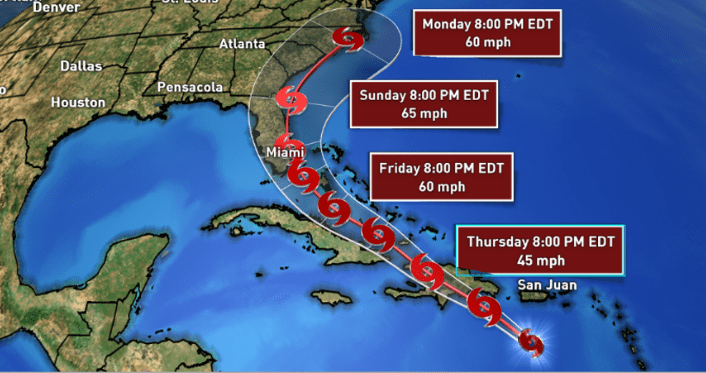 With a midnight bulletin from the National Hurricane Center on Friday morning, Isaias became a category 1 hurricane, its forecast path continuing an eastward trend and leaving a majority of Broward County and all of Miami-Dade outside the anticipated range for the path for the storm's center.
Despite the shift, the coastal areas of both counties, along with Palm Beach County, remained under a tropical storm watch. All the population centers in Palm Beach County remained inside the west side of the forecast path, and a northeastern portion of Broward (Deerfield Beach, Pompano Beach and coastal Fort Lauderdale) remained in the extreme western edge of the cone.
Although there was still uncertainty, the possibility of South Florida experiencing hurricane conditions was "quite low," the National Weather Service said Thursday afternoon.
Still, the center of the predicted track isn't too far off the coast, with the storm still almost 1,000 miles from South Florida.
Isaias (ees-ah-EE-ahs) saw a major uptick in windspeed upon exiting mountainous Hispaniola (the island containing the Dominican Republic and Haiti) late Thursday night and hitting the open water about 80 miles southeast of the southeastern Bahamas.
Its maximum sustained winds were measuring at 80 mph, up from the 60 mph reading in the 11 p.m. Thursday advisory. The storm was moving toward the northwest at a speed of 18 mph. Hurricane-strength winds extend 30 miles from the eye, while tropical storm-force winds reach up to 240 miles from the center.
A hurricane warning was issued for the northwestern Bahamas on Thursday night, which includes Andros Island, New Providence, Eleuthera, Abacos Islands, Berry Islands, Grand Bahamas Island and Bimini. Many of those areas, including Grand Bahama Island and the Abacos Islands, were pounded last year in Hurricane Dorian.
In a statement issued Thursday just before 5:30 p.m., the Miami forecast office of the National Weather Service was telling South Floridians that tropical storm-force winds could reach as far west as coastal Palm Beach County and very close to coastal Broward, and that strong winds also couldn't be ruled out for Miami-Dade, given the uncertainty in the forecast.
"Therefore, a tropical storm watch has now been put into effect for Southeast Florida. A reasonable worst-case scenario at this time is for portions of southeastern Florida to be potentially impacted by high-end tropical storm-force winds (winds greater than 58 mph)," the statement said.
"Although concerns for hurricane conditions to impact portions of southeast Florida cannot be ruled out, the chances of that remain quite low at this time."
Florida Governor Ron DeSantis on Thursday urged residents to be prepared.
"While we can't be certain of the exact track of the storm and we certainly cant be sure about the intensity it will ultimately reach, we do expect to see impacts to the state of Florida even if the storm remains off our shore, which is the current forecast, but this is an evolving situation so please keep up with official updates and make sure you have a plan and have seven days' worth of food water and medicine," DeSantis said.
Athough tropical storm-force winds could start impacting South Florida on Friday night, Saturday would be the most likely day for the area to feel the impacts of Isaias, said Pablo Santos, Meteorologist-In-Charge at the Miami office of the National Weather Service, on Thursday.
"The key takeaway here is that tropical storm conditions are possible this weekend for South Florida," Santos said earlier on Thursday. "If it were to happen, Saturday would be the day, so people would have to complete their preparations at the latest on late Friday night just to be safe."
Santos indicated forecasters would rather err on the side of caution and were stressing the possibility of tropical storm conditions in South Florida until the forecast — with certainty — tells them otherwise because right now there wasn't a lot of certainty either way.
"If you look at the the last two or three advisories, even when the trend has moved ever so slowly eastward, it doesn't change the messaging," Santos said. "Until we gain some more certainty, some more confidence in the forecast, I think we have to be very careful.
"So the message we're putting out there is the concern is tropical storm conditions are still possible across portions South Florida going into this weekend."
The National Weather Service said South Florida should expect winds in the range of 58 to 73 miles an hour, which could cause the following types of damage:
Some damage to roofing, siding, awnings, porches, carports and sheds.
Some buildings will see window, door and garage-door failures.
Damage to mobile homes, especially those that are not anchored.
Unsecured lightweight objects could become projectiles.
Some roads could become blocked and impassable from large debris.
Scattered power outages.
Bus accident in Peru; 20 were killed and 14 were injured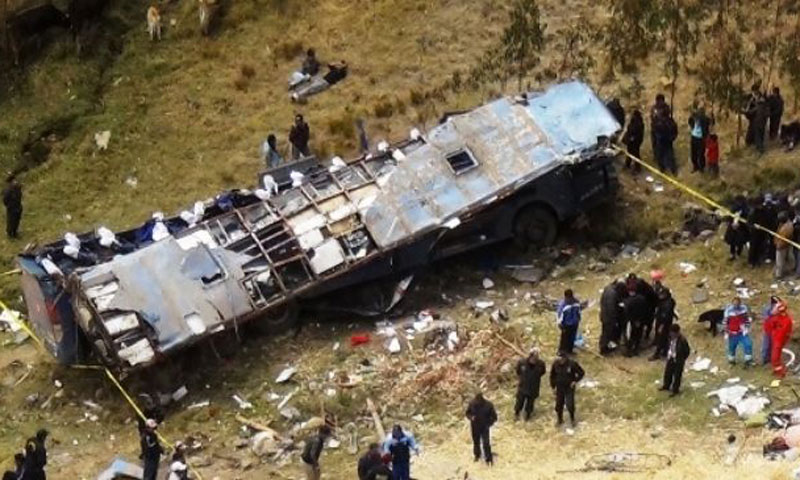 Peru: At least 20 people were killed and 14 others injured in Peru after an interprovincial bus skidded and overturned in Sihuas province in the northern Ancash region, authorities said on Monday.
According to the Parobamba district municipality on its Facebook page, the "accident left 18 people dead on the spot, with two more dying while being transferred."
The accident occurred at about 7:00 am local time on Monday in the Palo Seco area, when the bus, from the "Fama Tours SA" transport company, skidded and overturned.
It was returning from the areas of Huanchayllo and Parobamba and heading to Chimbote and Lima, after the passengers had voted in the general elections on Sunday, a local radio station reported.
Peru's transport authorities said in a statement that it "has activated all intervention protocols to gather information related to the accident for determining appropriate measures."
'The Science of Compliance': Pastor Responds to Police Barricade of GraceLife Church
"They are not interested in the science called virology. It is more like the science of compliance."
Pastor Doug Wilson of Christ Church in Moscow, Idaho, took to his blog this morning to respond to the show of force against GraceLife Church in Canada.
Wilson, who became more widely known after his series of high profile debates with famed atheist Christopher Hitchens, in which Wilson offered stiff competition and a steady stream of witty comebacks.
Wilson's piece, titled 'Putting on Our Coates Coats' confronts the disturbing news that spread across social media last week.
Coates recently served over a month in jail, only to be released and see his GraceLife Church building surrounded by fencing put up by the government. They were shut down, resulting in protests and an even larger police response.
Wilson argued that "ideas have consequences" and highlighted the differences between worldviews.
People act the way they do for reasons. As Richard Weaver taught us, ideas have consequences.
If you believe in God, if you think that the cosmos was created from nothing, if you believe that mankind was created in the image of God, then it is possible for you to believe that we have rights. And by rights, I do not mean privileges, but rather actual rights. These rights cannot be revoked by bureaucratic fiat, they cannot be abridged by executive order, and they cannot be adjusted or trimmed by the winners of elections, stolen or otherwise.
But if you don't believe in God, if you believe that this material universe is a meaningless concourse of atoms, if you believe that life originated all by itself accidentally in a primordial goo-pond somewhere, and that we are simply simians that learned to shave, then it follows of necessity that we do not have any rights at all. We are nothing more than meat and bones and protoplasm.
Wilson said "the real travesty" occurs when followers of God go along with "the dictates of those who affirm the second scenario" and shouldn't leave us surprised when a pastor like Coates stands up and "acts like a real pastor."
He went on to argue that "flat refusal to cooperate" is the only way out.
"We have no business appealing to their god with any hope of getting the kind of determination that we would get if we were appealing to our God," Wilson said.
"You can't gather figs from thistles. You can't get sweet water from a brackish spring. You know. You can't order a Whopper at MacDonalds. You will not get Christian blessings from pagan gods."
Siurces:faithwire