Tropical Storm Isaias forms and could affect Florida this weekend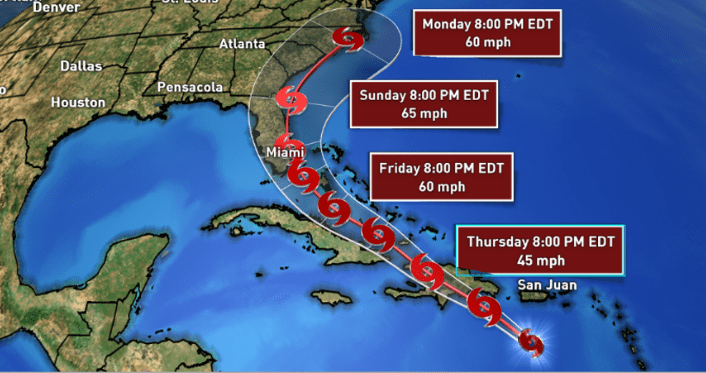 With a midnight bulletin from the National Hurricane Center on Friday morning, Isaias became a category 1 hurricane, its forecast path continuing an eastward trend and leaving a majority of Broward County and all of Miami-Dade outside the anticipated range for the path for the storm's center.
Despite the shift, the coastal areas of both counties, along with Palm Beach County, remained under a tropical storm watch. All the population centers in Palm Beach County remained inside the west side of the forecast path, and a northeastern portion of Broward (Deerfield Beach, Pompano Beach and coastal Fort Lauderdale) remained in the extreme western edge of the cone.
Although there was still uncertainty, the possibility of South Florida experiencing hurricane conditions was "quite low," the National Weather Service said Thursday afternoon.
Still, the center of the predicted track isn't too far off the coast, with the storm still almost 1,000 miles from South Florida.
Isaias (ees-ah-EE-ahs) saw a major uptick in windspeed upon exiting mountainous Hispaniola (the island containing the Dominican Republic and Haiti) late Thursday night and hitting the open water about 80 miles southeast of the southeastern Bahamas.
Its maximum sustained winds were measuring at 80 mph, up from the 60 mph reading in the 11 p.m. Thursday advisory. The storm was moving toward the northwest at a speed of 18 mph. Hurricane-strength winds extend 30 miles from the eye, while tropical storm-force winds reach up to 240 miles from the center.
A hurricane warning was issued for the northwestern Bahamas on Thursday night, which includes Andros Island, New Providence, Eleuthera, Abacos Islands, Berry Islands, Grand Bahamas Island and Bimini. Many of those areas, including Grand Bahama Island and the Abacos Islands, were pounded last year in Hurricane Dorian.
In a statement issued Thursday just before 5:30 p.m., the Miami forecast office of the National Weather Service was telling South Floridians that tropical storm-force winds could reach as far west as coastal Palm Beach County and very close to coastal Broward, and that strong winds also couldn't be ruled out for Miami-Dade, given the uncertainty in the forecast.
"Therefore, a tropical storm watch has now been put into effect for Southeast Florida. A reasonable worst-case scenario at this time is for portions of southeastern Florida to be potentially impacted by high-end tropical storm-force winds (winds greater than 58 mph)," the statement said.
"Although concerns for hurricane conditions to impact portions of southeast Florida cannot be ruled out, the chances of that remain quite low at this time."
Florida Governor Ron DeSantis on Thursday urged residents to be prepared.
"While we can't be certain of the exact track of the storm and we certainly cant be sure about the intensity it will ultimately reach, we do expect to see impacts to the state of Florida even if the storm remains off our shore, which is the current forecast, but this is an evolving situation so please keep up with official updates and make sure you have a plan and have seven days' worth of food water and medicine," DeSantis said.
Athough tropical storm-force winds could start impacting South Florida on Friday night, Saturday would be the most likely day for the area to feel the impacts of Isaias, said Pablo Santos, Meteorologist-In-Charge at the Miami office of the National Weather Service, on Thursday.
"The key takeaway here is that tropical storm conditions are possible this weekend for South Florida," Santos said earlier on Thursday. "If it were to happen, Saturday would be the day, so people would have to complete their preparations at the latest on late Friday night just to be safe."
Santos indicated forecasters would rather err on the side of caution and were stressing the possibility of tropical storm conditions in South Florida until the forecast — with certainty — tells them otherwise because right now there wasn't a lot of certainty either way.
"If you look at the the last two or three advisories, even when the trend has moved ever so slowly eastward, it doesn't change the messaging," Santos said. "Until we gain some more certainty, some more confidence in the forecast, I think we have to be very careful.
"So the message we're putting out there is the concern is tropical storm conditions are still possible across portions South Florida going into this weekend."
The National Weather Service said South Florida should expect winds in the range of 58 to 73 miles an hour, which could cause the following types of damage:
Some damage to roofing, siding, awnings, porches, carports and sheds.
Some buildings will see window, door and garage-door failures.
Damage to mobile homes, especially those that are not anchored.
Unsecured lightweight objects could become projectiles.
Some roads could become blocked and impassable from large debris.
Scattered power outages.
Wildfires spread: 200 homes evacuated in California
A wildfire in Southern California that began Friday evening amid blazing temperatures spread across 1,900 acres and prompted evacuations.
Officials confirmed in a tweet Saturday morning that the flames were zero percent contained. The Riverside County Fire Department responded with air and ground resources, and at least 375 firefighters were assigned to the blaze, dubbed the Apple Fire.
Mayor Sylvester Turner donates $ 19 million to the people of Houston.
Houston — A second assistance program is going to be available for Houston renters who are struggling to keep up with their payments during the COVID-19 pandemic.
Mayor Sylvester Turner announced a $19 million rental assistance program with $15 million coming from the city's CARES Act funding and $4 million coming from private donations which were raised in the last 36 hours.
Houston Endowment Inc. donated $2 million while the Greater Houston COVID-19 Recovery Fund and the Kinder Foundation donated $1 million each.
Turner said they hope to grow the fund to $20-25 million by next week. City Council has to first approve the plan next Wednesday.
The announcement comes the same day millions of Americans are losing their extra $600 weekly unemployment benefit from the CARES Act.
The money will help renters that don't qualify for federal relief dollars and cover legal assistance.
Baker Ripley will once again administer the program.
The mayor said this will help thousands more families on top of the 13,000 helped during their first rental relief program in May.
The funding will not be allocated on a first come, first serve basis.
He added they've learned lessons since then.
"Not first-come, first-serve," Turner said. "Want to design metrics for those who need it the most. Restricted last time because it was just federal dollars. Now we're combining with non-federal dollars."
The mayor explained they are trying to design metrics that will help those in most need, especially residents who face immediate eviction.
If you have a lease, you qualify for this second relief program. Some of the funding will be set aside for people who didn't quality for help from the CARES Act.
Undocumented immigrants will also be eligible for relief under this second program.
The program also provides funding for Lone Star Legal Aid to help renters.
"We want to keep people in their homes," Turner said.
The mayor is asking justices of the peace to be thoughtful in this time when it comes to eviction notices.
The Houston Apartment Association is also working on developing a voluntary grace period to help renters.
urner also pleaded Friday afternoon with the state and federal governments to help the city.
"We won't meet every need but we'll do our part," Turner said. "Congress, if you're listening, Mr. President, if you're listening, people need your help and they need your help now."
The first program was provided in May. The $15 million meant to help Houstonians pay rent was gone in less than 90 minutes.
READ: Fort Bend residents in need of help can now apply for Phase 2 of rental, mortgage relief program
"If we had kept it open there would have been thousands more who would have applied, we had to cut it off because there was no money there," Turner said at the time.
At the time, the City of Houston Housing Department acknowledged the funding was nowhere near enough to meet the need of all Houstonians.