Burmese Canadian Pastor Gets Three Months for Defying COVID-19 Ban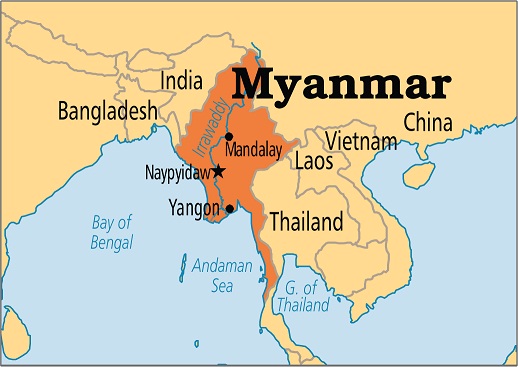 Myanmar – David Lah, the Burmese Canadian pastor who defied the COVID-19 Natural Disaster ban on large group gatherings in Myanmar, has been sentenced to three months in jail on August 6.
Lah received criticism for his video in April telling his congregation that those who are really Christian would not be infected with COVID-19. Later on, the Burmese Canadian pastor held a church service to livestream his service, directly violating the 2013 Natural Disaster Management Law. Shortly thereafter, he started having symptoms and soon was tested positive, along with his followers who were at the gathering.
Lah was arrested after being quarantined for 21 days in a Yangon hotel. Three others, one being his colleague, were arrested and charged with the same law. The gathering exposed at least 71 people to the virus.
The pastor went through six hearings from June 3 to June 23 before this verdict was announced. According to Al Jazeera, "The judge also took into consideration the time he's already spent in detention, so he could very well be released in the next few days or weeks even."
Sources:Persecution
പതിനാറ് രാജ്യങ്ങളിൽ ഇഫ്താർ വിതരണം നടത്താനൊരുങ്ങി സൗദി അറേബ്യ
റിയാദ്: പതിനാറ് രാജ്യങ്ങളില്‍ ഇഫ്താര്‍ വിതരണം നടത്തുന്ന പദ്ധതിക്ക് തുടക്കം കുറിക്കാനൊരുങ്ങി സൗദി അറേബ്യ. കൊവിഡ് പ്രതിരോധ, മുന്‍കരുതല്‍ നടപടികള്‍ പാലിച്ച് സൗദി 16 രാജ്യങ്ങളില്‍ ഇഫ്താര്‍ വിതരണം നടത്തുമെന്ന് റിപ്പോര്‍ട്ട് ചെയ്തു.
വിവിധ പ്രദേശങ്ങളില്‍ നിന്നുള്ള അഭ്യര്‍ത്ഥനകള്‍ക്കനുസരിച്ച് അതത് രാജ്യങ്ങളിലെ സൗദി എംബസികളുമായും ഇസ്ലാമിക് മന്ത്രാലയ കേന്ദ്രങ്ങളുമായും ഏകോപിപ്പിച്ചാണ് വിതരണം നടത്തുക. ലോകമെമ്പാടമുള്ള മുസ്ലിംകളെ സേവിക്കുക എന്ന ലക്ഷ്യത്തോടെ ഇസ്ലാമികകാര്യ മന്ത്രാലയം നടപ്പിലാക്കാനുദ്ദേശിക്കുന്ന പദ്ധതിക്ക് എല്ലാ പിന്തുണയും നല്‍കുന്ന സല്‍മാന്‍ രാജാവിനും കിരീടാവകാശി അമീര്‍ മുഹമ്മദ് ബിന്‍ സല്‍മാനും ഇസ്ലാമികകാര്യ മന്ത്രി ഡോ. അബ്ദുല്ലത്തീഫ് അല്‍ അശൈഖ് നന്ദി അറിയിച്ചു. ഇഫ്താര്‍ വിഭവങ്ങള്‍ വിതരണം ചെയ്യുമ്പോള്‍ ഓരോ രാജ്യങ്ങളിലെയും ഗുണഭോക്താക്കളുടെയും വിതരണ തൊഴിലാളികളുടെയും സുരക്ഷ ഉറപ്പുവരുത്തുന്നതിനായി വേണ്ട കൊവിഡ് പ്രതിരോധ നടപടികള്‍ സ്വീകരിക്കുമെന്ന് മന്ത്രി വ്യക്തമാക്കി.
Court in India Grants Bail to Men Accused of Harassing Nuns
India – According to the Union of Catholic Asian News (UCAN), a court in India's Uttar Pradesh state has granted bail to three Hindu activists accused of harassing two Catholic nuns and their students on a train.
On March 19, two nuns from the Congregation of the Sisters of the Sacred Heart were forcefully removed from a train in Jhansi by a mob of radical Hindu nationalists. The mob falsely accused the nuns of trafficking two young women for the purpose of converting them to Christianity.
Although the two women show identification proving they were already Christian, the mob continued to harass the nuns and handed them over to railway police. The nuns were then marched to the local police station as the mob followed chanting obscenities and nationalist slogans.
Local church leadership eventually engaged with police to resolve the issue. However, the four Christian women had to leave Jhansi the next day disguised in civilian clothes.
Railway police arrested Ajay Shankar Tiwari, Anchal Arjaria, and Purgesh Amaria on April 2 in connection with the incident. However, these three men were granted bail by the Jhansi District Court on April 7.
UCAN reports that the decision to grant bail has brought mix reactions from Christian leaders.
"We can't see it as a setback for us as there is a provision for people getting bail according to the Indian constitution," Archbishop Felix Machado of Vasai told UCAN. "We should believe in the law of the land. It might take some time, but I believe that one day the accused will be brought under the law."
Across India, impunity is enjoyed by many perpetrators of religiously motivated violence. In many cases, the perpetrators of anti-Christian violence falsely accuse their victims of engaging in fraudulent religious conversions to justify their attacks. Unfortunately, local authorities often accept these justifications as legitimate and allow perpetrators to escape justice.
Sources:persecution