Corona spends time reading the Bible: Tennis player Serena Williams
Serena Williams said on Tuesday that she has become a student of the Bible during the long lockdown triggered by the coronavirus pandemic and believes that the book holds the key to achieving racial justice.
"A lot of my time off, I've been studying the Bible,' Williams said in a Zoom call shortly after she made a successful debut in her first WTA event since the game shut down in mid-March because of COVID-19. "And I feel like the main thing is really believing in God's kingdom. Personally, I think after, well, over 400 years of having Black people treated a certain way, to expect change — and it hasn't happened in that long — I feel like it's going to take a long time. Ultimately I think the only thing that can fix it is what I believe."
Williams was also asked to comment on diversity in leadership positions in the business and sports world, responding, "Diversity in anything is really important, especially at the top level. It's one thing to say we have diversity and another to say we have diversity at the [decision-making level]. If that's not happening and we have just one group that looks the same making the decisions, the results will be the same."
However, Williams said she had no interest in running for office or taking on the role of a decision-maker in a group setting. "Not for me," she said, "That's definitely not for me, no thanks."
Williams, who had last played 185 days ago (Feb. 8) in a Fed Cup qualifying match, showed that her decision-making skills — along with her knack for surviving perilous tennis situations — is intact despite the hiatus in her 4-6, 6-4, 6-1 recovery against Bernarda Pera in the first round of the Top Seed Open in Lexington, Kentucky.
The tournament is the first official WTA event in North America since the Indian Wells combined event was canceled in mid-March. The top seed in Lexington, Williams will turn 39 years old in September. She has 23 Grand Slam singles titles, one behind Margaret Court on the all-time list.
Williams fell behind by 0-40 while serving at 4-all in the second set, but she salvaged the game in a trademark comeback and lost just one more game in the first-round encounter.
The match provided Williams with her first exposure to high-stakes tennis played with no fans — or crowd noise. She was surprised by how she felt: " I don't dislike it, and that's weird because I'm such an emotional player," she said, adding that she feeds on the energy directed at her by the crowd. She said the vibe reminded her of junior tennis, where few fans watch the matches. "I really like the nostalgic-ness of it no noise. It reminds me of back to the basics and when I was trying hard to make it."
After her stint in the Top Seed Open, Williams is committed to traveling to New York to take part in the US Open, which is the back end of a two-tournament event that will be played starting next week in a bio-secure "bubble" at the National Tennis Center.
FIFA Council approves Arab Cup Qatar 2021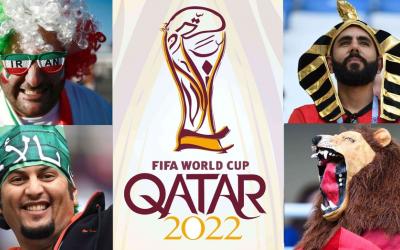 FIFA Council on Friday approved the competition regulations for the FIFA Arab Cup 2021, which will be held in Qatar from December 1 to 18 this year. At a meeting held via videoconference, FIFA Council chaired by president Gianni Infantino also confirmed the match schedule and draw procedure for the competition, which will be played by 22 national teams from the Arab region
The 22 participating teams are: Qatar, Algeria, Bahrain, Comoros, Djibouti, Egypt, Iraq, Jordan, Kuwait, Lebanon, Libya, Mauritania, Morocco, Oman, Palestine, Saudi Arabia, Somalia, Sudan, Syria, Tunisia, United Arab Emirates and Yemen.
The 16 teams that take part in the final stage will be split into four groups, with the top two from each qualifying for the quarter-finals. A total of 32 matches will be held over 18 days.
The tournament will be delivered by FIFA, the Qatar Football Association, the Supreme Committee for Delivery & Legacy and the FIFA World Cup Qatar 2022 LLC.
Seen as a vital opportunity to test operations and facilities ahead of Qatar 2022, the tournament will take place in the same timeslot as the FIFA World Cup. The finals of both the FIFA Arab Cup and FIFA World Cup will take place exactly one year apart – each on 18 December, Qatar National Day, which is a public holiday.
During his visit to Qatar in November last year, Infantino had praised Qatar's preparation for the World Cup, highlighting that he expects the FIFA Arab Cup to unite millions of fans from all the Arab region.
He added that it is a great opportunity for teams to play in the World Cup 2020 stadiums and that FIFA is "looking forward to seeing the region's best teams battle it out to see which nation will become champion."
"Through football, this tournament will unite over 450 million people from across the region, and we are confident that the FIFA Arab Cup will help to build excitement across the region as we edge ever nearer to hosting the first FIFA World Cup in the Middle East and Arab world in 2022," Infantino said during a visit to Lusail Stadium, which will host the world cup final.
Meanwhile, FIFA expects to hit its four-year revenue target of $6.44bn up to the 2022 World Cup in Qatar despite the coronavirus pandemic. Total spending of $1.04bn in 2020 included $270mn in grants to football bodies worldwide as part of a COVID-19 relief plan, FIFA's annual financial report said. It also included a $10 million donation to the World Health Organization.
FIFA again awarded its president Infantino a $1mn annual bonus to raise his overall pre-tax pay above $3mn in 2020, matching his 2019 income.
FIFA gets most of its money from the four-yearly men's World Cup, and said it already sealed 92% of its income target from broadcasting rights. Fewer sponsor slots for the 2022 World Cup have been sold compared to the same stage before previous editions of the tournament.
American boxing legend Marvin Hagler has Dies at 66
"Marvelous" Marvin Hagler, a former middleweight boxing champion and icon of the sport, died Saturday. He was 66 years old.
A cause of death was not immediately clear when his wife, Kay G. Hagler, posted a confirmation on Facebook.
"I am sorry to make a very sad announcement. Today unfortunately my beloved husband Marvelous Marvin passed away unexpectedly at his home here in New Hampshire. Our family requests that you respect our privacy during this difficult time. With love," she wrote in a post on his verified fan page, signing her name.
Marvin Hagler was the undisputed middleweight champion of the world for seven years beginning in 1980. He lost his title only when Sugar Ray Leonard came out of retirement in 1987.
Online, tributes to the athlete poured in as sports accounts posted videos of some of his most iconic fights.
Boxing promoters and sports agents Kalle & Nisse Sauerland tweeted a heartfelt tribute that read, "If reports are true we are lost for words to hear the of the loss of our all time favorite boxer Marvelous Hagler – for us the greatest Middleweight who ever lived."
Sports broadcaster Jim MacKay wrote, "The man they called Marvelous trained in Brockton, one of the reasons it is called the City of Champions. The undisputed Middleweight Champion from 1980-1987. True Boxing Legend. RIP."