96,000 Christians have been killed in Nigeria in two decades;report claims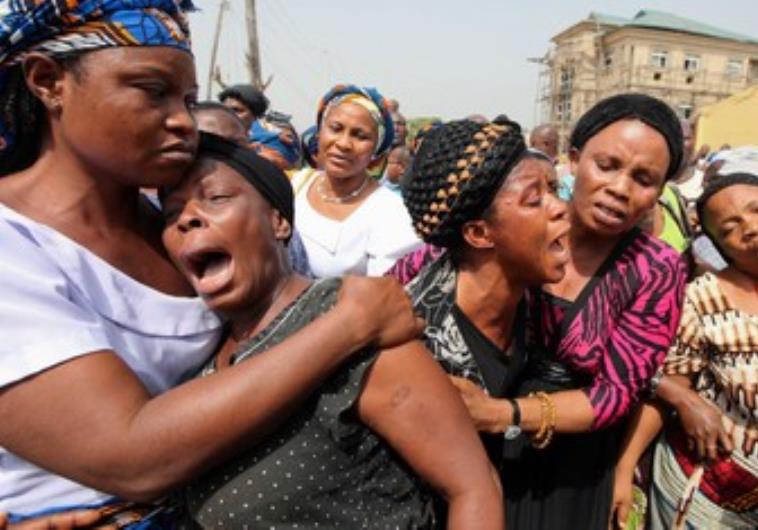 It has warned that the situation is "intolerable" with claims that almost 100,000 Christians have been murdered for their faith in the west african state in the first two decades of this century.
The report, co-authored by The International Organisation for Peace Building and Social Justice (PSJ UK), the International Committee on Nigeria (ICON) and the International Freedom of Religion or Belief All Party Parliamentary Group claims that over the past 20 years Nigeria has suffered more violent incidents and deaths compared to the rest of the combined West Africa region.
It has noted that a combination of Boko Haram, Al-Qaeda, Fulani Militants and other extremist groups have been responsible for the murders of more than 96,000 Christians, according to a new report in almost 21,000 separate attacks.
The report has also included polling from Savanta ComRes suggesting that the UK public supports decisive action to address these horrifying statistics.
Three in five UK adults say in the survey that they support imposing sanctions on individuals who have been held responsible for human rights abuses.
And the report has recommended that this could be part of the UK's new Magnitsky sanctions program.
The poll shows that two in five (39 percent) UK adults expect the UK to speak out against violence towards Christians in Nigeria while more than half want foreign aid linked to protecting Christian minorities.
There is also strong support for military intervention in Nigeria. A majority (53 percent) of those surveyed supported calling on the UN to send peacekeeping forces to intervene in the crisis, and a quarter of those surveyed believed that direct military intervention from the UK would help solve this crisis.
Ayo Adedoyin, Chief Executive of PSJ UK, said: "This situation cannot be tolerated. Tens of thousands of Christians have been murdered in Nigeria and many thousands more have been subjected to vicious assault.
"The British government must do more to support Nigerian Christians and should apply sanctions to the members of the Nigerian government that are, at best, turning a blind eye to this ongoing catastrophe."
According to the report 43,242 of the Christian deaths as a result of the terrorism inflicted by Boko Haram, Islamic State, ISWAP and Al-Queda; 18,834 as a result of the terrorism inflicted by Fulani Militant Extremists; and 34,233 as a result of the terrorism inflicted by all other actors
Based on data collected between 2000-2019, deaths resulting from Fulani Militant attacks include 17,284 across Nigeria and 13,079 in predominantly Christian states (Benue, Kaduna, Plateau, and Taraba).
That means three of every four Fulani Militant victims during this time were Christians
Vice chair of the APPG Fiona Bruce MP said: "Targeted attacks against churches and heightening religious tensions indicate that religious identity plays a role in the farmer-herder conflict".
Another vice chair of the APPG Lord Alton of Liverpool said: "Some local observers have gone so far as to describe the rising attacks as a campaign of ethno-religious cleansing. Armed with sophisticated weaponry, including AK47s and, in at least one case, a rocket launcher and rocket-propelled grenades, the Fulani militia have murdered more men, women and children in 2015, 2016 and 2017 than even Boko Haram, destroying, overrunning and seizing property and land, and displacing tens of thousands of people. This is organised and systematic."
Netanyahu Met Saudi Prince on Secret Trip, Israeli Media Say
Jerusalem: Israel's Prime Minister Benjamin Netanyahu held secret talks in Saudi Arabia Sunday with Crown Prince Mohammed bin Salman, media said, in the first reported trip by an Israeli premier to the kingdom.
US Secretary of State Mike Pompeo, who was in Israel last week, was also at the reported talks, a diplomatic correspondent at Israeli public broadcaster Kan said on Monday.
The broadcaster cited unnamed Israeli officials as saying that Netanyahu and the head of the Mossad spy agency Yossi Cohen "flew yesterday to Saudi Arabia, and met Pompeo and MBS in the city of Neom", referring to Prince Mohammed's initials.
Multiple other Israeli media outlets reported similar information on Monday morning.
Netanyahu's office was not immediately available to comment on the reports.
The meeting comes after Israel agreed historic deals to normalise ties with two Saudi allies in the Gulf, the United Arab Emirates and Bahrain.
Those accords were brokered by outgoing US President Donald Trump's administration.
US and Israeli officials have repeatedly indicated that more Arab states were set to forge ties with Israel.
Publicly, Saudi Arabia has said it would stick to the decades-old Arab League position of not having ties with Israel until the Jewish state's conflict with the Palestinians is resolved.
Joe Biden appoints Indian-American Mala Adiga as policy director of incoming First Lady
Washington: US President-elect Joe Biden has appointed Indian-American Mala Adiga as the policy director of his wife Jill, choosing an experienced education policy hand as the incoming First Lady focuses on education and plans to continue teaching community college classes.
Adiga was a senior adviser to Jill and senior policy adviser for Biden's 2020 campaign. She previously worked for the Biden Foundation as director for higher education and military families.
Before that, during Obama's administration, she was deputy assistant secretary of state for academic programmes at the Bureau of Educational and Cultural Affairs and worked in the State Department's Office of Global Women's Issues as chief of staff and senior adviser to the ambassador-at-large.
"Future First Lady Jill Biden's Policy Director will be Mala Adiga, who served as her senior advisor and a senior policy advisor on the Biden-Harris campaign. Adiga will work for a First Lady who has said she intends to prioritise education and military families,"
Biden on Friday announced another round of White House staff positions to be filled by longtime aides to the Bidens.
Louisa Terrell, who served as Executive Director for the Biden Foundation, will become Director of the White House Office of Legislative Affairs. She comes to the position with an experience that includes acting as the Special Assistant to the President for Legislative Affairs in the Obama-Biden administration, the report said.
Carlos Elizondo, who was social secretary for Jill Biden during the Obama administration, will be White House Social Secretary. Ambassador Cathy Russell will assume the role of Director of the White House Office of Presidential Personnel, it said.
Adiga served as Director for Human Rights in the National Security Staff's (NSS) Multilateral and Human Rights Directorate. Prior to joining NSS, she was an attorney at the Department of Justice, where she served as Counsel to the Associate Attorney General.
Before entering government service, Adiga volunteered and then worked for the Obama presidential campaign for nearly two years, according to her biography on the US State Department website.
She earned her JD from the University of Chicago Law School and her MPH from the University of Minnesota. She graduated from Grinnell College in Iowa with a B A in Spanish.
The new announcements come just days after Biden revealed his first round of top White House staff, including the appointment of his campaign manager, Jen O'Malley Dillon, to serve as deputy chief of staff, and campaign co-chair Cedric Richmond as director of the White House Office of Public Engagement.
Late week, he announced that his aide Ron Klain will serve as his chief of staff.