96,000 Christians have been killed in Nigeria in two decades;report claims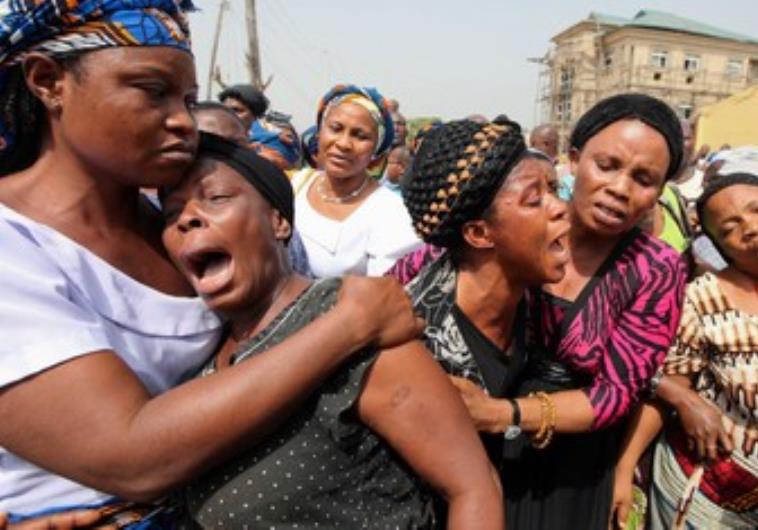 It has warned that the situation is "intolerable" with claims that almost 100,000 Christians have been murdered for their faith in the west african state in the first two decades of this century.
The report, co-authored by The International Organisation for Peace Building and Social Justice (PSJ UK), the International Committee on Nigeria (ICON) and the International Freedom of Religion or Belief All Party Parliamentary Group claims that over the past 20 years Nigeria has suffered more violent incidents and deaths compared to the rest of the combined West Africa region.
It has noted that a combination of Boko Haram, Al-Qaeda, Fulani Militants and other extremist groups have been responsible for the murders of more than 96,000 Christians, according to a new report in almost 21,000 separate attacks.
The report has also included polling from Savanta ComRes suggesting that the UK public supports decisive action to address these horrifying statistics.
Three in five UK adults say in the survey that they support imposing sanctions on individuals who have been held responsible for human rights abuses.
And the report has recommended that this could be part of the UK's new Magnitsky sanctions program.
The poll shows that two in five (39 percent) UK adults expect the UK to speak out against violence towards Christians in Nigeria while more than half want foreign aid linked to protecting Christian minorities.
There is also strong support for military intervention in Nigeria. A majority (53 percent) of those surveyed supported calling on the UN to send peacekeeping forces to intervene in the crisis, and a quarter of those surveyed believed that direct military intervention from the UK would help solve this crisis.
Ayo Adedoyin, Chief Executive of PSJ UK, said: "This situation cannot be tolerated. Tens of thousands of Christians have been murdered in Nigeria and many thousands more have been subjected to vicious assault.
"The British government must do more to support Nigerian Christians and should apply sanctions to the members of the Nigerian government that are, at best, turning a blind eye to this ongoing catastrophe."
According to the report 43,242 of the Christian deaths as a result of the terrorism inflicted by Boko Haram, Islamic State, ISWAP and Al-Queda; 18,834 as a result of the terrorism inflicted by Fulani Militant Extremists; and 34,233 as a result of the terrorism inflicted by all other actors
Based on data collected between 2000-2019, deaths resulting from Fulani Militant attacks include 17,284 across Nigeria and 13,079 in predominantly Christian states (Benue, Kaduna, Plateau, and Taraba).
That means three of every four Fulani Militant victims during this time were Christians
Vice chair of the APPG Fiona Bruce MP said: "Targeted attacks against churches and heightening religious tensions indicate that religious identity plays a role in the farmer-herder conflict".
Another vice chair of the APPG Lord Alton of Liverpool said: "Some local observers have gone so far as to describe the rising attacks as a campaign of ethno-religious cleansing. Armed with sophisticated weaponry, including AK47s and, in at least one case, a rocket launcher and rocket-propelled grenades, the Fulani militia have murdered more men, women and children in 2015, 2016 and 2017 than even Boko Haram, destroying, overrunning and seizing property and land, and displacing tens of thousands of people. This is organised and systematic."
One Christian Killed, Four Kidnapped in Nigeria
Nigeria– A bus driver was killed and four female members of an Anglican Church abducted while driving along Kaduna-Kachia road on Tuesday, April 6th, reports the Barnabus Fund.
"Bandits blockaded the road and opened fire on the church bus and another truck. In addition to the Christian bus driver, named as Alfred Makinde, three others were killed in the gunfire," stated the news source.
The kidnappers contacted the church demanding a N100 million (about $245,000) ransom.
"My conversation with the Anglican church is there were 15 members in the bus but the others ran into the bush and others were shot and sustained injuries, but the bandits took four persons; one old woman and three young ladies" said Reverend Joseph Hayab, the Kaduna Christian Association of Nigeria chairman.
The attack comes just twelve days after eight Christians were abducted while driving on the same Kaduna-Kachia road, about 20 miles outside of Kaduna city. Christians are particularly targeted in this area of Nigeria, often referred to as the middle belt, where the Muslim majority north meets Nigeria's mostly Christian south, creating an environment of ethnic tension which often results in severe Christian persecution. Christian communities are targeted, and thousands of believers have been kidnapped, tortured and killed with nowhere to turn for safety. While the government denies religious motive behind these attacks, the frequent burning of churches and targeting of believers shows that a hatred of Christianity plays a key role in the violence throughout the Middle Belt.
Please pray for the safe return of all who have been kidnapped. Please join us in praying for our brothers and sisters in Nigeria, for the Lord to strengthen the Nigerian church and heal His persecuted children of their trauma. Please also pray for the world to recognize the scale of the suffering that believers are having to endure in Nigeria, as well as for the souls of those who persecute the church, that all will repent and find salvation in Christ.
Sources:persecution
പാസ്റ്റർ ജോൺ വർഗീസിൻ്റെ (രാജൻ പ്ലാന്തോട്ടത്തിൽ) സഹധർമ്മിണി ഏലിക്കുട്ടി വർഗീസ് (ലില്ലി -71) അമേരിക്കയിൽ നിര്യാതയായി
ഒക്കലഹോമ: ഐ.പി.സി. ഹെബ്രോൻ മുൻ ശുശ്രുഷകനും സിനിയർ പാസ്റ്ററുമായ Rev. Dr. ജോൺ വർഗീസിന്റ (രാജൻ. പ്ലാന്തോട്ടത്തിൽ, ആഞ്ഞിലിത്താനം ) ഭാര്യ എലിക്കുട്ടി വർഗീസ് (ലില്ലി – 71) ഏപ്രിൽ 10-ന് പ്രഭാതത്തിൽ താൻ പ്രിയം വെച്ച കർത്തൃ സന്നിധിയിൽ ചേർക്കപ്പെട്ടു. മെമ്മോറിയൽ സർവ്വീസ് ഏപ്രിൽ 16 നു വെള്ളിയാഴ്ച വൈകിട്ട് 6- മണിക്കും സംസ്കാര ശ്രുശ്രുഷ ഏപ്രിൽ 17- നു രാവിലെ 10 മണിക്കും നടത്തപ്പെടുന്നതായിരിക്കും . രണ്ടു ശുശ്രുഷകളും ഒക്കലഹോമ ഐ.പി.സി. ഹെബ്രോൻ സഭാ ഹാളിൽ വെച്ച് നടത്തപ്പെടുന്നതായിരിക്കും.
മകൾ : ഫെബി മാത്യു.
മരുമകൻ: ജോൺസൻ മാത്യു (ബോബി ).
കൊച്ചുമക്കൾ: ജോയാന, രൂത്ത് & ക്രിസ്റ്റഫർ
Viewing:- Wednesday 4 – 7.30pm (prayer meeting 6.30 pm – 7.30pm)
Memorial service:- Friday 6.30 pm. @IPCH
Home Going Service:- Saturday 10 am. @ IPCH
Follow CDC guidelines.
Come and go as you wish.
കൂടുതൽ വിവരങ്ങൾക്ക്: