Riot in Kenosha, two killed in shooting, one seriously injured; Blake's surgery is over
Following the police shooting of African-American Jacob Blake, at least two people were killed and one injured after shots were fired at the protest site in Kenosha, Wisconsin late Tuesday after the third consecutive night of protests.
The gunmen opened fire at about 11:45 pm, Kenosha police's Public Information Officer, Lt. Joseph Nosalik, said in a news release, according to an AP report. The injured person sustained serious but not life threatening injuries and is undergoing treatment at a local hospital, Nosalik added. The incident is currently being investigated.
Neither the victims, nor the shooters have been identified as yet. Local media reports claim that the shooting occurred during a violent standoff between protesters and armed gunmen, who were guarding a gas station.
The protests began hours after Blake was shot by the police on Sunday. A huge mob of angry demonstrators marched towards the Kenosha police headquarters, setting cars ablaze, smashing windows and clashing with officers dressed in riot gear.
Blake is currently undergoing treatment after being shot by police at least seven times earlier this week. While the details of the incident are vague, footage of the incident shows the 29-year-old African American leaning into a car, before an officer grabbed him by the shirt and opened fire. All seven shots can be heard in the video, along with the screams of his three young children, who were seated in the car at the time, BBC reported.
Police claim that the incident occurred when they had arrived at the site after receiving a complaint about a domestic issue. Blake's lawyers have said that he was trying to "de-escalate a domestic incident" when the police intervened and later shot him.
The seven bullets severed Blake's spinal cord and shattered his vertebrae, leaving him paralysed, according to his family attorney Ben Crump. The 29-year-old was undergoing surgery, but it would "take a miracle for Blake to walk again, Crump said on Tuesday during a press release, AP reported.
Due to the bullet wounds, Blake also had holes in his stomach, an arm injury, and damage to his kidney and liver, BBC reported. Tremendous damage was also caused to his colon and small intestine, due to which the vital internal organs had to be removed, his lawyers said.
"His family believe in miracles, but the medical diagnosis right now is that he is paralysed and, because those bullets severed his spinal cord and shattered some of his vertebrae, it is going to take a miracle for Jacob Blake Jr to ever walk again," Crump told reporters on Tuesday.
While it is still unclear who incited the violence near the intersection on 63rd Street and Sheridan in Kenosha, where two people were fatally shot and one was severely injured, several videos shared online show a group of Black Lives Matter protesters running after a man carrying a gun, the Guardian reported.
"He just shot somebody," protesters are heard calling out in the videos. The man was allegedly part of a gun toting group that had positioned itself near a gas station. Kenosha County Sheriff David Beth told the Milwaukee Journal Sentinel that the police had reviewed the video footage and would soon arrest at least one person, believed to be involved in the shooting.
"I feel very confident we'll have him in a very short time," he said.
After businesses were vandalised and buildings were set ablaze in a second day of protests after Blake was shot by police, Wisconsin Governor Tony Evers declared a state of emergency, adding that he would deploy more state National Guard troops to contain the violence, Reuters reported.
Evers said that he would scale up the number of Wisconsin National Guard soldiers from 100 to 250. His announcement came as several officials called for peace in the city of Kenosha after a night of sustained violence.
"We cannot allow the cycle of systemic racism and injustice to continue," Evers said, according to a Bloomberg report. "We also cannot continue going down this path of damage and destruction."
Jacob Blake included the opening prayer at the very beginning of the second night of the Republican National Convention 2020, included a line about Jacob Blake. During the opening prayer, delivered by Reverend Norma Urrabazo, viewers were invited to pray for Jacob Blake's recovery as well as for police officers working towards restoring order on the streets of Kenosha, Wisconsin.
Urrabazo prayed for the "spirit of peace to come over hurting communities in Wisconsin tonight. We pray for healing and comfort to Jacob Blake and his family," news reported.
Members of Blake's family called for justice but also condemned the violence that had broken out in the city of Kenosha in the last three days, the news reported.
"As I was riding through this city, I noticed a lot of damage. It does not reflect my son or my family. If Jacob knew what was going on as far as … the violence and destruction, he would be very unpleased," Blakes' mother Julia Jackson said.
Blakes' father was inconsolable while he described the trauma faced by his three young grandchildren, who were made to watch as their father was shot by the police. "They shot my son at least seven times like he doesn't matter. But my son matters. He is a human being and he matters," he said.
Christians in Nepal Continue to Face a Context of Growing Persecution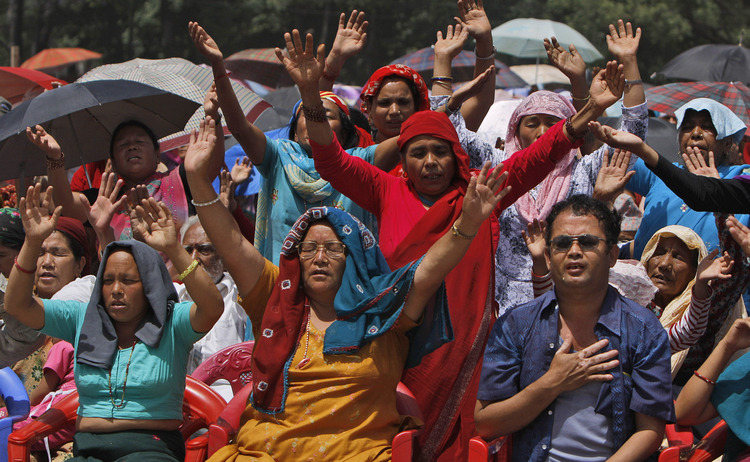 Nepal– Persecution in Nepal continues to be an increasing concern for the growing Christian population of the predominantly Hindu country. The Global Press Journal recently published an article discussing the story of Pastor Hari Tamang, a current example of this persecution. Pastor Tamang has been falsely charged with trafficking children and attempted conversions after he had agreed to shelter children who would have otherwise been put on the street because their former shelter could not help them any longer. Although the trafficking charges were dropped, Tamang is still years later fighting the charges of attempted conversion of the children.
Nepalese law allows for the free exercise of one's religion but forbids the conversion of others. This has produced a context of growing tensions in the society. The Nepalese Christian community says that they are holding fast to the principle that Christ calls His followers to share their faith, but choosing to follow Him is an individual choice, not something to be forced on anyone. Nevertheless, this community is consistently accused of forcefully converting.
Similar cases to that of Pastor Tamang have become more common throughout Nepal as the growth of Christianity as skyrocketed. Advocacy organizations estimate that Christians now number between 2 and 3 million throughout Nepal, comprising a larger portion of the Nepalese population than ever before. Nepal's churches number between 10,000 and 12,000 across the country.
In neighboring India, similar anti-forced conversion laws have been implemented in several states across the country with similar penalties. India, however, has been leading the way in persecuting religious minorities – a trend that only encourages the predominantly Hindu country of Nepal to take similar actions.
The Church also conducts a good deal of aid distribution in communities of need throughout Nepal, which also raises the suspicions of local authorities and devout Hindus who see it as a ploy for conversions. In other words, the charitable actions of the Church are viewed with suspicion. Regardless of this, the Church continues their mission and remains adamant that no forced conversions are taking place, arguing that they are simply fulfilling the teachings of their faith in aiding and serving the poor. The free exercise of religion for Christians means doing exactly that.
Sources:persecution
A Catholic priest Fr. Regalado has been shot dead in the Philippines
A Filipino Catholic priest, Fr. Rene Bayang Regalado, was killed on Sunday by a group of gunmen in the town of Malaybalay, in the southern archipelago island of Mindanao.
Fr. Regalado, 42, was found dead at around 8:00 pm along a road near the Malaybalay Carmel Monastery in Patpat village. His body had a bruise near his left eye and a white shoelace was tied on his left hand.
Many believe that Fr. Regalado was returning to the St. John XXIII College Seminary where he was staying.
Killed by unknown gunmen
A statement issued on Monday by the diocese of Malaybalay indicates, according to the initial information gathered, that gunshots were heard on the road near the Malaybalay Carmel Monastery, Patpat, around 7:30 pm on Sunday, prompting the monastery to call the police for assistance.
Soon after, first responders from the local police arrived at the scene of the crime and conducted an initial investigation. Fr. Regalado's body was then taken to a funeral home in preparation for an autopsy. His car was also taken to the Philippine National Police Headquarters as part of an ongoing official investigation.
Fr. Regalado will be buried at the Malaybalay Catholic cemetery on a date to be determine.Ordained to the priesthood on 18 October 2007, Fr. Regalado finished his baccalaureate degree in Theology at San Isidro College.
He had his pre-college and college seminary formation at St. John XXIII pre-college and college Seminaries in Malaybalay City. He finished his studies in theology at the St. John Mary Vianney Theological Seminary in Camama-an, Cagayan de Oro City.