North Korean Christians prisoners are forced to drink water mixed with cremated ashes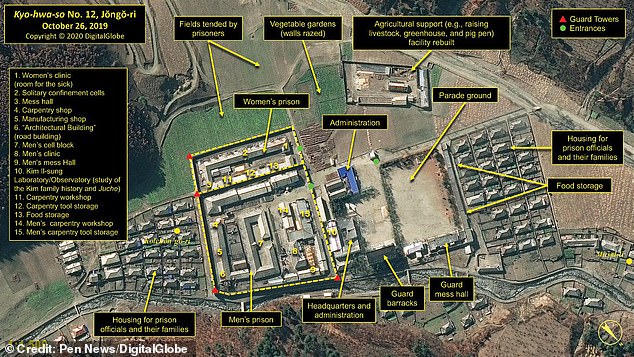 North Korean prisoners are forced to drink river water tainted with the ashes of their dead fellow inmates – and all for the crime of watching a foreign soap opera.
The horrific reality of life within Kim Jong-un's gulags was exposed by former prisoners who survived the living nightmare of Chongori concentration camp.
It's a camp where North Koreans can find themselves locked up for acts as innocuous as watching South Korean TV or following the Christian faith.
One former prisoner recalled: 'Every Monday, we burned the corpses… there's a place that looked like a house, and we piled the corpses in the round tank in it.
'The facility was drenched in the smell of blood and rotting or burning corpses. 'After burning the corpses, they stacked up ashes next to the cremation site. The ashes were used as a compost for farming.
'When it rained, the ashes flowed into the river, and the prisoners drank the river water and used it to shower.'
They also recalled how, on rainy days, when the wood got wet, bodies would not burn as well.
On one occasion, the former prisoner even found themselves tripping over disembodied toes.
They said: 'I fell on something. At first, I thought I was stuck on a tree, but when I looked closer, it was a toe.
'I climbed the mountain following the ash and there were five toes right in front of me. I was so surprised.'
Conguri has a high mortality rate due to 'injury, illness, or physical and mental abuse by prison officials'.
The escapee, whose identity has been protected, made their horrifying disclosure in a new report published by the Washington-based Committee for Human Rights in North Korea.
The report also revealed that the bodies of dead prisoners were piled in a storeroom prior to cremation, where they would be partially eaten by rats and decay would set in.
In addition, HRNK have used satellite imagery to reveal the location of the crematorium, the prison buildings and forced-labour worksites.
One of these worksites is a copper mine, which is believed to be further contaminating the river water that prisoners have to drink.
Joseph S. Bermudez, Jr. the lead author of the report, said: 'We know people are suffering beyond imagination.
'The atrocities committed throughout North Korea's vast system of unlawful imprisonment require the immediate attention of the international community.'
Amanda Mortwedt Oh, who co-authored the report, added: 'The lack of human dignity afforded to prisoners is beyond repugnant, and the Kim regime must be held to account for such actions.'
Greg Scarlatoiu, executive director of HRNK, revealed the nature of the so-called crimes many inmates were accused of.
He said: 'Behaviour that is perfectly normal in most other countries is criminalised in North Korea.
'This includes practising religion, especially Christianity, and possessing a Bible, and accessing information from the outside world, in particular any South Korean material like soap operas.
'It even includes "mishandling" or "disrespecting" a newspaper page containing the picture of the North Korean leader or his father or grandfather.
'Anything along those lines results in imprisonment at a North Korean detention facility.'
Chongori concentration camp – officially called Kyo-hwa-so reeducation camp No. 12 – is in North Hamgyong Province, in the north of the country, roughly 15 miles from the Chinese border.
As many as 5,000 people are imprisoned there, with some 60% incarcerated for illegally crossing the border while the other 40% are being punished for offences like watching foreign TV.
Inmates are used as slave labour, with women manufacturing wigs and false eyelashes, and raising livestock, while men are put to work manufacturing furniture, mining copper and processing ore.
One former prisoner estimated that, during his eight months of detention at Chongori, 800 fellow inmates died as a result of hard labour and malnutrition.
An estimated 120,000 people are believed to be imprisoned across North Korea. The Kim regime denies any human rights offences within the camps and only admitted such facilities even exist in 2014.
A 9-year-old boy who went hunting with his father has died.
Nebraska: The Lancaster County Sheriff's Office said a 9-year-old Seward boy was killed in a hunting accident near Branched Oak Lake on Sunday morning.
The accident happened near NW 98th Street and West Davey road about 7:40 a.m.
LSO said the young boy accidentally shot himself while pheasant hunting with his father.
Authorities said Gunnar Holte, 9, was shooting at a bird, went to reload a shotgun, and the gun fired.
The father said he turned around and saw his son had fallen.
An off-duty Lincoln Police officer was also in the area hunting and tried to help the boy.
The child was taken to the hospital where life-saving measures were not successful, LSO said.
Christian orgs in China drop 'Jesus' from book titles to circumvent internet censorship
Internet censorship targeting Christians in China has become so severe that even official government-sanctioned Christian groups are now using the Chinese pinyin initials "JD" to replace Chinese characters for "Christ," according to U.S.-based China Aid.
Two official government-sanctioned religious organizations — the Christian Council of China and the Committee of the Three-Self Patriotic Movement of the Protestant Churches of China — have updated titles and descriptions of all their books on "Tianfengshuyuan," their official WeChat book store, reported China Aid, which exposes abuses and promotes religious freedom, human rights and the rule of law in China.
"In their official WeChat store, not only 'Christ' becomes 'JD,' 'Jesus' also becomes 'YS,' and 'Bible' becomes 'SJ,'" wrote Fuzeng Xing, dean of Chung Chi Seminary of Chinese University of Hong Kong, on his Facebook page, the group noted.
On March 30, 2018, the "Holy Bible" was removed from all online booksellers across China, including Taobao, Jingdong, WeChat store, Dangdang, Amazon China, and other online platforms.
As a result, many online religious bookstores have shut down.
Bitter Winter, a publication that monitors religious liberty violations in China, reported earlier this month that Chinese Communist Party officials in Luoyang, a prefecture-level city in Henan's central province, searched a local printing house for banned religious materials.
"Any religious content makes the issue political, not religious. Although banners on the streets say people are allowed religious beliefs, the only faith they can practice freely is that in the Communist Party," a store manager told Bitter Winter.
Because inspections are "too rigorous," the manager said he refuses to print religious materials. "They checked my storehouse, scrutinized all records, and even looked at paper sheets on the floor to see if they have prohibited content. If any such content is found, I'll be fined, or worse, my business will be closed."
Last month, a Chinese Christian online bookstore owner was sentenced to seven years in prison and fined nearly $30,000 for engaging in what the regime deems as "illegal business operations."
Persecution watchdog International Christian Concern reported at the time that in September 2019, Chen Yu, who operated his online bookstore in Zhejiang province's Taizhou city, was detained for selling unapproved religious publications imported from Taiwan, the U.S., and other countries.
He was sentenced to seven years in prison and fined 200,000 RMB ($29,450), according to a document from the People's Court of Linhai City, shared by Father Francis Liu from the Chinese Christian Fellowship of Righteousness.
In 2018, the Chinese government banned the sale of Bibles at online bookstores across the country to comply with a "white paper" that dictated compliance with the "core values of socialism."
Australia's ABC News reported at the time that copies of the Gospels had been removed from online retailers following the release of a regime document, titled "China's Policies and Practices on Protecting Freedom of Religious Belief."
The white paper declared that Chinese faith communities "should adhere to the direction of localizing the religion, practice the core values of socialism, develop and expand the fine Chinese tradition and actively explore the religious thought which accords with China's national circumstances."
China is ranked as one of the worst countries in the world when it comes to the persecution of Christians, according to Open Doors USA's World Watch List.
The communist regime's crackdown on religious freedom has also led the U.S. State Department to label it as a "country of particular concern" for "continuing to engage in particularly severe violations of religious freedom."
In a recent interview with The Christian Post, U.S. Secretary of State Pompeo said it is "certainly the case that the Chinese Communist Party [engages in] efforts to stamp out religious freedom every place that they find."
Sources:Christian Post