Ugandan Mob Kills Pastor After Radio Broadcast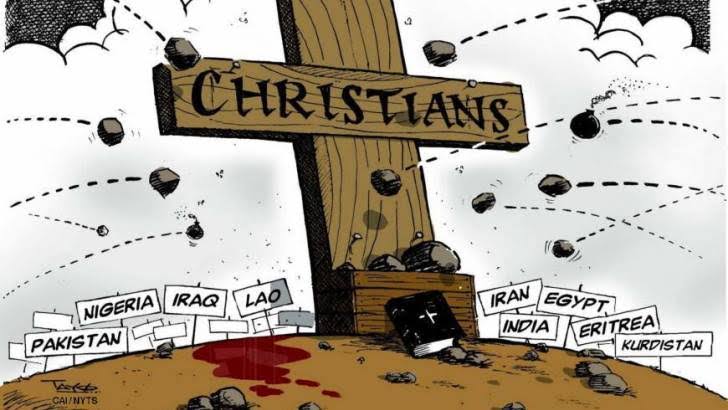 Uganda – According to Morningstar News, a group of Muslim extremists in Northern Uganda killed a pastor who had just finished a radio broadcast. According to the news report, the pastor had spoken on the radio about the differences between Islam and Christianity, which had angered a lot of Muslims in the area. The news agency had talked with the son of David Omara, the pastor. His son, Simon Okut, said that a person had called his father to appreciate his radio broadcast and asked him to come and speak to some of his friends.
However, when the father and son arrived at the meeting place, they were ambushed by six indivduals who started beating David immediately. As they beat the pastor to death, his son was able to escape to safety, but was not able to help his father. Simon said that as they beat him, one of the assailants said, "This man ought to die for using the Koran and saying Allah is not God but an evil god collaborating with satanic powers. As they were hitting my father with blunt objects and strangling him, I fled to save my life. Two attackers ran after me but could not get hold of me."
This attack is worrisome as freedom of religion is supposed to be guaranteed by the government in Uganda. The Presdient of Uganda, Yoweri Museveni, has strongly reacted to attacks of this nature in the past, often cracking down on any community or group who attacks another. Due to his strong hand in leading his country, many Christians in the West of the country continue to vote for him each election season. They say that he stops terrorist attacks from violent extremist groups who used to invade their communities. Hopefully this same leadership will help identify and prosecute the men that murdered Pastor Omara.
Sources:persecution
Xiamen Authorities Ban Xunsiding Church's Campus
China – A well-known house church in China's Xiamen city, previously banned by local authorities, received another administrative punishment on February 24 for setting up a campus at an office building.
According to Xunsiding Church's Pastor Yang Xibo, he was out that day preaching, so his wife Wang Xiaofei received the decision letter from Siming District Ethnic and Religious Affairs Bureau instead. Pastor Yang also received a similar notice in 2019.
The letter stated that Wang did not receive approval from the religious affairs bureau before setting up the "Xunsiding (Church) Campus" at #2004 of Hualong Building at No.6, Hubin East Road. Her action was in violation of Art. 20, Art. 21, Art.22, Art. 40, and Art. 41 of the Regulations on Religious Affairs (RRA).
Pursuant to Art. 69 of the RRA, the Bureau decided to ban "Xunsiding Campus." Wang can file for administrative reconsideration within 60 days.
Xunsiding Church has been repeatedly harassed and raided by Siming Ethnic and Religious Affairs Bureau and local police over the last few years. Their church was last raided on December 6. A few members, including Wang Xiaofei, were brought to the police station and only released at night.
Their experience is not unique. With the Chinese government's ongoing crackdown on house churches, police raids and harassment have become a new norm for many churches that are not state-sanctioned in China.
Nigerian Schoolboys Released, 317 Schoolgirls Abducted
Nigeria– The 42 people kidnapped from the Government Science College in Niger State regained their freedom on Saturday, February 27th, one day after 317 schoolgirls were abducted by armed militants.
"The Abducted Students, Staff and Relatives of Government Science Collage Kagara have regained their freedom and have been received by the Niger State Government," tweeted Governor Abubakar Sani Bello.
The survivors were in captivity since the attack on February 17th, during which one boy, Benjamin Habila, was killed.
The news of their release comes just one day after the recent mass abduction of 317 schoolgirls in the nearby state of Zamfara. "As we welcome the news of the release of the abducted Kagara students, I urge government to expedite action on the release and safe return of the kidnapped students of Government Girls Secondary School Jangebe," stated UNICEF's Nigeria representative Peter Hawkins.
On Friday, February 26th, armed insurgents raided the all-girls boarding school in Jangebe, Zamfara, at around midnight. Schoolgirls were forced into vehicles or taken by foot to the nearby Rugu forest.
One of the girls' guardians, Saidu Kwairo, told the Washington Post that he watched from his window as trucks filled with gunmen ambushed the school campus while firing their weapons into the air. "We could hear the helpless voices of the girls screaming," Kwairo told the Washington Post, "amid the sounds of dangerous rifles."
Attacks on schools have increased over the last few years, causing concern that parents will no longer want to send their kids to school due to the lapses in security. Two months ago, 350 boys were kidnapped from a secondary school in northwestern Katsina. In 2018, Boko Haram abducting 110 girls from Government Girls' Science and Technical College in Dapchi, Yobe State. Earlier in 2014, 276 girls were abducted in Chibok, an incident which sparked outrage across the globe.
President Muhammadu Buhari stated that his administration "will not succumb to blackmail by bandits who target innocent school students in the hope of massive ransom payments."
"The recent attacks have raised concern about rising violence by armed gangs and Islamist insurgents. Jihadist group Boko Haram carries out abductions in Nigeria's turbulent northeast, as does a branch of Islamic State." Stated Reuters.
While no group has come forward to claim responsibility for the attack, terrorist groups such as Boko Haram, Fulani Militants, and ISWAP are active in northern Nigeria. Translated, Boko Haram loosely means "western education is forbidden". The groups have wreaked havoc in Nigeria for over a decade, killing tens of thousands of Christians and displacing millions in an attempt to discard western influence and impose strict Islamic Sharia law.
Please pray for the family of Benjamin Habila, that they will receive peace and comfort from the Lord as they grieve their loss. Pray for those who have experienced trauma due to the kidnappings, and for those who are still in captivity, that they will be released unharmed and return to their families. Pray for the healing of Nigeria, for the end of mass abductions and killings, and for the Lord to transform the hearts of those who persecute the church.
Sources:persecution