Gov. Ralph Northam tells churchgoers they don't need to be inside church to worship God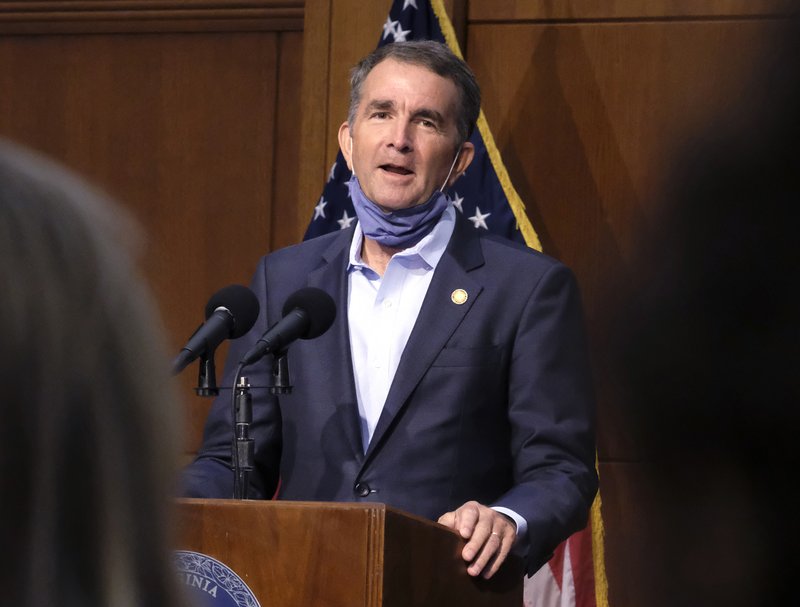 Days after churchgoers filed a lawsuit against coronavirus restrictions in Virginia limiting in-person religious gatherings to 25 people, Gov. Ralph Northam told Christians ahead of Christmas that they "don't have to sit in the church pew for God to hear your prayers."
"Christmas is two weeks away. The holidays are typically times of joy and community. We gather together, we celebrate our faith, and we celebrate with family," Northam, a Democrat, said at a press conference on Thursday, according to National Review.
He continued, "But this year we need to think about what is truly the most important thing. Is it the worship or the building? For me, God is wherever you are. You don't have to sit in the church pew for God to hear your prayers."
"Worship with a mask on is still worship," he added. "Worship outside or worship online is still worship."
The governor then suggested that churchgoers had contributed to the spread of the virus in Virginia. "Quite frankly, we know that a lot of the spread is coming from this because these individuals that are in a place of worship and contract the virus then go out to their place of work or to the grocery store or the convenience store or wherever and that's how this is spread," he said.
As of Saturday, Virginia, which has a population of 8.5 million people, has had 278,615 confirmed cases of COVID-19 and 4,409 confirmed deaths since it began keeping records. According to the state's department of health, 36,942 infections were associated with outbreaks.
Amber Athey, an opinion columnist with The Spectator, criticized Northam for taking "a shot at churchgoers" and for "arrogantly explaining to Virginia residents how they are supposed to understand their relationship with God."
"As many people of faith will tell you, the act of gathering is indeed a very important part of worship. Catholics believe, for example, that Jesus Christ is actually present during the Mass. For them, the Eucharist cannot be received during a Zoom call," she wrote.
Athey quoted Brian Burch, president of CatholicVote, as telling her, "Gov. Northam's comments are a mixture of shameful ignorance and gross anti-religious bigotry. The worship of God has always had a public dimension. For Catholics, the physical reception of communion is central to the practice of our faith."
During his speech, Northam also announced the new COVID-19 restrictions which will begin on Dec. 14 and will be in effect until at least Jan. 31, 2021, according to WHSV3.
The new restrictions include a curfew from midnight to 5 a.m. and a universal mask requirement.
All social gatherings have been limited to 10 people, down from 25 people. However, "this does not apply to religious services, employment settings, or educational settings," WHSV3 reported.
For churches, the limit is 25 people, according to Culpeper Star-Exponent.
Three churchgoers from Culpeper County filed a lawsuit against Northam's coronavirus restrictions last week, according to NBC29, which said, "One of the plaintiffs is a nurse and an essential worker who says she feels church gatherings should be considered essential."
One of the plaintiffs, Ronald Lee Young, is a pastor of Alum Spring Baptist in Culpeper. "Northam's restrictions are reducing the number of people worshipping," Young was quoted as saying. "He is taking away our freedom of assembly."
Sources:christianpost
2024 റിപ്പബ്ലിക്കന്‍ പ്രസിഡന്റ് സ്ഥാനാര്‍ത്ഥി ട്രമ്പായിരിക്കുമെന്ന് മിറ്റ്‌റോംനി
യുട്ട: 2024 ലെ പ്രസിഡന്റ് തിരഞ്ഞെടുപ്പില്‍ ട്രമ്പ് മത്സരിക്കുന്നതിന് തീരുമാനിച്ചാല്‍ റിപ്പബ്ലിക്കന്‍ സ്ഥാനാര്‍ത്ഥിത്വം ട്രമ്പിനു തന്നെയായിരിക്കുമെന്ന് യുട്ടയില്‍ നിന്നുള്ള സെനറ്റര്‍ മിറ്റ് റോംമ്‌നി. ട്രമ്പിന്റെ വിമര്‍ശകനായ റോംനിയുടെ പ്രവചനം അക്ഷരാര്‍ത്ഥത്തില്‍ റിപ്പബ്ലിക്കന്‍ പാര്‍ട്ടിയെപോലും ഞെട്ടിച്ചിരിക്കുകയാണ്. അടുത്ത നാലുവര്‍ഷം ട്രമ്പ് റിപ്പബ്ലിക്കന്‍ പാര്‍ട്ടിയില്‍ സുപ്രധാന പങ്കു വഹിക്കുമെന്നും അദ്ദേഹം കൂട്ടിച്ചേര്‍ത്തു.
ഫെബ്രുവരി 23 ചൊവ്വാഴ്ച ന്യൂയോര്‍ക്ക് ടൈംസ്ഡീന്‍ബുക്ക് വെര്‍ച്വല്‍ അഭിമുഖത്തിലാണ് മീററ് റോംനി തന്റെ അഭിപ്രായം അസന്നിഗ്ദമായി രേഖപ്പെടുത്തിയത്.
2024 ലെ തിരഞ്ഞെടുപ്പില്‍ ട്രമ്പ് മത്സരിക്കുമോ എന്നെനിക്കറിയില്ല. മത്സരിക്കാന്‍ തീരുമാനിച്ചാല്‍ അദ്ദേഹമായിരിക്കും റിപ്പബ്ലിക്കന്‍ സ്ഥാനാര്‍ത്ഥിയെന്ന് നിസംശയമായി രേഖപ്പെടുത്തിയത്.
2020- 2024 വര്‍ഷങ്ങളില്‍ എന്തുസംഭവിക്കുമെന്നും എനിക്കറിയില്ല. എന്നാല്‍ ട്രമ്പിനെ പിന്തുണക്കുന്ന വലിയൊരു വിഭാഗം ആളുകള്‍ ഇന്നും റിപ്പബ്ലിക്കന്‍ പാര്‍ട്ടിയിലുണ്ടെന്നത് പരമാര്‍ത്ഥമെന്നും അദ്ദേഹം കൂട്ടിചേര്‍ത്തു.
ട്രമ്പിന്റെ കടുത്ത എതിരാളിയും, ട്രമ്പിന്റെ ആദ്യ ഇംപീച്ച്‌മെന്റ് ട്രയലില്‍ ട്രമ്പ് കുറ്റക്കാരനാണെന്ന് വാദിച്ച ഡമോക്രാറ്റില്‍ പാര്‍ട്ടിക്കൊപ്പം വോട്ടുചെയ്ത ഏക റിപ്പബ്ലിക്കന്‍ സെനറ്ററുമാണ് മിറ്റ് റോംനി. രണ്ടാമത് ഇംപീച്ച്‌മെന്റ് ട്രയലില്‍ വീണ്ടും മിറ്റ് റോംനി ട്രമ്പിനെതിരെ വോട്ടു ചെയ്‌തെങ്കിലും മറ്റ് ആറ് റിപ്പബ്ലിക്കന്‍ സെനറ്റര്‍മാര്‍ കൂടി റോംനിക്കൊപ്പം ചേര്‍ന്നിരുന്നു റിപ്പബ്ലിക്കന്‍ പാര്‍ട്ടിയിലെ മുതിര്‍ന്ന നേതാക്കള്‍ ഇതിനകം തന്നെ ട്രമ്പിനെതിരെയുള്ള വിമര്‍ശനകള്‍ക്ക് മയം വരുത്തിയിരുന്നു.
Source:Nerkazhcha
Nigerian Authorities Searching For 317 Schoolgirls Kidnapped By 'Armed Bandits'
Nigerian authorities are searching for hundreds of schoolgirls who were kidnapped by gunmen in a raid early Friday morning, according to police in the northwestern state of Zamfara.
Police Commissioner Abutu Yaro told reporters that 317 girls had been kidnapped from Government Girls Science Secondary School in the town of Jangebe, according to its principal. He said that efforts to trace the kidnappers and retrieve the students are underway and that authorities were looking into information that they had been moved to neighboring forests.
"All of us are angry, and all of us are sad," he said. "Despite that we need to have a coordinated response in order to [save lives] and bring the children back home."
Yaro emphasized the importance of exercising caution and care, and urged people to remain calm. According to local media reports, scores of residents incensed by the abduction stormed the streets of Jangebe, creating roadblocks and using sticks and stones to attack vehicles carrying journalists to the school. A cameraman was injured in the process.
Citing a police spokesperson, Nigerian newspaper Punch reported that Zamfara State Police Command is working with the military to conduct joint search and rescue operations for the students, who he said were kidnapped by "armed bandits."
An unnamed school staff member told the newspaper that the gunmen — some wearing uniforms and pretending to be security personnel — arrived at the school with pickup trucks and motorcycles around 1 a.m. on Friday then "broke into the students' hostels" and "forcefully evacuated" them.
"When they came into the school, we thought they were security personnel, but to our utmost fear and dismay, they started putting the girls into Hilux vehicles and motorcycles then drove out of the school," the staff member said.
The armed kidnappers fired sporadically during the raid, Zamfara's information minister told Reuters.
It's the latest in a string of abductions in northern Nigeria and comes just over a week after gunmen kidnapped 42 people at a boarding school in the north-central state of Niger in an attack that left one student dead. In December, the northwestern state of Katsina saw two mass kidnappings eight days apart.
In a statement issued Friday condemning the attack, UNICEF's Nigeria representative Peter Hawkins acknowledged the Nigerian government's efforts to secure the kidnapped students' release and called on it "and all concerned" to make schools safer.
"This is a gross violation of children's rights and a horrific experience for children to go through — one which could have long-lasting effects on their mental health and well-being," he said.
Amnesty International called the abduction a "serious violation of international humanitarian law" that undermines the right to education for thousands of students in the region. It said the abducted students are at "serious risk of being harmed" and called on authorities to take all measures to ensure the girls' safe return, along with that of all students still in the custody of armed groups.
Most notoriously, some 100 of the more than 270 schoolgirls abducted by militant Islamist group Boko Haram in 2014 are still missing.
"Education is under attack in northern Nigeria," Amnesty International tweeted. "Schools should be places of safety, and no child should have to choose between their education and their life. Other children have had to abandon their education after being displaced by frequent violent attacks on their communities."