Sudan Signs Abraham Accords with US, Paving the Way for Peace with Israel
Sudan said it signed the "Abraham Accords" with the US, on Wednesday paving the way for the African nation to normalize ties with Israel.
A statement from Sudan's prime minister's office said Justice Minister Nasredeen Abdulbari signed the accord with visiting US Treasury Secretary Steven Mnuchin.
Dubbed 'The Abraham Accords', the US-negotiated deals between Muslim countries and Israel are seen as a major foreign policy achievement for President Trump's administration. They are named after the Biblical patriarch Abraham revered by Muslims, Jews, and Christians.
Sudan was the third Arab state to agree to full diplomatic ties after the United Arab Emirates and Bahrain, and Morocco became number four late last year.
Before the accords, the last country to sign a peace treaty with Israel was Jordan in 1994 and before that Egypt in 1978.
Trump announced that Sudan would start to normalize ties with Israel in October and said he would remove the African nation from the list of state sponsors of terrorism, opening the way for economic aid and investment.
The Palestinian Authority and other Palestinian groups oppose the accords because they went against the longstanding Arab consensus that recognition of Israel would only occur in return for an Israeli peace agreement with the Palestinians.
The signing of the Abraham Accords followed an announcement that the US and Sudan had agreed to settle the African country's debt to the World Bank, widely seen as a key step toward the nation's economic recovery after the 2019 overthrow of longtime autocrat Omar al-Bashir.
Mnuchin's visit is the first by a sitting US Treasury chief to Sudan, a statement from the prime minister's office said. In August, Secretary of State Mike Pompeo became the first top American diplomat to visit Sudan since 2005, when Condoleezza Rice visited. Pompeo was also the most senior US official to visit the African country since last year's ouster of al-Bashir.
Mnuchin met with Prime Minister Abdalla Hamdok, who tweeted that the visit comes "at a time when our bilateral relations are taking historical leaps towards a better future. We're planning to make tangible strides today as our relations enter a #NewEra,"
Sudan's Finance Ministry said a "memorandum of understanding" with the US treasury department would enable Sudan's government to have more than $1 billion annually from the World Bank.
It's the first time it will get such assistance in nearly 30 years since Sudan was first designated as a pariah state when it hosted al-Qaida leader Osama bin Laden and other militants and was believed to be funneling weapons from Iran to Palestinian terrorists in the Gaza Strip.
Bus accident in Peru; 20 were killed and 14 were injured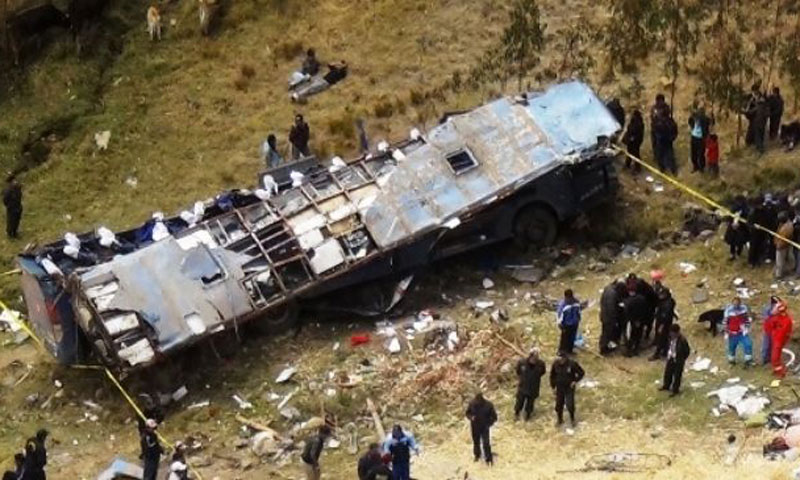 Peru: At least 20 people were killed and 14 others injured in Peru after an interprovincial bus skidded and overturned in Sihuas province in the northern Ancash region, authorities said on Monday.
According to the Parobamba district municipality on its Facebook page, the "accident left 18 people dead on the spot, with two more dying while being transferred."
The accident occurred at about 7:00 am local time on Monday in the Palo Seco area, when the bus, from the "Fama Tours SA" transport company, skidded and overturned.
It was returning from the areas of Huanchayllo and Parobamba and heading to Chimbote and Lima, after the passengers had voted in the general elections on Sunday, a local radio station reported.
Peru's transport authorities said in a statement that it "has activated all intervention protocols to gather information related to the accident for determining appropriate measures."
'The Science of Compliance': Pastor Responds to Police Barricade of GraceLife Church
"They are not interested in the science called virology. It is more like the science of compliance."
Pastor Doug Wilson of Christ Church in Moscow, Idaho, took to his blog this morning to respond to the show of force against GraceLife Church in Canada.
Wilson, who became more widely known after his series of high profile debates with famed atheist Christopher Hitchens, in which Wilson offered stiff competition and a steady stream of witty comebacks.
Wilson's piece, titled 'Putting on Our Coates Coats' confronts the disturbing news that spread across social media last week.
Coates recently served over a month in jail, only to be released and see his GraceLife Church building surrounded by fencing put up by the government. They were shut down, resulting in protests and an even larger police response.
Wilson argued that "ideas have consequences" and highlighted the differences between worldviews.
People act the way they do for reasons. As Richard Weaver taught us, ideas have consequences.
If you believe in God, if you think that the cosmos was created from nothing, if you believe that mankind was created in the image of God, then it is possible for you to believe that we have rights. And by rights, I do not mean privileges, but rather actual rights. These rights cannot be revoked by bureaucratic fiat, they cannot be abridged by executive order, and they cannot be adjusted or trimmed by the winners of elections, stolen or otherwise.
But if you don't believe in God, if you believe that this material universe is a meaningless concourse of atoms, if you believe that life originated all by itself accidentally in a primordial goo-pond somewhere, and that we are simply simians that learned to shave, then it follows of necessity that we do not have any rights at all. We are nothing more than meat and bones and protoplasm.
Wilson said "the real travesty" occurs when followers of God go along with "the dictates of those who affirm the second scenario" and shouldn't leave us surprised when a pastor like Coates stands up and "acts like a real pastor."
He went on to argue that "flat refusal to cooperate" is the only way out.
"We have no business appealing to their god with any hope of getting the kind of determination that we would get if we were appealing to our God," Wilson said.
"You can't gather figs from thistles. You can't get sweet water from a brackish spring. You know. You can't order a Whopper at MacDonalds. You will not get Christian blessings from pagan gods."
Siurces:faithwire