'Taught to Hate God': China's Communist Party Indoctrinating Children by Telling Them Christianity Is an 'Evil Cult'
China's communist regime is reportedly taking more steps to indoctrinate young children to ensure they worship the country's communist ruler Xi Jinping instead of God.
As CBN's Faithwire has reported, under the regime's Regulations on Religious Affairs, schoolchildren have been trained for years to report any family members who espouse Christian views.
Now the Epoch Times reports that the Chinese Communist Party (CCP) is escalating its efforts to "groom" young people in China to have the "right ideas and thoughts" that are anchored in atheism.
One Christian mother said her child appeared to be acting differently after attending school.
"Before starting school, I told my child about God's creation, and he believed it. But after being taught at school, my child is like a different person. In atheistic China, these pure and innocent children have been taught to hate God."
In one case, a child found a Christian booklet in his home and became anxious because his teacher warned that, "Christianity is a Xie jiao" or "evil cult."
The children are given a textbook called "Morality and Society" which talks more about Xie jiao.
CBN News previously reported that the CCP strives to eliminate the faith community because it's perceived as a threat to Xi's regime. There are more Christians in China than Communist Party members, and this reality doesn't sit well with the party. So religious materials have been classified as contraband.
Xi has ordered that all religions must "Sinicize" to see that they are loyal to the officially atheistic party.
A religious calendar was removed from one Christian household and was replaced with a poster bearing the words, "Be grateful to the Party, obey and follow the Party."
Some of the anti-Christian attacks have been more public. For example, hundreds of crosses were removed from church buildings in just one province over a period of four months.
"As crosses are being removed throughout the country, those who refuse to cooperate will be accused of opposing the Communist Party," said one Christian. "We are pressured to give up our faith, but we will persevere."
And surveillance cameras have even been installed inside churches. Worship services can only be led by government-approved pastors, and church finances are controlled by the government.
China is ranked 17th on Open Doors' 2021 World Watch List of countries where Christians suffer the most persecution.
Sources:Breaking Christian News
Sixth-grader shoots classmates in US; 3 people were injured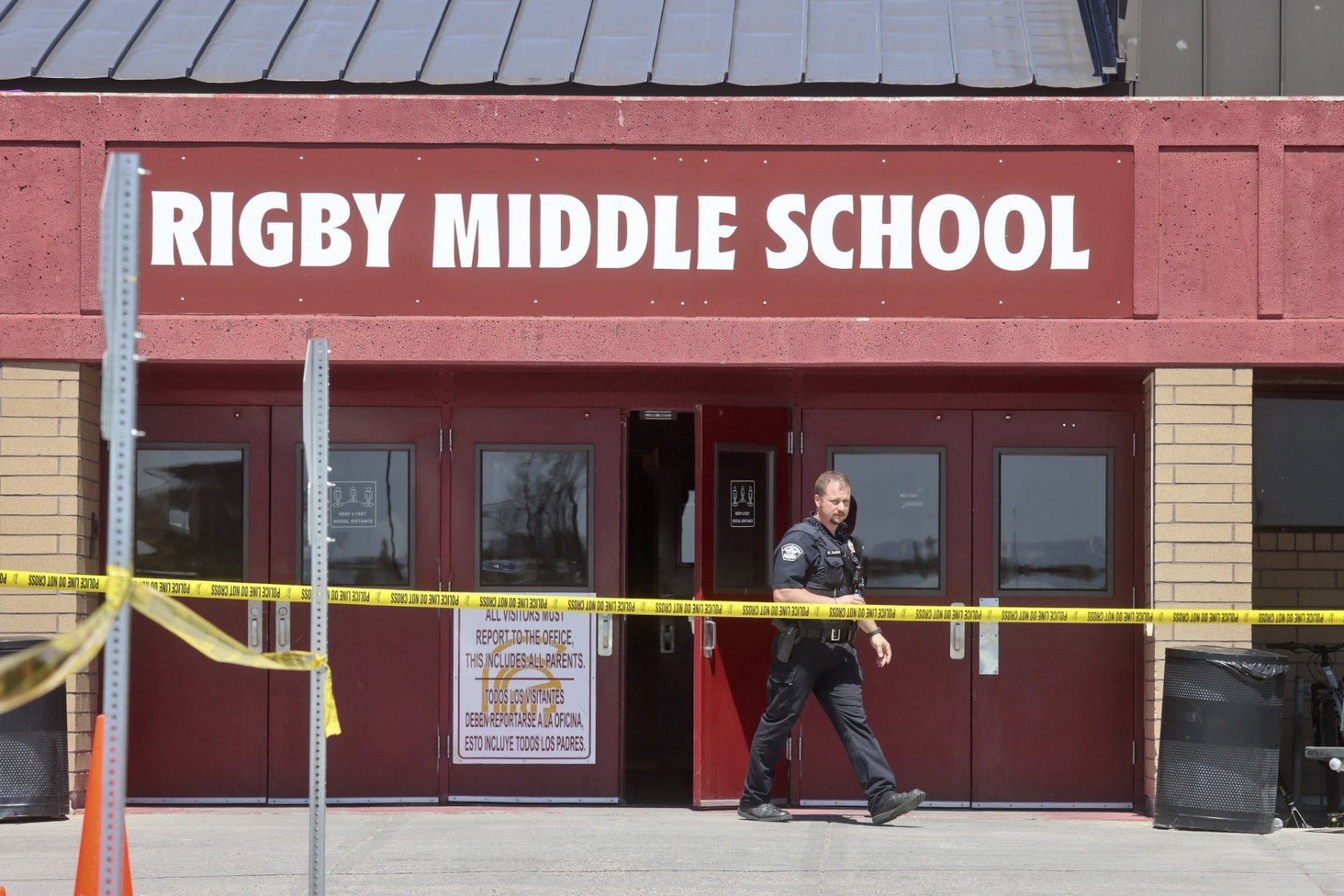 Three people, including two students, were shot Thursday at an Idaho middle school, according to officials.
At a press conference, Jefferson County Sheriff Steve Anderson said the suspect is a sixth-grade girl from Idaho Falls who is a student at Rigby Middle School, where the shooting took place. Initial reports had incorrectly identified the suspect as male.
Anderson said the unnamed student allegedly drew a handgun from her backpack and shot three people — one inside and two outside — before a teacher disarmed her.
The suspect is in custody at the Jefferson County Sheriff's Office and may be charged with attempted murder pending results of the investigation, according to Mark Taylor the county's prosecuting attorney.
The shooting victims were struck in their extremities and are expected to survive, but may require surgery, officials said
Three ambulances initially responded to Rigby Middle School after authorities learned of the shooting about 9:15 a.m. MT, Idaho Falls Fire Department spokeswoman Kerry Hammon said.
Authorities took the injured to Eastern Idaho Regional Medical Center, where they were listed as stable.
"Today we had the worst nightmare a school district could encounter. We had a school shooting here at Rigby Middle School," Jefferson School District Superintendent Chad Martin said in a statement. "What we know so far is the shooter has been apprehended. There is no further threat to the students."
"I am praying for the lives and safety of those involved in today's tragic events," Idaho Gov. Brad Little tweeted. "Thank you to our law enforcement agencies and school leaders for their efforts in responding to the incident. I am staying updated on the situation."
Nine babies in a single birth, this miracle of the extreme
Bamako: A mother who miraculously gave birth to nine children in a single delivery to the scientific world Halima Sisse, 25, gave birth to nine children. A native of Mali, an African country, she gave birth to nine babies by caesarean section. Rarely, nine babies are born in a single birth.
Even with so many babies in the womb, it is common for many babies to die before they are fully grown. A scan of Halima's pregnancy revealed that she had seven babies in her womb. Doctors said special care was needed as this was a rarity. Halima was then flown to Morocco.
However, Halima gave birth to 9 children, including 2 babies who were not even seen on the scans, even when doctors gave birth. Halima gave birth to five girls and four boys, all of whom are healthy, Malian Health Minister Fanta Cibi said.
He added that the girl and children would be returned only after a few weeks.