Chicago Downtown – O'Hare Air Taxi kicks off this summer
When the pandemic subsides and people resume flying en masse again, there may be a new way to get from downtown Chicago to O'Hare International Airport — by helicopter.
Blade, a New York-based "urban air mobility" provider, announced Thursday it has partnered with the downtown heliport Vertiport Chicago to launch air taxi service by as early as this summer.
Longer term, the company hopes to transform to an emerging technology — electric-powered helicopters — to expand its service in Chicago and other markets.
In Chicago, passengers will soon be able to book regular helicopter flights from the six-year-old facility in the Illinois Medical District to O'Hare and other destinations for the cost of an Uber Black — getting there in less than half the time, Blade CEO Rob Wiesenthal said.
"We fly people by the seat to various destinations, include suburbs on a commuter basis or to airports, and turn a half-hour drive into a five-minute flight," Wiesenthal said.
The company, which doesn't own helicopters, has partnered with an operator to station aircraft for passenger use at Vertiport. The helicopters seat six, with passengers booked for each flight by Blade. Prices for Chicago have not been set, but run as low as $95 per person for airport flights in New York, Wiesenthal said.
Blade will be the exclusive provider of passenger helicopter service by the seat at the facility, which will be rebranded Vertiport Chicago Powered by Blade. The company will also have the right to build a branded terminal at the 10-acre heliport on South Wood Street.
Founded in 2014, Blade has established helicopter air taxi service in New York, Miami and India. In 2019, Blade began offering regular helicopter flights to all three major airports serving New York City, operating at a rate of 20,000 passengers annually by the end of the year, Wiesenthal said.
Blade, which is planning to go public this year through a special purpose acquisition company, generated $33 million in revenue during 2019, Wiesenthal said. Traffic counts and revenue were down in 2020 because of the pandemic, but in an investor presentation, the company projects $875 million in annual revenue by 2026.
A big part of its growth strategy is the transition to electric vertical aircraft in the next few years. The electric helicopters, which are in development at several manufacturers, are quieter and faster than traditional helicopters, opening the door to a proliferation of heliports throughout the city, Wiesenthal said.
"As people see that they're safe and quiet and have zero emissions, we believe that cities like Chicago will allow us to build more infrastructure," he said.
The electric vertical aircraft are expected to take off in the U.S. by 2024, pending approval by the Federal Aviation Administration.
Blade is not the only company betting on a big future for the new technology. Chicago-based United Airlines said Wednesday it will buy up to 200 small electric air taxis to help customers get to the airport in major urban markets.
Daniel Mojica, executive director of Vertiport Chicago, did not respond to a request for comment, but said in a joint news release with Blade that the infrastructure build out for next-generation electric vertical aircraft had already begun.
"Our alliance with Blade will only serve to accelerate our ability to help create the network of landing zones our city needs to be competitive in the future," Mojica said.
Sixth-grader shoots classmates in US; 3 people were injured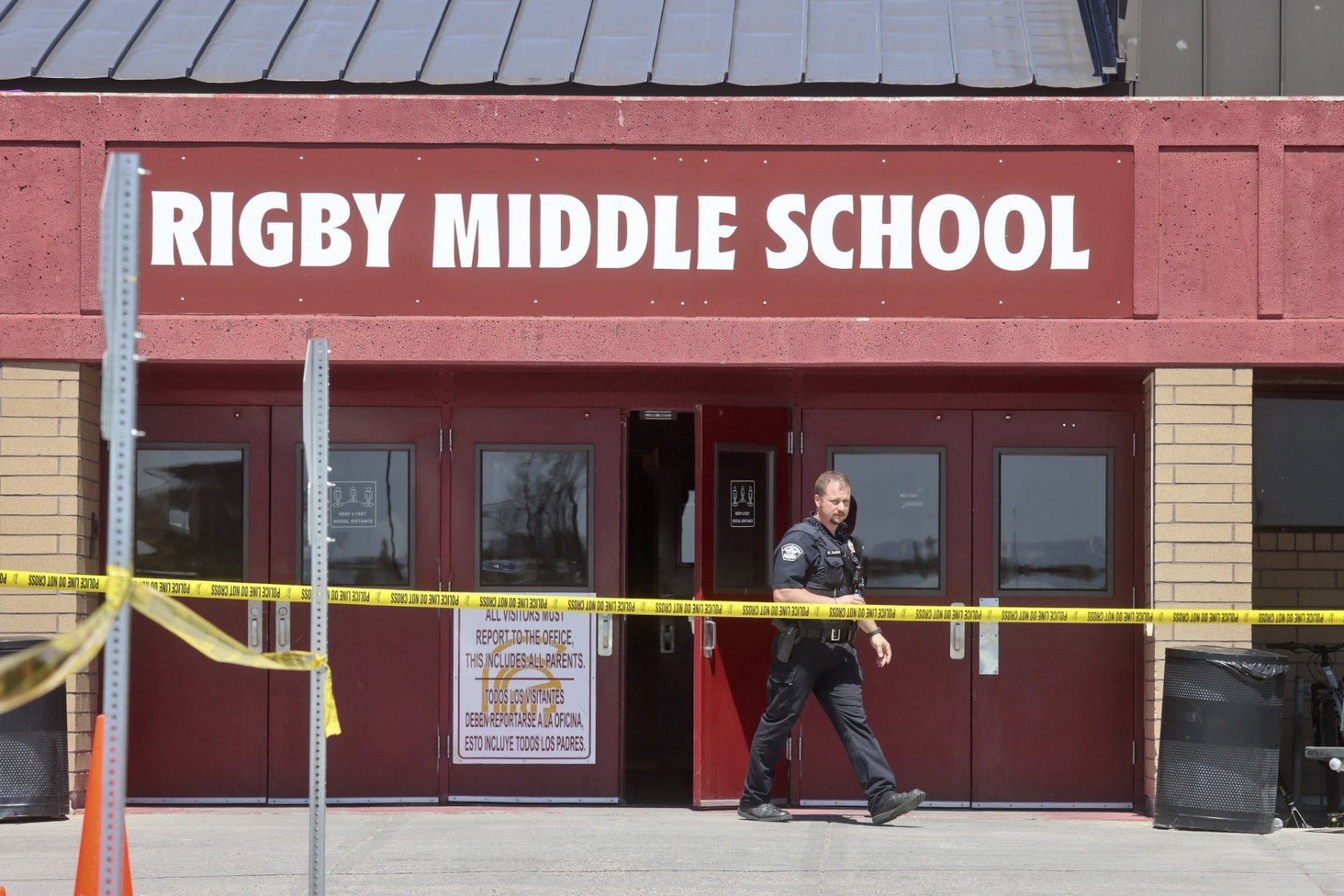 Three people, including two students, were shot Thursday at an Idaho middle school, according to officials.
At a press conference, Jefferson County Sheriff Steve Anderson said the suspect is a sixth-grade girl from Idaho Falls who is a student at Rigby Middle School, where the shooting took place. Initial reports had incorrectly identified the suspect as male.
Anderson said the unnamed student allegedly drew a handgun from her backpack and shot three people — one inside and two outside — before a teacher disarmed her.
The suspect is in custody at the Jefferson County Sheriff's Office and may be charged with attempted murder pending results of the investigation, according to Mark Taylor the county's prosecuting attorney.
The shooting victims were struck in their extremities and are expected to survive, but may require surgery, officials said
Three ambulances initially responded to Rigby Middle School after authorities learned of the shooting about 9:15 a.m. MT, Idaho Falls Fire Department spokeswoman Kerry Hammon said.
Authorities took the injured to Eastern Idaho Regional Medical Center, where they were listed as stable.
"Today we had the worst nightmare a school district could encounter. We had a school shooting here at Rigby Middle School," Jefferson School District Superintendent Chad Martin said in a statement. "What we know so far is the shooter has been apprehended. There is no further threat to the students."
"I am praying for the lives and safety of those involved in today's tragic events," Idaho Gov. Brad Little tweeted. "Thank you to our law enforcement agencies and school leaders for their efforts in responding to the incident. I am staying updated on the situation."
Nine babies in a single birth, this miracle of the extreme
Bamako: A mother who miraculously gave birth to nine children in a single delivery to the scientific world Halima Sisse, 25, gave birth to nine children. A native of Mali, an African country, she gave birth to nine babies by caesarean section. Rarely, nine babies are born in a single birth.
Even with so many babies in the womb, it is common for many babies to die before they are fully grown. A scan of Halima's pregnancy revealed that she had seven babies in her womb. Doctors said special care was needed as this was a rarity. Halima was then flown to Morocco.
However, Halima gave birth to 9 children, including 2 babies who were not even seen on the scans, even when doctors gave birth. Halima gave birth to five girls and four boys, all of whom are healthy, Malian Health Minister Fanta Cibi said.
He added that the girl and children would be returned only after a few weeks.