Pakistan: Christian college student abducted at gunpoint
Gujranwala – The Pakistani police have registered a complaint about the kidnapping of another Christian student from Lahore in order to force her into an Islamic marriage. Mehwish Bibi, a student at the Women's College in the city of Gujranwala, left her home at 8.10 am on February 18, to go to college but she never returned home. The family suspects kidnappings with the aim of forced marriage. Patras Masih, the young woman's father, wrote down the following in the investigation report: "We looked for our daughter and started asking people about her. Two Christians, Masih and Akram Masih, informed us that they saw a Muslim, Muhammad Sabir, who with the help of two accomplices kidnapped her and pointed a gun at her. According to the witnesses, they forced my daughter into a white pickup truck. We ask the police to rescue my daughter as soon as possible. We demand justice and severe punishment for the perpetrators".
Khalid Shahzad, human rights and religious minorities activist comments to Fides: "It is sad that we have to take note of yet another episode of the kidnapping of a Christian girl. Cases of kidnapping of young women belonging to religious minorities are increasing in Punjab Province. It is tragic that no one tried to stop the kidnappers from kidnapping a Christian girl. Every day Christian families live in worry and fear that their daughters will be victims of kidnappings".
Christian communities have long urged the government to stop the phenomenon of the forcible kidnapping and conversion of Christian minors, complaining that impunity promotes such crimes. Impunity, they note, encourages such crimes. According to data confirmed to Agenzia Fides by the National Commission for "Justice and Peace" of the Catholic Bishops' Conference of Pakistan, there are around 1,000 cases of kidnapping of young Christian and Hindu women who are abducted from their families for the purpose of marriage and forced conversion to Islam every year.
Sixth-grader shoots classmates in US; 3 people were injured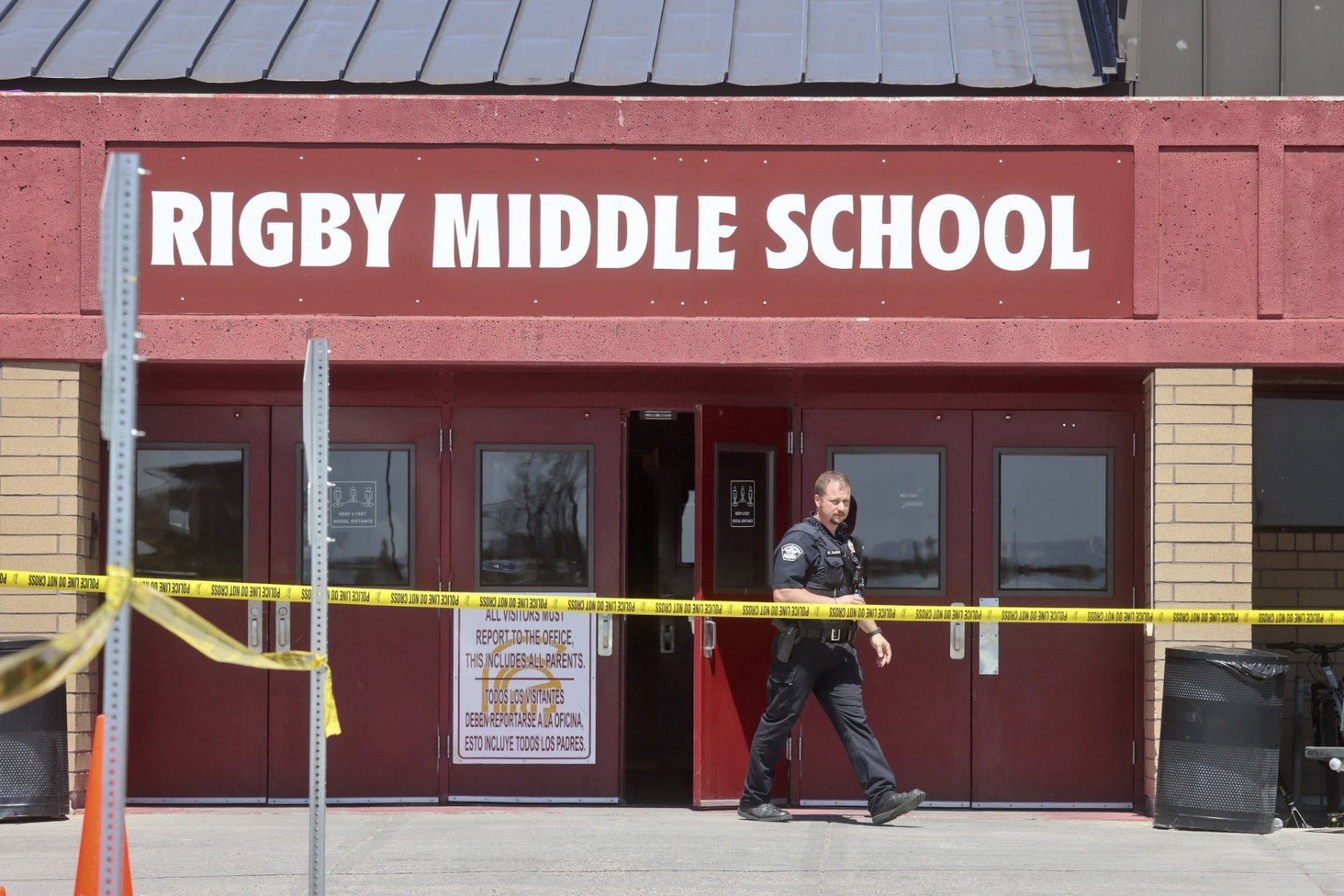 Three people, including two students, were shot Thursday at an Idaho middle school, according to officials.
At a press conference, Jefferson County Sheriff Steve Anderson said the suspect is a sixth-grade girl from Idaho Falls who is a student at Rigby Middle School, where the shooting took place. Initial reports had incorrectly identified the suspect as male.
Anderson said the unnamed student allegedly drew a handgun from her backpack and shot three people — one inside and two outside — before a teacher disarmed her.
The suspect is in custody at the Jefferson County Sheriff's Office and may be charged with attempted murder pending results of the investigation, according to Mark Taylor the county's prosecuting attorney.
The shooting victims were struck in their extremities and are expected to survive, but may require surgery, officials said
Three ambulances initially responded to Rigby Middle School after authorities learned of the shooting about 9:15 a.m. MT, Idaho Falls Fire Department spokeswoman Kerry Hammon said.
Authorities took the injured to Eastern Idaho Regional Medical Center, where they were listed as stable.
"Today we had the worst nightmare a school district could encounter. We had a school shooting here at Rigby Middle School," Jefferson School District Superintendent Chad Martin said in a statement. "What we know so far is the shooter has been apprehended. There is no further threat to the students."
"I am praying for the lives and safety of those involved in today's tragic events," Idaho Gov. Brad Little tweeted. "Thank you to our law enforcement agencies and school leaders for their efforts in responding to the incident. I am staying updated on the situation."
Nine babies in a single birth, this miracle of the extreme
Bamako: A mother who miraculously gave birth to nine children in a single delivery to the scientific world Halima Sisse, 25, gave birth to nine children. A native of Mali, an African country, she gave birth to nine babies by caesarean section. Rarely, nine babies are born in a single birth.
Even with so many babies in the womb, it is common for many babies to die before they are fully grown. A scan of Halima's pregnancy revealed that she had seven babies in her womb. Doctors said special care was needed as this was a rarity. Halima was then flown to Morocco.
However, Halima gave birth to 9 children, including 2 babies who were not even seen on the scans, even when doctors gave birth. Halima gave birth to five girls and four boys, all of whom are healthy, Malian Health Minister Fanta Cibi said.
He added that the girl and children would be returned only after a few weeks.