Roman Orthodox Church rejects demands for baptism changes after infant's death
The leadership of the Romanian Orthodox Church has decided not to change its ancient practice of full-immersion baptism of babies despite public outrage that followed the recent death of an infant during christening.
The denomination's decision-making body, Holy Synod, has announced that the baptism ritual will remain and that it will only urge priests to be more careful when they perform the ritual, according to Radio Free Europe.
"We do not demand the [end] of the practice of baptism but its modification so [babies] are prevented from unnecessary and even absurd risks!" reads an online petition that had gathered over 65,500 names as of Saturday.
The petition, arguing that the tradition involves brutality and should be abolished, was launched by a teacher, Vladimir Dumitru, in response to the death of a 6-week-old baby on Feb. 1 after suffering cardiac arrest while being baptized in a church in the northern town of Suceava.
The priest, identified as Alexandru Mazarache, fully immersed the baby in the water three times in the baptismal font, DW reported earlier. The child first cried, then became still, then the infant's lips turned blue. The baby was taken to a hospital, where he died a few hours later.
The priest is a suspect in the investigation on charges of involuntary manslaughter. His lawyer, Marcel Balatchi, was quoted as saying that the priest had "performed the ritual according to church canons."
Romania's ombudsman has suggested some health and safety measures to the church, including increasing the age of the child for baptism.
A spokesperson for the Orthodox Church, Vasile Banescu, earlier suggested the churches could sprinkle holy water over babies instead of immersing them.
"It is, without a doubt, a tragic case, a case that will have to be investigated. Let's not imagine that a child can be put in water without covering his nose, mouth and ears," Banescu told Antena 3. "There is a technique that an experienced priest always uses. This is how a baptism is celebrated with the utmost care."
Teodosie Petrescu, the archbishop of Tomis in the country's southeast, had rejected calls for babies to be sprinkled with water. He was quoted as saying earlier that the tradition of immersing a child three times during baptism has carried on for 2 millennia and will continue.
"There's no way for the ritual to change. These canons of faith will be available for another 1,000 years. That is why we will not change. We're not intimidated," Petrescu said.
The archbishop added that babies should be immersed in cold water, which not only "sharpens" their spirituality, but is also suitable for their health.
Over 80% of Romanians are Orthodox Christians.
Sources:Christian Post
Bus accident in Peru; 20 were killed and 14 were injured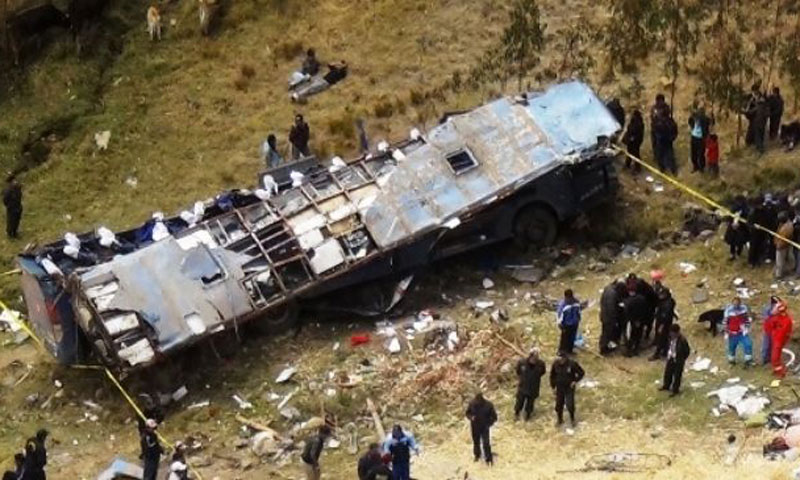 Peru: At least 20 people were killed and 14 others injured in Peru after an interprovincial bus skidded and overturned in Sihuas province in the northern Ancash region, authorities said on Monday.
According to the Parobamba district municipality on its Facebook page, the "accident left 18 people dead on the spot, with two more dying while being transferred."
The accident occurred at about 7:00 am local time on Monday in the Palo Seco area, when the bus, from the "Fama Tours SA" transport company, skidded and overturned.
It was returning from the areas of Huanchayllo and Parobamba and heading to Chimbote and Lima, after the passengers had voted in the general elections on Sunday, a local radio station reported.
Peru's transport authorities said in a statement that it "has activated all intervention protocols to gather information related to the accident for determining appropriate measures."
'The Science of Compliance': Pastor Responds to Police Barricade of GraceLife Church
"They are not interested in the science called virology. It is more like the science of compliance."
Pastor Doug Wilson of Christ Church in Moscow, Idaho, took to his blog this morning to respond to the show of force against GraceLife Church in Canada.
Wilson, who became more widely known after his series of high profile debates with famed atheist Christopher Hitchens, in which Wilson offered stiff competition and a steady stream of witty comebacks.
Wilson's piece, titled 'Putting on Our Coates Coats' confronts the disturbing news that spread across social media last week.
Coates recently served over a month in jail, only to be released and see his GraceLife Church building surrounded by fencing put up by the government. They were shut down, resulting in protests and an even larger police response.
Wilson argued that "ideas have consequences" and highlighted the differences between worldviews.
People act the way they do for reasons. As Richard Weaver taught us, ideas have consequences.
If you believe in God, if you think that the cosmos was created from nothing, if you believe that mankind was created in the image of God, then it is possible for you to believe that we have rights. And by rights, I do not mean privileges, but rather actual rights. These rights cannot be revoked by bureaucratic fiat, they cannot be abridged by executive order, and they cannot be adjusted or trimmed by the winners of elections, stolen or otherwise.
But if you don't believe in God, if you believe that this material universe is a meaningless concourse of atoms, if you believe that life originated all by itself accidentally in a primordial goo-pond somewhere, and that we are simply simians that learned to shave, then it follows of necessity that we do not have any rights at all. We are nothing more than meat and bones and protoplasm.
Wilson said "the real travesty" occurs when followers of God go along with "the dictates of those who affirm the second scenario" and shouldn't leave us surprised when a pastor like Coates stands up and "acts like a real pastor."
He went on to argue that "flat refusal to cooperate" is the only way out.
"We have no business appealing to their god with any hope of getting the kind of determination that we would get if we were appealing to our God," Wilson said.
"You can't gather figs from thistles. You can't get sweet water from a brackish spring. You know. You can't order a Whopper at MacDonalds. You will not get Christian blessings from pagan gods."
Siurces:faithwire