Supreme Court Sides with Christian Student after College Blocked Him from Sharing the Gospel
The US Supreme Court on Monday ruled in favor of a former Georgia college student who sued his school four years ago after officials prevented him from distributing Christian literature on campus.
The high court sided 8-1 with the student, Chike Uzuegbunam, and against Georgia Gwinnett College. Uzuegbunam has since graduated, and the public school in Lawrenceville, Georgia, has changed its policies. Lower courts said the case was moot, but the Supreme Court disagreed.
First Amendment advocates called the decision a win for free speech and religious expression. Uzuegbunam was represented by the Alliance Defending Freedom. They said the case is important to ensure that people whose constitutional rights were violated can continue their cases even when governments reverse the policies they were challenging.
"When public officials violate constitutional rights, it causes serious harm to the victims," said Kristen Waggoner, an attorney for Alliance Defending Freedom. "When such officials engage in misconduct but face no consequences, it leaves victims without recourse, undermines the nation's commitment to protecting constitutional rights, and emboldens the government to engage in future violations. We are pleased that the Supreme Court weighed in on the side of justice for those victims."
At issue was whether Uzuegbunam's case could continue because he was only seeking so-called nominal damages of $1.
"This case asks whether an award of nominal damages by itself can redress a past injury. We hold that it can," Justice Clarence Thomas wrote for a majority of the court.
Writing only for himself, Chief Justice John Roberts disagreed. Roberts argued that the case brought by Uzuegbunam and another student, Joseph Bradford, is moot since the two are no longer students at the college, the restrictions no longer exist and they "have not alleged actual damages."
Writing about the symbolic dollar they are seeking, Roberts said that: "If nominal damages can preserve a live controversy, then federal courts will be required to give advisory opinions whenever a plaintiff tacks on a request for a dollar." He accused his colleagues of "turning judges into advice columnists."
"It is undisputed that Uzuegbunam experienced a complete violation of his constitutional rights when respondents enforced their speech policies against him," wrote Justice Thomas. "Because 'every violation of a right imports damage,' nominal damages can redress Uzuegbunam's injury even if he cannot or chooses not to quantify that harm in economic terms."
It appears to be the first time in his more than 15 years on the court that the chief justice has filed a solo dissent in an argued case. That's according to Adam Feldman, the creator of the Empirical SCOTUS blog, which tracks court data.
Uzuegbunam was a junior at Georgia Gwinnett College (GGC) in Lawrenceville, GA, during the summer of 2016. While passing out religious material to students, he was approached by campus police who advised that he needed permission to evangelize and that it must be done in a "free speech zone," Atlanta News Now reported.
Uzuegbunam complied with their orders but was approached again by officials who told him to stop preaching on campus because someone had complained.
"College officials didn't really care about where I was standing, they just didn't like what I was saying. So, they invoked these policies to silence me," Uzuegbunam said.
He filed a lawsuit with the US District Court in Atlanta against the college, insisting that his constitutional rights had been violated. The college changed its policy in 2017. Students can now generally demonstrate or distribute literature anywhere and at any time on campus without having to first obtain a permit. The college has said it won't go back to its old policy.
Sources:Breaking Christian News
Bus accident in Peru; 20 were killed and 14 were injured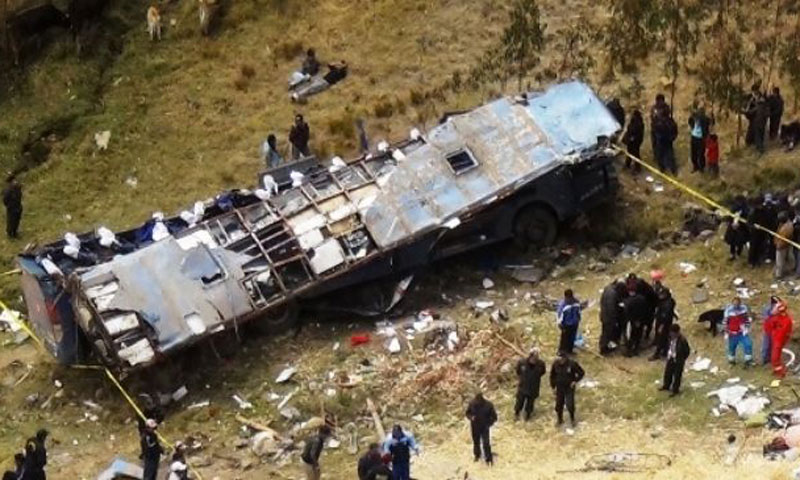 Peru: At least 20 people were killed and 14 others injured in Peru after an interprovincial bus skidded and overturned in Sihuas province in the northern Ancash region, authorities said on Monday.
According to the Parobamba district municipality on its Facebook page, the "accident left 18 people dead on the spot, with two more dying while being transferred."
The accident occurred at about 7:00 am local time on Monday in the Palo Seco area, when the bus, from the "Fama Tours SA" transport company, skidded and overturned.
It was returning from the areas of Huanchayllo and Parobamba and heading to Chimbote and Lima, after the passengers had voted in the general elections on Sunday, a local radio station reported.
Peru's transport authorities said in a statement that it "has activated all intervention protocols to gather information related to the accident for determining appropriate measures."
'The Science of Compliance': Pastor Responds to Police Barricade of GraceLife Church
"They are not interested in the science called virology. It is more like the science of compliance."
Pastor Doug Wilson of Christ Church in Moscow, Idaho, took to his blog this morning to respond to the show of force against GraceLife Church in Canada.
Wilson, who became more widely known after his series of high profile debates with famed atheist Christopher Hitchens, in which Wilson offered stiff competition and a steady stream of witty comebacks.
Wilson's piece, titled 'Putting on Our Coates Coats' confronts the disturbing news that spread across social media last week.
Coates recently served over a month in jail, only to be released and see his GraceLife Church building surrounded by fencing put up by the government. They were shut down, resulting in protests and an even larger police response.
Wilson argued that "ideas have consequences" and highlighted the differences between worldviews.
People act the way they do for reasons. As Richard Weaver taught us, ideas have consequences.
If you believe in God, if you think that the cosmos was created from nothing, if you believe that mankind was created in the image of God, then it is possible for you to believe that we have rights. And by rights, I do not mean privileges, but rather actual rights. These rights cannot be revoked by bureaucratic fiat, they cannot be abridged by executive order, and they cannot be adjusted or trimmed by the winners of elections, stolen or otherwise.
But if you don't believe in God, if you believe that this material universe is a meaningless concourse of atoms, if you believe that life originated all by itself accidentally in a primordial goo-pond somewhere, and that we are simply simians that learned to shave, then it follows of necessity that we do not have any rights at all. We are nothing more than meat and bones and protoplasm.
Wilson said "the real travesty" occurs when followers of God go along with "the dictates of those who affirm the second scenario" and shouldn't leave us surprised when a pastor like Coates stands up and "acts like a real pastor."
He went on to argue that "flat refusal to cooperate" is the only way out.
"We have no business appealing to their god with any hope of getting the kind of determination that we would get if we were appealing to our God," Wilson said.
"You can't gather figs from thistles. You can't get sweet water from a brackish spring. You know. You can't order a Whopper at MacDonalds. You will not get Christian blessings from pagan gods."
Siurces:faithwire