Strong earthquake shakes Haiti; 7.2 magnitude, tsunami warning lifted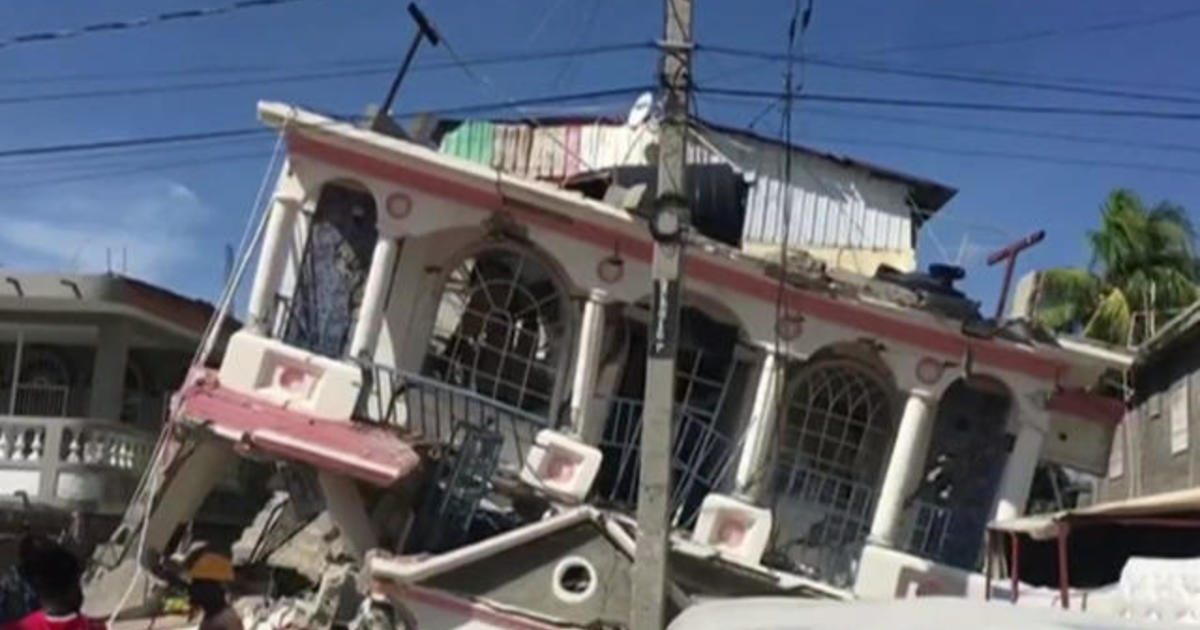 At least 304 people died and hundreds were injured or missing after a major earthquake struck southwestern Haiti on Saturday, authorities said, reducing churches, hotels and homes to rubble in the latest tragedy to hit the impoverished Caribbean nation.
The 7.2-magnitude quake, which was followed by a series of aftershocks, struck 8 km (5 miles) from the town of Petit Trou de Nippes, about 150 km west of the capital Port-au-Prince, at a depth of 10 km, the United States Geological Survey said.
That made the temblor which was felt as far away as Cuba and Jamaica potentially bigger and shallower than the magnitude 7 earthquake 11 years ago that killed tens of thousands on the island.
This one – which occurred around 8:30 a.m. local time – hit farther away from the capital, however. In Port-au-Prince, it was strongly felt but did not appear to have caused major damage, according to Reuters witnesses.
Still, Haiti's Civil Protection service said the preliminary death toll stood at 304, with at least 1,800 injured and Prime Minister Ariel Henry declared a month-long state of emergency.
The nearest big town was Les Cayes, where many buildings collapsed or suffered major damage, according to authorities, who said they were searching for survivors.
"I saw bodies being pulled out of the rubble, injured and perhaps dead people," said Les Cayes resident Jean Marie Simon, 38, who was at the market when the earthquake struck and ran home to see if his family was safe. "I heard cries of pain everywhere I passed through."
His wife and 2-year-old child had been bathing and rushed out to the street, naked, just before the front of the house crumbled. Simon gave his wife his shirt and they took refuge in the courtyard of a church with other locals. His mother's house had also collapsed.
"There are a lot of aftershocks and every time there's one, people run and shout," he said. "My legs are still trembling."
In Les Cayes, locals said water had briefly flooded the coastal town of 126,000, causing panic amid fear of a tsunami, but then appeared to retreat. Haitian media outlets reported some people along the coast had already fled to the mountains.
The U.S. Tsunami Warning System issued a tsunami warning after the quake, lifting it shortly thereafter.
U.S. President Joe Biden authorized an immediate U.S. response to the earthquake and named Samantha Power, administrator of the U.S. Agency for International Development, coordinator of the effort.
'NEVER A BREAK'
The earthquake comes just over a month after the assassination of President Jovenel Moise, who had been ruling by decree, which deepened the country's political turmoil.
Meanwhile, swaths of Haiti are facing growing hunger and healthcare services are overwhelmed by COVID-19. Access by road to the southern region, where the quake struck, has been restricted by gang control of key areas, raising questions over how aid will be delivered read more
That region had only recently recovered from Hurricane Matthew, which struck in 2016, killing hundreds and causing widespread devastation. Haiti is now in the probable track of Tropical Storm Grace which could bring heavy rains early next week.
"This country just never finds a break! Each year of mismanagement did not hurt but the cumulative effects made us vulnerable to everything," said Haitian entrepreneur.
"It's going to take years to fix things and we have not even started!"
In Port-au-Prince, residents traumatized by the 2010 quake rushed, screaming, into the streets and stayed there as the aftershocks rumbled on.
"In my neighborhood, I heard people screaming. They were flying outside," said resident Sephora Pierre Louis. "At least they know to go outside. In 2010, they didn't know what to do. People are still outside in the street."
The quake sent shock waves as far as Cuba and Jamaica although there were no reports of material damage, deaths or injuries there.
"Everyone is really afraid. It's been years since such a big earthquake," said Daniel Ross, a resident in the eastern Cuban city of Guantanamo.
He said his home stood firm but the furniture shook.
"I feel it, man. It wake me up. My roof kind of make some noise," said Danny Bailey, 49, in Kingston.
The European-Mediterranean Seismological Centre (EMSC) also reported a quake in the region, saying it was magnitude 7.6, while Cuba's seismological centre said it registered a magnitude of 7.4.
Elderly Eritrean Pastors Continue to Suffer in Prison
Eritrea – Two pastors who were arrested and imprisoned by the Eritrean government in July are still being held in prison, sources with knowledge of the situation told ICC. Both in their mid-seventies, Pastor Girmay Araya and Pastor Samuel Okbamichael were arrested in the middle of the night before being taken to the Wengel Mermera interrogation center run by the Ministry of Justice in Asmara, the capital of Eritrea.
Both pastors were largely retired from the ministry when they were arrested, raising questions about why they were targeted. Eritrea has a long history of targeting religious figures and is currently detaining many others pastors.
Called "Africa's North Korea" by some, Eritrea is a one-party state ruled by an oppressive, totalitarian government that is openly hostile to religion. Religious prisoners are often subjected to long or indefinite terms in prisons where they suffer unimaginably inhumane conditions.
Former prisoners at Mai Serwa, another prison in Asmara, report being held in shipping containers, each holding 8-22 detainees and extremely susceptible to the extreme weather swings of the desert around them. According to the United Nation's Office of the High Commissioner for Human Rights (OHCR), "inmates are subjected to total darkness, which increases their suffering. A torture chamber made of concrete is reportedly located at the back of the containers. [One] detainee… was interrogated and tortured four nights per week for two months."
"Individuals who are arrested for religious reasons are systematically subjected to ill-treatment and torture," the OHCR said. "It is common practice to coerce renunciation of faith."
Despite its similarities to North Korea, Eritrea seems to have largely managed to escape that country's penchant for attracting sanctions. In fact, the U.S. is actually lifting sanctions off of the country. However commendable this may be from a diplomatic or economic perspective, it is important that the U.S. not lose sight of the real, systematic abuses at play in Eritrea. It should continue to pressure Eritrea, including through targeted sanctions designed to force behavior change at every level of the abusive system.
"If it does decide to improve relations with Eritrea, the U.S. must use that closeness to pressure the country to begin respecting human rights," said Jay Church, ICC's Advocacy Manager for Africa. "A thorough rehauling of its judicial system, the abolishment of its horrendous penal system and the creation of a professional one in its place, and respect for religious freedom would be a good place to start."
Sources:persecution
ക്രിപ്‌റ്റോകറന്‍സികള്‍ക്ക് സമ്പൂർണ വിലക്ക്,ലോകത്തെ ഞെട്ടിച്ച് ചൈന
ബീജിങ്: ക്രിപ്‌റ്റോ കറന്‍സികള്‍ക്ക് സമ്പൂര്‍ണ നിരോധനവുമായി ചൈന രംഗത്ത്. ലോകത്ത് ആദ്യമായാണ് ഒരു രാജ്യം ഇക്കാര്യത്തില്‍ ഇത്രയും കടുത്ത തീരുമാനവുമായി രംഗത്ത് വരുന്നത്. ക്രിപ്‌റ്റോകറന്‍സികളും അവയുമായി ബന്ധപ്പെട്ട എല്ലാ ഇടപാടുകളും നിയമവിരുദ്ധമായി പ്രഖ്യാപിക്കുകയും ചെയ്തിട്ടുണ്ട് ചൈന.
ക്രിപ്‌റ്റോകറന്‍സികളുടെ കാര്യത്തില്‍ തീരെ ഉദാരമല്ലാത്ത സമീപനം ആണ് ചൈന സ്വീകരിച്ചുവരുന്നത്. ഇതുസംബന്ധിച്ച് ചൈനയുടെ പല നിയന്ത്രണങ്ങളും നേരത്തേ തന്നെ ക്രിപ്‌റ്റോ വിപണിയെ വലിയ തോതില്‍ ബാധിക്കുകയും ചെയ്തിരുന്നു. എന്നാല്‍, ഇപ്പോഴത്തെ നീക്കം ക്രിപ്‌റ്റോവിപണികളുടെ അടിത്തറ തന്നെ ഇളക്കിയേക്കും. ചൈനീസ് തീരുമാനം വന്നതിന് പിറകെ ക്രിപ്‌റ്റോകറന്‍സികളുടെ മൂല്യത്തില്‍ വലിയ ഇടിവും സംഭവിച്ചു.
ചൈനയുടെ കേന്ദ്ര ബാങ്ക് ആയ പീപ്പിള്‍സ് ബാങ്ക് ഓഫ് ചൈനയാണ് ഇക്കാര്യത്തില്‍ കൃത്യമായ നിര്‍ദ്ദേശങ്ങള്‍ പുറപ്പെടുവിച്ചിട്ടുള്ളത്. ക്രിപറ്റോകറന്‍സികളുമായി ബന്ധപ്പെട്ട് എല്ലാ ഇടപാടുകളും നിയമവിരുദ്ധമായിരിക്കുമെന്നും നിര്‍ബന്ധമായും നിരോധിക്കപ്പെടേണ്ടതാണെന്നും ബാങ്ക് അവരുടെ വെബ്‌സൈറ്റ് മുഖേന വ്യക്തമാക്കിക്കഴിഞ്ഞു. ബിറ്റ്‌കോയിന്‍ എന്നോ, എഥേറിയം എന്നോ ടെഥര്‍ എന്നോ വ്യത്യാസമില്ലാത്തെ എല്ലാ ക്രിപ്‌റ്റോ കറന്‍സികള്‍ക്കും ഇത് ബാധകമായിരിക്കും.
ചൈനക്കാരുടെ കൈവശമുള്ളവരുടെ ബിറ്റ്‌കോയിനുകള്‍ക്ക് ഇനി എന്ത് സംഭവിക്കും എന്നത് സംബന്ധിച്ച ചര്‍ച്ചകളും പുരോഗമിച്ചുകൊണ്ടിരിക്കുകയാണ്. ചൈനയിലെ താമസക്കാര്‍ക്ക് ഓഫ്‌ഷോര്‍ എക്‌സ്‌ചേഞ്ചുകള്‍ വഴി നല്ഡകപ്പെട്ടിരുന്ന ക്രിപ്‌റ്റോ സേവനങ്ങള്‍ കൂടി നിരോധനത്തിന്റെ പരിധിയില്‍ വരുന്ന സാഹചര്യത്തിലാണ് ഇത്തരം ഒരു ആശങ്ക ഉയര്‍ന്നിരിക്കുന്നത്.
Sources:globalindiannews