After Local Pastors Join Together in a Letter to Ohio Schools Concerning Yoga Indoctrination on Students, Several Schools Agree to Bow Out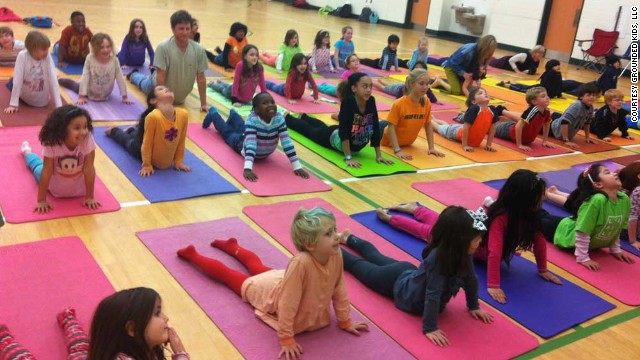 Many believe public schools stretching classes into yoga seminars is out of place. It is no surprise that some parents are doing cartwheels in reaction to a swift change of heart by school officials.
After area clergy sent a letter to school districts about their objection to the indoctrination of yoga on students, several area schools have now agreed to focus on education during class rather than Eastern Religion.
Over one-hundred clergymen chimed in by sending a corporate correspondence to thirty-nine school districts across the region including the State Board of Education. According to the clergymen, yoga is not merely an external physical practice with a physiological effect, but rather an internal spiritual practice advertised as being spiritually-transformative.
Their letter has resonated with school superintendents.
Lucas Superintendent Bradley Herman acknowledged to Reverend El Akuchie one of the clergy letter's cosigners "As a public school district, we are mindful of the Establishment Clause of the First Amendment and the prohibition of religious instruction. To that end, we must ensure that we are not doing anything that runs afoul of our obligations and appreciate your concerns."
The Lucas Superintendent went on to say "Please further know that there is no official yoga class or yoga instruction at Lucas High School and no intent to change that."
Lexington Superintendent Mike Ziegelhofer also responded to the clergy correspondence and a family's objection by saying "Effective immediately, upon our return to school, all employees of the Lexington Local School District will be notified in writing via e-mail that the use or endorsement of and/or any inference of the use or endorsement of yoga, any forms of transcendental meditation and the promotion, endorsement or practice of any religious beliefs is not permitted within the Lexington Local School District during school hours."
A family whose children were subject to the Eastern Religion instruction addressed the Lexington School Board and had Rabbi William Hallbrook of Sar Shalom Center respond to the latest developments.
"On behalf of the family, we are thankful for Superintendent Ziegelhofer's answer to our concerns. There is no room for the promotion of Eastern Religion in our public school classrooms. We appreciate that Mr. Ziegelhofer recognizes the sensitivity of this issue and look forward to the continuation of this new policy under the administration of his successor Mr. Jeremy Secrist." -Rabbi William Hallbrook, Sar Shalom Center
Superintendents from Mansfield Senior, Shelby, Galion, and Clear Fork schools who were sent the letter dated March 11th, 2020 and asked to reply have declined to respond to the area clergy's concerns.
Faith leaders maintain that courts recognize yoga as a practice of Eastern Religion and that there are other less controversial methods to improve student focus and fitness such as exercise, naps and healthy foods.
According to the clergy letter, the American Center for Law & Justice (ACLJ) was notified about the local incidents of yoga in classroom settings. The ACLJ has launched a national petition and initiated forthcoming litigation regarding the promotion of Buddhism.
Sources: Breaking Christian News
Scientists say that the Earth accelerates its rotation 24 hours a day
Scientists have recently revealed a startling fact that time is passing quicker now than at any point in the last half-century. According to Daily Mail, since 2020, every day is taking less than 24 hours. The world's timekeepers informed that July 19, 2020, was 1.4602 milliseconds shorter than the regular 24 hours, which goes in direct opposition to previous records as per which the planet took longer than 24 hours to complete a rotation.
The latest finding has now started a debate about whether to delete a second from time to account for the change and bring the precise passing of time back into line with the rotation of the Earth. The International Earth Rotation and Reference System Service (IERS) last year had also announced that no "leap second" would be added to the worlds' official timekeeping in December 2020. However, with Earth taking slightly fewer hours to complete the rotation, scientists are contemplating adding a so-called "negative leap second".
2020 recorded 28 fastest days
It is worth noting that the 28 fastest days on record, since 1960, occurred in 2020, with Earth completing its rotation around its axis milliseconds quicker than average. Scientists claim that on average, days are about 0.5 seconds shorter than 24 hours. Researchers around the globe are considering deleting a second in a bid to keep the passage of time in sync with the Earth's rotation.
Keeping atomic time in sync with solar time is important to keep satellites and other communications equipment in sync. Meanwhile, a paper from 2015 proposed that the change in Earth's rotation may be due to global warming. The report published in Science Advances claimed that the melting of glaciers is partly responsible for the planet to spin faster on its axis.
ഒരു മിസ് കോള്‍ മതി ഗ്യാസ് ബുക്ക് ചെയ്യാന്‍; പദ്ധതി ഉദ്ഘാടനം ചെയ്ത് കേന്ദ്രമന്ത്രി
ജീവനക്കാരുടെ സൗകര്യങ്ങൾ മെച്ചപ്പെടുത്തുന്നതിനായി എൽപിജി സിലിണ്ടറുകളുടെ റീഫിൽ കണക്ഷൻ ബുക്കിംഗിനായി മിസ്ഡ് കോൾ സംവിധാനം ആരംഭിച്ച് കേന്ദ്ര സർക്കാർ. ഇതിലൂടെ രാജ്യത്തുടനീളം എൽ‌പി‌ജി സിലിണ്ടറുകളുടെ തടസ്സരഹിതമായ ബുക്കിംഗ് സാധ്യമാകുമെന്നാണ് അധികൃതര്‍ പ്രതീക്ഷിക്കുന്നത്. വെള്ളിയാഴ്ച ഭുവനേശ്വറില്‍ വെച്ച് നടന്ന ഒരു പരിപാടിയില്‍ പെട്രോളിയം, പ്രകൃതിവാതക സ്റ്റീൽ മന്ത്രി ധർമേന്ദ്ര പ്രധാനാണ് പുതിയ പദ്ധതിയുടെ പ്രഖ്യാപനം നടത്തിയത്.
ഇന്ത്യൻ ഓയിൽ‌ എൽ‌പി‌ജി ഉപഭോക്താക്കൾ‌ ഇനിമുതല്‍ റീഫിൽ‌ ബുക്കിംഗിനായി 8454955555 എന്ന നമ്പറിൽ‌ ഒരൊറ്റ മിസ്ഡ് കോൾ‌ നൽ‌കിയാല്‍ മതി. മിസ്സ് കോള്‍ ചെയ്യുന്നതിലൂടെ ഉപഭോക്താവിന് എൽപിജി റീഫിൽ കണക്ഷൻ ബുക്കിംഗ് വിജയകരമാണെന്ന ഒരു സന്ദേശം ലഭിക്കും. ഐ‌വി‌ആർ‌എസ് സൗകര്യവുമായി താരതമ്യപ്പെടുത്തുമ്പോൾ, മിസ്ഡ് കോളുകൾ ഉപയോഗിച്ചുള്ള എൽ‌പി‌ജി സിലിണ്ടർ ബുക്കിംങിലൂടെ ഉപഭോക്താവിന് ദീർഘനേരം കോളില്‍ തുടരാതെ തന്നെ പെട്ടെന്ന് ബുക്കിംഗ് പൂര്‍ത്തീകരിക്കാന്‍ സാധിക്കും.
സാധാരണ കോൾ നിരക്കുകൾ ബാധകമാകുന്ന ഐവിആർഎസ് കോളുകളുമായി താരതമ്യപ്പെടുത്തുമ്പോൾ പുതിയ സംവിധാനത്തില്‍ ഉപഭോക്താക്കളിൽ കോൾ ചാർജുകളൊന്നും ഈടാക്കില്ല. പേടിഎം അല്ലെങ്കിൽ ഗൂഗിൾ പേ പോലുള്ള പേയ്‌മെന്റ് ആപ്ലിക്കേഷനുകൾ വഴി ഓൺലൈൻ ബുക്കിംഗ് നടത്താൻ ഉപയോക്താക്കൾക്ക് ഇന്റർനെറ്റ് കണക്ഷൻ ഇല്ലാത്തപ്പോൾ പുതിയ സൗകര്യം പ്രയോജനപ്പെടും.
Sources:metrojournalonline