After Local Pastors Join Together in a Letter to Ohio Schools Concerning Yoga Indoctrination on Students, Several Schools Agree to Bow Out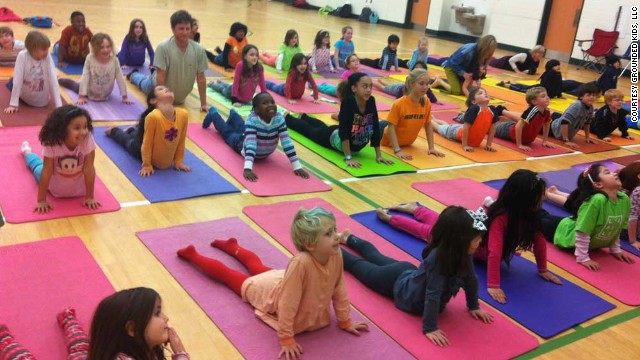 Many believe public schools stretching classes into yoga seminars is out of place. It is no surprise that some parents are doing cartwheels in reaction to a swift change of heart by school officials.
After area clergy sent a letter to school districts about their objection to the indoctrination of yoga on students, several area schools have now agreed to focus on education during class rather than Eastern Religion.
Over one-hundred clergymen chimed in by sending a corporate correspondence to thirty-nine school districts across the region including the State Board of Education. According to the clergymen, yoga is not merely an external physical practice with a physiological effect, but rather an internal spiritual practice advertised as being spiritually-transformative.
Their letter has resonated with school superintendents.
Lucas Superintendent Bradley Herman acknowledged to Reverend El Akuchie one of the clergy letter's cosigners "As a public school district, we are mindful of the Establishment Clause of the First Amendment and the prohibition of religious instruction. To that end, we must ensure that we are not doing anything that runs afoul of our obligations and appreciate your concerns."
The Lucas Superintendent went on to say "Please further know that there is no official yoga class or yoga instruction at Lucas High School and no intent to change that."
Lexington Superintendent Mike Ziegelhofer also responded to the clergy correspondence and a family's objection by saying "Effective immediately, upon our return to school, all employees of the Lexington Local School District will be notified in writing via e-mail that the use or endorsement of and/or any inference of the use or endorsement of yoga, any forms of transcendental meditation and the promotion, endorsement or practice of any religious beliefs is not permitted within the Lexington Local School District during school hours."
A family whose children were subject to the Eastern Religion instruction addressed the Lexington School Board and had Rabbi William Hallbrook of Sar Shalom Center respond to the latest developments.
"On behalf of the family, we are thankful for Superintendent Ziegelhofer's answer to our concerns. There is no room for the promotion of Eastern Religion in our public school classrooms. We appreciate that Mr. Ziegelhofer recognizes the sensitivity of this issue and look forward to the continuation of this new policy under the administration of his successor Mr. Jeremy Secrist." -Rabbi William Hallbrook, Sar Shalom Center
Superintendents from Mansfield Senior, Shelby, Galion, and Clear Fork schools who were sent the letter dated March 11th, 2020 and asked to reply have declined to respond to the area clergy's concerns.
Faith leaders maintain that courts recognize yoga as a practice of Eastern Religion and that there are other less controversial methods to improve student focus and fitness such as exercise, naps and healthy foods.
According to the clergy letter, the American Center for Law & Justice (ACLJ) was notified about the local incidents of yoga in classroom settings. The ACLJ has launched a national petition and initiated forthcoming litigation regarding the promotion of Buddhism.
Sources: Breaking Christian News
BIS certification of children's toys will now be enforced from 1 January 2021
New delhi: In what has come as a big relief for domestic toy manufacturers, the government on Tuesday extended the mandatory BIS certification by four months. The new norm will be implemented from January 1, 2021. This will allow the manufacturers to dispose of their stocks, which otherwise were not allowed to be sold in the market from September 1.
The government had implemented the mandatory BIS certification for all toys meant for children below 14 years from September 1, which had put the domestic industry in deep crisis as only two toy makers had got the BIS licence and the process was underway for 81 other cases.
This was first published in TOI online on September 13 highlighting how domestic players were more hit due the government decision. Officials had said as per the law, the sale of non-BIS toys manufactured before September 1 was not permitted.
"We welcome the government decision to extend the date for implementation of the quality control order (QCO). This is a big relief. We had been demanding this so that industry gets little more time to put the systems in place to comply with the order. We are completely with the government for complying with standards as children safety is our priority, said Ajay Aggarwal, president of Toys Association of India said.
Louis Vuitton is releasing a face shield & masks with golden studs to protect luxury buyers from coronavirus
With no end in sight to the coronavirus pandemic, it looks like protective face wear is here to stay.
Throughout the pandemic, designers have been releasing their take on face masks — luxury versions include Off-White's popular $95 Arrow logo face mask and Burberry's vintage check cotton design, retailing for £90 ($115).
And now, Louis Vuitton is taking it a step further, releasing a luxury face shield that's designed to be "both stylish and protective," the French fashion house said in a statement.
The "eye-catching" LV Shield transitions from clear to dark in sunlight, The protective device consists of two parts: the transparent visor to protect your face and an adjustable headband to keep it snug. The transparent covering is attached to the temples of the headband by two gold studs engraved with the house's name and can be moved up or down depending on the situation. The rim of the shield is covered in the brand's monogram-coated canvas material, as is the padded headband. And while the transparent visor should help protect your face from particles and liquids, it'll also offer shelter from UV rays as it transitions from light to dark when exposed to direct sunlight.
Pricing has not yet been announced, but as a high-end fashion brand, it's not likely to be cheap. Other Louis Vuitton head wear, including hats and sunglasses, sell for hundreds of dollars.
The face shield will be sold online and at select Louis Vuitton stores starting on October 30.
In April, Louis Vuitton joined the global effort to make personal protective equipment to support health care workers on the front lines of the pandemic. The company said it had repurposed several of its workshops across France to "produce hundreds of thousands of non-surgical face masks" for health care workers.
The brand also said it was donating thousands of hospital gowns to six Paris hospitals in urgent need of protective gear.
The Centers for Disease Control and Prevention does not currently recommend the use of face shields as a substitute for masks, as it is not clear what level of protection they provide.
Sources: CNN