Christian Family in Pakistan Claims Relative Was Murdered by Police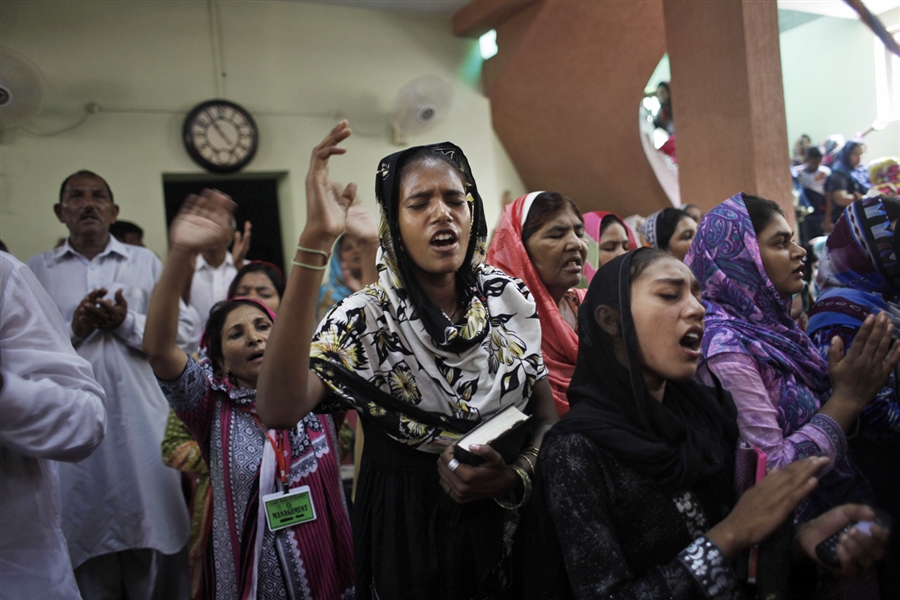 Pakistan – A Christian family in Pakistan claims their relative was murder by police after refusing to change his testimony in regards to a crime he witnessed. The Christian family has filed charged against the police and the case has led to several local protests.
On June 22, several police officers, led by Arif Jutt, broke into the house of Waqar Masih, a Christian from Gojra, located in the Toba Tek Singh district of Pakistan's Punjab province. There, the police attacked and beat Waqar's father, Younas.
"Arif Jutt, a policeman, along with his others illegally barged into my house." Waqar told International Christian Concern (ICC). "They searched for my father and threw him down from his bed. They beat my father with their guns and continuously kicked him in stomach. My father could not survive the torture and breathed his last immediately."
Initially, police refused to register a First Information Report (FIR) against their fellow officers. However, an FIR was filed after the roads were blocked by protesters against police torture and the local media was informed. FIR 409/20 was registered against the officers involved in the killing of Younas Masih.
Waqar told ICC that his father was a witness in a murder case against a Muslim family. Therefore, policemen threatened him on many occasions and asked him to recant his testimony in exchange for a bribe. However, Younas refused saying, "I am a Christian and I will never cheat and get bribed."
"My father's deep commitment to his faith made the policemen aggressive," Waqar explained to ICC. "During the attack, one of the officers shouted, 'We will teach him a lesson for insulting us!'"
"We will never go for any agreement or compensation," Waqar told ICC. "We want justice and protection of my family."
Sources:Persecution
Indian army bans 89 apps including Dailyhunt, Facebook & Instagram
Indian Army has asked its personnel to delete 89 apps from their smartphones including Facebook, TikTok, Tinder, PUBG, and Instagram to plug leakage of information, said Indian Army sources.
Snapchat, Tinder, OkCupid, UC Browser, Bumble, ShareIt, Xender, Helo, CamScanner, Club Factory etc are among those 89 apps.
This came days after the Government banned 59 apps, mostly Chinese including TikTok, UC News, and CamScanner amid the standoff with China.
Some of the 89 apps are among those which the Centre has already banned stating "they are engaged in activities which are prejudicial to sovereignty and integrity of India, defence of India, the security of the state and public order".
The list of apps the Indian army personnel have reportedly been asked to delete from their smartphones is divided into numerous categories like messaging apps – (We Chat, Helo, Share Chat, Viber, IMO, Hike and others), video hosting (Tik Tok, Likee, Samosa, Kwali, and others), contents sharing (ShareIt, Xender, Zapya, and others), web browsers (UC Browser and UC Browser Mini), video and live streaming (Zoom, LiveMe, Vmate, Uplive and others), utility apps (CamScanner, Beauty Plus, and True Caller), gaming apps (PUBG, Clash of Kings and others), eCommerce apps (Club Factory, AliExpress, Chinabrands, and others), dating apps (Tinder, OkCupid, Badoo, Bumble, Happn, Couch Surfing, and others), news apps (News Dog and Daily Hunt), lifestyle apps (POPXO), music apps (Hungama and Songs.pk) and blogging/microblogging apps (Tumblr, Reddit, and others).
നേപ്പാളിൽ ഇന്ത്യൻ വാർത്ത ചാനലുകൾക്ക്​ നിരോധനം.
കാഠ്‍മണ്ഡു: ഇന്ത്യന്‍ പ്രദേശങ്ങള്‍ ഉള്‍പ്പെടുത്തിയ ഭൂപടത്തിന് അംഗീകാരം നല്‍കിയതിന് പിന്നാലെ പ്രകോപനം തുടര്‍ന്ന് നേപ്പാള്‍. ദൂരദര്‍ശന്‍ ഒഴികെയുള്ള ഇന്ത്യന്‍ വാര്‍ത്താ ചാനലുകള്‍ക്ക് നേപ്പാളില്‍ വിലക്കേര്‍പ്പെടുത്തി.
നേപ്പാള്‍ വിരുദ്ധ വാര്‍ത്തകള്‍ പ്രചരിപ്പിക്കുന്നുവെന്ന് ആരോപിച്ചാണ് നേപ്പാളിലെ ടെലിവിഷന്‍ ഓപ്പറേറ്റര്‍മാര്‍ ഇന്ത്യന്‍ ചാനലുകളുടെ സംപ്രേഷണം നിര്‍ത്തിയത്. വ്യാഴാഴ്‍ച വൈകുന്നേരം മുതല്‍ ഇന്ത്യന്‍ വാര്‍ത്താ ചാനലുകള്‍ സംപ്രേഷണം ചെയ്യുന്നത് അവസാനിപ്പിച്ചുവെന്ന് നേപ്പാളിലെ ചാനല്‍ ഓപ്പറേറ്റര്‍മാരെ ഉദ്ധരിച്ച് വാര്‍ത്താ ഏജന്‍സിയായ എഎന്‍ഐ റിപ്പോര്‍ട്ട് ചെയ്‍തു.
പുതിയ ഭൂപടത്തിന് നേപ്പാള്‍ അംഗീകാരം നല്‍കിയതിന് പിന്നാലെ പ്രധാനമന്ത്രി കെപി ശര്‍മ ഒലിയ്‍ക്കെതിരായി ഇന്ത്യന്‍ മാധ്യമങ്ങള്‍ വാര്‍ത്തകള്‍ നല്‍കുന്നതായി നേപ്പാള്‍ കമ്മ്യൂണിസ്റ്റ് പാര്‍ട്ടി വക്താവ് നരായണ്‍ കജി ആരോപിച്ചിരുന്നു. നേപ്പാളിനെക്കുറിച്ച് തെറ്റായ വാര്‍ത്തകള്‍ പ്രചരിപ്പിക്കുന്നത് തടയുന്നതിന് നിയമപരവും രാഷ്ട്രീയവുമായ വഴികള്‍ തേടുകയാണെന്ന് നേപ്പാള്‍ പ്രധാനമന്ത്രിയുടെ വിദേശകാര്യ ഉപദേഷ്ടാവ് രജന്‍ ഭട്ടറായി ട്വീറ്റ് ചെയ്‍തിരുന്നു.
നേപ്പാള്‍ സര്‍ക്കാരിനെയും പ്രധാനമന്ത്രിയയെും കുറിച്ചുമുള്ള കെട്ടിച്ചമച്ചതും വ്യാജവുമായ റിപ്പോര്‍ട്ടുകള്‍ ‍ഞങ്ങള്‍ നിരസിക്കുന്നു. നേപ്പാളിന്‍റെ പരമാധികാരത്തെയും സ്വാതന്ത്ര്യത്തെയും സര്‍ക്കാരിനെയും ബഹുമാനിക്കാന്‍ ഞങ്ങള്‍ അഭ്യര്‍ഥിക്കുന്നു.-ഭട്ടറായി ട്വീറ്റ് ചെയ്‍തു.
അതേസമയം, ചൈനീസ്, പാകിസ്ഥാനി വാര്‍ത്താ ചാനലുകള്‍ക്ക് വിലക്കേര്‍പ്പെടുത്തിയിട്ടില്ല. അവയുടെ സംപ്രേഷണം രാജ്യത്ത് തുടരുകയാണ്.