Christian Family in Pakistan Claims Relative Was Murdered by Police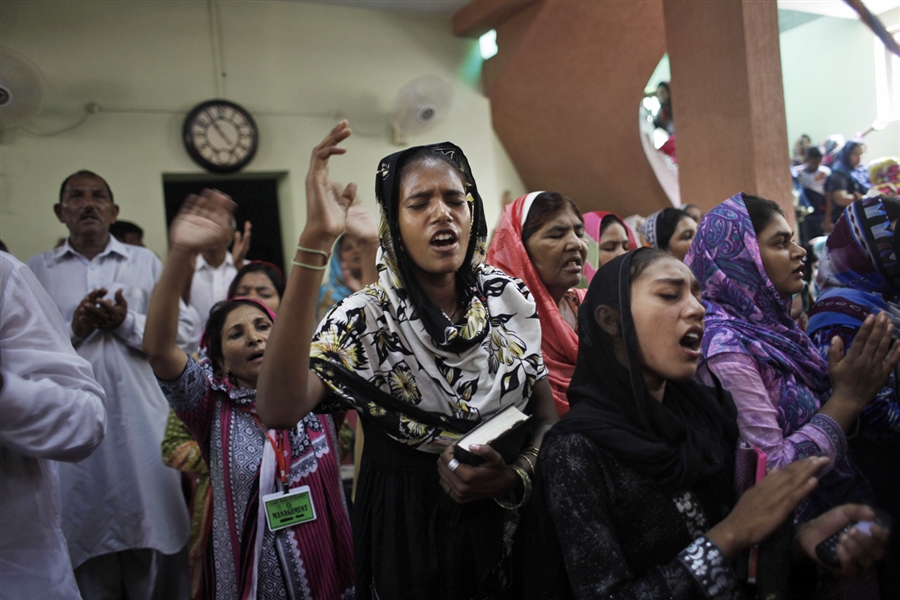 Pakistan – A Christian family in Pakistan claims their relative was murder by police after refusing to change his testimony in regards to a crime he witnessed. The Christian family has filed charged against the police and the case has led to several local protests.
On June 22, several police officers, led by Arif Jutt, broke into the house of Waqar Masih, a Christian from Gojra, located in the Toba Tek Singh district of Pakistan's Punjab province. There, the police attacked and beat Waqar's father, Younas.
"Arif Jutt, a policeman, along with his others illegally barged into my house." Waqar told International Christian Concern (ICC). "They searched for my father and threw him down from his bed. They beat my father with their guns and continuously kicked him in stomach. My father could not survive the torture and breathed his last immediately."
Initially, police refused to register a First Information Report (FIR) against their fellow officers. However, an FIR was filed after the roads were blocked by protesters against police torture and the local media was informed. FIR 409/20 was registered against the officers involved in the killing of Younas Masih.
Waqar told ICC that his father was a witness in a murder case against a Muslim family. Therefore, policemen threatened him on many occasions and asked him to recant his testimony in exchange for a bribe. However, Younas refused saying, "I am a Christian and I will never cheat and get bribed."
"My father's deep commitment to his faith made the policemen aggressive," Waqar explained to ICC. "During the attack, one of the officers shouted, 'We will teach him a lesson for insulting us!'"
"We will never go for any agreement or compensation," Waqar told ICC. "We want justice and protection of my family."
Sources:Persecution
ഇന്ത്യക്ക് അടിയന്തിര സഹായം നൽകണമെന്ന് അമേരിക്കൻ കോൺഗ്രസ്സ് പ്രതിനിധി രാജാ കൃഷ്ണമൂർത്തി ബൈഡനോട്
വാഷിംഗ്ടണ്‍: ഇന്ത്യയിൽ കോവിഡ് (Covid19) വ്യാപനം അതിരൂക്ഷമായ സാഹചര്യത്തിൽ അടിയന്തിര സഹായം വര്‍ദ്ധിപ്പിക്കണമെന്ന് അമേരിക്കന്‍ കോണ്‍ഗ്രസ്സ് പ്രതിനിധി രാജാ കൃഷ്ണമൂര്‍ത്തി അമേരിക്കന്‍ പ്രസിഡന്റ് ജോ ബൈഡനെ കണ്ടു. വാക്സിൻ എത്തിക്കുന്നത്ത വേഗത്തിലാക്കുന്നത് സംബന്ധിച്ചാണ് കൃഷ്ണമൂർത്തി ബൈഡനെ കണ്ടത്.ബൈഡനോട് ഇന്ത്യയിലേക്ക് നല്‍കുന്ന വാക്സിന്‍ സഹായം വര്‍ദ്ധിപ്പിക്കണമെന്നാണ് ആവശ്യപ്പെട്ടിരിക്കുന്നതെന്ന് അദ്ദേഹം വ്യക്തമാക്കി. മൂർത്തിക്കൊപ്പം ജനപ്രതിനിധികളായ മലോനി, ക്ലിബേണ്‍, സ്റ്റീഫന്‍ ലിഞ്ച് എന്നിവരുമുണ്ടായിരുന്നു.
ഇതുവരെ അമേരിക്ക ഇന്ത്യയ്ക്ക് നല്‍കിയ എല്ലാ സഹായങ്ങളും കൂടിക്കാഴ്ചയില്‍ സംഘം വിലയിരുത്തി. രാജ്യത്തെ വൈറസ് ബാധയുടെ തീവ്രതയും ചര്‍ച്ച ചെയ്തു. ഇതുവരെ ഇന്ത്യക്ക് നൽകിയ സഹായങ്ങളെ അഭിനന്ദിക്കാനും അവർ മറന്നില്ല.
Sources:globalindiannews
INS ship in Doha to transport oxygen cylinders to India
Doha: The Indian naval vessel INS Kolkata arrived in Doha to carry medical equipment collected by Indian expatriates in Qatar to help the motherland in the fight against Kovid. The ship will carry 200 oxygen cylinders and 43 oxygen concentrators assembled under the auspices of the Indian Community Benevolent Forum to provide medical assistance for Kovid treatment in the wake of Kovid patients dying of suffocation in hospitals due to oxygen shortage in India. The Indian Embassy took to Twitter to thank the expatriate community in Qatar and the ICBF for their support in India's fight against Kovid. INS Kolkata is one of the seven ships launched by the Central Government to transport medical equipment to India from various countries. Also Read: Indian Defense Minister Rajnath Singh on Monday announced the launch of Operation Samudra Sethu-2, a special mission to provide more oxygen to strengthen Kovid treatment. Under the scheme, ships INS Kolkata, INS Kochi, Tabar, Trikand, Jalashwa and Airavat will reach the ports of various countries that have offered assistance to India. As part of this, INS Talwar arrived in Manama, Bahrain and left for India with 40 metric tons of liquid medical oxygen. After collecting medical equipment from Qatar, the ship will move to Kuwait port. From here, the liquid oxygen tanks will be loaded and returned to India.