Pastor John MacArthur Files Declaration Against Los Angeles for Repeated Church Closure Attacks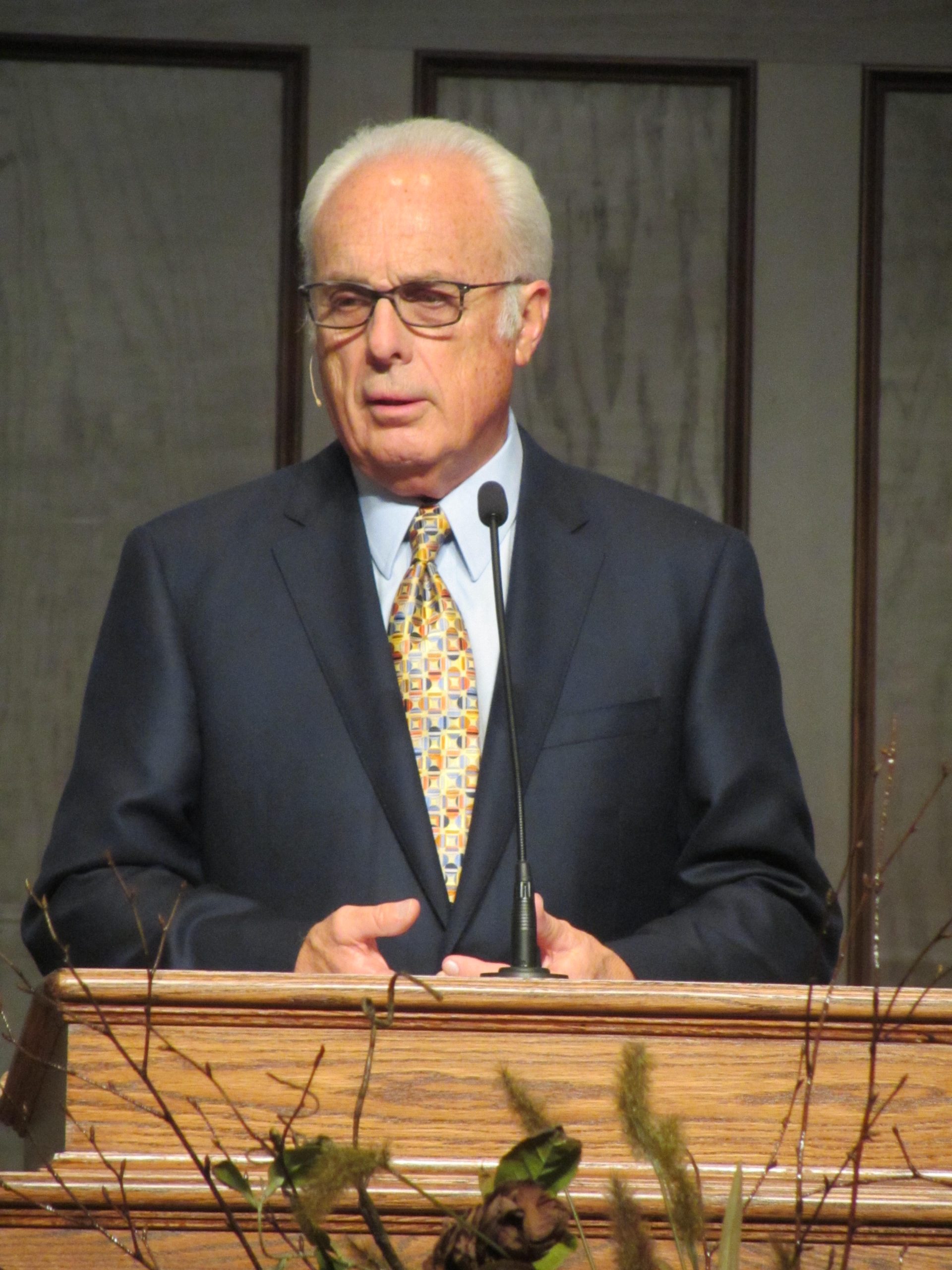 The battle between Los Angeles County officials and California megachurch Pastor John MacArthur is continuing.
County officials are attempting — for the fourth time — to get a court order to shutter MacArthur's Grace Community Church in Sun Valley, which has been holding in-person worship services since last month, a violation of orders from Gov. Gavin Newsom (D), who has mandated churches keep their doors closed amid the ongoing coronavirus pandemic.
MacArthur, in his declaration released Monday, argued the county is attempting to impede on his and his congregation's "free exercise of religion by criminalizing activity directly required by our faith."
"As a church," he wrote, "we have a moral and religious obligation to continue allowing our congregants to gather in our sanctuary to worship the Lord."
MacArthur's declaration comes amid an ongoing stalemate between Grace Community Church and Los Angeles officials, who want to see the church close its doors, arguing in-person worship services could contribute to the spread of the coronavirus.
MacArthur argued the California government is intentionally "targeting" the church, adding his congregants don't "buy the deadly narrative" that all the restrictions in place are really simply for safety.
"I don't know of anybody in our church — and that's a large church — who is sick at this time," he said. "I don't know of anybody, we haven't had anybody at our church in the hospital with this through all these months."
He further explained to Keilar that churchgoers "know life is being restricted in a way that is not constitutional, that is burdensome, that is targeting a church, and that makes no sense in light of the actual number of deaths that they're seeing."
A few weeks ago, MacArthur pointed to a double standard that has seen massive social justice protests but has continued to restrict religious gatherings. Jokingly, he opened up a recent sermon by saying, "Good morning, everyone. I'm so happy to welcome you to the Grace Community Church peaceful protest."
UN Working Group Determines Detention of Iranian Pastor is Arbitrary
Iran – The United Nations Working Group on Arbitrary Detention has released an opinion that the continued detention of Iranian church leader Yousef Nadarkhani is arbitrary. The opinion, which was adopted at the working group's 89th session in November 2020 was made public last week. In the opinion the working group wrote: "Through much of his life, (Pastor Nadarkhani) has been the target of religious discrimination, for which he has been arrested, tried, and imprisoned on multiple occasions. The working group has indicated that Nadarkhani's continued detention contravenes multiple articles of the Universal Declaration of Human Rights and the International Covenant on Civil and Political Rights and has called upon Iran to take the steps "necessary to remedy this situation of Mr. Nadarkhani without delay and bring it into conformity with the relevant international norms."
Pastor Nadarkhani was initially arrested in May 2016, along with four other Christians during a series of raids on Christian homes. In July 2017 the four men were found guilty and sentenced to ten years in prison on charges of acting against national security by promoting Zionist Christianity. The men were released on bail but were re-arrested in a series of raids in July 2018 after being informed that their sentences had been upheld. They were taken to Evin prison in Tehran, to serve out their sentences. Evin prison is well known for its harsh treatment of prisoners, poor living conditions, and the use torture on inmates has been reported by many have been formerly incarcerated there. An appeal by Pastor Nadarkhani and a fellow Christian, Deacon Saheb Fadaie saw the court rule in favor of a reduction in their sentences to six years each (down from the initial ten year sentence handed down in 2017).
An Iranian church official has said: "this is an answer to prayer," and called on the international community and the new U.S. administration, in particular, to make religious freedoms issues a priority as they resumed negotiations with Iran. This comes in the face of the situation in Iran, which continues to be highly concerning, as many Christians and other religious minorities continue to be imprisoned on arbitrary and spurious charges similar to those of pastor Nadarkhani.
Sources:persecution
400 escape, 25 killed in riots after Haiti prison breakout
Haitian authorities announced Friday that more than 400 inmates escaped and 25 people died in a prison breakout, making it the country's largest and deadliest one in a decade, with the prison director and a powerful gang leader among those killed.
Some believe Thursday's jailbreak at the Croix-des-Bouquets Civil Prison in northeast Port-au-Prince was to free gang leader Arnel Joseph, who had been Haiti's most wanted fugitive until his 2019 arrest on charges including rape, kidnapping and murder.
Joseph was riding on a motorcycle through the Artibonite area in the town of L'Est're on Friday a day after his escape when he was spotted at a checkpoint, police spokesman Gary Desrosiers told The Associated Press. He said Joseph pulled out a gun and died in an exchange of gunfire with police.
Joseph ruled Village de Dieu, or Village of God, a shantytown in downtown Port-au-Prince, and other communities, including some in Artibonite, which is Haiti's largest department.
Authorities have not yet provided much details on the breakout except to say that 60 inmates have been recaptured and the investigation is ongoing. State Secretary Frantz Exantus said authorities have created several commissions to investigate who organized the breakout and why. Among those killed was the prison director, identified as Paul Joseph Hector.
Residents who declined to be identified because they feared for their life told the AP that they saw gunmen shoot at prison guards on Thursday before inmates escaped from the Croix-des-Bouquets penitentiary.
The prison is known for a 2014 breakout in which more than 300 of the 899 inmates being held there at the time escaped. Some believed that attack was designed to free Clifford Brandt, the son of a prominent businessman, who had been imprisoned since 2012 for allegedly kidnapping the adult children of a rival businessman. Brandt was captured two days later near the Dominican Republic border.
After the 2014 breakout, officials said they were taking steps to up security at the prison that Canada built in 2012, including installing security cameras and placing ankle monitors on the most dangerous prisoners. It wasn't immediately clear if any of those measures were taken. At the time of Thursday's breakout, the prison held 1,542 inmates, nearly twice its capacity.
Haiti's largest prison breakout in recent history occurred after the devastating 2010 earthquake in which more than 4,200 inmates fled the notorious National Penitentiary in downtown Port-au-Prince.
President Jovenel Mose tweeted on Friday that he condemned the most recent jailbreak and asked people to remain calm. He added that Haiti's National Police ?is instructed to take all measures to bring the situation under control."
Meanwhile, Helen La Lime, Haiti's special representative of the Secretary-General of the United Nations, said in a statement that she was deeply concerned with the mutiny and prison escape.
"I encourage the police to speed up investigations on the circumstances surrounding this incident, redouble its efforts to re-apprehend the escapees, and strengthen security around prisons throughout the country," she said.
"This prison break further highlights the problem of prolonged preventive detention and prison overcrowding which remains matter of concern that must be urgently addressed by Haitian authorities."