Pastor John MacArthur Files Declaration Against Los Angeles for Repeated Church Closure Attacks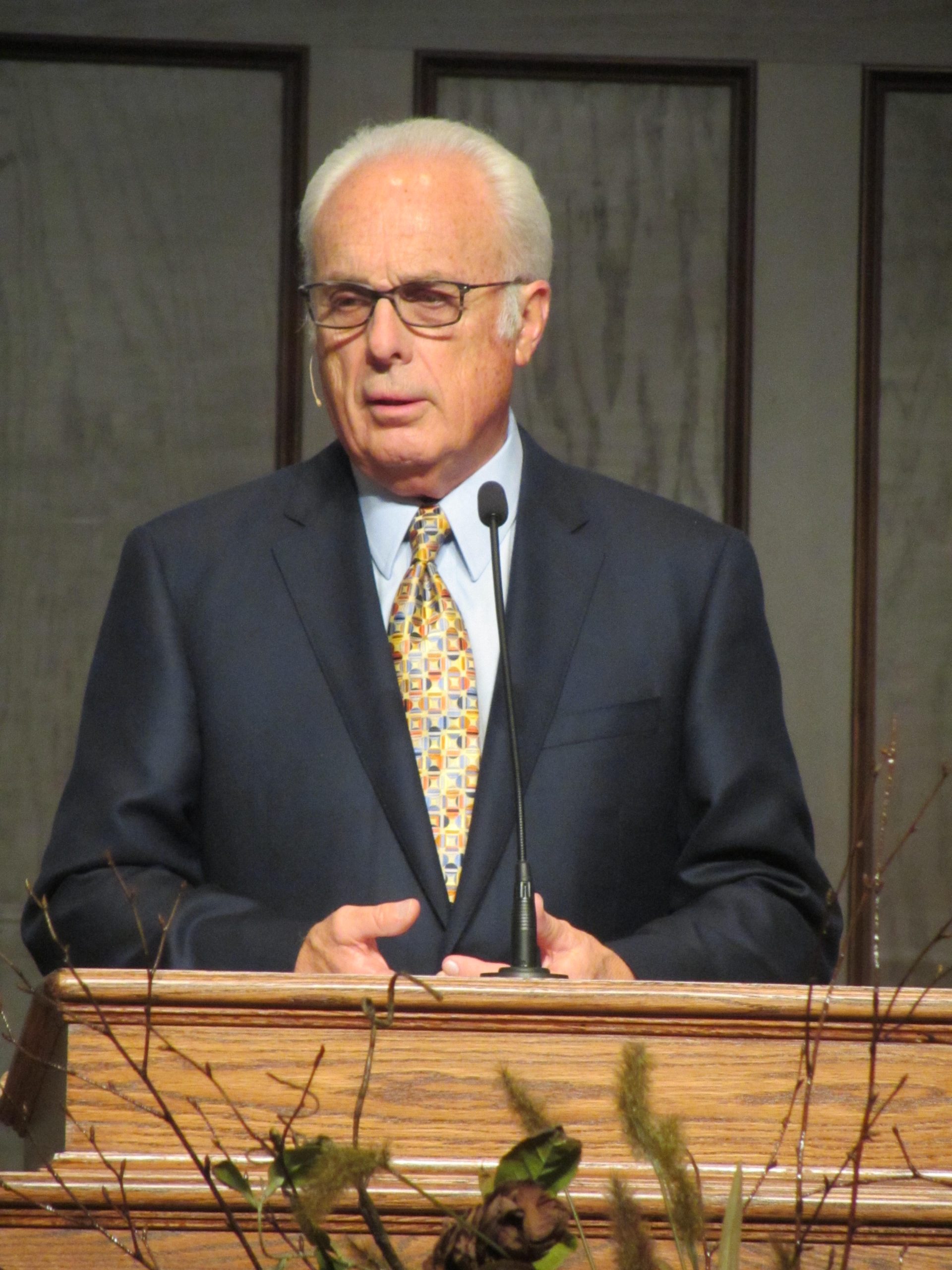 The battle between Los Angeles County officials and California megachurch Pastor John MacArthur is continuing.
County officials are attempting — for the fourth time — to get a court order to shutter MacArthur's Grace Community Church in Sun Valley, which has been holding in-person worship services since last month, a violation of orders from Gov. Gavin Newsom (D), who has mandated churches keep their doors closed amid the ongoing coronavirus pandemic.
MacArthur, in his declaration released Monday, argued the county is attempting to impede on his and his congregation's "free exercise of religion by criminalizing activity directly required by our faith."
"As a church," he wrote, "we have a moral and religious obligation to continue allowing our congregants to gather in our sanctuary to worship the Lord."
MacArthur's declaration comes amid an ongoing stalemate between Grace Community Church and Los Angeles officials, who want to see the church close its doors, arguing in-person worship services could contribute to the spread of the coronavirus.
MacArthur argued the California government is intentionally "targeting" the church, adding his congregants don't "buy the deadly narrative" that all the restrictions in place are really simply for safety.
"I don't know of anybody in our church — and that's a large church — who is sick at this time," he said. "I don't know of anybody, we haven't had anybody at our church in the hospital with this through all these months."
He further explained to Keilar that churchgoers "know life is being restricted in a way that is not constitutional, that is burdensome, that is targeting a church, and that makes no sense in light of the actual number of deaths that they're seeing."
A few weeks ago, MacArthur pointed to a double standard that has seen massive social justice protests but has continued to restrict religious gatherings. Jokingly, he opened up a recent sermon by saying, "Good morning, everyone. I'm so happy to welcome you to the Grace Community Church peaceful protest."
Court temporarily blocks Trump order banning TikTok from US app stores
TikTok has been granted a last-minute reprieve from Donald Trump's executive order banning the service from US app stores, after a judge in Washington DC temporarily blocked the ban from taking effect on Sunday evening.
The order, which was due to take effect at one minute to midnight, was the first step towards banning TikTok entirely within the US. It would have required Apple and Google to remove the service from their respective app stores, preventing new users from downloading it, but would not have stopped existing TikTokers from continuing to access the app on their own devices.
Instead, the US district judge Carl Nichols granted a preliminary injunction sought by TikTok's owner, ByteDance, to allow the app to remain available in US app stores.
Nichols declined "at this time" to block a second set of restrictions requested by the US Department of Commerce, due to take effect on 12 November, which will bar any American company from providing services to TikTok. That order would have make the app impossible to use in the US, TikTok has said, effectively banning it entirely.
The Commerce Department said in a statement that it would "comply with the injunction and has taken immediate steps to do so". The statement, which defended the legality of the TikTok order and Trump's executive order demanding ByteDance divest its TikTok US operations within 90 days, did not say whether the government intended to appeal.
TikTok said it was pleased with the injunction and it would "maintain our ongoing dialogue with the government to turn our proposal, which the president gave his preliminary approval to last week, into an agreement."
The company's lawyer John Hall had said a ban would be "punitive" and would close off a public forum used by tens of millions of Americans.
In a written brief filed before the hearing, TikTok lawyers said the ban was "arbitrary and capricious" and "would undermine data security" by blocking updates and fixes to the app.
The company also said the ban was unnecessary because negotiations were already under way to restructure the ownership of TikTok to address national security issues raised by the administration.
Hours before the DC court ruled in TikTok's favour, a judge in Pennsylvania rejected a separate legal move by three TikTok influencers seeking their own stay on the ban. Doug Marland, Cosette Rinab, and Alec Chambers, who have almost 7 million followers on the app between them, argued in court that access to the app was critical to their livelihood.
If TikTok were to be blocked from US app stores, the three said, they would "lose access to tens of thousands of potential viewers and creators every month, an effect amplified by the looming threat to close TikTok altogether". But the judge Wendy Beetlestone denied their request to stay the order, agreeing that such a ban would be an "inconvenience" for them, but noting that they had failed to demonstrate the irreparable harm that would be required for a court victory.
One hundred million Americans use TikTok at least once a month, the company says, and half of those use it every day. Globally, the app has been downloaded about 2bn times, placing it in the same tier as Facebook, Instagram, Snapchat and YouTube. But unlike those services, TikTok's parent company is not listed on the US stock market. ByteDance is a privately held company, legally incorporated in the Cayman Islands and headquartered in Beijing.
Government lawyers argued that the president had a right to take national security actions, and said the ban was needed because of TikTok's links to the Chinese government through ByteDance. A government brief called ByteDance a "mouthpiece" for the Chinese Communist party and said it was "committed to promoting the CCP's agenda and messaging".
ByteDance said on 20 September that it had struck a preliminary deal for Walmart and Oracle to take stakes in a new company, TikTok Global, that would oversee US operations, after Trump said he had given the deal his blessing. Negotiations continue over the terms of the agreement and to resolve concerns from Washington and Beijing.
The deal is still to be reviewed by the US government's Committee on Foreign Investment in the United States.
"Our hope is in Jesus"Prayer March 2020 at National Mall
Washington : Tens of thousands of people attended a prayer rally Saturday at the National Mall in Washington, D.C.
The large crowd gathered at the Lincoln Memorial and stretched along the sides of the reflecting pool.
Rev. Franklin Graham said he organized the rally to pray for God to heal America, because he says the nation is hurting, people are divided and there's fear and uncertainty.
"Our Father and our God, we come to say thank you. But father our country is in trouble. We need your help," Graham prayed.
He also prayed for President Donald Trump ahead of his Supreme Court nominee announcement set for Friday evening.
"And today, Father, as he makes an announcement, as to who will fill the vacancy on the Supreme Court, Father, give him wisdom to make your choice for our nation and the impact that can have for years to come," Graham prayed.
Vice President Mike Pence also spoke at the rally, and requested prayers regarding the Supreme Court vacancy.
"Pray for all the members of the Congress of the United States. Pray for all of our justices on the Supreme Court, including the remarkable woman that the President will nominate to fill the seat on the Supreme Court later today," Pence said.
The president is expected to nominate Judge Amy Coney Barrett to replace Justice Ruth Bader Ginsburg on the court, after Ginsburg's recent passing.
Pence also asked rallygoers to pray for those affected by the ongoing COVID-19 pandemic.
"And in these challenging times, in the wake of a global pandemic, we urge you to pray for all those who are struggling with loss and with serious illness. Pray for our doctors and all those bringing America through this challenging time," Pence said.
The crowd later marched from the Lincoln Memorial to the U.S. Capitol.