Church could reopen without singing in Germany
Germany is to set out guidelines for holding religious services during the coronavirus pandemic with a list of strict restrictions expected to include a ban on singing.
Religious services have been banned since the start of Germany's lockdown in mid-March and some worshippers have expressed fury at the government's apparent slowness in plotting a route back to reopening churches.
A loosening of restrictions a week ago after Germany's infection rate decreased sufficiently, saw small shops, along with bicycle repair workshops, car washes and other businesses, able to operate again. But places of worship have not been viewed as such a political priority, despite pleas from religious leaders that spiritual nourishment is as important to many Germans, if not more so, than shopping.
One Catholic community in Berlin, which insisted on continuing to celebrate mass, even took the government to court over the ban.
Angela Merkel, a pastor's daughter and herself a regular church-goer, will meet the leaders of the country's 16 states on Thursday to coordinate a nationwide set of rules.
Religious leaders have agreed in advance meetings a set of general rules on strict physical distancing and the prohibition of anything involving bodily fluids, such as kissing religious objects, including the Jewish Torah, or administering communion from hand to mouth. Muslim leaders have agreed a temporary halt to Friday prayers.
Communal singing has reportedly proved to be a particular sticking point in the discussions, despite repeated warnings by leading epidemiologists that singing is as dangerous as coughing for spreading the virus.
Reports around the globe including in Los Angeles, where three-quarters of the members of one choir fell ill and two died, and in Berlin, where 59 out of 78 singers from the choir of Berlin's Protestant cathedral went down with the virus – have offered plenty of anecdotal evidence that singing in choirs has contributed to the spread of coronavirus in some communities.
Lothar Wieler, the head of the German government's disease control agency, the Robert Koch Institute, specifically warned on Tuesday that singing was ill-advised. "Evidence shows that during singing, the virus drops appear to fly particularly far," he said.
Virologists also believe singers could absorb many more particles as they tend to breathe deeper into their diaphragms than they would during normal breathing.
A draft bans both communal singing and wind instruments from services over the "amplified precipitation of potentially infectious drops" and while it has been backed in principle by Protestant leaders, who nevertheless wish to draw a distinction between roomy cathedrals and small village churches, Catholic heads are opposed.
"If the distance rules are abided by, there is no reason why singing should be refrained from altogether," the German Bishops Conference has said in its own position paper. A spokesman added: "We believe quiet singing and praying should be possible."
It has been argued that the government has been slow to act on church re-openings to ensure police were not overwhelmed when carrying out controls necessitated by a step-by-step easing of restrictions, as well as the nationwide introduction this week of obligatory face coverings.
Priority has been given to Germany's 30,000 mosques and prayer rooms which have been allowed to open during the month of Ramadan. Muslim worshippers are obliged to wear a mouth and nose covering on entering mosques, and over-65s have been advised to stay away for their own protection. Each worshipper should have at least 10 square metres of space to themselves.
Bavaria, which often takes a singular approach to regulation, allowed church services of under 15 people to resume over a week ago, with the Catholic church issuing seat reservations to regulate the flow of worshippers. Priests are prohibited from administering communion on the tongue and holy water is banned.
750 killed at Ethiopian Orthodox church said to contain Ark of the Covenant: report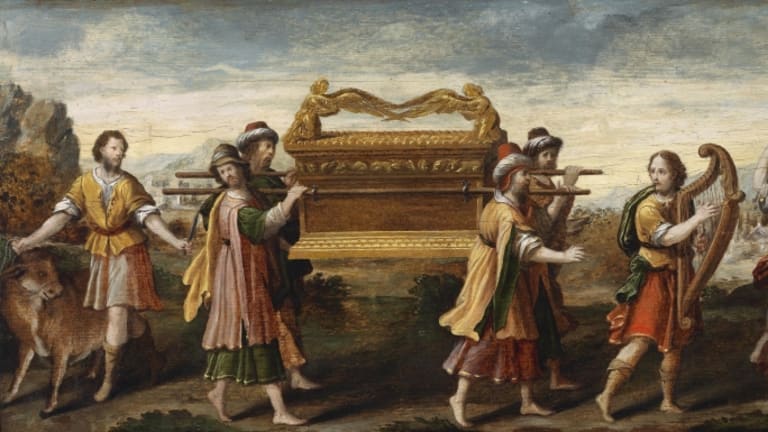 Around 750 people were killed in an attack on an Orthodox church, which is said to contain the Ark of the Covenant described in the Book of Exodus in the Bible, in northern Ethiopia's war-torn Tigray region — home to thousands of churches and monasteries — according to reports.
Hundreds of people hiding in Maryam Tsiyon Church in Aksum amid an armed conflict were brought out and shot to death, and local residents believe the aim was to take the Ark of Covenant to Addis Ababa, the Belgium-based nonprofit European External Programme with Africa reported in this month's situational report, released on Jan. 9.
"The number of people killed is reported as 750," it said. The church, the most ancient and sacred of Ethiopian Christianity and also known as the Church of St. Mary of Zion, belongs to the Ethiopian Orthodox Tewahedo Church.
"I've not heard more than rumours about the looting of the Arc from Maryam Tsion, but if it's true that up to 750 died defending it, it is conceivable that the attackers didn't stop there," said Michael Gervers, a professor of history at the University of Toronto, according to The Telegraph.
"The government and the Eritreans want to wipe out the Tigrayan culture. They think they're better than rest of the people in the country. The looting is about destroying and removing the cultural presence of Tigray," Gervers explained.
Former BBC World Service Africa editor and Senior Research Fellow at the Institute of Commonwealth Studies, Martin Plaut, said that those who escaped the Aksum massacre had reported that the attack began after Ethiopian federal troops and Amhara militia approached the church, the U.K.'s Church Times reported.
"People were worried about the safety of the Ark, and when they heard troops were approaching feared they had come to steal it. All those inside the cathedral were forced out into the square," Plaut was quoted as saying.
About 1,000 people were believed to be in the church complex at the time of the attack. The EEPA said the massacre was carried out by Ethiopian federal troops and allied Amhara militia that are fighting the Tigray People's Liberation Front.
The church and and the Ark have likely not been damaged, Plaut added.
The fighting began in Tigray since Nov. 4 when the region's ruling political party Tigray People's Liberation Front captured the Northern Command army base in the regional capital Mekelle as part of an uprising, after which Prime Minister Abiy Ahmed ordered a military offensive. Abiy claimed on Nov. 28 that the Ethiopian National Defense Force had regained "full command" of Mekelle.
Sources:Christian Post
Charges dropped against deacon arrested for singing hymns outdoors
A court has dismissed all charges against a church deacon who was one of the three arrested last September for singing while not wearing a mask at a "psalm sing" outdoor worship service held in Moscow City, Idaho.
The Idaho District Court dropped charges against Gabriel Rench in the case State of Idaho v. Gabriel Rench. The deacon was arrested at an event hosted by Christ Church and held outside City Hall in response to the extension of a COVID-19-prompted mask mandate imposed by Moscow's mayor at the time, the law firm Thomas More Society, which represented the church, said.
"We had done the Psalm sing in the past under the same [mask] resolution and we weren't arrested, we weren't warned … we were just taking our constitutional liberties to do what we're allowed to do under the Constitution — worship," Rench said, referring to the event that was attended by about 200 people.
The city of Moscow, "appears to have been so anxious to make an example of Christ Church's opposition to their desired COVID restrictions that they failed to follow the mandatory exemptions articulated in their own laws," Thomas More Society Special Counsel Michael Jacques noted.
"The Moscow City Code allows the Mayor to issue public health emergency orders, but exempts '[a]ny and all expressive and associative activity that is protected by the United States and Idaho Constitutions, including speech, press, assembly, and/or religious activity,'" Jacques explained. "Mr. Rench and the other worshipers who were arrested had their constitutionally protected liberties violated and their lives disrupted — not only by the inappropriate actions of law enforcement officers, but also by city officials who did not immediately act to correct this unlawful arrest."
After Rench and others were arrested in September, the church wrote on its Facebook page: "Yesterday Christ Church sponsored a flash psalm sing at city hall. We were going to appear there at quarter to [5 p.m.], sing three psalms or hymns, then the doxology, and then out. The songs were Psalm 20, Psalm 124, and 'Amazing Grace.' When we arrived, the police were waiting for us. One of them informed me that people either had to social distance or wear a mask or otherwise face a citation."
Douglas Wilson, who wrote the post, added: "I told him that I would inform everyone of that, which I did. I said a brief prayer, and we began to sing. Over the following 15 minutes of singing, three of our people were arrested, and two others were cited."
Sources:Christian Post