Police Ordered to Ensure Security of Abducted Christian Teen in Pakistan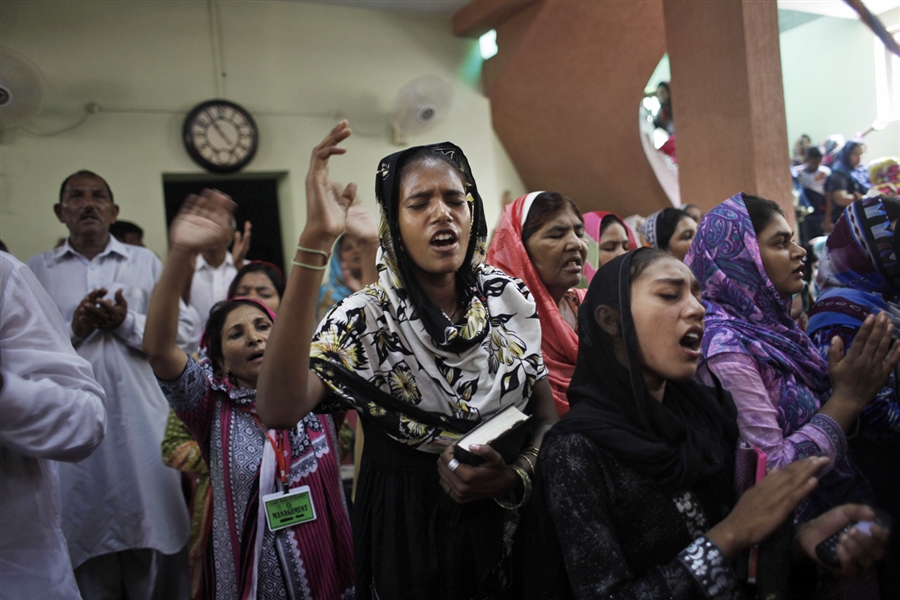 Pakistan – According to The Nation, the Lahore High Court has ordered police in Pakistan to ensure the security of Maira Shahbaz, a 14-year-old Christian girl who was abducted and forcefully married to a Muslim man in April. Earlier this week International Christian Concern (ICC) reported that Shahbaz escaped the custody of her alleged husband and has gone into hiding with her mother and siblings.
On April 28, 2020, Shahbaz was abducted at gunpoint by Mohamad Nakash and two accomplices while walking home in Madina Town, near Faisalabad. According to witnesses, the abductors forced Shahbaz into a car and fired gunshots in the air as they fled the scene.
Aid to the Church in Need (ACN) reports Shahbaz told police she was drugged, raped, and force to sign blank papers that were later used by Nakash as a marriage certificate and a conversion certificate. Shahbaz also claims that Nakash filmed her being raped and has threatened to release the video online if she resists him.
Shahbaz reportedly appeared before the regional police officer on August 28 to record her statement against Nakash. In addition to providing security, the Lahore High Court has also ordered police to investigate the video Shahbaz claims is being used to blackmail her.
According to a 2014 study by The Movement for Solidarity and Peace Pakistan, an estimated 1,000 women and girls from Pakistan's Hindu and Christian communities are abducted, forcefully married to their captors, and forcibly converted to Islam every year. The issue of religion is also often injected into cases of sexual assault to place victims from religious minority communities at a disadvantage. Playing upon religious biases, perpetrators know they can cover up and justify their crimes by introducing an element of religion.
Sources:Persecution
ലോകമാന ക്രൈസ്തവ പീഢനങ്ങള്‍ നിരീക്ഷിക്കുന്നതിന് പുതിയ സംഘടന ഓ.പി.എ.സി. നിലവില്‍ വന്നു
ആഗോളതലത്തില്‍ ക്രൈസ്തവക്കെതിരായ മതപീഢനങ്ങള്‍ വെളിച്ചത്തു കൊണ്ടുവരുവാനും പ്രതിരോധിക്കുവാനും യാഥാസ്ഥിതിക ക്രൈസ്തവ സഭകളുടെ നേതൃത്വത്തില്‍ പുതിയ സംഘടന നിലവില്‍ വന്നു. ഇക്കഴിഞ്ഞ ബുധനാഴ്ച വാഷിംഗ്ടണില്‍ വെച്ചായിരുന്നു ഓര്‍ത്തഡോക്‌സ് പബ്ലിക് അഫയേഴ്‌സ് കമ്മിറ്റി എന്ന സംഘടനയുടെ ഉദ്ഘാടനം. യാഥാസ്ഥിതിക ക്രൈസ്തവ സഭകളുടെ നേതൃത്വത്തില്‍ രൂപം കൊണ്ടതാണെങ്കിലും സഭാഭേദമന്യേ ലോകമെമ്പാടുമുള്ള ക്രൈസ്തവര്‍ക്കെതിരായുള്ള അടിച്ചമര്‍ത്തലും വിവേചനവും വെളിച്ചത്ത് കൊണ്ടുവരികയെന്നതാണ് തങ്ങളുടെ ലക്ഷ്യമെന്നു ഒ പി എ സി പുറത്തു വിട്ട പ്രസ്താവനയില്‍ പറയുന്നു.
ക്രൈസ്തവര്‍ക്കെതിരായ മതപീഢനങ്ങള്‍ വര്‍ദധിക്കുകയാണെന്നും ഇതിനെതിരെ പോരാടുവാന്‍ സംഘടന ആഗ്രഹിക്കുന്നുണ്ടെന്നും അമേരിക്കന്‍ പ്രസിഡന്റിന്റെ മുന്‍ ഡെപ്യൂട്ടി അസിസ്റ്റന്റ് ഓ പി എ സി യുടെ സഹസ്ഥാപകനും ചെയര്‍മാനുമായ ജോര്‍ജ്ജ് ജിജിക്കോസ് പറഞ്ഞു. കഴിഞ്ഞ ജൂലൈയില്‍ ചരിത്ര പ്രസിദ്ധമായ ഹാഗിയ സോഫിയ എന്ന ക്രൈസ്തവ ദേവാലയത്തെ മുസ്ലീം പള്ളിയാക്കി മാറ്റിയതാണ് സംഘടന സ്ഥാപിക്കാനുള്ള പ്രധാന കാരണമെന്ന് സംഘടനയുടെ സ്ഥാപകരില്‍ ഒരാളായ നിക്കോളാസ് ഫുരിസ് പറയുന്നു.
ഇത്തരത്തിലുള്ള ആത്മീയ മോഷണങ്ങള്‍ ആധുനിക ലോകത്ത് അനുവദനീയമല്ല. ഇതിനെതിരെ പോരാടും. തങ്ങളുടെ ഉപദേശക സമിതിയിലുള്ളവര്‍ ഉന്നത വിദ്യാഭ്യാസ വിദഗ്ദരോ,ദൈവ ശാസ്ത്രജ്ഞരോ,മതപണ്ഡിതന്‍മാരോ അല്ലെന്നും മതപീഢനം നേരിട്ടുള്ള സാധാരണക്കാരുടെ സേവനമാണ് തങ്ങള്‍ ആഗ്രഹിക്കുന്നതെന്നും ഫുരീസ് പറഞ്ഞു.
Christian Leader Concerned by Growing Anti-Christian Violence in Central India
India – According to Asia News, Christians in India are concerned by escalating anti-Christian violence in Chhattisgarh. In recent months, at least two Christian communities have been brutally attacked and displaced by religious extremists in the state.
"Extremist fringe groups are artfully using propaganda to stir up suspicion and enmity among various groups in order to divide along communal lines," Sajan K. George, President of the Global Council of Indian Christians (GCIC), told Asia News. "We are deeply concerned by the growing number of attacks and incidents involving tribal Christians in Chhattisgarh."
On November 25, at least 27 people were injured in an anti-Christian incident in Chinghawaram, a village located in the Sukma district of Chhattisgarh. According to local reports, four Christians required hospitalization due to the severity of their injuries.
In September, extremists attacked 16 Christian families in Kakabeda, Singanpur, and Tiliyabeda, three villages located in the Kondagaon district of Chhattisgarh. The homes of the 16 Christian families were destroyed after they refused to publically renounce their Christian faith.
"In Chhattisgarh, Christians are falsely accused of proselytizing," George told Asia News. "Ironically, these radical groups attack Christians to convert them to Hinduism."
"GCIC is deeply concerned by what is happening in many tribal areas," George continued. "Serious episodes of large-scale anti-Christian violence have been reported."
Sources:persecution