A woman has been arrested in Sweden for locking her son in an apartment for 28 years
Stockholm: A mother in Sweden has been arrested on suspicion of locking her son inside their apartment for 28 years, leaving him undernourished and with almost no teeth, police and media reports said Tuesday.
"The mother is suspected of illegal deprivation of liberty and causing bodily harm," Stockholm police spokesman Ola Osterling told.
He said the man had been "locked up for a very long time" in the apartment in a southern Stockholm suburb, but would not comment on reports in dailies news that he had been held for 28 years.
The reports said the mother had pulled her son out of school when he was 12 and kept him locked inside the apartment since then.
An unnamed relative found the now 41-year-old man on Sunday after the mother, in her 70s, had been taken to hospital, news reported.
The man had infected sores on his legs, could barely walk, had almost no teeth and limited speech ability, the reports said.
Osterling would not comment on those details, saying only: "The man is in hospital. His injuries are not life-threatening."
The mother has denied the crimes, the Swedish Prosecution Authority said.
'Urine, dirt and dust'
Doctors at the hospital had alerted police to the case.
Police tape was stretched across the apartment's door on Tuesday, and crime scene technicians were seen leaving the scene around midday, an AFP photographer said.
The apartment is located in a non-descript grey and yellow low-rise building in the working class suburb of Handen in Haninge municipality.
The unidentified relative who found the man said the apartment looked like it had not been cleaned in years.
"There was urine, dirt and dust. It smelled rotten," she told Expressen, adding that she had to wade through piles of junk to get through the hallways.
"No one could have cleaned that home for many years."
"I'm in shock, brokenhearted, but at the same time relieved. I've been waiting for this day for 20 years because I figured out that she was totally controlling his life, but I never imagined the extent of it," she said.
"I knew he was there and that he must be scared because his mother was his only sense of security and now she was gone," she added.
There was no immediate explanation for the mother's alleged actions.
"She stole his life from him and manipulated the people around her in order to keep her secret," the relative said.
"I'm just thankful that he got help and is going to survive."
One unidentified neighbour, who lived in the same building, told Aftonbladet that she ran into the man at a nearby grocery store a few months ago.
"I know who you are, you're my neighbour," the man had told her, recognising her after having seen her through the window, she said.
'How could no one have noticed?'
But most others in the neighbourhood told local media they hadn't seen the man for years.
"They almost never went outside, never even opened the windows for fresh air. It's been holed up," another woman from the building told Aftonbladet.
Many neighbours wondered why neither social services, the school nor any other authority ever checked in on the boy over the years.
"And when we've had renovations done in the building, how can no one have noticed? Workmen have been here," one woman told Aftonbladet.
Another woman said she occasionally ran into the mother.
"We talked about small stuff, like you do. Sometimes I asked about the boy, and she just said he was fine, she never really talked about him," she said.
She however added that she found it odd that their window was never open, and the same candlestick had been in the window for 30 years.
"But what can you do? How do you know what's going on behind closed doors? It's all so awful, you can't believe it's true," she said.
Catholic priest abducted in Nigeria found dead
Nigeria :The body of a Catholic priest was discovered in Nigeria on Saturday, a day after he was kidnapped by armed men.
Agenzia Fides, the information service of the Pontifical Mission Societies, reported on Jan. 18 that Fr. John Gbakaan "was allegedly executed with a machete in such a brutal manner that identification was hardly possible."
The priest of the diocese of Minna, in Nigeria's Middle Belt, was attacked by unidentified men on the evening of Jan. 15. He was traveling with his younger brother along Lambata-Lapai Road in Niger State following a visit to their mother in Makurdi, Benue State.
Fides reported that the kidnappers at first demanded 30 million naira (around $70,000) for the two brothers' release, later reducing the figure to five million naira (approximately $12,000).
Local media said that the priest's body was found tied to a tree on Jan. 16. His vehicle, a Toyota Venza, was also recovered. His brother remains missing.
Following Gbakaan's murder, Christian leaders called on Nigeria's federal government to take action to stop attacks on clergy.
Local media quoted the Rev. John Joseph Hayab, vice chairman of the Christian Association of Nigeria in northern Nigeria, as saying: "We are simply pleading to the federal government and all security agencies to do whatever it will take to bring this evil to a stop."
"All we are asking from the government is protection from evil men that are destroying our lives and properties."
The incident is the latest in a series of abductions of clergy in Africa's most populous country.
On Dec. 27, Bishop Moses Chikwe, an auxiliary of the archdiocese of Owerri, was abducted alongside his driver. He was released after five days of captivity.
On Dec. 15, Fr. Valentine Oluchukwu Ezeagu, a member of the Sons of Mary Mother of Mercy, was kidnapped in Imo State en route to his father's funeral in neighboring Anambra State. He was released the following day.
In November, Fr. Matthew Dajo, a priest of the archdiocese of Abuja, was kidnapped and released after 10 days in captivity.
Hayab was quoted as saying that the spate of kidnappings was discouraging young men from pursuing priestly vocations.
"Today in northern Nigeria, many people are living in fear and many young people are afraid to become pastors because pastors' lives are in great danger," he said.
"When bandits or kidnappers realize that their victims are priests or pastors, it seems a violent spirit does take over their heart to demand more ransom and in some cases go to the extent of killing the victim."
News  reported that on Jan 10 Archbishop Ignatius Kaigama of Abuja said that the abductions would give the country "a bad name" internationally.
"Left unchecked by the Nigerian authorities, this shameful and disgusting act will continue to give Nigeria a bad name and scare away visitors and investors to the country," he said.
Releasing its annual World Watch List report last week, the advocacy group Open Doors said that security in Nigeria had deteriorated to the point that the country had entered the top 10 worst countries for the persecution of Christians.
In December, the U.S. State Department listed Nigeria among the worst countries for religious freedom, describing the West African nation as a "country of particular concern."
This is a formal designation reserved for nations where the worst violations of religious freedom are taking place, the other countries being China, North Korea, and Saudi Arabia.
The step was praised by the leadership of the Knights of Columbus.
Supreme Knight Carl Anderson said that "Nigeria's Christians have suffered grievously at the hands of Boko Haram and other groups."
He suggested that the murders and kidnappings of Christians in Nigeria "verge on genocide."
He said: "The Christians of Nigeria, both Catholic and Protestant, deserve attention, recognition, and relief now. Nigeria's Christians should be able to live in peace and practice their faith without fear."
750 killed at Ethiopian Orthodox church said to contain Ark of the Covenant: report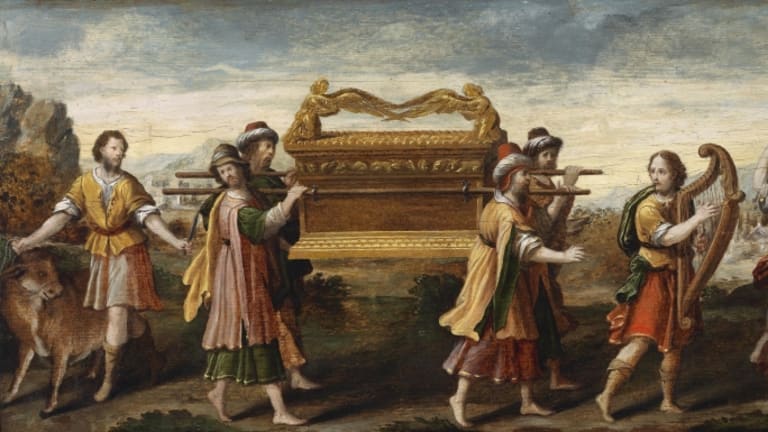 Around 750 people were killed in an attack on an Orthodox church, which is said to contain the Ark of the Covenant described in the Book of Exodus in the Bible, in northern Ethiopia's war-torn Tigray region — home to thousands of churches and monasteries — according to reports.
Hundreds of people hiding in Maryam Tsiyon Church in Aksum amid an armed conflict were brought out and shot to death, and local residents believe the aim was to take the Ark of Covenant to Addis Ababa, the Belgium-based nonprofit European External Programme with Africa reported in this month's situational report, released on Jan. 9.
"The number of people killed is reported as 750," it said. The church, the most ancient and sacred of Ethiopian Christianity and also known as the Church of St. Mary of Zion, belongs to the Ethiopian Orthodox Tewahedo Church.
"I've not heard more than rumours about the looting of the Arc from Maryam Tsion, but if it's true that up to 750 died defending it, it is conceivable that the attackers didn't stop there," said Michael Gervers, a professor of history at the University of Toronto, according to The Telegraph.
"The government and the Eritreans want to wipe out the Tigrayan culture. They think they're better than rest of the people in the country. The looting is about destroying and removing the cultural presence of Tigray," Gervers explained.
Former BBC World Service Africa editor and Senior Research Fellow at the Institute of Commonwealth Studies, Martin Plaut, said that those who escaped the Aksum massacre had reported that the attack began after Ethiopian federal troops and Amhara militia approached the church, the U.K.'s Church Times reported.
"People were worried about the safety of the Ark, and when they heard troops were approaching feared they had come to steal it. All those inside the cathedral were forced out into the square," Plaut was quoted as saying.
About 1,000 people were believed to be in the church complex at the time of the attack. The EEPA said the massacre was carried out by Ethiopian federal troops and allied Amhara militia that are fighting the Tigray People's Liberation Front.
The church and and the Ark have likely not been damaged, Plaut added.
The fighting began in Tigray since Nov. 4 when the region's ruling political party Tigray People's Liberation Front captured the Northern Command army base in the regional capital Mekelle as part of an uprising, after which Prime Minister Abiy Ahmed ordered a military offensive. Abiy claimed on Nov. 28 that the Ethiopian National Defense Force had regained "full command" of Mekelle.
Sources:Christian Post