Hundreds of Pakistani Christian Families Flee Neighborhood Following Threats of Violence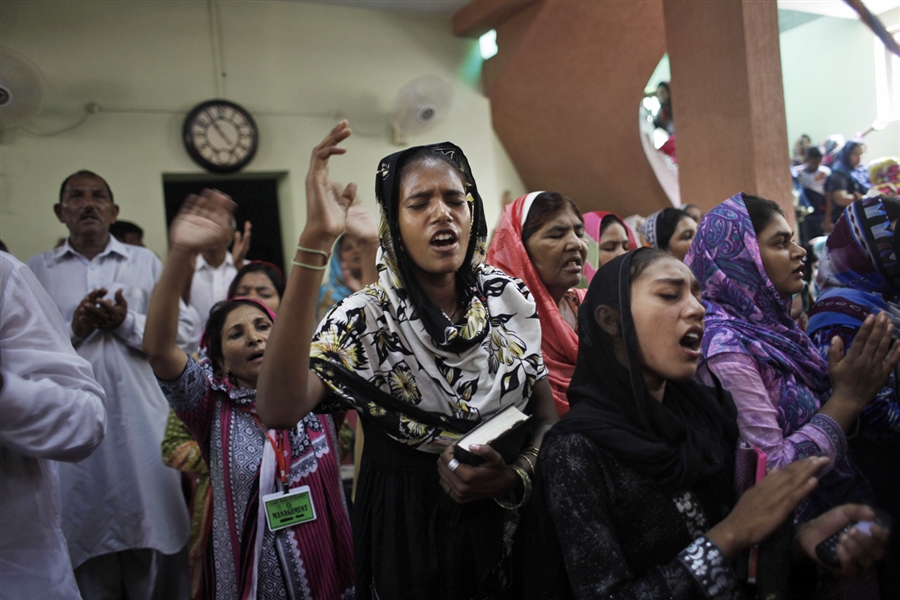 International Christian Concern (ICC) has learned that hundreds of Pakistani Christian families from Charar, a neighborhood in Lahore, have fled their homes after a mob of Muslims threatened to set fire to their neighborhood. Local sources report that the mob threatened the Christians after a faith-based social media post was published by a local pastor.
"Pastor Raja Waris published a faith-based post on Facebook on December 22, which Muslims claim hurt their religious sentiments," Saleem Khokhar, a displaced Christian from Charar, told ICC. "The pastor apologized for the post and the issue was resolved the next day."
To date, no blasphemy charges have been filed against Pastor Waris for the offending social media post. However, Pastor Waris and his family have gone into hiding due to threats issued against them by local extremists. Even though the issue of the social media post has been resolved, a mob of hundreds of Muslims continues to protest against the Christians of Charar. According to locals, the mob has demanded that Pastor Waris be beheaded for publishing the offending post.
"The situation turned dangerous when someone found out the Muslims were planning to set fire to the houses of Christians," Khokhar told ICC. "This forced the Christians to flee the neighborhood."
Police have been deployed to Charar to keep the mob's protests from turning violent. Despite the police presence, many Christians have stayed away from the neighborhood and sought shelter with friends and relatives.
"This is supposed to be a time of joy and celebration," Khokhar told ICC. "But we are out of our homes and begging our relatives and friends to protect and feed us. None of us are feeling good about this situation."
In Pakistan, false accusations of blasphemy are widespread and often motivated by personal vendettas or religious hatred. Accusations are highly inflammatory and have the potential to spark mob lynchings, vigilante murders, and mass protests.
Since Pakistan added Section 295-B and 295-C to the country's blasphemy laws in 1987, the number of blasphemy accusations has skyrocketed. Between 1987 and 2017, 1,534 individuals in Pakistan have been accused of blasphemy. Out of that 1,534, 829 accusations (54%) were made against religious minorities. With Christians only making up 1.6% of Pakistan's total population, the 238 accusations (15.5%) made against Christians are highly disproportionate.
Currently, 24 Christians are imprisoned on blasphemy charges in Pakistan. These 24 Christians are defendants in 21 blasphemy cases represented at various levels of the judicial process in Pakistan.
ICC's Regional Manager, William Stark, said, "We here at International Christian Concern are concerned by the situation in Charar. We call on the Pakistani authorities to protect the homes of Charar's Christians. No one should be forced to flee their home because of a social media post. Pakistan's blasphemy laws must not be misused to justify mob violence. Too often these laws have been a tool in the hands of extremists seeking to stir up religiously motivated violence against minority communities."
Sources:persecution
North Korea is facing a severe food shortage
Addressing a meeting of senior leaders, Mr Kim said: "The people's food situation is now getting tense".
He said the agricultural sector had failed to meet its grain targets due to typhoons last year, which caused flooding.
There are reports that food prices have spiked, with NK News reporting that a kilogram of bananas costs $45 (£32).
North Korea has closed its borders to contain the spread of Covid-19.
Trade with China has plummeted as a result. North Korea relies on China for food, fertiliser and fuel.
North Korea is also struggling under international sanctions, imposed because of its nuclear programmes.
The authoritarian leader of the single-party state talked about the food situation at the ruling Workers' Party central committee which started this week in the capital Pyongyang.
During the meeting, Mr Kim said that national industrial output had grown by a quarter compared to the same period last year.
Officials were expected to discuss relations with the US and South Korea during the event but no details have been released yet.
In April, Mr Kim made a a rare admission of looming hardship, calling on officials to "wage another, more difficult 'Arduous March' in order to relieve our people of the difficulty, even a little".
The Arduous March is a term used by North Korea officials to refer to the country's struggle during the 1990s famine, when the fall of the Soviet Union left North Korea without crucial aid.
The total number of North Koreans who starved to death at the time is not known, but estimates range up to three million.
It is highly unusual for Kim Jong-un to publicly acknowledge a food shortage. But this is a North Korean leader who has already admitted that his economic plan has failed.
The problem for Mr Kim is that when he took over from his father, he promised his people a more prosperous future. He said they would have meat on their tables and access to electricity. This has not happened. Now he's having to prime the population for more hard work.
He is trying to tie this into the global pandemic, and state media reported that he pointed out to party officials that the situation across the world is getting "worse and worse". With so little access to outside information, he can paint a picture of things being bad everywhere – not just in sealed off North Korea. He also described efforts to beat Covid-19 as a "protracted war". That signals that border closures are not easing any time soon.
That is the concern of many aid organisations. The sealed border has prevented some food and medicine getting through. Most NGOs have had to leave the country, unable to get staff and supplies in or out.
Pyongyang has always called for "self-reliance". It has closed itself off, just as it may need assistance and it is unlikely to ask for help. If it continues to push away all offers of international assistance, as ever, it may be the people who pay the price.
Christian pastor killed over outreach to Muslims: 'Today Allah has judged you'
A radical Muslim has confessed to police in Uganda that he killed a 70-year-old pastor earlier this month because of Allah's word to kill all infidels who mislead Muslims by sharing the Gospel.
The accused, identified as Imam Uthman Olingha, told police he killed Bishop Francis Obo, senior pastor of Mpingire Pentecostal Revival Church Ministries International in Odapako village Mpingire Sub-County, on June 11, Morning Star News reported.
Olingha was one of the Muslim extremists dressed in Islamic attire who stopped Pastor Obo and his wife on their way home from a market at about 8:30 p.m., his wife, Christine Obo, said.
"Olingha openly confessed to police that he can't regret that he killed the bishop because he did it in the cause of Allah's word to kill all infidels who mislead Muslims. He added that Allah will be with him in jail, but the kafiri (infidel) deserved the killing."
One of the attackers told the pastor, who oversaw 17 churches across the region and had been sharing Christ with Muslims, that he was an "infidel" who caused Muslims to leave Islam and "blasphemes the words of Allah," and that, "Today Allah has judged you."
A week before the murder, the couple had invited a former Islamic teacher to testify on how he became a Christian at their church, Christine Obo recalled. Area Muslims were also upset with the church because it offered the former Islamic teacher a pig as part of a micro-enterprise livestock project that helped raise funds for the church, she added.
Describing the incident, she said, "As I moved a few meters in a hurry trying to save my life, I heard a little noise and wailing from my husband and realized that his life was in danger."
When she reached home, she was trembling and unable to speak, she said, and her children took her to a hospital. When she regained consciousness the following morning, she told her oldest son and his siblings to go to the site.
"Reaching there, they were shocked and fearful as they found a big number of Christians and relatives gathered around the dead body mourning their bishop after being murdered by Muslims," Obo was quoted as saying.
According to World Watch Monitor, a homegrown Islamist rebel movement organizing in the neighboring Democratic Republic of Congo has emboldened Ugandan radicals to persecute Christians.
Voice of the Martyrs earlier noted that Uganda's history has made it vulnerable to the influence of Islam as "Arab countries also continue to invest significant resources into furthering Muslim interests in the country."
In Uganda, persecution is mainly seen in the form of local Islamists persecuting Christians, mostly in areas where "radicals have been steadily encroaching."
"Radical Islam's influence has grown steadily, and many Christians within the majority-Muslim border regions are facing severe persecution, especially those who convert from Islam," a Voice of the Martyrs factsheet explains. "Despite the risks, evangelical churches in Uganda have responded by reaching out to their neighbors; many churches are training leaders how to share the Gospel with Muslims and care for those who are persecuted after they become Christians."
Last December, a mob of Muslim extremists in Uganda reportedly killed 41-year-old former imam Yusuf Kintu a week after he converted to Christianity.
Sources:Christian Post