Hundreds of Pakistani Christian Families Flee Neighborhood Following Threats of Violence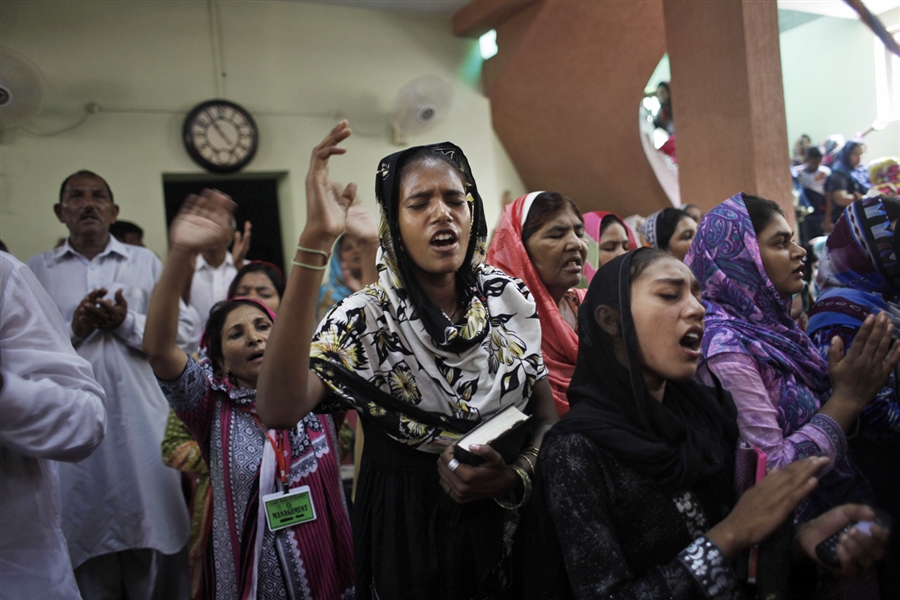 International Christian Concern (ICC) has learned that hundreds of Pakistani Christian families from Charar, a neighborhood in Lahore, have fled their homes after a mob of Muslims threatened to set fire to their neighborhood. Local sources report that the mob threatened the Christians after a faith-based social media post was published by a local pastor.
"Pastor Raja Waris published a faith-based post on Facebook on December 22, which Muslims claim hurt their religious sentiments," Saleem Khokhar, a displaced Christian from Charar, told ICC. "The pastor apologized for the post and the issue was resolved the next day."
To date, no blasphemy charges have been filed against Pastor Waris for the offending social media post. However, Pastor Waris and his family have gone into hiding due to threats issued against them by local extremists. Even though the issue of the social media post has been resolved, a mob of hundreds of Muslims continues to protest against the Christians of Charar. According to locals, the mob has demanded that Pastor Waris be beheaded for publishing the offending post.
"The situation turned dangerous when someone found out the Muslims were planning to set fire to the houses of Christians," Khokhar told ICC. "This forced the Christians to flee the neighborhood."
Police have been deployed to Charar to keep the mob's protests from turning violent. Despite the police presence, many Christians have stayed away from the neighborhood and sought shelter with friends and relatives.
"This is supposed to be a time of joy and celebration," Khokhar told ICC. "But we are out of our homes and begging our relatives and friends to protect and feed us. None of us are feeling good about this situation."
In Pakistan, false accusations of blasphemy are widespread and often motivated by personal vendettas or religious hatred. Accusations are highly inflammatory and have the potential to spark mob lynchings, vigilante murders, and mass protests.
Since Pakistan added Section 295-B and 295-C to the country's blasphemy laws in 1987, the number of blasphemy accusations has skyrocketed. Between 1987 and 2017, 1,534 individuals in Pakistan have been accused of blasphemy. Out of that 1,534, 829 accusations (54%) were made against religious minorities. With Christians only making up 1.6% of Pakistan's total population, the 238 accusations (15.5%) made against Christians are highly disproportionate.
Currently, 24 Christians are imprisoned on blasphemy charges in Pakistan. These 24 Christians are defendants in 21 blasphemy cases represented at various levels of the judicial process in Pakistan.
ICC's Regional Manager, William Stark, said, "We here at International Christian Concern are concerned by the situation in Charar. We call on the Pakistani authorities to protect the homes of Charar's Christians. No one should be forced to flee their home because of a social media post. Pakistan's blasphemy laws must not be misused to justify mob violence. Too often these laws have been a tool in the hands of extremists seeking to stir up religiously motivated violence against minority communities."
Sources:persecution
Helicopter crash: French billionaire and MP Olivier Dassault dies
French President Emmanuel Macron has paid tribute to billionaire and conservative politician Olivier Dassault, 69, who died in a helicopter crash on Sunday, local time.
Mr Dassault was the eldest son of late French billionaire industrialist Serge Dassault, whose namesake Dassault Aviation builds the Rafale war planes and owns Le Figaro newspaper.
"Olivier Dassault loved France," Mr Macron said on Twitter.
"Captain of industry, lawmaker, local elected official, reserve commander in the air force: during his life, he never ceased to serve our country, to value its assets. His sudden death is a great loss. Thoughts on his family and loved ones."
The private helicopter crashed during the afternoon on Sunday in Normandy, where Mr Dassault had a holiday home, according to a police source.
The pilot was also killed.
A representative for the conservative Les Republicains party in France's National Assembly since 2002, he represented the Oise area of northern France.
Mr Dassault was considered the 361st richest man in the world alongside his two brothers and sister, with wealth of about 6 billion euros ($9.29 billion) mostly inherited from his father, according to the 2020 Forbes rich list.
He stepped down from his role on the board of Dassault due to his political role to avoid any conflict of interest.
Mr Dassault, seen as the favourite of founder Marcel Dassault, was once considered favoured to succeed Serge Dassault at the head of the family holding, but that role went to former Dassault Aviation chief executive Charles Edelstenne.
"Great sadness at the news of the sudden passing of Olivier Dassault," Valerie Pecresse, a conservative politician who is president of the Paris region, said on Twitter.
"A businessman, but also a renowned photographer, he had a passion for politics in his blood, rooted in his department of Oise. My warm thoughts to his family."
Pope Francis raises concerns over Christian safety
Pope Francis arrived in Baghdad on Friday for a three-day visit to Iraq, undeterred by suggestions that his trip might fuel a surge in coronavirus cases, undaunted by the precarious security situation and committed to offering support to a Christian community decimated by years of war.
It's the first trip Francis has embarked on since the pandemic swept the world and the first time a head of the Roman Catholic Church has visited the country.
The journey promises to be as rich in symbolism as it is fraught with risk.
"I am happy to travel again," the pope said, taking off his blue surgical mask to address reporters en route to Iraq. His Alitalia flight was accompanied by U.S. aircraft from the Ayn al Asad military base after entering Iraqi airspace.
By choosing Iraq as his first destination since the pandemic began, Francis waded directly into the issues of war and peace, and poverty and religious strife, in an ancient biblical land.
"This trip is emblematic," he said, calling it "a duty to a land martyred for many years."
He was welcomed by a small color guard and Prime Minister Mustafa al-Kadhimi.
The pope left the airport complex in a black BMW, his window rolled down. He waved as he passed a small group of faithful waving Iraqi and Vatican flags behind a metal fence on the side of the highway.
The pope's vehicle was surrounded by a police motorcycle escort as he drove past miles of concrete blast walls that were put up during Iraq's sectarian violence.
After 2003, the road was one of the most dangerous in Baghdad, with frequent roadside bombs and suicide car bombs. Those are now in the past, and palm trees planted to beautify the road greet visitors.
As he arrived at the presidential palace, the pope's car was flanked by members of Iraqi security forces on horseback. Francis emerged from that car, limping noticeably as he made his way along a red carpet.
The pope is known to suffer from sciatica, which he told reporters in 2013 was the worst thing that had happened to him in his early days as pope.
It was the start of what promised to be an arduous journey that will take the 84-year-old pontiff to battle-scarred churches and desert pilgrimage sites.
In an area known as the cradle of civilization, the modern history of Mesopotamia — now present-day Iraq — has been scarred by lasting hardship: three decades of despotic rule, followed by nearly two decades of war and a wave of carnage unleashed by the Islamic State.
Once a rich tapestry of faiths, Iraq has been hollowed out as orthodoxies hardened. Its Jews are almost completely gone, and its Christian community grows smaller every year. About one million have fled since the 2003 United States-led invasion. An estimated 500,000 remain.
That backdrop makes the pope's visit on Saturday to the ancient city of Ur — traditionally held to be the birthplace of Abraham, who is revered by Muslims, Jews and Christians alike — all the more powerful.
To that end, his trip carries a motto from the Gospel of Matthew: "You are all brothers."
But the pope's agenda also casts a spotlight on the terrible toll wrought when divisions harden and violence takes over.
On Friday evening he met with priests, bishops and others at Our Lady of Salvation Church in Baghdad. Just over a decade ago, the church came under assault when attackers unleashed fusillade of grenades, bullets and suicide vests. At least 58 people were killed in the assault, which was carried out by an affiliate of Al Qaeda.
It was far from the deadliest massacre in the country, where tens of thousands of Muslims have died in war and sectarian fighting, but the attack tore at the heart of the Christian community.
An image of Francis is painted on the blast walls that now ring Our Lady of Salvation.
Francis made it clear that after Popes John Paul II and Benedict XVI had to scuttle plans to visit the remaining Christians in the country, he would not cancel his own trip.