American boxing legend Marvin Hagler has Dies at 66
"Marvelous" Marvin Hagler, a former middleweight boxing champion and icon of the sport, died Saturday. He was 66 years old.
A cause of death was not immediately clear when his wife, Kay G. Hagler, posted a confirmation on Facebook.
"I am sorry to make a very sad announcement. Today unfortunately my beloved husband Marvelous Marvin passed away unexpectedly at his home here in New Hampshire. Our family requests that you respect our privacy during this difficult time. With love," she wrote in a post on his verified fan page, signing her name.
Marvin Hagler was the undisputed middleweight champion of the world for seven years beginning in 1980. He lost his title only when Sugar Ray Leonard came out of retirement in 1987.
Online, tributes to the athlete poured in as sports accounts posted videos of some of his most iconic fights.
Boxing promoters and sports agents Kalle & Nisse Sauerland tweeted a heartfelt tribute that read, "If reports are true we are lost for words to hear the of the loss of our all time favorite boxer Marvelous Hagler – for us the greatest Middleweight who ever lived."
Sports broadcaster Jim MacKay wrote, "The man they called Marvelous trained in Brockton, one of the reasons it is called the City of Champions. The undisputed Middleweight Champion from 1980-1987. True Boxing Legend. RIP."
FIFA Council approves Arab Cup Qatar 2021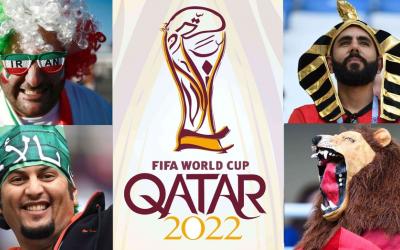 FIFA Council on Friday approved the competition regulations for the FIFA Arab Cup 2021, which will be held in Qatar from December 1 to 18 this year. At a meeting held via videoconference, FIFA Council chaired by president Gianni Infantino also confirmed the match schedule and draw procedure for the competition, which will be played by 22 national teams from the Arab region
The 22 participating teams are: Qatar, Algeria, Bahrain, Comoros, Djibouti, Egypt, Iraq, Jordan, Kuwait, Lebanon, Libya, Mauritania, Morocco, Oman, Palestine, Saudi Arabia, Somalia, Sudan, Syria, Tunisia, United Arab Emirates and Yemen.
The 16 teams that take part in the final stage will be split into four groups, with the top two from each qualifying for the quarter-finals. A total of 32 matches will be held over 18 days.
The tournament will be delivered by FIFA, the Qatar Football Association, the Supreme Committee for Delivery & Legacy and the FIFA World Cup Qatar 2022 LLC.
Seen as a vital opportunity to test operations and facilities ahead of Qatar 2022, the tournament will take place in the same timeslot as the FIFA World Cup. The finals of both the FIFA Arab Cup and FIFA World Cup will take place exactly one year apart – each on 18 December, Qatar National Day, which is a public holiday.
During his visit to Qatar in November last year, Infantino had praised Qatar's preparation for the World Cup, highlighting that he expects the FIFA Arab Cup to unite millions of fans from all the Arab region.
He added that it is a great opportunity for teams to play in the World Cup 2020 stadiums and that FIFA is "looking forward to seeing the region's best teams battle it out to see which nation will become champion."
"Through football, this tournament will unite over 450 million people from across the region, and we are confident that the FIFA Arab Cup will help to build excitement across the region as we edge ever nearer to hosting the first FIFA World Cup in the Middle East and Arab world in 2022," Infantino said during a visit to Lusail Stadium, which will host the world cup final.
Meanwhile, FIFA expects to hit its four-year revenue target of $6.44bn up to the 2022 World Cup in Qatar despite the coronavirus pandemic. Total spending of $1.04bn in 2020 included $270mn in grants to football bodies worldwide as part of a COVID-19 relief plan, FIFA's annual financial report said. It also included a $10 million donation to the World Health Organization.
FIFA again awarded its president Infantino a $1mn annual bonus to raise his overall pre-tax pay above $3mn in 2020, matching his 2019 income.
FIFA gets most of its money from the four-yearly men's World Cup, and said it already sealed 92% of its income target from broadcasting rights. Fewer sponsor slots for the 2022 World Cup have been sold compared to the same stage before previous editions of the tournament.
Two gold medals in two weeks; Wrestler Vinesh Phogat has made India proud
Living up to the expectations, star Indian wrestler Vinesh Phogat won her second gold medal in as many weeks with a dominant win in the Matteo Pellicone Ranking Series event and reclaimed the top rank in her category in Rome.
The 26-year-old World bronze medallist and the only Indian woman wrestler to have qualified for the Tokyo Games, Vinesh blanked Canada's Diana Mary Helen Weicker 4-0 in the 53kg title clash.
Vinesh scored all her points in the first period and held on to her lead in the second to ensure a top-of-the-podium finish.
Vinesh had won a gold medal in Kiev last week and this performance would give her the belief that her preparations for the biggest sporting event are on the right track.
The Indian had entered the event as world number three but is back to world number one by jumping 14 points. The Canadian was ranked as low as 40 before the tournament but is now just behind Vinesh at number two.
Vinesh did not concede a single point at this tournament, winning two of her three bouts by pinning her rivals while getting injury walkouts in the other two in the eight-woman field.
Sarita Mor had won a silver in the 57kg on Saturday.