High Blood Pressure During Pregnancy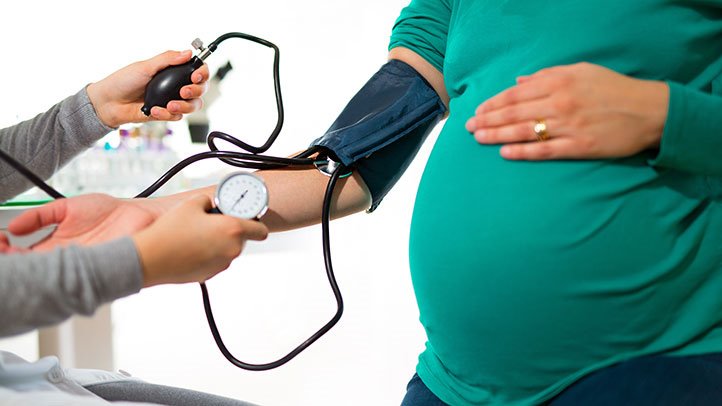 During pregnancy, your body goes through numerous physical changes to accommodate fetal growth and development. Throughout these nine months, it's ideal to have a normal blood pressure reading.
Your blood pressure is the force of your blood pushing against the walls of your arteries. Every time your heart beats, it pumps blood into the arteries, which then carry the blood to the rest of your body. The blood typically moves through the arteries at a certain rate. However, various factors can disrupt the normal rate at which blood flows through the vessels, causing an increase or decrease in pressure. Increased pressure in the arteries can result in an elevated blood pressure reading. Decreased pressure in the arteries can result in a low blood pressure reading.
Blood pressure is recorded as two types of numbers. The systolic number is the top number, which indicates the amount of pressure in the arteries when your heart beats. The diastolic number is the bottom number, which indicates the amount of pressure in the arteries between heartbeats. Your blood pressure naturally rises with each heartbeat and falls when the heart rests in between beats. However, the rapid changes your body goes through during pregnancy can greatly influence these numbers and cause a drastic change in blood pressure.
A normal blood pressure reading is 120/80 mm Hg and below. Readings below 90/60 mm Hg indicate low blood pressure, or hypotension. Readings above 140/90 mm Hg in pregnancy indicate high blood pressure, or hypertension. Hypertension is seen far more often in pregnancy than hypotension. About 10 percent of all pregnancies in the United States are complicated by high blood pressure issues.
An abnormal blood pressure during pregnancy is a cause for concern. Both you and your baby may be at an increased risk of health complications. However, you may be able to prevent problems by attending regular prenatal appointments so your doctor can monitor your blood pressure closely. You may also want to consider learning more about related conditions so you can help manage factors affecting your blood pressure.
How to detect abnormal blood pressure
* Elevated blood pressure is a systolic number between 120 and 129 and a diastolic number lower than 80.
* In stage 1 hypertension, the systolic number is between 130 and 139 or the diastolic number is between 80 and 89.
* In stage 2 hypertension, the systolic number is 140 or higher or the diastolic number is 90 or higher.
* In a hypertensive crisis, the systolic number is higher than 180 and/or the diastolic number is higher than 120.
You may not always be able to tell whether your blood pressure is too high or too low. In fact, hypertension and hypotension may not cause noticeable symptoms.
Causes of abnormal blood pressure during pregnancy
High blood pressure disorders related to pregnancy generally develop after the first 20 weeks of pregnancy. There are several types of disorders that range in severity. A 2016 review published in Integrated Blood Pressure Control suggests that age, obesity, and underlying health problems seem to contribute to these conditions. Though these conditions usually go away after you give birth, your risk of getting hypertension in the future is much higher if you develop any of them.
Hypotension, while much less common, can be directly related to pregnancy. Your circulatory system expands during pregnancy to accommodate your fetus. As circulation expands, you might experience a small drop in blood pressure. According to the AHA, this is most common during the first 24 weeks of pregnancy. Still, this amount is usually not significant enough to cause concern.
Hypotension may also be caused by:
* dehydration
* diabetes
* low blood sugar
* heart problems
* thyroid problems
* severe allergic reactions
* blood loss
* infection
* malnutrition, particularly a lack of folic acid, B vitamins, and vitamin D
Preventing abnormal blood pressure during pregnancy
The best way to lower your risk of complications is to prevent abnormal blood pressure in the first place. It's helpful to visit your doctor for a physical exam before becoming pregnant so that any blood pressure abnormalities can be detected early. It's also best to be a healthy weight before pregnancy.
According to the Gynecologists, there are no proven methods to prevent high blood pressure during pregnancy. However, you should strive to be in the best possible health before getting pregnant by:
* eating a healthy diet
* managing any preexisting conditions, such as diabetes
* limiting alcohol
* quitting smoking
* exercising at least three times per week
Presence of 'Brain-eating' amoeba in drinking water in Texas, people panic.
Texas: The governor of Texas has issued a disaster declaration after the death of six-year-old boy infected with a brain-eating amoeba that was later found in his community's water supply.
The child died on September 8 following an infection caused by the amoeba Naegleria fowleri, a microscopic organism that breeds in the warm, fresh water of lakes and rivers and of poorly maintained swimming pools, US media reports said.
The amoeba enters the body through the nasal membranes and penetrates to the brain, causing powerful migraine, hyperthermia, stiff neck and vomiting, then dizziness, extreme fatigue, confusion and hallucinations.
Testing revealed traces of the amoeba in the tap of the garden hose at the boy's house, a spokesman for the town of Lake Jackson said, quoted by local media.
Traces were also found in a fountain in the town centre and in a fire hydrant in a town just one hour away from the major city of Houston, said Modesto Mundo, a city official.
Grandparents of Josiah McIntyre, the deceased child, told the Houston Chronicle that he might have been exposed to contaminated water while he was playing in a splash park downtown, shortly before he fell ill.
The splash park has since been closed and several towns in Brazoria county, where Lake Jackson is located, advised residents to avoid using tap water for drinking, bathing or cooking.
That advice has since been lifted but authorities are urging residents to boil water before using it.
Texas Governor Greg Abbott issued a disaster declaration on Sunday for Brazoria County, which includes Lake Jackson.
The declaration allows authorities to use extra state resources due to an emergency.
Between 1983 and 2010, Texan health authorities have attributed 28 deaths to the amoeba Naegleria fowleri.
വി​ക​സി​പ്പി​ച്ചെ​ടു​ത്ത ഒ​രു കോ​വി​ഡ് വാ​ക്സി​നും പൂ​ര്‍​ണ​മാ​യും ഫ​ല​പ്ര​ദ​മാ​ണെ​ന്ന് തെ​ളി​ഞ്ഞി​ട്ടി​ല്ലെ​ന്ന് ലോ​കാ​രോ​ഗ്യ സം​ഘ​ട​ന
ജ​നീ​വ : നിലവില്‍ ഇ​തു​വ​രെ വി​ക​സി​പ്പി​ച്ചെ​ടു​ത്ത ഒ​രു കോ​വി​ഡ് വാ​ക്സി​നും പൂ​ര്‍​ണ​മാ​യും ഫ​ല​പ്ര​ദ​മാ​ണെ​ന്ന് തെ​ളി​ഞ്ഞി​ട്ടി​ല്ലെ​ന്ന് ലോ​കാ​രോ​ഗ്യ സം​ഘ​ട​ന . 2021 പ​കു​തി​യോ​ടെ​യ​ല്ലാ​തെ വാ​ക്സി​ന്‍ വ്യാ​പ​ക​മാ​യി വി​ത​ര​ണം ചെ​യ്യാ​നു​ള്ള സാ​ധ്യ​ത ഇ​ല്ലെ​ന്ന് സം​ഘ​ട​ന വ​ക്താ​വ് മാ​ര്‍​ഗ​ര​റ്റ് ഹാ​രി​സ് പ​റ​ഞ്ഞു .
ലോ​കാ​രോ​ഗ്യ​സം​ഘ​ട​ന ആ​വ​ശ്യ​പ്പെ​ടു​ന്ന 50 ശ​ത​മാ​നം ഫ​ല​പ്രാ​പ്തി തെ​ളി​യി​ക്കാ​ന്‍ ക്ലി​നി​ക്ക​ല്‍ പ​രീ​ക്ഷ​ണ​ത്തി​ല്‍ മു​ന്നി​ലു​ള്ള ഒ​രു വാ​ക്സി​നു​മാ​യി​ട്ടി​ല്ലെ​ന്നാ​ണ് ലഭിക്കുന്ന വി​വ​രം. റ​ഷ്യ വി​ക​സി​പ്പി​ച്ച വാ​ക്സി​ന്‍ ര​ണ്ട് മാ​സ​ത്തെ ക്ലി​നി​ക്ക​ല്‍ പ​രീ​ക്ഷ​ണ​ത്തി​നു​ശേ​ഷം വി​ത​ര​ണം ചെ​യ്യു​മെ​ന്ന റി​പ്പോ​ര്‍​ട്ടു​ക​ള്‍​ക്കി​ടെ​യാ​ണ് മാ​ര്‍​ഗ​ര​റ്റ് ഹാ​രി​സ് ഇ​ക്കാ​ര്യം അറിയിച്ചത് .
ഒ​ക്ടോ​ബ​ര്‍ ആ​ദ്യം കോ​വി​ഡ് പ്ര​തി​രോ​ധ വാ​ക്സി​ന്‍ വി​ത​ര​ണം ചെ​യ്യു​മെ​ന്ന് അ​മേ​രി​ക്ക​ന്‍ ആ​രോ​ഗ്യ​വ​കു​പ്പ് ഉ​ദ്യോ​ഗ​സ്ഥ​രും ഫൈ​സ​ര്‍ ക​ന്പ​നി​യും അറിയിച്ചിരുന്നു . എ​ന്നാ​ല്‍, അ​ടു​ത്ത വ​ര്‍​ഷം പ​കു​തി​യോ​ടെ​യ​ല്ലാ​തെ വാ​ക്സി​ന്‍റെ വ്യാ​പ​ക​മാ​യ വി​ത​ര​ണം ന​ട​ക്കു​മെ​ന്ന് പ്ര​തീ​ക്ഷി​ക്കു​ന്ന​ല്ലെ​ന്നാ​ണ് മാ​ര്‍​ഗ​ര​റ്റ് ഹാ​രി​സ് വ്യക്തമാക്കുന്നത്.
കടപ്പാട് :ആഴ്ച്ച വട്ടം ഓൺലൈൻ