Record Increase in Texas Patients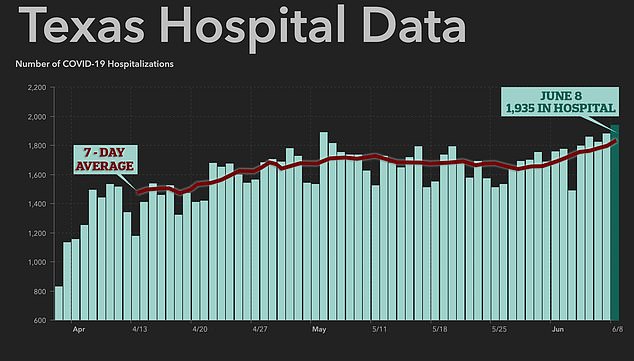 Texas reported a record number of coronavirus hospitalizations Monday — weeks after Gov. Greg Abbott took the lead among governors in easing social distancing measures to help bring jobs back.
There are currently 1,935 Covid-19 patients in hospitals across the state, topping the previous hospitalization record of 1,888 patients on May 5, according to new data from the Texas Department of State Health Services.
Texas was among the first states to relax its statewide stay-at-home order, allowing it to expire April 30 and some businesses to resume operations May 1.
The coronavirus has infected more than 75,400 people in Texas, according to data from Johns Hopkins University. The positivity rate for Covid-19 tests in Texas reached a low of 4.27% toward the end of May but has since jumped to 7.55%, according to the state's health department.
While hospitalizations are increasing, there are more than 1,600 open intensive-care beds and more than 5,800 ventilators available for critically ill patients.
Some infectious disease experts say hospitalization numbers could be a better way to track a state's reopening performance since it's more difficult to skew than testing data, which fluctuates depending on how many tests are being run.
"Looking at things like how many ICU admissions and deaths are probably some of the strongest and most reliable data points because they are the worst outcomes that could happen," said Dr. David Hardy, an adjunct professor of medicine at Johns Hopkins University School of Medicine who specializes in infectious diseases.
Texas opened hair salons on May 8 under certain restrictions, such as maintaining six feet of distance between beauty stations. Gyms and exercise facilities, nonessential manufacturing plants and office buildings could reopen with 25% capacity and other social-distancing guidelines on May 18.
The state later allowed bars to reopen at 25% capacity and restaurants at 50% capacity. Infectious disease and public health experts warn that indoor settings where people may not be wearing a face covering and the air circulates less could increase the risk of the virus spreading.
Coronavirus cases in the United States have been slowly ticking up since the Memorial Day holiday. The coronavirus has now infected more than 1.95 million people in the U.S. and has killed at least 110,700.
ഭൂകമ്പം ഫിജിയെ പിടിച്ചുകുലുക്കി, റിക്ടർ സ്കെയിലിൽ 6.0 രേഖപ്പെടുത്തിയ ഭൂചലനം
സുവ: ദ്വീപ് രാജ്യമായ ഫിജിയിൽ ഭൂചലനം. റിക്ടർ സ്‌കെയിലിൽ 6.0 തീവ്രത രേഖപ്പെടുത്തിയ ഭൂചലനത്തിൽ നാശനഷ്ടങ്ങൾ ഉണ്ടായതായി റിപ്പോർട്ടില്ല. 398 കിലോമീറ്റർ ആഴത്തിൽ പ്രകമ്പനം അനുഭവപ്പെട്ടതായി യുഎസ് ഭൗമശാസ്ത്ര കേന്ദ്രം അറിയിച്ചു. ലെവൂക്ക നഗരത്തിന് 340 കിലോമീറ്റർ കിഴക്ക് മാറിയായിരുന്നു പ്രകമ്പനം. പ്രാദേശിക സമയം രാവിലെ 11.35 ഓടെയായിരുന്നു ഭൂചലനം അനുഭവപ്പെട്ടത്. സുനാമി മുന്നറിയിപ്പുകളൊന്നും നൽകിയിട്ടില്ലെന്ന് അധികൃതർ അറിയിച്ചു. ഭൂചലനം ഉണ്ടായ വിവരം ജർമ്മൻ ജിയോസയൻസ് റിസർച്ച് സെന്ററും സ്ഥിരീകരിച്ചിട്ടുണ്ട്.
Archaeologists discover rare 2,000-y-o oil lamp in Jerusalem's City of David on Pilgrimage Road
The Israel Antiquities Authority announced the discovery of a rare oil lamp, with its wick still preserved, from under the foundation of a building erected on Jerusalem's famed Pilgrimage Road soon after the destruction of the Second Temple almost 2,000 years ago.
The IAA researchers believe the bronze lamp, shaped like a grotesque face cut in half and estimated to be from the late first century or the early second century CE, was put in the foundation of the building in Jerusalem's City of David for good fortune, The Times of Israel reported.
"This half of a lamp, and in fact half a face, which was discovered in the City of David, is a very rare object, with only a few discovered in the whole world, and is the first of its kind to be discovered in Jerusalem," Yuval Baruch of the IAA was quoted as saying.
"It is possible that the importance of the building, and the need to bless its activity with luck by burying a foundation deposit, was due to its proximity to the Siloam Pool, which was also used in the Roman period as the central source of water within the city," IAA archaeologist Ari Levy told The Jerusalem Post.
Speaking to Haaretz, Levy explained, "Foundation deposits, in general, go back to the dim reaches of antiquity. It was accepted in construction in general, to bring luck and symbolic defense of the building — and to cast fear and awe on attackers. Its significance was highly symbolic, not functional."
Haaretz said the lamp featured a goaty male half-face complete with (half a) satyr's beard and a horned forehead.
Only one other such lamp has ever been found in an archaeological context — and that was in Budapest, according to Levy.
Experts believe that Pilgrimage Road, where the building had been erected, is the path ancient Jews walked to reach the Temple Mount three times a year — in the festivals of Passover, Shavuot and Sukkot.
"The street was built during the period of Governor Pontius Pilates," Levy said. "It was inaugurated around the year 30 CE and it was used for about 40 years until the Temple was destroyed in 70 CE."
Baruch added: "Decorated bronze oil lamps were discovered throughout the Roman Empire. For the most part, such oil lamps stood on stylish candelabras or were hung on a chain. Collections around the world contain thousands of these bronze lamps, many of which were made in intricate shapes, indicating the artistic freedom that Roman metal artists possessed."
Sources:Christian Post