Archaeologists discover ancient Christian settlement in Galilee conquered in 7th century
Researchers in Israel say that they have found what they believe to be the remains of an ancient Christian settlement that was most likely destroyed by the Persian conquest of the region in the seventh century.
Atiqot, a Hebrew-language research journal operated by the Israel Antiquities Authority, has published a new report on the excavation at Pi Mazuva, a Byzantine settlement located in modern Israel's northwest corner near the Lebanon border.
According to the journal, the excavation at the site, which was first discovered in 2007 during excavation for road construction, has revealed building complexes separated by alleys that date back to the Byzantine period.
"The finds at the site included a bronze cross, an ashlar limestone lintel with a cross engraving, and pottery dated to the sixth–seventh centuries CE, which comprised local types, alongside many imported ones, some adorned with crosses," according to Atiqot.
"An interesting find is a high-quality, colorful, seventh-century CE mosaic floor adorned with floral motifs, animal and human figures, and two fragmentary Greek inscriptions. The finds at the site point to the existence of a rural Christian settlement, probably destroyed during the Persian conquest of the region in 613 CE."
The research was led by IAA archaeologist Gilad Cinamon.
According to the Jewish newspaper Haaretz, the town is not known from Byzantine sources but was mentioned in the Jerusalem Talmud, a document of religious law from the fourth and fifth century.
The town is said to be among a group of Western Galilee towns that are not considered part of the land of Israel but whose Jewish residents were to abide by the commandments listed for inhabitants of the holy land, Haaretz notes.
"While for now we have no documents from Christian sources about this settlement, all the evidence points to an almost entirely Christian population," Cinamon told Haaretz.
According to Atiqot's summary of the report, the pottery finds retrieved from the buildings excavated at Pi Maẓuva "date to the late Byzantine period and comprise local and imported vessels."
Two red-slipped bowls were discovered. One was adorned with a cross and the other featured a human figure holding a staff.
"The pottery from Pi Maẓuva shows a clear affinity with assemblages dated to the late Byzantine period at nearby sites in the western Galilee," the journal notes. "The rather large quantity of imported vessels possibly suggests the existence of dwellings and storehouses for agricultural produce at the site."
According to Atiqot, the mosaic floor uncovered at Pi Mazuva comprises a "broad border of acanthus medallions, surrounding a carpet of flower buds, with a woman's bust depicted in its center." The journal states that the mosaic could be "a personification of abundance and agricultural fertility."
"The acanthus border is populated by floral and animal motifs, which seem to have been executed by experienced artists. Based on iconographic and stylistic considerations, the mosaic was dated to the seventh century CE, probably created after the Muslim conquest, attesting to a continuation of local Byzantine traditions throughout the seventh–eighth centuries CE," the journal explains.
"The mosaic might have adorned a room that was used for entertaining guests in a manor house."
Cinamon told Haaretz that the mosaic — 16 feet by 16 feet — likely "decorated the living room of a self-sustained urban villa owned by a very wealthy family."
"And this is quite a rare find for this area in the Byzantine period," he said.
Sources: Christian Post
Vietnamese Christian Imprisoned for Trumped Up Charge Returns Home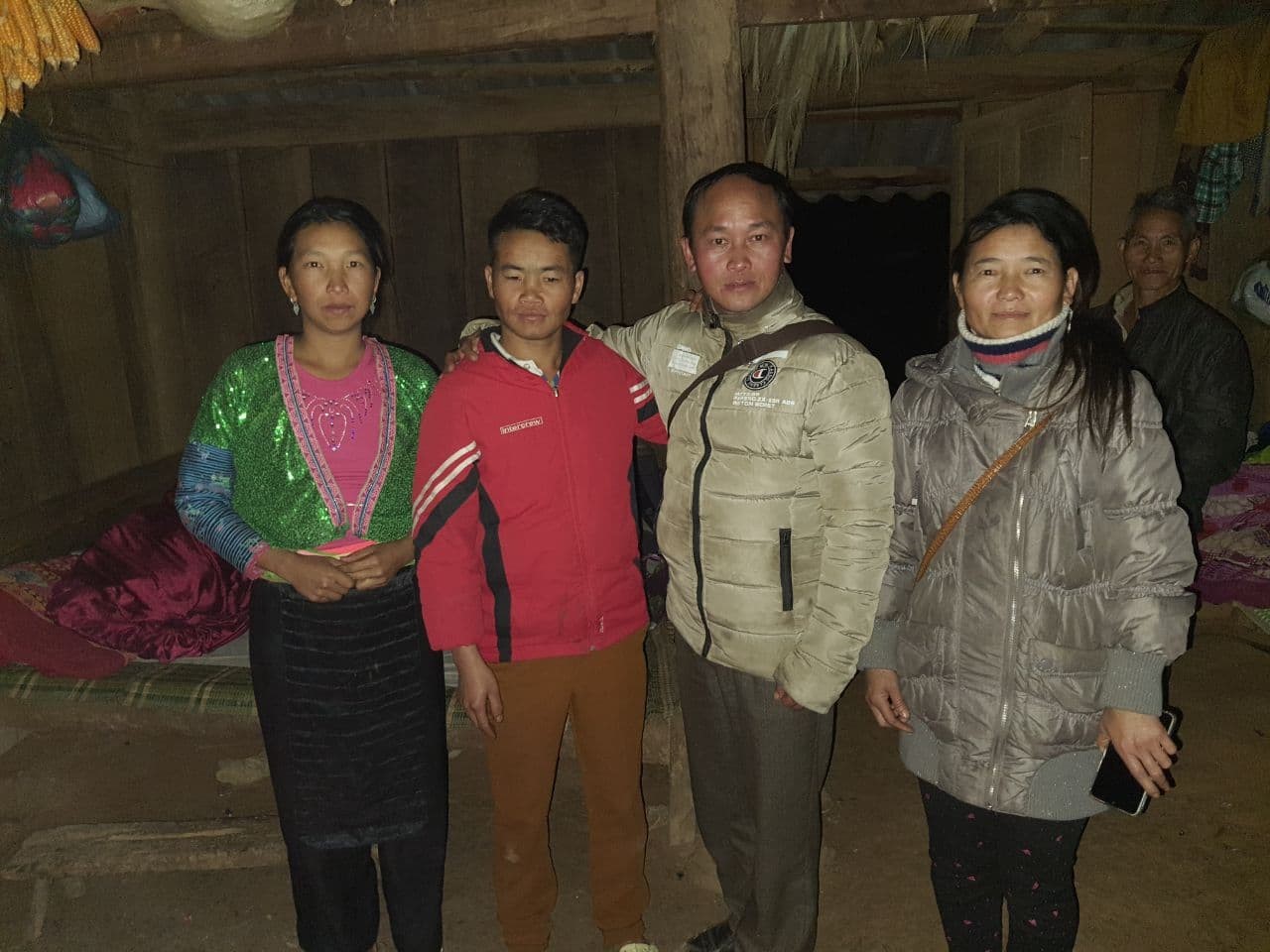 Vietnam– A pastor in northwestern Vietnam told ICC that on January 10, a Christian man named Sung A Khua returned home after serving two and a half year in prison.
In 2018, when Sung A Khua and his family converted to Christianity, they were facing a lot of hostilities and persecution from the local authorities and villagers. Soon after his conversion, the local authorities and villagers came and prevented him and his family from attending church. They were asked to denounce their Christian faith. But he ignored them, continued to attend church, and grew in his faith. Later that year, the villagers destroyed his house and confiscated his properties, so his family had to move out and lived temporary near the forest.
With the intervention of the leading pastor, the authorities allowed them to return home and repaired their house with some support from friends. Similar to many other tribal people living in that area, he went to the forest to log some wood to repair his house. He was soon arrested by the local authorities and brought to the court. On Nov 26th, 2018, he was charged for illegally logging and destroying the forest and was sentenced to a 30-month imprisonment. This is a common tactic used to intimate Christian converts.
Though he has now returned to his family, he will be placed under the surveillance of the local authorities for at least six months to two years. The local government forbids any visit to his family. Some pastors and friends have tried to reach out to him but to no avail. A Khua will probably face many challenges from now on as he begins life anew. Please remember him and his family in your prayer.
Sources:persecution
Christians in Nepal Continue to Face a Context of Growing Persecution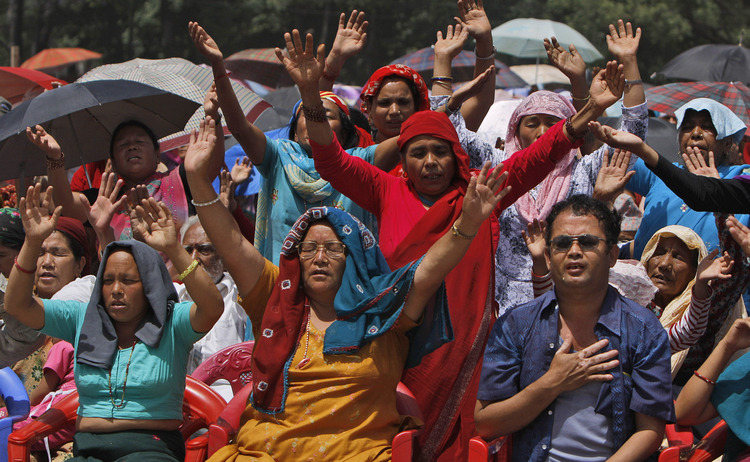 Nepal– Persecution in Nepal continues to be an increasing concern for the growing Christian population of the predominantly Hindu country. The Global Press Journal recently published an article discussing the story of Pastor Hari Tamang, a current example of this persecution. Pastor Tamang has been falsely charged with trafficking children and attempted conversions after he had agreed to shelter children who would have otherwise been put on the street because their former shelter could not help them any longer. Although the trafficking charges were dropped, Tamang is still years later fighting the charges of attempted conversion of the children.
Nepalese law allows for the free exercise of one's religion but forbids the conversion of others. This has produced a context of growing tensions in the society. The Nepalese Christian community says that they are holding fast to the principle that Christ calls His followers to share their faith, but choosing to follow Him is an individual choice, not something to be forced on anyone. Nevertheless, this community is consistently accused of forcefully converting.
Similar cases to that of Pastor Tamang have become more common throughout Nepal as the growth of Christianity as skyrocketed. Advocacy organizations estimate that Christians now number between 2 and 3 million throughout Nepal, comprising a larger portion of the Nepalese population than ever before. Nepal's churches number between 10,000 and 12,000 across the country.
In neighboring India, similar anti-forced conversion laws have been implemented in several states across the country with similar penalties. India, however, has been leading the way in persecuting religious minorities – a trend that only encourages the predominantly Hindu country of Nepal to take similar actions.
The Church also conducts a good deal of aid distribution in communities of need throughout Nepal, which also raises the suspicions of local authorities and devout Hindus who see it as a ploy for conversions. In other words, the charitable actions of the Church are viewed with suspicion. Regardless of this, the Church continues their mission and remains adamant that no forced conversions are taking place, arguing that they are simply fulfilling the teachings of their faith in aiding and serving the poor. The free exercise of religion for Christians means doing exactly that.
Sources:persecution