ലോകത്ത് കൊവിഡ് ബാധിതരുടെ എണ്ണം ഒരു കോടി; മരണം അഞ്ച് ലക്ഷം
ദില്ലി: ലോകത്ത് കൊവിഡ് ബാധിതരുടെ എണ്ണം ഒരു കോടി പിന്നിട്ടു. മരണം അഞ്ചുലക്ഷത്തിലേറെയായി. 24 മണിക്കൂറിനിടെ ഒന്നരലക്ഷത്തിലേറെ പേരാണ് രോഗബാധിതരായത്. ലോകത്താകെ ആശങ്കയേറ്റി കൊവിഡ് പടരുകയാണ്. മെയ് അവസാനത്തോടെ രോഗവ്യാപനം കുറഞ്ഞു തുടങ്ങിയിരുന്നെങ്കിലും ഒരു മാസത്തിനിപ്പുറം കണക്കുകൂട്ടലുകള്‍ തെറ്റിച്ച്‌ മുന്നേറുകയാണ് കൊവിഡ് ബാധിതര്‍. 24 മണിക്കൂറിനിടെ, രോഗബാധിതരായത് ഒന്നര ലക്ഷത്തിലേറെ പേരാണ്.
അമേരിക്കയിലും, ബ്രസിലീലും റഷ്യയിലും രോഗ ബാധിരുടെ എണ്ണം ഏറുകയാണ്. 24 മണിക്കൂറിനിടെ അമേരിക്കയിലാണ് ഏറ്റവും അധികം പേര്‍ക്ക് രോഗബാധയുണ്ടായത്. യുഎസില്‍ ആകെ രോഗബാധിതരുടെ എണ്ണം 25 ലക്ഷം പിന്നിട്ടു. ബ്രസീലില്‍ 13 ലക്ഷത്തിലേറെയായി രോഗബാധിതര്‍. റഷ്യയില്‍ ആറേകാല്‍ ലക്ഷം പിന്നിട്ടു. ഇന്ത്യയില്‍ 5 ലക്ഷവും. ലോകത്താകെ 4,461 പേരാണ് 24 മണിക്കൂറിനിടെ മരിച്ചത്. ഇതോടെ ആകെ മരണം 5 ലക്ഷം കവിഞ്ഞു.
അമേരിക്കയില്‍ ഒന്നേകാല്‍ ലക്ഷത്തിലേറെ പേരും ബ്രസീലില്‍ അര ലക്ഷത്തിലേറെ പേരും ഇതിനോടകം മരിച്ചു. അരക്കോടിയിലേറെ പേരാണ് ലോകത്ത് ഇതിനോടകം കൊവിഡില്‍ നിന്ന് രോഗമുക്തരായത്. ചൈനയിലെ വുഹാനില്‍ 2019 ഡിസംബര്‍ 31 ന് റിപ്പോര്‍ട്ട് ചെയ്ത രോഗം 6 മാസം കൊണ്ടാണ് ഒരു കോടി പിന്നിടുന്നത്.
Police in Pakistan Drop Charges Against Men Accused of Abducting 12-Year-Old Christian Girl
Pakistan – According to the Daily Mail, police in Pakistan dropped criminal charges against three Muslim men accused of kidnapping and abusing a 12-year-old Christian girl. Evidence shows that the Muslim men held the abducted Christian minor in captivity by chaining her up for five months and treating her like a slave.
On December 5, police recovered Farah Shaheen, a 12-year-old Christian girl who was abducted from her family in June. Human rights activists reported Shaheen had marks of abuse on her body and was transferred to a shelter home by local courts.
"Officials first brought [Shaheen] to the police station after negotiations with the criminals," Lala Robin Daniel, a local activist, told the Union of Catholic Asian News (UCAN). "Her ankles and feet were wounded. They were bandaged at the police station. She was in trauma and couldn't talk about the torture."
Shaheen's parents reported to police that three Muslims, including 45-year-old Khizar Hayat, abducted Shaheen from their home on June 25. After the abduction, Shaheen's parents claim their daughter was forcefully married to Hayat and converted to Islam.
"Her marriage, forceful conversion, and injured feet speak of the horror," Daniel later posted on social media. "Underage girls from religious minorities are unsafe due to faulty and incomplete lawmaking. Police, judiciary, and weak laws make fun of poor parents."
According to the Daily Mail, authorities dropped the charges against the three Muslim men after Shaheen testified that she willingly married her abductor. Shaheen's family argued she is traumatized and fears retribution from her abductors if she gives testimony against them.
According to a 2014 study by the Movement for Solidarity and Peace Pakistan, an estimated 1,000 Christian and Hindu women are abducted, forcefully married, and forcefully converted every year. Many of the victims are minors. Sexual assaults and fraudulent marriages are used by perpetrators to entrap victims and authorities are often complicit.
The issue of religion is injected into cases of sexual assault to place victims from religious minority communities at a disadvantage. Playing upon religious biases, perpetrators know they can cover up and justify their crimes by introducing an element of religion.
Sources:persecution
1,500-year-old 'Christ, born of Mary' inscription discovered in Israel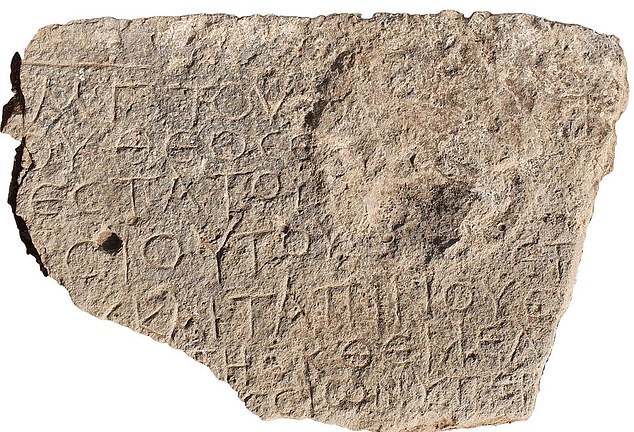 A 1,500-year-old plaque that reads 'Christ, born of Mary' in ancient Greek that once sat above a doorway to ward off evil spirits has been unearthed in northern Israel
The phrase was used by Christians to protect themselves against the 'evil eye,' which was an ancient curse from Greek and Roman cultures that would bring misfortune on unsuspecting individuals.
The inscription was uncovered during an excavation of a once-magnificent church that had elaborate mosaic tiling with intricate geometric designs and was built in the Byzantine or Early Islamic period.
The building was discovered during a salvage dig prior to a new road construction project in the area – Israel requires archaeologists and volunteers investigate an area before construction can start.
Christianity became a prominent religion in Israel during the Byzantine era after the Roman Empire took hold of the country.
This siege resulted in numerous Christian churches and monasteries being constructed across the Hebrew nation.
The latest discovery was uncovered in the et-Taiyiba village on the northeast side of Jezreel Valley between the modern cities of Afula and Beit Shean.
Dr Walid Atrash of the Israel Antiquities Authority said: 'This is the first evidence of the Byzantine church's existence in the village of et-Taiyiba and it adds to other finds attesting to the activities of Christians who lived in the region.'
The inscribed stone is believed to have been a 'recycled' object that was moved from one location to the now-fallen church.
Yardenna Alexandre, an archaeologist at the Israel Antiquities Authority told The Media Line: 'This is a special find because the inscription enables us to recognize it came from a church and not a monastery from that period.'
Churches greeted and blessed believers at their entrance, whereas monasteries did not, so it is clear that the inscription comes from a church.
'This is a village church, rather than a monastery church, which in general were not open to the public during that period,' Alexandre said.
She explained that the stunning mosaic floors also show symbols used by Christians when decorating, such as crosses and geometric shapes.
According to excavation directors Tzachi Lang and Kojan Haku of the Israel Antiquities Authority, 'The excavation yielded finds from a variety of periods, shedding light on the long settlement sequence at et-Taiyiba in the valley, and on its status among the local settlements.'